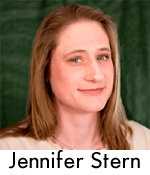 Notify Me when new patterns are available for sale

Shipped from J Stern Designs (Connecticut, USA)



Show All

Recent Catalogs

Mar-2016
March-2013
Nov-09
In this Catalog
Tops (1)

Skirts (1)
My passion for sewing and design started at the age of 5. My mother loves to tell the story of how I spent the day in my room "recreating" an apron I spied on a cover of Good Housekeeping from an old sheet and a hand needle ruffles and all!

I have designed a line of fashion patterns that have a unique fresh look.

I also teach online classes right here on PatternReview. Check out my video class based on my Tee pattern - Fit the Tee to a T. For a complete listing of my classes, click here.