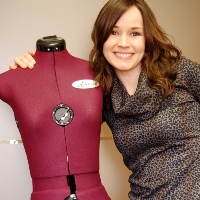 Notify Me when new patterns are available for sale

Show All

Recent Catalogs

Sep-2015
July-2015
March-2015
Jan-2015
In this Catalog
Dresses (1)
Sewaholic Patterns is the first company to offer pretty, versatile sewing patterns for pear-shaped women! The patterns are easy to use and designed to fit and flatter a pear-shaped figure.

Based in Vancouver BC, Sewaholic Patterns was founded in 2010 by Tasia Pona. The idea to create patterns specifically for pear-shaped women came from her frustration in having to alter commercial patterns to fit her curvy lower body. She knew she couldn't be the only one out there feeling the same way. Why not create simple, flattering patterns proportioned for our body type instead?

Sewaholic Patterns is proudly Canadian. All of the patterns are named after Vancouver area landmarks (Crescent Beach, Lonsdale Quay, Minoru Park) and are printed on FSC-certified and recycled paper.