. We actually SEW!
- priced right & even free at times.
Become a Fan!
KINDLE EDITION IS HERE! (click to go to Amazon.com to buy)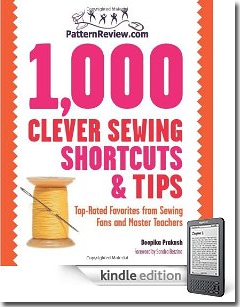 Praise for 1,000 Clever Sewing Shortcuts & Tips

1000 Clever Sewing Shortcuts & Tips: Top-Rated Favorites from Sewing Fans and Master Teachers is a must-have for any sewer; you'll want to reserve a place for this one right by your sewing machine. There's nothing better than learning from the experience of others, and this book is chock-full of inventive, time-saving tips direct from sewers who have found useful new ways to approach all manner of sewing situations. Plus, the in-depth techniques from celebrated sewing experts make this book invaluable to anyone with a passion for sewing. With this collection of sewing insights at hand, you'll enjoy improving your skills one tip a time.

Deana Tierney May Editor, Threads Magazine

The only thing better than a good tip is more good tips, no? It's all very well to get an expert's tips, but what's really needed when tip gathering is a hive-mind's best discoveries, and there's no busier, buzzier sewing hive than Deepika's PatternReview, so you KNOW they're in here, those tips you haven't yet heard, haven't yet tried, haven't yet imagined. Welcome to the Hive!

David Coffin Author, Sewing Expert

I was more than pleased to read one tip after another after another. I was very impressed with each and every tip that was included in this wonderful book. This book is set up to reference each sewing tip as well as easily understand each tip. All sewing enthusiasts should have Deepika's book as a reference in their sewing rooms.

Connie Crawford President & Designer Fashion Patterns by Coni

1,000 clever Sewing Shortcuts & Tips comes from 1,000 clever sewers who have sent their helpful ideas to patternreview.com over the years. Deepika Prakash, who designed the site, has collected tips and compiled them into a book in order to make it easy to share them with all sewers. I found many useful tips I hadn't thought about before. I especially loved the one about creating a photo album on Google for as a way to quickly see one's pattern stash!

Pati Palmer Palmer/Pletsch Publishing Designer, The McCall Pattern Co.

It's no wonder PatternReview.com quickly became a big success. Thousands of sewing enthusiasts have logged in daily over the past nine years to share their best ideas and opinions of sewing products and techniques. It doesn't get any better than that! I found many tried-and-true tips I have used myself, and to my delight, some clever tricks and tips that were new to me. No matter how long you have been sewing you will find an abundance of useful information in this well-organized book.

Janet Pray President, American Sewing Expo, Inc. Owner/author/pattern designer of Islander Sewing Systems Executive Director, National Sewing Council

Let's begin by saying that to Simplicity Patterns, Deepika Prakash is our "top rated favorite". Deepika had a simply great idea that she turned into PatternReview.com, the best place for sewers to get up-to-date info from other sewers.

1,000 Clever Sewing Shortcuts and Tips is a perfectly logical extension to the website, tried and true tips and techniques, beautifully packaged, full of ideas that everyone at every level of sewing will refer to regularly.

At Simplicity, we have always greatly valued the direct feedback we receive from consumers every day. And we surely value our relationship with Deepika, whose thirst for sewing knowledge has turned to into the Passion we all share.

Congratulations, Deepika! Thank You for your dedication to the art of sewing, as well as your choice to donate the proceeds from this book to Breast Cancer Research.

We Love You!

Your Friends at Simplicity

To be given the opportunity to review 1,000 Clever Sewing Shortcuts & Tips: Top-Rated Favorites from Sewing Fans and Master Teachers was a great honour. Deepika Prakash is well-known as the founder of PatternReview.com, where like-minded sewing enthusiasts come together and share their problems and knowledge on patterns, fabrics, tips and techniques and all things sewing.

From the very first pages, I knew that this book was going to be one of the most useful tools in my sewing reference library. Just the fact that all this information has been offered by generous men and women all over the world, makes it that little bit more personal. You can see this has been a labour of love and dedication by Deepika to bring her famous website to many, many more people.

To be able to have a book where you can find out all about sewing feet, needles, pressing equipment, tools of the trade etc ¬– to setting up your sewing room, how to fit correctly, cutting and marking and embellishing through to the section on Master Classes by some of the best known authorities on sewing in the world – now that is truly inspiring. Just think, all those problems answered by someone who has 'been there, done that' and posted the solution on PatternReview.com for all of us to share. Now we can keep this treasure trove of information beside our machines and find the answers at a moment's notice.

I wish Deepika and her team every success with this publication and I know all of you around the world will support her as well.

Lynn Cook Editor in Chief/Publisher Australian Stitches – the Fashion Magazine for People Who Sew
Some Tips from the book:
Use plastic drop ceiling panels to re-inforce your handbag bottoms. Use Dremel wheel to cut them to size. You can get a lots of purse bottoms for very little money.
- Jan B.
If you are ever struggling threading the small eye of a hand sewing needle, try this: Cut the thread on an angle with a sharp pair of scissors; then wet the end and pull the thread between your thumb and forefinger to make it even pointier. You'll see, cutting the thread on an angle creates a sharper point so threading becomes easier. Try it; it works!.
- Deepika

I have a stash of used silk ties from my husband that I use for the binding when making a Hong Kong finish on a waistband. I take the tie apart and hand wash the silk, which is already on the bias. When it is dry, I press it and cut it into an even strip with my rotary cutter and ruler. It is ready to use for a Hong Kong finish. You can also recycle the tie interfacing: It makes great sleeve headers. If you let people know you collect old silk ties, you might be amazed at how many you receive!
- Peggy L
. We actually SEW!
- priced right & even free at times.