Tonya


Colorado USA
Member since 8/24/02
Posts: 362
Skill: Intermediate



Date: 11/5/06 8:31 PM

I glanced over the past threads about swayback alterations and I don't think this has been mentioned. Sorry if it has already been mentioned.

I recently bought 2 RTW casual jackets (I know, I know. I was desperate; they were cheap.) and was very frustrated with the fit in the back from my significant swayback. At first I thought the problem was not enough fabric to cover my big bum, but when I shrugged my shoulders, the back lay smoothly instead of in numerous folds.

I suddenly realized that if the waist were shorter, such as in a petite size, it may fit better.

Then I remembered about 4 years ago I had come to the conclusion through fitting experiments that I was short-waisted. I started making petite alterations in a few shirts, with mixed results. The waist/hip/back usually fit better, but the shirt often ended up being too short overall. Shortly after that time I did the "Fit For Real People" body graph which showed that I'm actually long-waisted. Since then I've usually added an inch to waist length and taken 1.5 to 2" tucks in the back in an attempt to adjust for the swayback.

Making skirts and pants I realized that my waistline is tilted - I'm shortwaisted in the back but longwaisted in the front. Since my stomach is relatively less prominent, I don't think it's quite as important to fit the front waist in something like a jacket or shirt because nobody can see my belly button to critique where the front waistline is. But, if the back waist isn't fitted well it's a big deal because my bum starts its long traverse horizontally nearly immediately after the waistline.

So, this last weekend, I tried on some RTW petite jackets (getting glares from the other petite shoppers cuz I'm 5'8", hehe) and was happily rewarded by a great-fitting jacket. It cleared my hips, nipped in at the right place in the low back, and because of that I could get it small enough to approximate a decent shoulder fit (usually in RTW I need an 8-10 in the shoulders, 10-12 in the bust, 14-18 in the hips).

And then I noticed the sleeve...

...was three inches too short.

*sigh*.

Anyway, the point of that whole introspective diatribe was to recommend my fellow sway-backed sisters try a petite alteration and see if it helps. It's much easier than taking a tuck, IMHO. You can then just try extending the hemline an inch if you're a not-really-shortwaisted-person like me to keep the garment from being too short overall.

Hope that helps!

(edited to fix a few minor grammatical mistakes because I'm that obsessive)
-- Edited on 11/6/06 5:32 PM --

MelissaB in WA


PR Weekend Volunteer
Washington USA
Member since 3/18/04
Posts: 1752
Skill: Intermediate
Body Type:




Date: 11/5/06 10:07 PM

Interesting observation, I'll have to see if that helps me. Thanks for your thorough explaination.

------
"The way I see it, if you want the rainbow, you gotta put up with the rain." ~Dolly Parton

Fabric sewn in 2015 ~ 32.75 yards
Fabric sewn in 2014 ~ 55 yards

Debbie Cook


USA
Member since 4/11/02
Posts: 9794



Date: 11/5/06 10:17 PM

It does help Tonya. It's what I need to do too (light bulb moment during my last Simp muslin saga). Sway back is really a different fitting issue than a short (shorter than a pattern anyway) shoulder to waist measurement.

------
--
"I base my fashion sense on what doesn't itch." — Gilda Radner
http://stitchesandseams.blogspot.com

LauraTS


California USA
Member since 7/10/06
Posts: 2243
Skill: Advanced Beginner



Date: 11/5/06 11:56 PM

I occasionally buy RTW jackets in petite because of the exact issue you're talking about. Though I often have to lengthen the sleeves as well (I'm 5'10" but truly shortwaisted...I wear a longer inseam than my DH and he's 6'6").

Although, what's the difference between a 'petite alteration' and a tuck, when we're talking about patterns? I haven't done enough pattern fitting yet to get what you're all referring to.

------
I've moved! Visit my new sewing blog at http://chiralcraft.wordpress.com

Do you sew from KnipMode? Join us at http://groups.yahoo.com/group/knipmode_english/


Sewliz


Colorado USA
Member since 6/22/04
Posts: 4495



Date: 11/6/06 8:36 AM

Sometimes petites fit me better too even though I am 5'8. I find the shoulder area fits better and the proportions of all the neckline features work better for me. Petite RTW seems to shrink down collars, pockets, etc. which suits my stick figure upper body better.

The pattern companies used to have me thinking I was short waisted but now I see that my short measurement comes more from lack of hills to travel over from shoulder to waist both in the front and the back than from being actually short waisted. The front is pretty obvious since I'm a member of the IBTC but the back still surprises me. Patterns have all that extra fabric in the back, what on earth goes in there? I think the answer must be that I am naturally shallow ( I'm just a shallow person), my shoulder blades to not stick out and my posture is very erect, all those years of ballet classes back in the day, so the tape measure doesn't have much of a detour. As we learned in school - the shortest line between two points is a straight line.

I'm glad you brought this up Tonya. It is similar to the circumference measurement problem in patterns. All these measurements are from Ms Standard Pattern's imaginary body and whatever hills, valleys, width, depth, and length she has is what is being imposed on us. It's not an easy concept to get our heads around but we need to in order to get a proper fit on our own individual and quite perfect as they are bodies.

------
Liz

thefittinglife.blogspot.com

Frosty772


California USA
Member since 12/28/03
Posts: 334
Skill: Advanced Beginner



Date: 11/9/06 6:51 PM

Ok maybe im slow or need it really spelled out (im sure that is the case lol) It sounds like I have the same issue as you do Tonya.

When I put a pattern in front of my body the waist marking is always two inches higher. I add two inches and its perfect with my waist. However it always adds length to the bottom which bugs me sometimes depending on how short/long i want the dress or top to be.

I also have the extra fabric above the butt area and find that i have to pin the extra out in the tissue (after lengthing the back pattern) that i added for the middle of my back but see that the sides remain.

Now with all of this my waist is tilted (?) when my front hem is always longer in the front so I have to pull it up and mark the front waist piece to make it even. Am I making more work for myself lol ???

So do I forego the lengthening of the pattern pieces and instead lets say shorten it two inches? and then add two inches to the bottom. This wont affect my waist area in how it fits there? If I understand correctly then you have really made my day lol. I dread doing a new pattern cause I always have to add the waist length then mess with the back piece due to the extra fabric and swayback.

Thanks for the post
I read this before but what is IBTC ?

Edited to add I should mention that im 5.5 By some standards im petite.. some im not i guess it depends on the company and their standards. I do find that in pants i can sometimes wear petites without them being to short on my. Tops are usually to short in the length and sleeves.
-- Edited on 11/9/06 7:40 PM --

Doris W. in TN


Tennessee USA
Member since 2/9/04
Posts: 9237
Skill: Intermediate



In reply to Tonya

Date: 11/10/06 10:02 AM

Quote:
You can then just try extending the hemline an inch



Yes, you can extend the front hemline at the center front and then grade it back to the side seam. This will work great with solid color fabrics. But . . . when it is done with a fabric like a plaid, or those tweedy boucles that have a woven plaid look, IMO it looks wierd because the front hem is off-grain, horizonally. At that point, I think the front should be lengthened totally and a side seam dart of some sort (this becomes a FBA of sorts) to pull up the side is necessary so the hem is on grain.

------
iPad's auto-correct is my enema.

bunz


Virginia USA
Member since 8/24/02
Posts: 2728
Skill: Intermediate



In reply to Tonya

Date: 11/10/06 11:43 AM

Tonya,

Thanks so much for passing on your lightbulb!! I am not swaybacked or short, but my waist is so tilted (higher in back) that pants give me fits!! This is a fantastic "brain fart" you had. Wow!

Nina

Heidi Cooper


California USA
Member since 8/24/02
Posts: 453



In reply to LauraTS

Date: 11/13/06 6:12 PM

I am more of a lurker than a poster, and certainly no expert, but...

This is something I am all too familiar with

Generally, when people hear the word 'Petite' they think of 'Small'. The definition of 'Petite' in most RTW is usually 5'4" and under. However, that is a VERY broad definition and quite a misnomer, especially when it comes to patterns and fitting ones self.

Lets look at it this way: You can be a Super Plus Size and still be Petite. You can be 6' tall and still be Petite.

In the truest sense of the word, with regard to fit, Petite is all about Proportion. Where do you carry your height? (Or in my case: Lack there of )

If you are evenly proportioned, you are not, per se, 'Petite'. If, however, you are 6' tall and 75% of your height is in your legs (lucky you!!) then you are VERY short waisted and must make PETITE alterations for your upper body.

OTH, you can be 5' tall and only have to shorten the length of your dresses and make no other alterations, IF you are proportioned on top and just have short legs.

I am what I like to call a "True Petite" My deviation from the standard is fairly evenly distributed. I should shorten patterns in several places: Above Bust, Above Waist, Swayback adj., shorten hem. Sleeve: Above elbow, below elbow, hem. On pants: Raise hip, above knee, below knee, hem.

Now, in all honesty, I usually take shortcuts (LOL) and try to eliminate some of those areas if I can, but if I am making something special or something with intricate design lines...

HTH and like I said, I am no expert. This is just what I have learned over the years, FWIW.

heidi

------
"Live as if you were to die tomorrow. Learn as if you were to live forever." -Mahatma Gandhi
" Freedom is not worth having if it does not include the freedom to make mistakes." -Mahatma Gandhi

Now Blogging at http://sewexotic.blogspot.com/

meanjean


Texas USA
Member since 5/4/05
Posts: 464
Skill: Advanced



Date: 12/7/06 11:06 AM

This is an interesting discussion. I, too, have a significantly swayed back. I've read in several places that one way of dealing with it is to take a fold at the lower back, which has the effect of shortening the waist in the back. Thanks for pointing that out, Tonya! I've neve quite understood why this worked, but you have given me a clue. It all suddenly makes sense to me now, especially since all my skirts have to be made with a sloping waist line, higher in the back, lower in the front.

------
Jean

Printable Version
* Advertising and soliciting is strictly prohibited on PatternReview.com. If you find a post which is not in agreement with our Terms and Conditions, please click on the Report Post button to report it.
Online Class
Altering Pants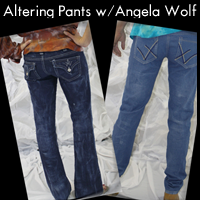 Online Class
All About Buttons and Buttonholes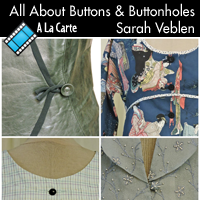 Burda 7447

by: sharondipi...
Review
8 1/2 inch LEFTY Dressmaking Shears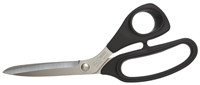 Pattern Details
Sewn Square One Small Change Pattern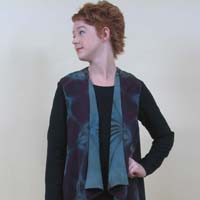 Pattern Details
BurdaStyle Magazine 07-2010-104

by: Elizabeth ...
Review