Member since 12/31/69



Date: 11/6/07 12:51 PM

What are your cooking plans for Thanksgiving? Ready to start cooking?

Margasweet


Member since 2/15/05
Posts: 835
Skill: Advanced Beginner



Date: 11/6/07 4:42 PM

I make 10-15 loaves of Finnish coffee bread for my sister's concert just after Thanksgiving. Have already started, made 10 so far but forgot the salt in 4 of them so have to scrap those (amazing how important 1/2 tsp of salt in a loaf of bread is). Also have to make cookies, brownies, cupcakes...if anyone has simple cookie recipes, please let me know! I don't mind making the bread but cookies are another matter.

For Thanksgiving itself, I always make brown rice stuffing, garlicy green beans, raw cranberry relish, and 3 or 4 pies. Dinner will be at my sister- & brother-in-law's.

Marguerite

------
2007 fabric in: 7 1/2 yards; sewn: 7 yds +1/2 yd
2008 fabric in, 23 yards; sewn 20 yds; given away 6 yds -3 yd = -2 1/2 yd
2009 fabric in 41 1/4 yds, sewn 29 yds, given away 22 1/2 yds ; totals -10 1/4 = -12 3/4 yd
2010 fabric in 91 1/2 yds, sewn 27 yds, given away 1 1/2 yds; +63 yd = +50 1/4 yd
2011 fabric in: 55 yd.; sewn: 21 yd; given away: 20 yd +14 yd = +64 1/4 yd
2012 fabric in: 60 1/4 yd., sewn 25 1/4 yds, given away 16 yds, thrown away 3 yds scraps; UFOs completed: 7 ; totals +16 yd = +80 1/4 yd
2013 fabric in: 28 yds; sewn 25.7 yds.; given away 5 1/2 yd.s; projects 8, UFOs 4 -3 1/4 yd = +77 yd
2014 fabric in: 40.5 yd; sewn 33 yd; given away 12 1/2 yd; projects 7, UFOs 10; fabric totals this year -5 yds, since 2007 +72 yds

2015 fabric in: 15 yd
2015 fabric sewn: 10 yd.
2015 fabric given away:
2015 projects: 5 (2 gift bags, tablecloth, 2 gauze chemises)
2015 UFOs: 1 (journal cover)
2015 upcycles: 1 (velvet shirt cuffs=zippered bag)
started:

ryan's mom


Member since 11/30/04
Posts: 5101
Skill: Advanced



Date: 11/6/07 4:54 PM

Now this is my kind of thread! I love reading about what everyone prepares and eats.

Most of of our food has to be homemade because of my son's food allergy. So our list includes cranberry relish (homemade if I have time), butter rolls, mashed potatoes, sweet potato puff, green bean casserole, bread stuffing, artichoke spinach dip, salad, the turkey from our local meat market, and couple of other things. Desserts are pumpkin cheese cake roll, chocolate cream pie, pumpkin pie, apple pie, and blueberry pie.

------
Big 4 Pattern size 12, RTW bottom: 6, RTW jacket 8, RTW top (no size fits me well!)
Measurements: 34 HB/36 FB (34C bra)/27.5/36 (and working hard to keep it that way.)
Machines: Sewing: Elna 760, vintage Kenmore Model 33 (1967), Janome Gem Gold 3, Singer Model 99, Singer 221/Featherweight. Sergers: Babylock Imagine and Babylock Enlighten. Embroidery Only: Janome 300E. Embroidery/Sewing Combo: Brother Dream machine. Coverstitch: Babylock BLCS. Straight Stitch: Janome 1600P.

If you think your sewing is better than everyone else's around here, get out of my way b****. I hate sewing snobs.

My blog: www.phatchickdesigns.blogspot.com



Member since 12/31/69



Date: 11/6/07 5:07 PM

Reading your replies just made me even more hungry ! Have you all heard about the 3 hour Thanksgiving meal recipes on 2 hour turkey ? Would you try it?

PattiK


Florida USA
Member since 10/15/03
Posts: 217
Skill: Intermediate



Date: 11/6/07 9:40 PM

We will be making a fried turkey, small one since there are only be three of us. If you have not had one you must – super yummy!! With the turkey we will be having home made cranberry relish, mash potatoes with home made gravy, DH will make his yummy herb stuffing, garlic string beans, a sweet potato or two and I will probably make a pumpkin pie and an apple pie. Does any one have a good recipe for apple pie? I have never made one before.

------
Patti K.

annsew65


Member since 4/9/02
Posts: 1200
Skill: Advanced



Date: 11/7/07 4:35 AM

Here's how I feel about the whole turkey thing! Watch this!Wrestling the Turkey

Having said that, I WILL be cooking one for Thanksgiving - probably a 20 - 24 lb one - but I'll be using the old time tested 350 F temperature.

------
Sewing in Wild, Wonderful West Virginia
Sewing Room Pics:
http://picasaweb.google.com/annsew65/MySewingRoom#

Ronda Rae


Florida USA
Member since 3/20/06
Posts: 1146
Skill: Intermediate



Date: 11/7/07 7:40 AM

I am not quite sure what I'll be cooking this year but I'd better figure it out soon, huh? This is the first year in a while that I won't be making 600 pumpkin pies and 156 pecan pies all by myself the day before. DH is in charge of that this year!

Ronda

------
I don't mind going to work but it's that 8 hour wait to go home that's a B!TCH.

Luckylibbet


California USA
Member since 7/28/03
Posts: 1405



Date: 11/7/07 11:46 AM

I always make pounds and pounds of mushroom pate. All the relatives and my close neighbors get some to take home.

Otherwise a pretty standard Thanksgiving - a 24 pound turkey to feed 18 (which I always brine the night before), cranberry relish, mashed potatoes, yams, peas, Parker House rolls, probably a pumpkin roll cake for dessert.

------
Suo ergo maledicto

Your time is limited, so don't waste it living someone else's life. Don't be trapped by dogma - which is living with the results of other people's thinking. Don't let the noise of others' opinions drown out your own inner voice. And most important, have the courage to follow your heart and intuition. They somehow already know what you truly want to become. Everything else is secondary. - Steve Jobs

Luckylibbet


California USA
Member since 7/28/03
Posts: 1405





In reply to annsew65



Date: 11/7/07 11:48 AM

That's a great video! And it's about the size turkey I try to get. But DH gets to wrestle it, that's his job on Thanksgiving.

Did you ever the Mr. Bean episode when he attempts to cook a turkey? I think it was actually for Christmas, as they obviously don't celebrate Thanksgiving in the UK, but he ended up with it on his head. Hilarious!

------
Suo ergo maledicto

Your time is limited, so don't waste it living someone else's life. Don't be trapped by dogma - which is living with the results of other people's thinking. Don't let the noise of others' opinions drown out your own inner voice. And most important, have the courage to follow your heart and intuition. They somehow already know what you truly want to become. Everything else is secondary. - Steve Jobs

TammyD


Georgia USA
Member since 4/4/07
Posts: 396
Skill: Intermediate



Date: 11/7/07 1:16 PM

The video--The reason I don't dress that nicely to cook!! :)
Printable Version
* Advertising and soliciting is strictly prohibited on PatternReview.com. If you find a post which is not in agreement with our Terms and Conditions, please click on the Report Post button to report it.
Online Class
Beginners Guide to Sewing Jackets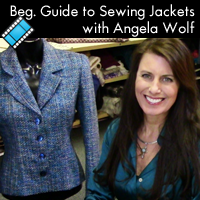 Online Class
Sewing Basics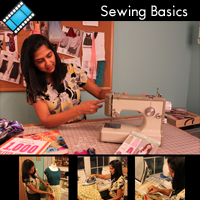 Butterick 5997

by: ButtonFait...
Review
Sew Chic Contance Dress Pattern (ln8404)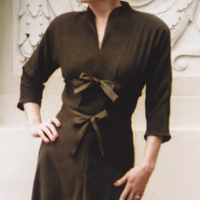 Pattern Details
Margo Handbag Paper Pattern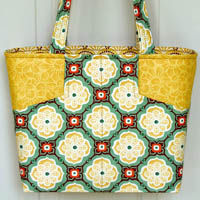 Pattern Details
Simplicity 1539

by: monicawood...
Review