CharityAK


Alaska USA
Member since 11/4/07
Posts: 724
Skill: Intermediate



Date: 1/31/08 11:25 AM

I have many patterns I want to try or to purchase, but am concerned about the necklines being too low. I am quite modest about anything approaching cleavage showing. I know, I know. I'm a prude, but there it is.

This is usually when the pattern is v-neck or wrapped. Is it simply a matter of re-drawing the slanted lined from shoulder to front closure a little higher using a straight edge. And then redrafting the facings, of course. Is there anything I'm overlooking if I do it this way?

Charity

------
Beginning Stash on 01/01/08 - 800 yards
Yardage Sewn in 2008 - 145 yards
Items Sewn - 92
Yardage Given Away in 2008 - 34.25
Wadder Yardage - 5 yards

TOTAL STASH REDUCTION TO DATE: 156.25 yards
DISALLOWED YARDAGE BOUGHT IN 2008 - 36 yards
CURRENT STASH: 643.75 yards

Personal Blog - Vintage Threads, http://www.vintagethreads.blogspot.com

cindy-lou


Board Moderator
North Carolina USA
Member since 7/21/06
Posts: 3642
Skill: Intermediate



In reply to CharityAK

Date: 1/31/08 11:40 AM

Charity, I've done a limited amount of neckline changing and you just described how I've done it. I've marked where my own bust point is on the front bodice piece, which helps me 'guesstimate' how low the neckline will be. Then I've re-drafted the neckline to the height above the bust point that I'm comfortable with. If it's a scoop neckline, I use a French curve to draw it-- I don't think that's really necessary, but it's fun and makes it easier, plus I feel like some kind of drafting smartypants when I use tools like that.

The other discovery that I've FINALLY made is using clear elastic at the neckline, sewn to the seam allowance between the facing and the bodice. Without it, I've had several tops get saggy at the neck (including one of my favorites, where I forgot about it

). Personally, I have a little of a hard time using it, so it's a little of a pain--- but it makes such a difference in the end. Those dang bias-cut necklines stretch so fast on me! You can find tutorials on this in the 'Tips' section.

[BTW-- AWESOME wool suit!

]

------
Cindy Lou, no more than 2
"Sew, Esmerelda! Sew like the Wind!" -Martin Short, The Three Amigos
"When inspiration calls, you don't send it to voicemail." --Will I Am.


Patti B


California USA
Member since 9/29/02
Posts: 2663
Skill: Intermediate



Date: 1/31/08 12:08 PM

Drafting smartypants #2 here -- because this is probably as close to drafting that I will ever get! Cute description, Cindy Lou. I too struggle with the @#$!% clear elastic and the much missed Gigi Louis said that she uses the 1/4 inch braided elastic with much less grief and it's true. As you stated, it really helps with gaposis. This can be purchased at Joann's among other places.

------
Patti

R-r-r-ripping my way to fitting success


DKJ


Member since 7/29/05
Posts: 138
Skill: Intermediate
Body Type:




In reply to CharityAK

Date: 1/31/08 12:33 PM

I use that method you described with good success. Sometime I need to reshape the shoulder seam so this also raises the neckline.

I need to check on that clear elastic tip. Sounds like another solution to this situation. thanks

fiberfan


Utah USA
Member since 2/25/06
Posts: 991
Skill: Advanced



In reply to CharityAK

Date: 1/31/08 12:40 PM

Quote:
I have many patterns I want to try or to purchase, but am concerned about the necklines being too low.

I have don't wear necklines that are low. I like my necklines high enough I can bend down without puting a hand on the neckline. I like round and scoop necks but I think my method will work for a v-neck. I use this on patterns I draft but it would work with a commercial pattern. If I have a neckline like I want, I just copy that one. If I don't already have one I start with the neckline rather high. I put the top/blouse on and draw lines for where to put the neckline with an air or water soluble marker. If in doubt I draw the line higher. Sometimes I get it right the first time, sometimes it takes several times. The lines are enough to use a curve to get a consistent neckline with the width/depth I want. When I have the neckline right, I draft the facing to match if I am using a facing.

Check out this post on

raising a wrap neckline

I need more practice at drafting collars so I usually morph the neckline and collar from a commercial pattern with a pattern I drafted. If the neckline with a collar might be too low, I try a muslin of just the neckline area of the smallest size with the collar. I haven't yet tried shortening a collar when the neckline is too low.

Joanne

------
joy and gladness shall be found therein, thanksgiving, and the voice of melody. Isaiah 51:3

so many ideas, so much fiber, so little time
http://fiberfan.blogspot.com

lilyofthevalley


New York USA
Member since 3/9/07
Posts: 1480
Skill: Advanced



In reply to CharityAK

Date: 1/31/08 12:51 PM

Charity, I feel exactly the same - about the cleavage, about wanting v-neck wrap tops that don't horrify me (and others), about how the heck to get an FBA and how to raise the neckline without making a 'hash' of the shape.

I've been tinkering with Christine Jonson #426 wrap top for almost a year. Every sample I've made so far is a failure for different reasons, based on my alterations. The wrap top calls for a high lycra knit (80% + as I recall), and there is *no way* an 80-100% stretch knit is going to be spanned over this bustline.

I haven't even gotten close enough yet to worry about how to keep the neckline from distorting/stretching/gapping.

(BTW, in the CJ#426 wrap top, raising the neckline along the entire top edge of the wrap sections did not work for me. The top wrapped too high on the side of my breasts and left an unsightly amount at the side seams that intruded into the armscye, and that wanted to "fold back" onto the sides of my breasts. ... Back to the drawing board.)

Keep us posted if you hit upon a magic solution; I'll do the same.

--Lily

------
Lily

lilyofthevalley


New York USA
Member since 3/9/07
Posts: 1480
Skill: Advanced



In reply to fiberfan

Date: 1/31/08 12:56 PM

Joanne, Thank you for that link to 'raising a wrap neckline.' I'll study it for some insight.

--Lily

------
Lily

SansSouci572


California USA
Member since 4/8/02
Posts: 3623
Skill: Advanced



Date: 1/31/08 3:11 PM

I don't like cleavage showing either, it seems rude.Sometimes it startles me to see it on others, in the daytime. I wondered if this is a new look, as I have been seeing it more often. I tried leaving the house with a tiny bit, but it makes me self-conscious. I don't know why, but it also made me feel "old."

And COLD! eeek!

I have been layering with thin tees or camisoles, and now like them to be low so the layers show. I *think* some of them are designed to be worn with cami's underneath--because if they weren't, half my bra would be showing too, not just cleavage.

I have never heard of braided elastic, will have to check it out.

I never did get the hang of the clear elastic. Even the little tiny bit at the shoulders is always sewn crooked in the seam on all my tops; I can't get it to stay still. I am afraid to try it on the neckline, I would end up cutting it off and making the shirt even lower! Its so stiff too, you'd see it if it was crooked.

------
"What you WANT is irrelevant, what you've CHOSEN is at hand." --Mr. Spock

Drum Runner 2

USA
Member since 1/28/08
Posts: 1
Skill: Intermediate



Date: 1/31/08 3:49 PM

What a breath of fresh air! I've been sitting here thinking I was the only one with any modesty left. I have not purchased many, many patterns because of the neckline. I did make a paper tape dummy, in part, so I could put a pattern piece on it to see just exactly where the neckline would hit. You can't always be sure looking at the drawn pictures as I find them deceiving. I like a photo with the outfit on a model to get the best feel for where a neckline really is. I haven't been too brave in altering for a higher neckline but it shouldn't be too hard. I've heard mention here of a Stretch and Sew book by Ann Persons on necklines. I do well learning from books so I'd like to know exactly which book this is and what kind of info it provides. Sorry I'm no help but I did want to chime in and let you know you are not alone.

Irene Q


New Hampshire USA
Member since 3/19/04
Posts: 2551
Skill: Intermediate

1 member likes this.




Date: 2/1/08 11:12 AM

I don't like them low, either, at least for everyday things.

It's pretty easy to raise a v-neck. Just draw one in higher.

For a pattern piece with the CF on a fold, mark a spot an inch or two higher on the fold, then redraw the curve to that point. If I'm tracing, I'll move the original neckline curve over to where I'm drawing in the new one to help draw the curve. Once you do your first one, it gets much easier! Err on the side of modesty - once it's cut out you can always make it lower.

Wrap tops are a bigger problem. To get the wrap under your bust and not partially over it, the two sides pretty much have to cross right between your breasts - which is too low for me! I haven't tried Ann's method, but I can see that it raises the part that goes under the bust at least a little bit. If that look is OK with you, then try it! The only other solution is to find a style where the neckline is quite high on the shoulder, like this one

Vogue 2759

. or

Vogue 8323

.
Printable Version
* Advertising and soliciting is strictly prohibited on PatternReview.com. If you find a post which is not in agreement with our Terms and Conditions, please click on the Report Post button to report it.
Online Class
Beginners Guide to Dyeing Fabrics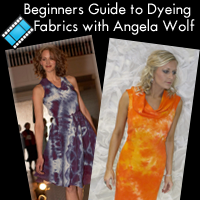 Online Class
Pattern Work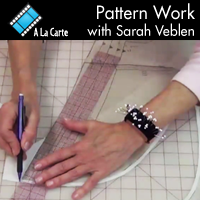 By Hand London Flora Dress

by: mangoflavo...
Review
Simplicity 1662

by: princesslu...
Review
J Stern Designs The Hobo Bag Pattern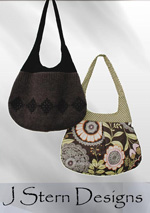 Pattern Details
Sewing Workshop Zona Jacket Pattern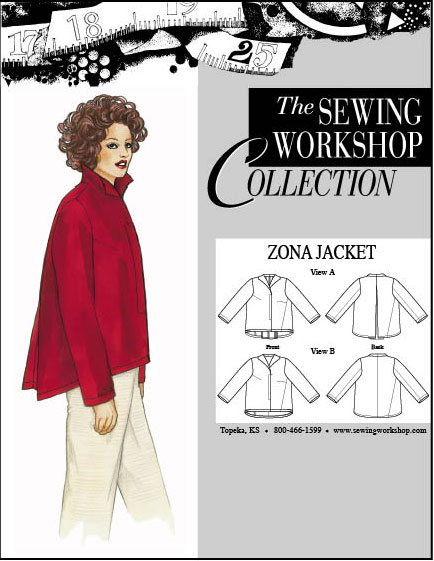 Pattern Details