Tailypo


California USA
Member since 8/6/03
Posts: 1352

1 member likes this.




Date: 5/27/08 12:26 PM

I swear I think I have taken up the wrong $%^&*@# hobby. I finally got a terrific fitting sloper but the darts are absurdly long, so I thought I was so on it, and shortened the darts and rotated some of the dart to the hem where it could live happily ever after as flare. But then the skirt I made wound up with horrible unflattering drapey curtains at the side seams of the back gores, instead of the nice a-line I was picturing. A simple a-line with no bells or whistles, drafted from my own measurements. How hard could that be???? Well-nigh impossible, apparently, if you are me.

I'm sick of it. I have so little spare time and what little time I do have I end up spending on crap like getting my machine repaired or figuring out why my bobbin keeps jumping. Then if I actually ignore things like housework or grocery shopping and sew something, I end up with something vaguely frumpy or ill-fitting or somehow off, AND we have no food or the house is filthy.

If I had taken the money I've spent on machines, patterns, workshops, classes, memberships, subscriptions, and fabric and spent it on a good tailor and six basic pieces I would be so far ahead AND would actually have a wardrobe.

ARGH!!!!

So I think for a while at least I am quitting, and leaving sewing for those people who end up making things that please them.

Sorry to spew a bunch of negativity, and I hope that maybe I will change my mind. But seriously, I think at this point I am just going to take what I have learned during my seven year attempt to learn to sew and apply it to the areas of shopping and getting my clothes tailored. Now I have a better understanding of fit, fabric, and construction. But I also know that I cannot sew well, and don't make very good choices when it comes to putting together fit, fabric, and construction for myself. Better to hire someone else to do it for me.

Vent over!



------
messymethodsewing.wordpress.com


FirecrackerKTM


Colorado USA
Member since 3/28/08
Posts: 2333
Skill: Intermediate

1 member likes this.




Date: 5/27/08 12:41 PM

I understand your frustrations. I've been known to scream and/or throw things across the room.

It also applies to my other hobbies--I haven't ridden my motorcycle in more than 6 months, because ALL of last year (not just a few rides) I was completely pathetic and couldn't do things I used to do with ease.

So, you'll get no criticism from me. Put the sewing away for a while and try something new. Or take it in a different direction. But if you're frustrated, definitely give yourself some time and space!

Mermie


Nebraska USA
Member since 5/15/05
Posts: 1332
Skill: Intermediate





In reply to Tailypo

2 members like this.



Date: 5/27/08 12:52 PM

GAWD, I've been where you are!
I mostly sew for my kids and grandkids, but have been determined, steely eyed, and totally focused on getting garments to fit ME.
What a struggle. Tomorrow I am taking an all day pants fitting class with Cynthia Guffey. This will be the 4th pant fitting class by various instructors that I have taken.
I get so discouraged trying to fit myself, but I am #$^*@%* DETERMINED to figure it out. It just *&$@'$ me off that it is so hard to do.

You have the added responsibility of 2 young kids to chase after, which I remember well and that just doesn't lend itself to distraction free sewing.

I don't blame you for walking away from it. Maybe you'll come back to it refreshed and with a whole new frame of mind. Don't stay away permanently, we would miss your hilarious reviews.
You have sewn some lovely garments and should be proud of yourself for that, but I know what you mean about getting discouraged.

------
Kathy

neither


USA
Member since 12/7/06
Posts: 653





In reply to Tailypo

1 member likes this.



Date: 5/27/08 1:53 PM

I found that when things come together to frustrate me on projects I am doing, I change direction and focus on another idea. It doesn't have to be sewing. It could be cooking, (try a completely different type of recipe), or some other thing that might give you satisfaction for completing. Sewing clothing sewing can be hard, if you are trying to do it within an imposed deadline. The same applies to other creative pursuits. It is supposed to be fun. I don't think most people do it for cheapness alone. RTW clothing is so cheap nowadays, (offshore manufacturing), that there has to be a different reason for sewing. Give yourself a break and come back refreshed, and it will likely fall into place. Good luck
-- Edited on 5/27/08 1:54 PM --

------



tr1c14


Member since 3/28/08
Posts: 673
Skill: Advanced Beginner

2 members like this.




Date: 5/27/08 2:07 PM

I don't know you well enough to know if this applies to you, but...

One of the things that happens as you get better at something, is that you not only get better at doing it, you get better at noticing tinier and tinier mistakes, imperfections and places for improvement, which in turn makes you better at doing whatever it is. Unfortunately, because your perception/cognition is always a few steps ahead of your ability, it feels like you're on a plateau or even getting worse.

The cure, as far as I know, is what everybody else says: take a break. Get some feedback on the stuff you've done (which is likely to be positive!) and come back and look again when you've got some distance.

Good luck, and I feel for you. (I went through a full YEAR of this feeling when I was learning to dance and it was awful.)

------
Tricia
----------------
The advantage of being a beginner is, nobody has told you "That can't be done." This is also the disadvantage of being a beginner.

Heidi Cooper


California USA
Member since 8/24/02
Posts: 453





In reply to Tailypo

2 members like this.



Date: 5/27/08 2:25 PM

I totally get your frustration, and this is coming from someone who has been sewing off and on for 37 years (and I am only 43 lol).

About a year ago I was feeling much the same as you are now. I had discovered PR in '02 and started learning much more about fit than I had ever known before. Since I was completely self-taught PR was a real Godsend for me. Little did I know then that it would all become a double edged sword. The more I learned, the more obsessed I would become with fit and the more dissatisfied I was with my own sewing; something that had always been a pleasure before and was really very good.

I spent the next 5 years making more muslins than I can count, adding amazing fabrics to my stash that I never felt 'good enough' to cut into and making so few things that I would wear. All the while, having seen the things I actually did make, friends and family would rave about what an amazing sewer I was, and I would just sit there feeling like a fraud! All because I couldn't get my idea of a 'perfect' fit. (no such thing BTW)

Then last year the opportunity to do some purely creative sewing came along, no fitting, just creativity. After much thought and even more self doubt, I threw myself into the project 150%. I went back to the reason I started sewing in the first place: as a creative outlet. I was enjoying the process again. Sure there were frustrations, but they weren't overwhelming and they just made me get more creative.

When I was finished with the project an amazing thing happened: all of the knowledge I had gained in the previous 5 years seemed to come together all at once and my clothes were fitting like I had always tried sooo hard to get them to fit! How can this be? I had only taken a 2 month break and I am still the same fit frustrated sewer, right?

Wrong! After MUCH thought and self-analysis I realized that for 5 years I had completely shut off half of my brain, half of who I am, the creative half! Instead I was solely using the analytical half and, for me at least, it takes both halves to get it right.

Not only am I sorely unhappy when I am not being creative in some form, but I find that fitting is as much art as it is science and I had been only focusing on the science. And when I re-awakened that part of me I was able to see the 'forest for the trees' as it were.

I am now happily sewing better, fitting better and cutting the 'good stuff'

I am sorry this is so long (and personal) but I thought you and maybe others might be able to benefit in some small way from my journey.

heidi

ETA: I forgot to say...Try working on something just because the idea of it gives you pleasure and don't have any expectations. Do it purely for the fun of it, whatever it is - doesn't have to be sewing. Stop focusing so hard on what you think you should be able to do or accomplish and try enjoying the process. I guess that was the whole point of my ramblings. You really do have a lot of talent!
h
-- Edited on 5/27/08 4:11 PM --

------
"Live as if you were to die tomorrow. Learn as if you were to live forever." -Mahatma Gandhi
" Freedom is not worth having if it does not include the freedom to make mistakes." -Mahatma Gandhi

Now Blogging at http://sewexotic.blogspot.com/

appleC

Arizona USA
Member since 6/17/04
Posts: 350
Skill: Intermediate



Date: 5/27/08 2:48 PM

No, you can't quit! Last week, when reading your European Cut Sloper review, I thought to myself, "Tailypo is really advancing herself in sewing stuff." I read your pattern reviews, then I heard about you taking classes, now you're on the way to drafting your own patterns. It's really inspiring for people like me who don't take sewing seriously and I really admire your persistence and passion about sewing.

Stitchology


Maryland USA
Member since 1/26/03
Posts: 3678
Skill: Intermediate

1 member likes this.




Date: 5/27/08 3:20 PM

Sounds like you stretched yourself and ended up with a wadder, and who isn't frustrated by that. You blew your precious time and energy.

I have to echo the comments about trying to sew while working and raising kids. Nearly impossible. My way of coping with that was to really cull my ambitions down to what I might really want to make, or what I had to make because it wasn't for sale in a price or fit I could deal with. I stuck with small bites, no long sessions that blew off everything else I had to do. I was a balancing act between what I craved doing and what was realistic.

You really do have a creative talent and skill. You could take a break, pack everything away so it's not taunting you, or try some small, simple projects. Today a cashier admired my super sturdy shopping bags, a nothing project, but something you can't buy in that quality. It made me glad I can sew.

Last, when you're fitting a skirt, especially on a body that's made babies, I don't think you can play with your darts. Your fabric needs really careful shaping. My TNT A-line skirt is a prized possession and a wardrobe staple. No RTW skirt can substitute.

Peace and sanity to you.

------
Buy the best and you only cry once.



OP Gal


Kansas USA
Member since 10/14/03
Posts: 2569
Skill: Intermediate
Body Type:


1 member likes this.




Date: 5/27/08 3:45 PM

You can't quit. Then we wouldn't have your clever reviews to read! Take a little break and things will look better. I've read reviews of wonderful things you've made. This one is worth hanging in there just for the hilarious review, let alone the great looking dress.

I hear you, though. I'm so slow that it takes me forever to make something. I read about people making a garment in an afternoon and I'm banging my head on the keyboard. Will I ever, ever be able to complete a project in less than a week? I told my husband recently that I was sick and tired of making muslins, because that was all I ever do--make muslin after muslin. After I've made my fourth muslin, I still can't "read" the wrinkles and folds. I keep hoping I'll get better or faster, but I just keep waiting.

My low point was when I realized I was never going to be a Debbie Cook. It just isn't there. I'll never be Yo Yo Ma, either. Or Stephen Hawking. I could go on, but you get the point. I guess I'll just have to be content with the fact that I make great vegetable beef soup. That's my big claim to fame.

------
If I sewed any slower, I wouldn't be sewing at all.



Kellie R.


PR Weekend Volunteer
Member since 7/4/07
Posts: 1669
Skill: Intermediate



Date: 5/27/08 3:51 PM

I had a run of several unsuccessful garments. (the Catwoman costume, a men's tailored tuxedo jacket and a vintage Vogue dress.) It is completely demoralizing and you wind up giving yourself far less credit than what's deserved.

What I try to do after one or two or a bad run, is to make something simple with unfussy fabric. A nice project always restores my sanity.

Then, I can look back on said project-from-*bleep* and reflect on what was learned, realizing that I've actually helped progress my skills despite the garment's flaws.

I, too, read your sloper review and was impressed with your project. I'm far too chicken to attempt anything that complex. I've only just began to brave more involved projects that require fitting, and it's fitting on a basic level.

Perhaps you really are fed up and ready to move on to a different hobby. Not all hobbies are for everybody. But perhaps after a break, the bug will bite and you'll return. I sure hope you do!

Regards,

Kellie-who-is-too-chicken-to-try-making-pants-because-of-my-bulging-outer-thighs.
-- Edited on 5/27/08 3:54 PM --

------
A bad day in the sewing room is better than a good day at the office.

Getting through life, one stitch at a time.

http://when-ladies-dressed.blogspot.com/
Printable Version
* Advertising and soliciting is strictly prohibited on PatternReview.com. If you find a post which is not in agreement with our Terms and Conditions, please click on the Report Post button to report it.
Online Class
Leather 101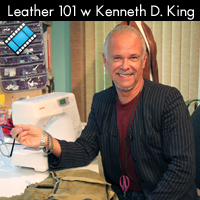 Online Class
Beginners Guide to Dyeing Fabrics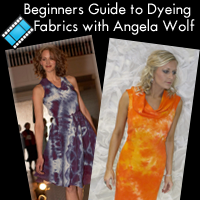 McCall's 6754

by: thequirkyp...
Review
Christine Jonson BaseWear One - Leggings, Top and Yoga Bodysuit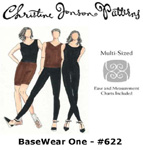 Pattern Details
Sew Liberated Reading Pillow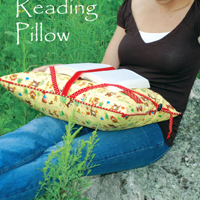 Pattern Details
McCall's 5569

by: Sixtiesgir...
Review