Matt_Shaver


Illinois USA
Member since 11/27/06
Posts: 112
Skill: Intermediate



Date: 10/1/08 6:58 PM

Here's a dumb question. Does embroidery and sewing thread have a shelf life? I use Isacord, Madiera and Mettler Polysheen but have a couple spools that are going on two years. I've never heard any conclusion as to this question.

Matt :-)

------
Matt, Spfld, IL.

P.S. Remember we still cannot make a silk purse out of a sow's ear.

Big Dog


Michigan USA
Member since 1/22/06
Posts: 1183
Skill: Intermediate



Date: 10/1/08 7:35 PM

I don't seem to notice a difference in my older cones of thread from 8 years ago to newer ones of the same brand. Really the only problems I have had have been with Sulky brand, and that was a problem with three spools of the same color, must have been a bad batch.

I use primarily rayon and prefer ARC brand to the others.

------
Formerly sew*itch

AnneM


Contest Committee
Member since 7/30/02
Posts: 7438
Skill: Intermediate



Date: 10/1/08 7:52 PM

Yes, but longer than two years. If they are in the sun the life span is shorter. If kept in good conditions (medium humidity, no direct sunlight, room temperatures) they can last much longer.

That being said, I don't know what the 'typical' life span of thread is. Test your thread by giving it a yank. If it breaks too easily, throw it out rather than ruin your project.

So far, my thread has lasted just fine.

------
With a great wardrobe that's still in the flat-fabric stage.

Mufffet


Vermont USA
Member since 8/14/05
Posts: 13092
Skill: Intermediate



Date: 10/1/08 8:38 PM

There have been a few threads on these boards about that very thing. Some say 5 years, but I htink if you keep it dry and out of the light, and well stored, you can get a few years more. IF it is really good thread int he first place. That cheap stuff from the 'Marts - no-name sort of thing - it isn't good when you buy it! I have used C&C, and Metrosene, and Maxilock without problems - some is maybe 5 years old, most newer.

------
"Be kind whenever possible. It is always possible."
--Dalai Lama

I have sewing machines

CathyWeeks


Minnesota USA
Member since 9/5/08
Posts: 707
Skill: Intermediate



In reply to Matt_Shaver

Date: 10/1/08 10:08 PM

Quote:
Here's a dumb question. Does embroidery and sewing thread have a shelf life?

I would say, no, not really, as long as it's stored in good conditions. My mother acquired an antique spool cabinet - lovely thing with two columns of glass-fronted shelves with a cabinet between them, and wooden drawers below. Anyway, she acquired it - probably at an estate auction - when I was a little kid. So she's had it for between 35 and 40 years. She bought tons of cheap and sale spools of thread in a rainbow of colors, for the front of the glass-fronted shelves, so that it would look pretty. She's had those same spools - bought for purely decorative purposes - for 35 years. She's used some of them in a pinch along the way - whenever she needed some thread and happened to have the right color on hand. They are still good. But they were stored in near perfect conditions - away from direct sunlight, climate controlled, etc.

But then, my parents lost their home in 2003 to a fire. What wasn't lost outright was badly smoke and water damaged. That cabinet survived - several of the glass fronts broke in the process, though, but ALL of the thread survived. The cabinet and all its contents went to an antique restorer, who put all the spools (which hadn't gotten wet, but had gotten well-smoked) in color-coded bags, and then refinished the cabinet and cleaned it up.

Mom hasn't sewn since before the fire, and all the stuff remained packed away. I just helped her unpack the cabinet, and re-organize all the drawers. All the thread looked terribly dingy from the smoke, but it was all on the outside. So I unwound the outer layer from each spool and discarded it, and underneath the thread was bright and beautiful. (My hands got smoke residue all over them - lovely, and probably poisonous, so I washed them thoroughly when done). But even the smokey thread was strong and durable - it felt fine, even if it looked bad. And this stuff was literally 35+ years old.

------
My (mostly) green sewing blog: http://NapkinLady.blogspot.com/

tr1c14


Member since 3/28/08
Posts: 674
Skill: Advanced Beginner
Body Type:




Date: 10/2/08 11:58 AM

If thread has a shelf-life, one has to keep in mind that vintage/antique clothing has to be very, very old, or in pretty rough shape, before you can't touch it for fear of the seams just disintegrating.

------
Tricia
----------------
The advantage of being a beginner is, nobody has told you "That can't be done." This is also the disadvantage of being a beginner.

pfaffkj


Tennessee USA
Member since 7/28/05
Posts: 643
Skill: Intermediate
Body Type:




Date: 10/2/08 12:20 PM

I've had some Sulky rayon thread get weak after several years, especially black. If I can break it easily between my hands, I just toss it. Poly and cotton seem to last better for me.

------
Karen

Yards in stash: I don't want to know, but I estimate 300.
2016 goals:
3.5 hours per week doing sewing related things
4 yards of stash fabric used for every yard purchased.

2016 Purchased: 0
2016 Used: 10.33



PattiAnnJ


Ohio USA
Member since 12/3/06
Posts: 8692
Skill: Advanced



In reply to Matt_Shaver

Date: 10/2/08 3:04 PM

This has been discussed before, but as mentioned in this discussion it will depend on storage.

I, too have spools of thread that may be older than you

If you have really old thread, you can test it by unwinding about 12 or so inches, then holding one end in each hand, give the thread a snap! If it breaks, put it in a clear container as decoration for your sewing room, or use it for basting.

Some brands of black embroidery thread tend to be weak due to over-dying (I have had issues with C&C and Sulky).

New thread can occasionally be a dud and not unwind properly from the spool. When making the purchase, it is difficult to tell if the thread was manufactured on "hang-over" Monday or "run for the door" Friday.

------
"Improvise, adapt and overcome." - Clint Eastwood/Heartbreak Ridge

"Isnít it a shame in todayís world you canít tell the truth. If you tell the truth youíre abrasive. If you lie youíre charming." - Bob Huggins/College Basketball Coach

Matt_Shaver


Illinois USA
Member since 11/27/06
Posts: 112
Skill: Intermediate



Date: 10/2/08 11:36 PM

I keep all my thread out of sunlight and in drawers in smaller boxes. I guess they are pretty safe. Although, I know that every once and a while you can get some flaky thread. However, I was just curious. The reason was my grandma gave my mom some thread and it nearly fell apart on the spool. When asked my grandma thought she bought this thread at Woolworths back in the 60s. LOL. I had to laugh too. My grandma, bless her heart, no wonder I'm a pack-rat too. I learned from the master. ha hah . Matt :-)

------
Matt, Spfld, IL.

P.S. Remember we still cannot make a silk purse out of a sow's ear.
Printable Version
* Advertising and soliciting is strictly prohibited on PatternReview.com. If you find a post which is not in agreement with our Terms and Conditions, please click on the Report Post button to report it.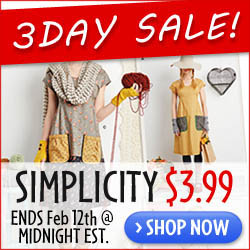 Online Class
Fun with Fitting - PANTS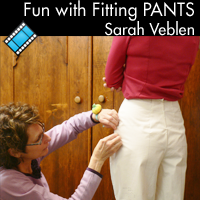 Online Class
Altering Pants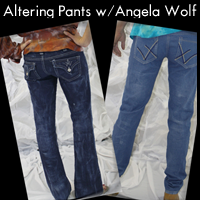 BurdaStyle Magazine 10-2012-118A

by: mzelenaia
Review
Sew Chic Phantom Jacket and Pant Pattern (ln1106)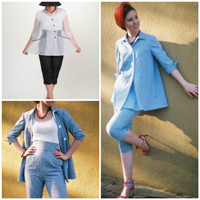 Pattern Details
Islander Sewing Systems Women's City Western Blouse Pattern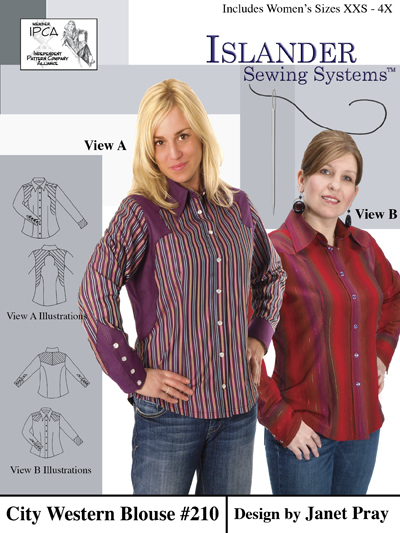 Pattern Details
StyleArc Abby Cardi

by: Heatherriq...
Review