jannw


Washington USA
Member since 9/3/06
Posts: 8552
Skill: Intermediate

8 members like this.




Date: 3/1/09 12:42 PM

Total Stash Sewn for 2012..........1234.065 yards

Year to Date

January....164.2

February...153.00

March......160.25

**************************************************

Now that the Stash Contest is over, several of us have decided to continue to sew our stash. If you didn't join the contest and are interested in "de-stashifing" for any reason, please join us.

The contest offered motivation, a goal to reach, which at first seemed to be unobtainable, a chance to try new patterns, the impetus to start a long planned for project, and the opportunity to do so in good company.. I know I increased my skills by sewing everyday, used patterns that I've had for years and never tried, learned some new techniques, dusted off some old skills, all the while making room or new stash.

If you would like to join in, I would only ask that you check in periodically, let us know what you are sewing and how it is progressing. This way, we can all continue to be inspired and motivated.

Other than that, there are no rules. Stash is what you, personally consider it to be-it has no age limit- sew what you want to sew at your own pace. If life intervens, as it will, do not feel guilty-take care of things, and come back to us when you can.

If you participated in the contest and need time to get your sewing room, home and family back in order, do so, and join in when you are able.

If you want to set personal goals, post them here and we'll cheer you on, give advice and encouragment, and keep each other motivated.

I will be sewing in the One Pattern Contest starting today and using some of my stash for that. I'm using a piece of stash fabric for my basic, unaltered version and have several more versions with stash planned.

My goal for the coming year is to sew 10 yards a month. I did 20 a month for the contest and that may have been a little to much for even my minimal housekeeping skills. I like having stash and intend to keep buying, but hopefully more varied pieces. I need more knits and less silk! But I would like to reduce what I have to a more managable level.

That said, please join in..I need company to keep on track!

Jan

-- Edited on

3/17/13 12:37 PM

--

-- Edited on

3/17/13 12:38 PM

--

-- Edited on

4/6/13 12:22 PM

--

-- Edited on

4/7/13 3:21 PM

--

------
2009-113.25 yds
2010-115.5
2011-80.25+30+donated
2012 86.3 yds..
2013 21.0
Everyone who sews seriously has a stockpile of fabrics, because it is natural to purchase more than can be sewn in any one season" Singer, Timesaving Sewing, 1987



Kathy in NM


New Mexico USA
Member since 3/16/02
Posts: 383
Skill: Advanced

1 member likes this.




Date: 3/1/09 1:26 PM

Hey Jan - I'm with you!

I want to finish-up a summer robe which didn't quite make it into the contest.

Also, I'm working on some clothes for a Florida vacation in about a week. These include a cover-up/dress, a wicking fabric long-sleeved hoodie for sun protection, maybe some capris.....

And, I'm finally going to use some of my swimsuit fabric - if it doesn't work out, oh well. I purchsed several yards of three prints on sale some time ago.....

Kathy

Em's Summer


USA
Member since 2/16/06
Posts: 3174
Skill: Intermediate



Date: 3/1/09 2:04 PM

***********

-- Edited on

6/13/10 6:49 PM

--

------
From what others have said, the nasty message came from Fitting Woes, NOT Misc Hot Topics or the Civility thread.



Miss Fairchild


USA
Member since 8/24/02
Posts: 7936
Skill: Advanced



In reply to jannw

Date: 3/1/09 2:05 PM

Hi Jan. Count me in. I'll track this topic so I can check in once in a while. I love your goal of 10 yards a month; I have about 170 yards of fabric and the 10 yards a month sounds do-able. I have a tendency to go in spurts; cutting out two or three patterns and then sewing them up. When I get burned out with that, I turn to quilting (which fabric, by the way, isn't counted in my stash--that's a whole 'nuther animal!)

Right now I have two pair of pants cut out; they are muslin stage, but hopefully I will not have to do too many alterations and they can be wearable muslins. And just today I was looking at my nine year old fleece bathrobe; it will be getting threadbare in the seat soon (if there is such a thing for fleece) so I have to get rolling on a new one. And I'm refashioning a pumpkin colored cotton velour dress into a long sleeve top. Then I want to make a new handbag and have to decide on a design. That's always the hardest part!

Thanks for posting this; I'll do my best to check in once in a while. I'm on the Lutterloh board, and the pants I have cut out are Lutterloh patterns, (So will be the robe, if I ever get the mind set to do it!) so I should be posting in both places, hopefully soon!

------
"Play the cards you are dealt, but choose who is sitting at the table"..AARP magazine

SEE MY ETSY SHOP HERE: http://www.etsy.com/shop/AuntMaymesAttic
My blog: http://auntmaymesattic.wordpress.com/

Yvonski


NEW ZEALAND
Member since 7/8/06
Posts: 940
Skill: Intermediate



Date: 3/1/09 2:43 PM

Count me in. Is it Okay if I talk in metres, converting to yards is a chore for me.

My goal is 5m a month. I mostly sew for my little DGD, so 10 items is less than 5m. I'm also just getting into quilting, have started a learner's class, that takes 9 weeks = 9 blocks. I need to build a quilting stash

------
Life is too short to stuff mushrooms

Ody


Going to PR Weekend!

Missouri USA
Member since 12/6/03
Posts: 2587
Skill: Intermediate
Body Type:


1 member likes this.




Date: 3/1/09 3:03 PM

Well, if one of my favorite people, the Yvonski from down under is in---I am in. I am sewing for the Plus size sew along, and I have organized my stash according to the dictates of the sewing space thread, and I might as well jump in the stash hot tub with you all!

I didn't get all the projects done I wanted anyway---life got in the way. During the next couple of months just realize that besides dealing with our crispy house, I have a garden to get in, tomato seminars to give, a dh to help with at the store, track which has us driving all over, and the tacky normal living things like school, laundry, and my family somehow expects me to cook as well. Now, where was that cape with the SM on the back??? Oh! I know! I was saving it for the next stash contest!!!

Now there is a great "stupid but useful" stash project! Can leap laundry mountains in single bound!

Sew, I am in on this thread and I am going back to sewing.

------
"Sewing should be fun; make it that way!" Margaret Islander
Flying through life by the seat of my pants and hoping I get my crotch curve right.
"No humiliation is too great for a well fitting pair of pants!" Heidi Cooper
J6500P,
J1600P
J3160DC
J350E
JCP1000

Babylock Enlighten serger
My grandmother's Feather Weight

Jannie


Virginia USA
Member since 4/25/04
Posts: 611
Skill: Intermediate

1 member likes this.




Date: 3/1/09 3:07 PM

I'd like to join in too. I have curtains, shower curtain, bedding and clothes to do. I could use up a lot. I didn't do the contest as some of this is not over 6 months old. I do have a lot that is.


jannw


Washington USA
Member since 9/3/06
Posts: 8552
Skill: Intermediate



In reply to Kathy in NM

Date: 3/1/09 3:11 PM

Glad to have you...Florida, sun coverups, swimsuits..I'm so envious..it's still in the 30's here at night and I'm freezing..I don't know what type of swim fabric you've got, but some I've seen recently look to be suitible for knit tops..so if the suit does't work for you(or you only need one) that might be a possibility.

Happy sewing!

jan

------
2009-113.25 yds
2010-115.5
2011-80.25+30+donated
2012 86.3 yds..
2013 21.0
Everyone who sews seriously has a stockpile of fabrics, because it is natural to purchase more than can be sewn in any one season" Singer, Timesaving Sewing, 1987



jannw


Washington USA
Member since 9/3/06
Posts: 8552
Skill: Intermediate



In reply to Em's Summer

Date: 3/1/09 3:18 PM

I saw your grey set..must have missed the black..I really liked it. I had considered that pattern, but thought it a little too polished for my needs. I went with 8567 and made the dress and a wearable muslin of the jacket in magenta, which I'll wear with jeans or black pants. I still have to do the jacket again in a cream linen and I do want to do the top..we'll keep each other going..that jacket has 24 darts..counting the lining. Your new project sounds like fun..vintage and a wardrobe.

jan

------
2009-113.25 yds
2010-115.5
2011-80.25+30+donated
2012 86.3 yds..
2013 21.0
Everyone who sews seriously has a stockpile of fabrics, because it is natural to purchase more than can be sewn in any one season" Singer, Timesaving Sewing, 1987



jannw


Washington USA
Member since 9/3/06
Posts: 8552
Skill: Intermediate



In reply to Miss Fairchild

Date: 3/1/09 3:29 PM

Hi Beth..glad to have you aboard..yes, the 10 yards sounded doable to me and at the end of the year, you sewn over 100 yards..psychology in action..sounds as you've made a good start..also robes take a lot of yardage..a real bonus..so if you get stuck for yardage one month, haul out your robe fabric.

2 pair of pants, a top, and a new handbag..you may have 10 yards right there..

good luck on the fitting,

jan

------
2009-113.25 yds
2010-115.5
2011-80.25+30+donated
2012 86.3 yds..
2013 21.0
Everyone who sews seriously has a stockpile of fabrics, because it is natural to purchase more than can be sewn in any one season" Singer, Timesaving Sewing, 1987


Printable Version
* Advertising and soliciting is strictly prohibited on PatternReview.com. If you find a post which is not in agreement with our Terms and Conditions, please click on the Report Post button to report it.
Online Class
All About Buttons and Buttonholes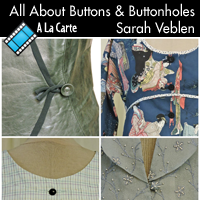 Online Class
The Contemporary Couture Jacket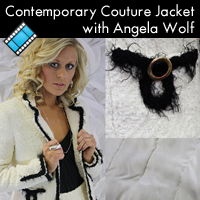 McCall's M6793

by: kimmielove...
Review
Sew Chic Phantom Jacket and Pant Pattern (ln1106)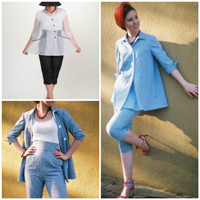 Pattern Details
PerfectFuse Medium Black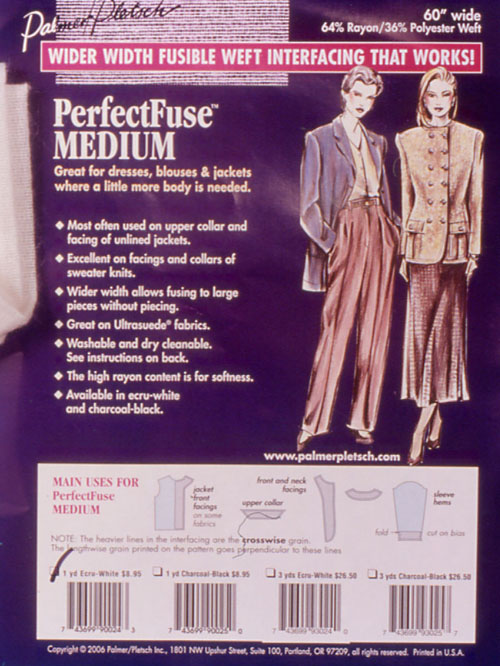 Pattern Details
BurdaStyle Magazine 02-2011-103

by: Mahogany S...
Review