kellymailinglist


Ohio USA
Member since 2/3/07
Posts: 168
Skill: Beginner



Date: 3/16/09 8:23 AM

Hi all: The other day I sewed my first yoke that was curved across the back (Indygo Junction's Easy Artisan Jacket, if it matters). It had to be clipped and notched in order to lay flat, as this isn't a gathered yoke.

Since I hadn't done an honest-to-goodness curved seam like this (aside from sleeves, for instance, or a slightly rounded hem), I searched through all my many reference books. Every book tells you how to clip and notch a curved seam, and there are tutorials online, but I haven't found anything about how to finish such a seam.

At first I thought of binding it, but because of the clips and notches, the binding wouldn't really stay on very well. You can't really turn all those bits under and sew them, either. In the end, I serged them all off after stitching the seam, which worked, but since there have been curved seams a lot longer than there have been home sergers, I feel sure there's some way to finish them that I'm just not finding in my references or that is beyond my limited powers of sewing logic.

How do you all finish your curved seams, if not by serger?

Monica Ann


Ohio USA
Member since 10/27/08
Posts: 31
Skill: Advanced Beginner



Date: 3/16/09 10:17 AM

Hi Kelly,
Am completely new to sewing, but all the curved seams I've sewn are turned inside out and covered, so nothing can be seen. A teacher told me a rule of thumb is "finish what can be seen" and "do not finish anything that will not be seen".
-- Edited on 3/16/09 10:18 AM --

Ody


Went to PR Weekend!

Missouri USA
Member since 12/6/03
Posts: 2587
Skill: Intermediate
Body Type:




In reply to kellymailinglist

Date: 3/16/09 10:17 AM

Well, Peggy L or Blue Mooney may pop in here and add to or correct, but we just got back from Cynthia Guffey, and I will try to tell you how Mother Guffey grades her seams.

First I will tell you that I used to serge my seams down as well, but unless they are exposed, that will only add bulk.

First: Press the seam open.

Understanding that the "public side- or the seam that goes to the outside is the longest.

Grade the short side first (important) to about 1/4" (slightly more for heavier fabric).

Then grade the long side about 3/8", or slightly longer than the first side. It is much easier to cut the long side second. CG says that the sa holds the control for the for the entire seam.

Then you clip the long side first, just to the seam line. Remember what parts of your sa will be convex and concave once turned. If once turned, the sa will be concave, take out clips that look like little trees--- or "^". If the sa is going to be convex, then straight clips every 1/4 to 3/8" will do.

Then you go back and do the same with the short side, clipping in between the notches on the long side. This will give you a "no bump" finish.

Lastly, press with lots of steam. You may want to hand baste some areas together after pressing to keep a nice sharp turned edge till you get done sewing to hold them in place.

I might add that I have used this method a lot personally, and it works well, particularly with really good fabric. At the sewing retreat, Restart 06 was working with a gorgeous chocolate brown raw silk that would satisfy anyone's fabric sweet tooth! CG demonstrated the method with her jacket collar, and it works with quality finishing results.

Now, I don't get that picky if I am making PJ necklines for the kids, and I go through two layers clipping at once, but I do use this technique on fine fabric or garments for myself. This method works very well with collars as well.

Sometimes in the case of a garment with facings, I will stitch in the ditch around the outside of the seam line, top stitch next to the sl, or just top stitch the sa to the facing only to hold the facing down, all depending on the fabric I am using and whether I am including a lining or not.

I hope I have explained this well so you can understand it.

------
"Sewing should be fun; make it that way!" Margaret Islander
Flying through life by the seat of my pants and hoping I get my crotch curve right.
"No humiliation is too great for a well fitting pair of pants!" Heidi Cooper
J6500P,
J1600P
J3160DC
J350E
JCP1000

Babylock Enlighten serger
My grandmother's Feather Weight

Natalie D.


USA
Member since 8/31/05
Posts: 773
Skill: Advanced



In reply to kellymailinglist

Date: 3/16/09 12:20 PM

I occasionally have this dilemma. Usually, you don't want to add bulk and have a seam finish show through on the other side. How you finish and whether to grade does depend on the fabric and circumstance. With sheer fabrics, you may not need to grade at all or very little. For a curved seam enclosed by a facing or such, you don't usually bother with a seam finish. Before clipping a curved seam in a woven fabric, I almost always run a short-stitch ease line 1/8" to 1/16" inside the normal seam line. You only clip to that line of stitching, being very careful not to nick your security/ease stitches.

Sometimes the seam must be clipped before it is sewn so that you can sew the seam smoothly without puckers, as in the case of some collars, bands, or princess seams. In that case, the ease line is especially critical. In the case of curved seams that are pressed open, like princess seams, that is where one might have the most concern about seam finishing. In those cases, I often use the pinking or wave blade on my rotary cutter, or pinking shears. That has the least chance of showing through.

------
"The louder he talked of his honor, the faster we counted the spoons" Ralph Waldo Emerson

kellymailinglist


Ohio USA
Member since 2/3/07
Posts: 168
Skill: Beginner



In reply to Ody

Date: 3/16/09 1:30 PM

Quote: Ody

Well, Peggy L or Blue Mooney may pop in here and add to or correct, but we just got back from Cynthia Guffey, and I will try to tell you how Mother Guffey grades her seams. (snip)

I hope I have explained this well so you can understand it.

Oh yes, that's a great explanation of how to sew a beautiful curved seam, and thanks for it! It's a little different a technique than some of my reference books, so I'm especially thankful you posted it.

If you grade the seam down that far I guess you just don't worry, then, about the fabric fraying? That's my primary concern. On this particular project, I used a quilting cotton and the edges fray quite a bit -- that's why I was trying to figure a way to finish off the seams and why (after I'd sewn the seam with the notches and clips to make the curve lie flat, and after I'd pressed it) I eventually serged those "fringies" off. I was wondering if there was some other method of stopping the fray on these little stretches of SA between the notches and clips. The seam that brought up my question is pretty long, across the entire back of the jacket, so there was a lot of potential for fraying.

kellymailinglist


Ohio USA
Member since 2/3/07
Posts: 168
Skill: Beginner



In reply to Monica Ann

Date: 3/16/09 1:35 PM

Quote: Monica Ann
Hi Kelly,

Am completely new to sewing, but all the curved seams I've sewn are turned inside out and covered, so nothing can be seen. A teacher told me a rule of thumb is "finish what can be seen" and "do not finish anything that will not be seen".
-- Edited on 3/16/09 10:18 AM --

Hi Monica Ann -- thanks for the suggestion! I'm curious -- how do you turn the seam inside out to cover it for a curved seam? I've done French seams, which sounds similar, but that, as I understand it, is usually done on straight seams. Is it sort of like a French seam, or is there a different technique?

Your teacher's got a great rule of thumb, BTW -- thanks for sharing it with us!

-- Edited on

3/16/09 1:50 PM

--

kellymailinglist


Ohio USA
Member since 2/3/07
Posts: 168
Skill: Beginner



In reply to Natalie D.

Date: 3/16/09 1:43 PM

Quote: Natalie D.
For a curved seam enclosed by a facing or such, you don't usually bother with a seam finish. Before clipping a curved seam in a woven fabric, I almost always run a short-stitch ease line 1/8" to 1/16" inside the normal seam line. You only clip to that line of stitching, being very careful not to nick your security/ease stitches.

(snip)
In the case of curved seams that are pressed open, like princess seams, that is where one might have the most concern about seam finishing. In those cases, I often use the pinking or wave blade on my rotary cutter, or pinking shears. That has the least chance of showing through.

Unfortunately, the seam in question didn't have any facing -- it was a curved yoke across the back of the jacket. My solution, to serge after sewing, clipping & notching, and pressing, worked -- it's flat and maintained its curve -- but it seemed like there must be a better way and yes, there's now a bit of a show-through, even though I'm working with a quilting weight cotton. It's not that much of a concern, but I'm hoping to make another one and this time do a better job.

Do you find that with the ease line, as you mention, you get less fraying? Or will the pinking pretty much take care of that? It seems like I've never had much luck with pinked edges holding up in the wash.

BTW, I also tried to enclose the seam with Seams Great (essentially a tricot bias strip) but couldn't get it to work. I've never been able to get Seams Great to work for me, even on straight seams, but if one could, I'll bet that would be a good way to finish a curved, clipped & notched seam.

-- Edited on

3/16/09 1:44 PM

--

Vie

Member since 12/15/07
Posts: 559
Skill: Intermediate



Date: 3/16/09 1:44 PM

I'm not sure why but it seems like the narrow seam finishes are easier to press flat on the right side. Like when you serged the excess off. That is what I usually do now but in the past I would trim and enclose the seam edges -- a French seam.
For me not finishing a seam is not an option. If any raw edges show my work is not complete. I feel that unless the inside is excellent, the outside will be mediocre. But that is just me and it took decades to get to that point.

Debbie Cook


Member since 4/11/02
Posts: 9865



Date: 3/16/09 3:13 PM

If the seam is not exposed, I use pinking shears after clipping and sewing and pressing. The pinking is the final treatment.

If the seam is going to show (inside or outside), I serge up to the stitching line.

------
--
"I base my fashion sense on what doesn't itch." — Gilda Radner
http://stitchesandseams.blogspot.com

Natalie D.


USA
Member since 8/31/05
Posts: 773
Skill: Advanced



In reply to kellymailinglist

Date: 3/16/09 6:25 PM

I've never seen an unfaced or unlined yoke I don't think--- especially a curved one! So I'm just not picturing what you're talking about and I'm thinking maybe it's the design that is the problem.

The ease line I mentioned is 1/16 or 1/8 inch away from the seam line (not the seam edge). It's purpose here is to give extra protection to the actual seam line where the seam edges need to be clipped to accommodate a curve. It is done to keep the clips from nicking the actual seam stitches--- not to prevent fraying of the outer edges. The reliability of pinking depends on the fabric. Some fabrics just fray too much, especially when washed, although pinking with a rotary cutter is more reliable than scissors IMO.

I used Seams Great (actually fine nylon tulle, not tricot) recently on clipped wool princess seams. It worked great and was not visible from the other side because of the wool thickness and proper pressing. I use Seams Great or other nylon tulle often. What problem prevents your success with it? Maybe I or someone else can help.

------
"The louder he talked of his honor, the faster we counted the spoons" Ralph Waldo Emerson
Printable Version
* Advertising and soliciting is strictly prohibited on PatternReview.com. If you find a post which is not in agreement with our Terms and Conditions, please click on the Report Post button to report it.
Online Class
Sewing with Slippery & Drapey Fabrics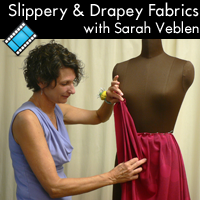 Online Class
Restyling with Exposed Zippers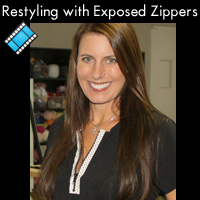 Butterick 5926

by: buttonandn...
Review
SewBaby Petal Dress Pattern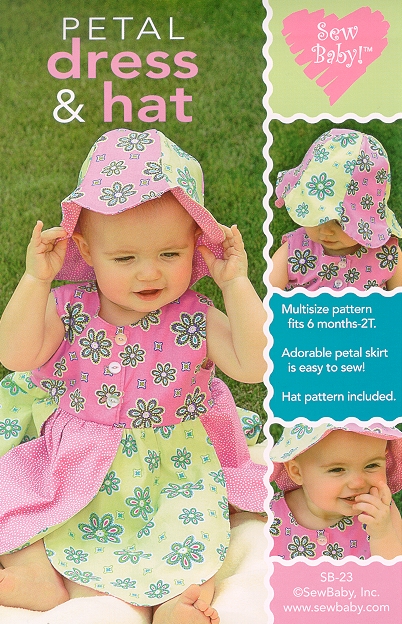 Pattern Details
Stitch 'n' Flip Jacket Construction - A downloadable Book by Shannon Gifford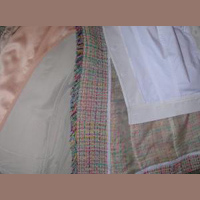 Pattern Details
McCall's OOP 6657

by: cathydavis...
Review