SewSara


Member since 4/1/09
Posts: 33
Skill: Intermediate



Date: 5/6/09 12:58 PM

I've recently discovered that my fitting problem is not so much the fact that I'm petite (5'1, Big4 Size 12), but that I'm also short-waisted. I can usually make a top pattern fit by taking out an inch between the bust and waist. I have the same inseam as my husband, who is 5'10. The problem is that I dislike low rise skirts/pants. Any recommendations for styles &/or patterns that would be flattering?

Also is there any way on the site to find other members with similar fitting issues or body types, so that you can follow their reviews to see their successes?

Rosebeee


Oregon USA
Member since 10/16/07
Posts: 613
Skill: Advanced Beginner





In reply to SewSara



Date: 5/6/09 2:17 PM

But are you short-waisted in comparision to your height? As you have the same inseam as your 5'10" husband, I'd say that's a yes!

A lot of people think petite just means short (usually just having one part of your body short, whether that's legs, torso, etc).

There's also something that Fit For Real People calls a Proportional Petite. Where you're short all over, and no one part is shorter than another by comparison. I'm 5'2", but have a 14.5" back waist length and a 28.5" inseam. My arms are also short.

I take out an inch between shoulders & bust, and sometimes another half to three-quarters of an inch above or below the waist.

To view similar people's reviews, try the Advanced Search feature for pattern reviews. Then when people click the "petite" pattern size button in their reviews you'll be able to look for those.
Other than that it's just a trial & error to find other people's reviews. Look though some of the people who've posted on the Sewing For Petites thread and look at their reviews.

------
Becca
My blog: rosebee.dreamwidth.org
So much fabric & patterns to fantasize about, so little time to sew!!

SewSara


Member since 4/1/09
Posts: 33
Skill: Intermediate



Date: 5/6/09 2:31 PM

Thanks! I find that most of the time I don't need to remove anything between shoulder and bust (I measure 9 1/2 inches wearing a supportive bra). I think the reason I gave birth to my son a month early was that he got sick of having no elbow room! If anyone else has this same fitting dilemna, just post on here, so I can stalk your reviews

Rosebeee


Oregon USA
Member since 10/16/07
Posts: 613
Skill: Advanced Beginner





In reply to SewSara



Date: 5/6/09 3:40 PM

There's already a *giant* thread on Petite Sewing here. 142 pages for you to wade through with LOTS of style, fitting, & related info! :)

Take a peek through there and you should find a lot of helpful stuff! :)

------
Becca
My blog: rosebee.dreamwidth.org
So much fabric & patterns to fantasize about, so little time to sew!!

Heatherrique


California USA
Member since 6/27/06
Posts: 140
Skill: Intermediate



Date: 5/6/09 4:11 PM

I am 5' 1/2" and just like you, my legs are long in comparison to the rest of me. Just a few more inches added to my torso length would be great.....I wish.... That's why I hate sitting down and looking even smaller.

Occasionally, I make the same adjustment to shorten the torso. I found instances when I did that and wish I had not due to the style or some other reason. However, my arms are more suitable for a woman who is 5' 5" and so I usually do not need to shorten sleeves.

Things that I don't wear: tucked in blouses, cropped tops, billowy tunics.

Things that I like to wear: princess seamed shirts, mock and real wrap tops, darted shirts with side shaping, drapy knit tops, or in general something that gives an illusion of an elongated torso.

-- Edited on 5/6/09 4:16 PM --

------
Sewed ~663.25 yards since 2000, ~ 132 yards in 2009, ~ 80 yds in 2010, ~ 99 yards in 2011, ~56.5 yards in 2012, ~53.25 yards in 2013

"If opportunity doesn't knock, build a door." Milton Berle
sewspiciousmindful.blogspot.com

Amy-may


Member since 6/7/05
Posts: 1246
Skill: Intermediate
Body Type:




Date: 5/6/09 4:54 PM

At 5'2" I take out 1 1/4" between bust and waist. My legs are still short, but are proportionately long. I find petite pants too short, and regulars are a little too long, but with the ever-present high heels, 4/6 regular/medium is best.

I'm torn between untucking tops to give a visual extra few inches to my torso, and tucking them in to show my small waist. Empire waist dresses are perfect for me. My short waist becomes a non-issue and a fitted bodice with flaring skirt solves the pear-shape delimma too! But, never can I wear a tunic! On my pear figure, the tunic length just hits my wide spot all wrong. Instead of lengthening my torso, it widens everything.

JAJenkins1971


Texas USA
Member since 5/14/04
Posts: 110
Skill: Intermediate





In reply to SewSara



Date: 5/7/09 12:54 PM

Ok - I hate to be slightly stupid , but what is short waisted? My waist seems to be higher up on my torso than most. In other words, I don't have much room between the bottom of my bra band and my waist.

Is this short waisted?





Thanx Joan

------
Joan

nancy2001


Member since 12/3/05
Posts: 6441
Skill: Advanced





In reply to SewSara



Date: 5/7/09 7:25 PM

I'm fairly tall for a petite (5'4") and I wear a small size, but I'm also fairly short waisted. For me, this means absolutely no belts, especially not wide belts in contrasting colors. Belts cut the figure in half and they emphasize shortwaistedness.

The pants I wear fall at the natural waist and don't have a waistband. A waistband is almost as bad as a belt.

I wear my tops fairly close fitting, tucked out and hemmed to about three inches below my natural waist.

The jackets I sew have princess lines, lapels, and padded shoulders but no pockets. I prefer to draw attention towards the upper torso. Hope this helps.

------
No sewing project is ever a complete success nor a total failure.

ryan's mom


Member since 11/30/04
Posts: 5130
Skill: Advanced





In reply to JAJenkins1971



Date: 5/7/09 10:13 PM

Yep, you got it!

Styles to avoid? No styles that show a shirt tucked into pants or even skirts, really. Tops have to end at just the right length on the body to avoid looking short waisted. No horizontal waistline seams.

Good styles (at least on my short-waisted figure), untucked shirts that fall about 2" above my widest point in my hip area, but no higher. Duro or baby-doll style tops with a narrow band 'cuz thick bands just don't work. Empire line shirts or dresses. Dress which feature a v-front waistline seam rather than a horizontal seam at the waist.

IF I tuck my shirt in or wear a bodysuit, it MUST be with really low-rise jeans. That's the only way I can get away with it. Think teen-style low-rise. I was so happy when low-rise jeans became popular. They're made for my figure.

The nice thing about being short waisted is that it is a very easy figure issue to hide with the right clothes. If done right, virtually no one can tell if a person is short waisted or not.

------
Big 4 Pattern size 12, RTW bottom: 6, RTW jacket 8, RTW top (no size fits me well!)
Measurements: 34 HB/36 FB (34C bra)/27.5/36 (and working hard to keep it that way.)
Machines: Sewing: Elna 760, vintage Kenmore Model 33 (1967), Janome Gem Gold 3, Singer Model 99, Singer 221/Featherweight. Sergers: Babylock Imagine and Babylock Enlighten. Embroidery Only: Janome 300E. Embroidery/Sewing Combo: Brother Dream machine. Coverstitch: Babylock BLCS. Straight Stitch: Janome 1600P.

If you think your sewing is better than everyone else's around here, get out of my way b****. I hate sewing snobs.

My blog: www.phatchickdesigns.blogspot.com

QuickFade


USA
Member since 6/7/05
Posts: 1778
Skill: Intermediate



Date: 5/9/09 6:20 PM

I am 5'7" tall and short-waisted. I wear at least a 33" inseam with flats-- or longer if I have any heel at all. My DS, who is 5'11" tall, wears a 32" inseam, to give you a perspective. So, I'm long-legged.

I also have a heavy, full bust which, even when properly tamed in a very good bra, sits lower on my body than than most petite clothing allows for. Still, I can wear petites most of the time, especially when there is not a fitted bust, such as in nice sweater sets for the office. I wear size long pants, but even petite full-length evening gowns fit me, which is odd.

There is a body shape that has a small body frame (even if tall--look at how thin your wrists are), a full bust, a short waist (not much room between the bottom of your bra and your belly button), curvy hips (not necessarily big but not narrow or straight up and down) and longer legs. I don't remember what I've heard this called, but it's my body shape. And, there are things that look great and things that don't.

For me, sleek, one color outfits look great. The waistline can be visible if it is a little lowered, but visible waists only looks great on me if I am in the lower end of the normal weight range and have a reasonably flat tummy. Otherwise, I wear my tops out and the length is below my natural waist and above the widest part of my hips.

For pants, I do not wear capris or crops because that profile makes a big block of color that emphasizes the lower part of my body, and the slightly wider hips are not balanced. So, I look like all hips and thighs. Also, my longer but thin feet look bigger. On the contrary, a long, fitted pant style with a lowered waist and a slight flare toward the bottom balances my hips and gives a long, lean look. My feet just show at the front and look thin and nice that way. I usually wear dark pants as this is slimming and also balances the dark, rich colors I wear near my face to complement my slightly ethnic coloring.

By wearing a dark, rich color or the same color as my pants on the top, this gives a lean line where the waistline blurs.

For skirts, if I am 120 lbs, I can wear a straight or slightly pegged skirt just above the knee with a top that stops just a few inches below my waist and above my widest part of my hips. The sleeve length and shape matters also. I either choose long, well fitted sleeves for a lean look even though the hem hits at my hips, or I choose a length that will hit at my bust or about the bottom of my top. A sleeve that hits too high will make my bust look too low and full.

If I am closer to the top of the normal weight range, like 150 lb., I don't wear the shorter skirts as they look blocky at that weight. Then, I will wear a drapy slim-fitted skirt, maybe pegged at the knee, with a flounce at the bottom to to give a curvy shape and balance my hips. I still wear the tops halfway between my waist and my largest hip width.

I have worn empire waist dresses to advantage when they are very well fitted, the shoulders slightly padded, the sleeves giving a little extra width as with a bell short sleeve. For this style for me, there must be a well fitted piece below my bust that clearly shows my small ribcage and the skirt must flare or be fitted rather than be gathered and poufy.

Necklines matter too. if youre neckline is too high, it makes your chest from your neck to under your bust seem huge in comparison to your underbust to waist area. So, for me, it works better to have a lower but still modest neckline, either a wide scoop, a V-neck or a square neck line. For this reason, I never wear crew neck tops or jackets that don't have an open collar.

Styles that don't have a clear waistline can also work well, especially with careful use of accessories to gather attention as with a colorful scarf, brooch, or even a vest that hits just below the waist.

I have noticed that Michelle Obama breaks a lot of the rules but still almost always looks great. She obviously had a bigger bottom than top, but she still wears those wide belts high on her rib cage. I think it helps that she has wide shoulders, and having a smaller bust must help as well. It kind of gives her a look as though her top half is all in proportion and then the bottom half just sort of flows down from below her belt.

For me, the lesson in that is to know what looks good on you but to experiment with new looks from time to time because what looks good seems to change over time, and you might have overlooked some freeing possibilities.

For example, I knew I looked bad in orange, so I never tried that pinky orange color that is out there now. Then, I tried a jacket on in that color just for the style and not for the color. My complexion, hair and eyes really popped in that color! I could not believe it.

Also, have you noticed that Michelle Obama wore a very poofy gathered skirt to meet the queen? With her generous hips, you would not think she would pick that style, but she really looked adorable. She doesn't seem to be constricted by rules about how to make your unique figure look more like Barbie's. So, that's freeing as well. Even though I know that generally I look better in certain styles, I think I'll try other things just to see.

Also, it's important to realize that when you change weight, shape or age, the styles that used to look good might be all wrong for you. When I had my son, I found that the tiered peasant skirts that looked so charming when I had 24.5 inche waist and 37 inch hips looked dowdy on me after childbirth, even though I was still a normal weight. When I was skinny, legging type pants looked great. Afterward, they made my behind look big. So, keep trying new things as you change.



-- Edited on 5/9/09 6:27 PM --
Printable Version
* Advertising and soliciting is strictly prohibited on PatternReview.com. If you find a post which is not in agreement with our Terms and Conditions, please click on the Report Post button to report it.
Online Class
Bust Adjustments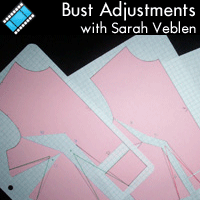 Online Class
Beginners Guide to Sewing Jackets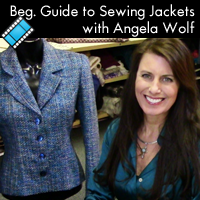 Vogue Patterns 1027

by: Naehfreund...
Review
Sewn Square One Swing Shift Pattern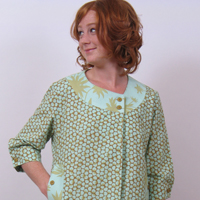 Pattern Details
Islander Sewing Systems Cape D Elegance Paper Pattern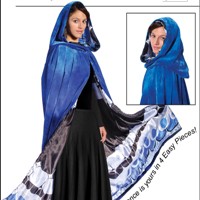 Pattern Details
McCall's 6126

by: SheBear032...
Review