I sew the dresses for a local children's choir and they are now branching out into and 'older' and a 'younger' choir. The younger girls will continue to have this dress, with the interchangeable sashes and headbands: red for Christmas time and purple for all other times.
The boys each have a red and purple vest.
So.... for the older choir (the 11-14 crowd), we are trying to come up with a different, perhaps more 'mature' choir dress that while distinguishing them from the younger choir, would also coordinate with them. Some ideas we are brewing around are a top and a skirt such as this, with a sash at the waist, tying at the front left side.
Because I'll be making the dresses out of matte spandex knit to accommodate growth, I'm thinking more along the lines of the
kwiksew 3036
or
Kwiksew 2990
tops instead of the one pictured above.
So here's the question. In trying to coordinate the two choirs, I've come up with the following possibilities.
1. Use one of the kwiksew tops with the pictured skirt (
Simplicity 5914
) and the side tie sash. (The younger choir has sashes that tie in the back.. could look funny when all together.
2. Use the shirt and skirt as mentioned above but make a kind of a cape/shrug like view A but with short sleeves or view I with a button closure: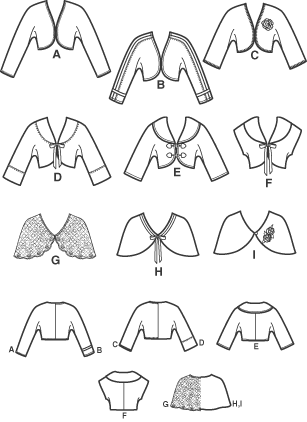 The top/skirt would be all black and the shrug/cape would be the colored fabrics.
3. Use the shirt and skirt, but using this shirt as a model, make two separate cowls in the coordinating colors:
What do you think, would that even work? And if so, would it even look good? I thought it might be a neck sash kind of a look.
Do you have any other suggestions? The choir is off for the summer and they won't have their first engagement until late October, so there isn't a huge rush, but the earlier we come up with a great choir dress, the better.