avatrx


Illinois USA
Member since 12/16/05
Posts: 601
Skill: Advanced Beginner



Date: 9/23/09 8:58 AM

I recently attended a pants fitting class at the Nancy's Notions store in Beaver Dam where we made a muslin of pants. On the crotch measurement sheet she measured me to be 14 front / 17.5 back with a back curve of 5. They were too high in front and back. I've measured myself for the crotch length and get a total measurement of 30. It seems that the back is 17 and the front is 13, but I'm doing it by myself. I have no idea what the back curve measurement is that she took. I am 5'11" and I've always had issues fitting pants. Once we adjusted for the "too high" part it seemed that we ended up cutting off all of the extra we had added in the first place. Is there a good way to adjust the front and back crotch length using a reliable measurement? She had us put elastic around our waist and then measured front to back and also measure a type of "plumb" line from the crotch to the floor. I think the dividing line at the center crotch was where she got the 14 and 17.5 measurements which turned out to be too long.

HELP! I need some advice on how to get an accurate fit. I have the Pattern fitting with confidence book, but not sure how to interpret the class measurements and apply those to the book.

The pattern I chose was Butterick 5221.

thanks in advance
-susie

emelle


Alabama USA
Member since 11/22/07
Posts: 506





Date: 9/23/09 9:29 AM

I had an eye opening when I was working up my TNT pants pattern, using a long flexible ruler, in the privacy of my own sewing room, to get the actual meausurement and curve.
I don't remember where I got mine (? Hancock's, or online at di## Blick etc....) I don't have time this morning to search too much, but here is a link that will show you what I mean....I do not have any info re: this site, just here for the picture (nayy etc.)
Flexible ruler

I have also tried a similar thing with a long rolled up piece of aluminum foil, instead of the ruler.....to get the shape and the length. You probably have some of that in your kitchen!

After you get the measurement, which I think was a milestone for me...there's still all the rest of the 3-D fitting, which is what I think makes pants so hard for some of us and why I now have my one (and only) tnt pants pattern (I can't face it again)
HTH

avatrx


Illinois USA
Member since 12/16/05
Posts: 601
Skill: Advanced Beginner





Date: 9/23/09 10:10 AM

I actually have one of those flexible rulers but I can't seem to get a good measurement with that either. Do you happen to know what the back curve is? I can't seem to find any info on that anywhere. Maybe if I can figure that out, I can figure out the rest of this.

thanks,
-susie

unfinishedprojects


Alberta Canada
Member since 8/26/07
Posts: 810
Skill: Advanced
Body Type:




Date: 9/23/09 10:41 AM

This is just a guess, but maybe the "back curve" means the protrusion of the rear end when measured perpendicular to the plumb line? Eg. yours would be 5", someone with a flat rear would be less, mine would be more...

avatrx


Illinois USA
Member since 12/16/05
Posts: 601
Skill: Advanced Beginner





In reply to unfinishedprojects <<



Date: 9/23/09 10:47 AM

You could be right. I do believe she took another measurement using the "plumb" line in addition to the inseam, but she was reporting the measurements to the gal on the other side of the privacy screen and I guess I wasn't paying enough attention since I thought the measurements she was taking were in the Pattern fitting book. The don't seem to be there. Maybe I need to try a re-measure and establish - for sure - what the back rise is and the front rise. I read somewhere that the difference isn't usually more than 2" and I'm not really too heavy. The hubby says I have a perfect "butt" but then again - after 38 years of marriage and getting older, his eyesight isn't what it used to be. :-)

goodworks1


Illinois USA
Member since 7/19/03
Posts: 3829
Skill: Advanced



Date: 9/23/09 12:05 PM

I'd guess that the difference between front and back rise has more to do with posture than weight if you are average weight.

And I wouldn't worry too much about the rise measurements being too long. If you wear your pants lower than your natural waist, those shorter measurements for actual use on a pattern would be a natural result. I'm guessing the important thing is the proportions front:back.

I do not have the Pattern Fitting With Confidence book, so I can't help you there.

What are you trying to do with this measurement?

I guess if I were you and trying to use the info from the class to help me with this new pattern, I'd start by using the muslin/pattern that you developed in the class (assuming it fits) and compare those pieces with the actual pattern pieces and see how they differ.
-- Edited on 9/23/09 12:06 PM --

------
blog: goodworks1.wordpress.com


Elona


USA
Member since 8/24/02
Posts: 9049
Skill: Advanced
Body Type:






Date: 9/23/09 12:37 PM


This measurement, sometimes called the "stride," is indeed a critical one, and there are a couple of components, the total length and the shape of the U that you get with the flexible ruler. This is the way I go at it:

1. Put a not very wide elastic around my waist and wiggle a bit to make it settle into what passes (at my age) for the narrow spot (har!).

2. The middle of the width of your elastic will be your true waistline, so put an inky dot there. For example, if the elastic you're using is one inch wide, your waistline will be a mark right in the middle of that one-inch elastic, midway between the top and bottom edges. Note: this dot is also where the center of your pants waistband will be once it is attached. If you use the top edge of the elastic as a guide for the total crotch length--without figuring in the height of the waistband--your crotch curve will be considerably too long.

3. Next I run the tape measure right along my body from front to back between my legs at just the distance I want the crotch seam to be from my body, not tight but definitely with not much slop or 'ease' as they call it. Almost none, in fact. Holding the top of the measure against my front waist mark, I ask dh to tell me the number that's against the ink mark at my center back.

4. Next, I pin the waistband pattern pieces to the center front and back pants pieces, and lay everything out on my gridded cutting board so that the points where the center front and center back pattern pieces overlap. I stick just one pin into the point where the crotch seamlines intersect, so I can pivot the pieces and make the front and back grainlines vertical and perfectly parallel, using the grids on the cutting board as a guide.

5. Put the tape measure on edge and "walk" that edge along the seamline from the center front of the waistband all the way to the center of the back waistband. That is your whole crotch length, assuming your pants pattern has a normal waistband, not a hiphugger or high-waisted look.

I have no clue about the "back curve" measurement your instructor referred to, so personally I would ignore it. The next thing I would ignore is using a Butterick pattern for a basic. The crotch curve model used by most of the Big Four pattern companies has very little in common with the crotch curve of a real woman. If you look at your Butterick, you will see that it's rather narrow from front to back, with a "sitting shelf" that looks nothing like your posterior in profile, unless on your 5' 11" height you carry only about 90 pounds. Take a look at these pictures of crotch curve comparisons in one of my albums:

That dark U-shape between the front and back pattern pieces of each brand is supposed to be a woman's pelvis in profile. Then there's the color photo of the anatomical sagittal section of a woman's pelvis, showing the full depth front to back of the anatomy, as well as the slightly lower contour of the backside. Which of the pattern companies has the crotch curve that's closest to the real McCoy? It's Burda (though Style, also a European brand, now defunct, is close). The European curve is different from the American one, and is probably close to what a moldable crotch curve, applied to your very own body, would show you. It's more than a matter of seamline length; the actual shape of the curve does matter in terms of how the pants hang.

I'd recommend you try a Burda pants pattern. Many of them have been reviewed at here at patternreview, so there are some seriously road-tested patterns for you to choose from.


------
Elona

trintje


Member since 3/11/03
Posts: 22
Skill: Intermediate



Date: 9/23/09 2:06 PM

I combine Elona's and emelle's approaches. I use a flexible ruler, not so much for the measurement, but for the shape of the curve. If you measure, and are then careful not to disturb the shape of the ruler, you've got a copy of your crotch curve. Or at least of the front or back -- depending on the length of the ruler, you may need to measure/shape the front and back separately.

Instead of Elona's step #5, I lay the ruler (still molded to my shape) on the pattern pieces. That way, I can see where the dips need adjusting. I've got a bike-riding posture. I found out that my front seam is almost flat, while the rear seam is quite deep. Measuring just the front and back lengths would never tell me that.

That extra length measured at the class might really belong somewhere in your curve, but probably NOT just tacked on to the top. The flexible ruler will help determine where it goes.

Good luck with the pants -- Kate

trintje


Member since 3/11/03
Posts: 22
Skill: Intermediate



Date: 9/23/09 2:12 PM

Another approach: if you've got a pair of pants that fit well, try using that crotch curve. Turn one leg inside the other, so you can trace the curve. Depending on how curvy your pants are, you might have to smooth out the front and back separately, and flatten only one section at a time. -- Kate

M.S.


Ohio USA
Member since 3/6/09
Posts: 1296
Skill: Intermediate
Body Type:






Date: 9/23/09 3:05 PM

Quote: Elona


Which of the pattern companies has the crotch curve that's closest to the real McCoy? It's Burda (though Style, also a European brand, now defunct, is close). The European curve is different from the American one, and is probably close to what a moldable crotch curve, applied to your very own body, would show you. It's more than a matter of seamline length; the actual shape of the curve does matter in terms of how the pants hang.



I'd recommend you try a Burda pants pattern. Many of them have been reviewed at here at patternreview, so there are some seriously road-tested patterns for you to choose from.




That must be why I love my Burda jeans so much! Interesting.
As for crotch fitting...I was never smart enough to figure out how to measure all of this. I just make a pattern a few times, tweaking it each time I reuse it, until I get perfection. I just start with cheap fabric. You really can't tell how well pants fit until you wear them all day & wash them a couple of times, IMO. I'm lucky, though. The regular pattern usually fits me well enough to get by, once I add 4" to the inseam (and I have a 6' 1" frame.)

------
Janome Skyline S5
Brother PQ1500S
Necchi 4795 Royal Series
Singer 201-2
Pfaff 138-6
Janome Coverpro 1000
Kenmore 16644 Overlock 2/3/4D
US Blindstitch 718-9

Printable Version
* Advertising and soliciting is strictly prohibited on PatternReview.com. If you find a post which is not in agreement with our Terms and Conditions, please click on the Report Post button to report it.
Online Class
Understanding Wool Fabrics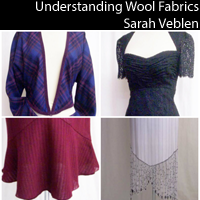 Online Class
More Knits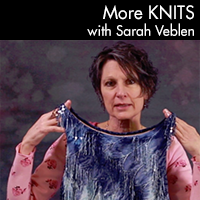 Ottobre Woman Magazine 02-2012-9

by: QuiltSewSe...
Review
Sewing Workshop West End Top & Pants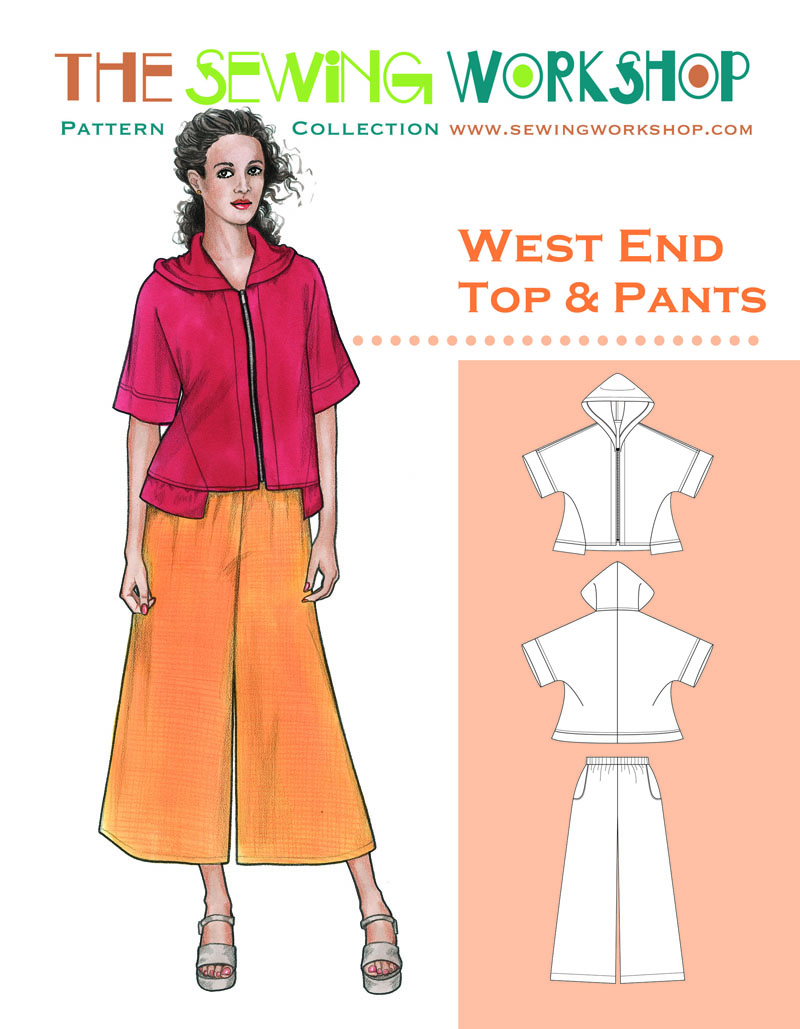 Pattern Details
Petite Plus Patterns Yoked Blouse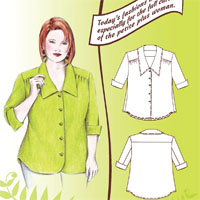 Pattern Details
Self Drafted Pattern 321316-1001

by: MayenDesig...
Review