Deepika

Founder
Massachusetts USA
Member since 11/28/01
Posts: 13490
Body Type:




Date: 10/3/09 2:44 PM

September 25th - 27th, Novi, Michigan, home to America's largest independant Sewing Expo. And boy, I can't stop talking about the fun we had. This was also PR's First booth


and our First Fashion Show



We got a GREAT response at the show! Between the model fitting, non-stop chattering at the booth, our after show gathering, my presentation on Sewing Smarter using online resources, talking to the wonderful PR members it was one of the most memorable events of my life and I thank all of you for being there, helping and supporting PatternReview.com. We put on a great show!

In the next special edition newsletter, I will share with you a lot more from the expo, but I just cannot wait until then so here we go...


Our booth was visited by many Expo visitors and PR members, who came to talk to us and to Kenneth King. We talked (and talked and talked) about PatternReview, which was great, because so many people were interested in what we do here. I gave a presentation about Online Sewing Resources on two different days to enthusiastic audiences (some of whom took notes!). And, of course, the high point of the weekend was our Top 10 Fashion Show, which took place at 12:15 on Saturday.


I know you're all waiting for this news, so without further ado, let me announce the winners of the Top 10 Fashion Show.


The winner of the Grand Prize, a $1000 Gift Certificate from Fabric.com, was Deanna McLaughlin (arianamaniacs) for Vogue 2925.



The winner of the prize for Best Construction, sponsored by Simplicity (Simplicity.com), was Kathy Cameron (KathyACam) for Simplicity 3867.




The winner of the prize for Best Fit, sponsored by Greenberg & Hammer NYC (greenberg-hammer.com), was Margaret Kendrick (LonestarLady) for Simplicity 3867.



The winner of the prize for Judges' Favorite, sponsored by Islander Sewing Systems (Islandersewing.com) was Kristin Pink, who modeled her Simplicity 3835 dress at the Expo.



And of course let me share with you the other wonderful garments sent in by PR members which were shown on the runway.
AmyRose - Kwik Sew 3334
arianamaniacs - Vogue 2925
bikegrrl - Vogue 2925
Birgitte - Simplicity 4698
Bootsie - Vogue 8379
BrianSews - Kwik Sew 2935
elily00 - Simplicity 3775
emkaz - Vogue 2925
evek - Vogue 2925
Ginger Moritz - Vogue 2925
hammerdulcimerplayer - Vogue 8379
HLT - Vogue 8379
HothGirl - Vogue 8379
Irene Q - Kwik Sew 2935
jent - Kwik Sew 3334
KathyACam - Simplicity 3867
Kchaffin - Simplicity 5914 and New Look 6735
Kristine Kay - Vogue 8379
lesliann - Simplicity 3678
LonestarLady - Simplicity 3867
louiellama - New Look 6407
Lynnelle - Kwik Sew2694 Simplicity 5914
MarianS - Simplicity 4076
MelissaB Simplicity 3775
redhotpepper - Amy Butler Cabo Halter
RobinMCPA - Simplicity 3678
ryan's mom - Textile Studio Madison Avenue Dress
Sandi E - Vogue 2925
trishapatk - Vogue 2925
VeryPrairie - Simplicity 3835
Violinlenore - Vogue 1027


All the contestants did a wonderful job on their garments. 47 garments were entered by members in the contest. Thirty-two of these garments ended up in the show. If only we could hand out 47 grand prizes! You can see all the entries for the Expo here.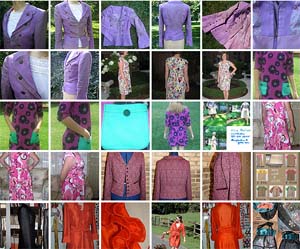 There's no way any one person can pull off a weekend like this by themselves, so I have many thank you's to give.


First, I'd like to thank our esteemed judges, Kenneth D. King, Sandra Betzina and Pati Palmer for their expertise and their time in evaluating our 32 entries in the Top 10 Fashion Show.



Photo Credit: kittykate


Second, I'd like to thank our sponsors for their generosity in donating prizes to our Top 10 winners.
Fabric.com, Simplicity.com, Islander Sewing Systems and Greenberg & Hammer


Third, I'd like to thank our Top 10 contestants for sharing their exquisite creations with us and for taking the time to enter and send their precious garments to the expo.


And last, but not least, I'd like to thank our PR volunteers for their hard work and encouragement to make our Expo visit the success it was.


| | | | | | | | |
| --- | --- | --- | --- | --- | --- | --- | --- |
| Melody | BrianSews | Lynnelle | knitmachinequeen | Karine | Diane N. | Peter in NYC | Elnoramarie |

Really, folks, I couldn't have done any of it without you. Thanks so much.

And now the part you've been waiting for. PHOTOS AND VIDEOS (Thanks to Brian!)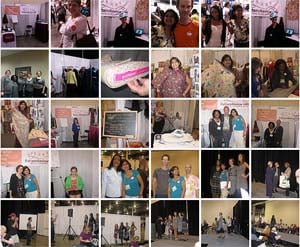 Brian videotaped the whole fashion show!

Top 10 Contest and Fashion Show Part 1



Part 2



Part 3

-- Edited on 10/3/09 2:49 PM --
------
- Deepika
Founder, PatternReview.com
Blog: http://www.deepikablogs.com
CynthiaSue

Board Moderator
Member since 10/11/03
Posts: 1020
Skill: Intermediate



Date: 10/3/09 10:57 PM

BRIAN you did the video! thanks!!! so much. way better than just pix! this was so fun to watch and read about. I think it also really promotes the conference so more people would try and go. That crowd needed a kick in the pants. If i would have been there, I would have been whooping it up!!!
AnneM

Contest Committee
Member since 7/30/02
Posts: 7505
Skill: Intermediate



Date: 10/5/09 5:09 PM

I've watched 2 of the 3 videos so far. It is great to see the outfits in motion rather than just a still picture.

What a nice event for the show as well. I think this would be inspiring for the people attending the show, so see what other home sewers did using some patterns available to all of us.


------
With a great wardrobe that's still in the flat-fabric stage.