SoSewSoSew

New York USA
Member since 11/2/09
Posts: 6
Skill: Beginner



Date: 11/16/09 11:41 AM

Hello, my aunt recently gave me this s/m. It looks old, but I don't have any idea how old it really is. Searching online, another site suggested that it is a 1974 model. I took it immediately to a repair shop to get it tuned up, and he told me it would cost about $129 to get it greased and something about the motor needing work. He also told me I didn't have to get the motor worked on, and that that would cost me $20 less. He told me that this is a great machine and worth fixing.

I am a complete newbie to sewing. I'm excited about the fact that this s/m is from my aunt, that it's supposed to be good quality, and that I'm getting to use a s/m that is older than me and also not just junking it and buying something new and making more environmental waste.

But, I don' t know whether it is practical or not for a first time sewer to learn with this s/m.
I don't know how good of a quality this Singer is.
I don't know if it's worth $129 to get it tuned and fixed.

Can somebody please give me some advice?

Thanks very much!!!


SoSewSoSew

New York USA
Member since 11/2/09
Posts: 6
Skill: Beginner



Date: 11/16/09 11:48 AM

Hello, my aunt just gave me this s/w. The repairman told me it will cost around $129 for a tuneup and repair of the motor. Is this worth it for an older model? Should I look to buy a new one instead? I don't even know what capabilities this model has. I am a complete newbie. I need to be able to make button holes as well as make a very fine hem. I don't even know if that is the right term, actually. I need to make a lightweight cotton scarf and i need to sew the edges of the cloth. Can somebody tell me whether I should get this repaired or just buy a new one which is computerized?

Thank you!

B


Minnesota USA
Member since 12/5/03
Posts: 692
Skill: Intermediate





In reply to SoSewSoSew



Date: 11/16/09 1:03 PM

There is a vintage Singer Yahoo site that might be worthwhile joining for information.
Meanwhile, I think you could do some basic oil and lube yourself and see how it works. That is one of the advantages of the old pre-computer machines. You or someone who is handy with motors and machines might check the electrical cords, etc., to be sure they are safe. I suspect this machine, if made in the '70s, may have plastic gears that are near the end of their useful life and cost plenty to replace. Then it comes down to the sentimental value as to whether it is worth replacing gears.

Do you have the manual that comes with it? That shows where to oil and lube. If not, there are places to download them, sometimes for free. Try that and see if it works.

------
Janome serger 634D, Brother PC6000, Singer 500A, Kenmore Mini-Ultra, vintage Bernina 600, White Rotary treadle, New Homestead A VS treadle

SoSewSoSew

New York USA
Member since 11/2/09
Posts: 6
Skill: Beginner





In reply to B



Date: 11/16/09 1:17 PM

Hi B,
Thank you so much for a quick response!
I do not have a manual, but will look for one.
I guess I'm wondering if I should just buy a new one or if this s/m is so good that i should get it repaired...
I want to do pretty basic things with it...

Thank you!

Mufffet


Vermont USA
Member since 8/14/05
Posts: 11796
Skill: Intermediate





In reply to SoSewSoSew



Date: 11/16/09 1:21 PM

Is this an early electronic (or computerized) model though? I would definitely go with the sewing machine tech on this one. His cost is very reasonable and you might have complications doing it yourself.

Here's a link you might find helpful:

http://www.tandtrepair.com/Futura.html

------
"Be kind whenever possible. It is always possible."
--Dalai Lama

I have sewing machines

SoSewSoSew

New York USA
Member since 11/2/09
Posts: 6
Skill: Beginner



Date: 11/16/09 2:22 PM

It's an early electronic. I just don't have a manual and also don't know what it's capabilities are. e.g. Does anyone know whether it can sew button holes?

Miss Fairchild


USA
Member since 8/24/02
Posts: 7936
Skill: Advanced





In reply to SoSewSoSew



Date: 11/16/09 2:28 PM

Here's my advice. First, your aunt gave you this machine. She wants you to have it. And I remember those machines from the 1970's; they were really good and I wanted one sooo bad! Too expensive, though--about $2,000 then. Yours is a Touch and Sew type, which means you wind the bobbin inside the machine. Great feature, as I own four of these types of machines. You don't have to remove the thread, unthread the needle and wind the bobbin, only to go back and do it all over again to sew; it's all done in the machine. This saves you alot of time while sewing, and isn't that what it's all about--saving time?

Another thing about this machine, that you won't find on others is that it's a slant needle. Singer, way back when, maybe the late 50's decided to make a slant needle, so you could see where you were sewing. Believe me, this is so helpful with "older" eyes. Although I'm sure you don't have this problem yet. While slant needle feet can be more expensive, they are not as expensive as Bernina feet or Viking feet. If you look at the foot, you'll see that it slants backward.

If I remember correctly, this machine sews four step buttonholes; meaning you have to sew one side, then the top part, then down the other side, then down across the bottom. You can purchase a sliding buttonhole foot for it to keep your stitches even and to adjust the size of buttonhole. Or you can buy an automatic buttonholer (what I call a "clickety clackety") that attaches to the machine and you insert a template for the size buttonhole you want. Then it stitches the whole thing; all at once.

If you found a repair person who is willing to work on this type of machine, grab him and keep him company. Seriously, repairmen of this type are few and far between. And if he charged you $129 for everything, consider that a deal. You could pay $200 or more for a decent machine that is all plastic, and if you dropped it once, you might ruin it. This machine you can't; it's pretty durable. Not to mention if you bought a new machine, it just might not work, either, or you might have some tension issues with it.

Your concern about environmental waste and clogging landfills is truly admired. These machines were meant to be repaired, if they needed to be. The new ones aren't so much; they are more disposable.

There's a lot of talk going around about plastic gears in Singers and while some of it is true for some machines, (not ALL Singers have plastic gears) when you consider a new machine is ALL plastic, what's the difference? Plastic gears were put in to make the machine quieter; I have three Singers with plastic gears and one without; guess which one is quieter?

So, in a nutshell, keep the machine. You're starting out; you don't need top of the line, ultra expensive, ultra plastic, 300 dozen stitches you probably will never use, and various other tricks to get you to buy. Thank your aunt, sew with her, and show her you care. I wish I had an aunt like that!
-- Edited on 11/16/09 2:33 PM --

------
"Play the cards you are dealt, but choose who is sitting at the table"..AARP magazine

SEE MY ETSY SHOP HERE: http://www.etsy.com/shop/AuntMaymesAttic
My blog: http://auntmaymesattic.wordpress.com/

Miss Fairchild


USA
Member since 8/24/02
Posts: 7936
Skill: Advanced





In reply to SoSewSoSew



Date: 11/16/09 3:13 PM

I posted a lengthy response in this thread: Click Here

Yes, it makes buttonholes, and makes a nice hem. I wish I had one!

------
"Play the cards you are dealt, but choose who is sitting at the table"..AARP magazine

SEE MY ETSY SHOP HERE: http://www.etsy.com/shop/AuntMaymesAttic
My blog: http://auntmaymesattic.wordpress.com/

tlmck3


Illinois USA
Member since 7/11/05
Posts: 3783
Skill: Advanced Beginner



Date: 11/16/09 5:52 PM

Whether you should spend the $125. or so to fix this machine depends on your expectation.

It is an early electronic machine, not a vintage metal-geared mechanical that will last you another 30 years if you spend that $125.

It was very likely a top of the line machine when new BUT there are simply more (expensive) things that can go wrong with an electronic machine--especially one that is 30 years old--and they are things you can't fix yourself. Whether the electronic components will even be fixable when they do start to fail is a question for your sewing machine guy. Whether you will want to spend the money when that happens is another question.

What exactly is he fixing for this sum of money he is asking for now? I think you need to know what you are getting. A "tune-up" is probably a chunk of it but the rest??? If he is just going to oil it and clean it up for that amount, I would say get the manual and do it yourself. I, personally, would think twice about spending much money on an older electronic machine. If I DID get it fixed, I wouldn't expect it to last years and years like I would with a purely mechanical machine.

Re: the nylon/plastic gears--the issue with these is that they are getting on in years. Not many moving parts last 30+ years and the nylon/plastic gets brittle with age. That said, I have a 1964 Singer that has plastic gears which is still sewing. However, I EXPECT that I will eventually break these gears and will need to decide whether it is worth fixing the broken machine when it happens. If I do fix the machine when the gear(s) break then I will expect to get another 30 years worth of use out of the machine. This is a very simple mechanical machine, though- a machine that I have cleaned up and maintained myself since I rescued it for $10. from a thrift store. Given a modicum of proper care, about the only thing that CAN go wrong with it is breaking a 30-40 year old plastic gear. Now, if it were older electronic machine and it broke a gear I probably would NOT pay to get it repaired because I would not expect to get another 30 years worth of use out of an electronic machine.

ETA: I should probably add that I am exceedingly cheap and that is probably why I only have vintage mechanical machines that I can take care of myself. i don't generally darken the door of the sewing machine repair shop. I belong to Yahoo sewing machine groups instead.

Try www.sewusa.com or www.ucanprint.com for a manual. Not an ad...just a customer who has gotten manuals from both venders in the past.

-- Edited on 11/16/09 5:57 PM --
-- Edited on 11/16/09 6:15 PM --

------
I am going for a level of perfection that is only mine... Most of the pleasure is in getting that last little piece perfect...Inspiration is for amateurs. The rest of us just keep showing up and doing the work.

Chuck Close, painter, printmaker, photographer

Hope has two lovely daughters: Anger and Courage

St. Augustine


Mufffet


Vermont USA
Member since 8/14/05
Posts: 11796
Skill: Intermediate



Date: 11/16/09 6:00 PM

Quote:
I probably would NOT pay to get it repaired because I would not expect to get another 30 years worth of use out of an electronic machine.



Another way to look at that is that you may not want to HAVE the same machine for 30 years. Just have this one fixed up at that price, and then see what you think.If you get another 5 years or so you are golden, believe me. And maybe it will keep going, and meanwhile you can save and get another machine as well. No law against having a couple machines, and if you don't fix this, believe me you will think about the fact that it was a family gift down the road. Ask me how I know.It's not always about the money either. Just another of my 2 bits worth!

------
"Be kind whenever possible. It is always possible."
--Dalai Lama

I have sewing machines
Printable Version
* Advertising and soliciting is strictly prohibited on PatternReview.com. If you find a post which is not in agreement with our Terms and Conditions, please click on the Report Post button to report it.
Online Class
Restyling with Exposed Zippers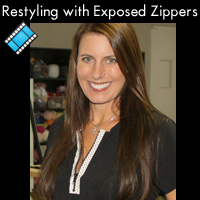 Online Class
Break your Serger Out of the Box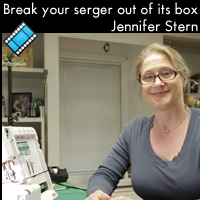 Vogue Patterns 7607

by: yummymummy...
Review
Christine Jonson Bell Sleeve Wrap & A-Line Skirt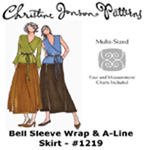 Pattern Details
Chelsea Paper Pattern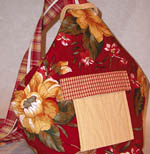 Pattern Details
Vogue Patterns 7871

by: cleverkitt...
Review