dr. liz


New Jersey USA
Member since 11/15/07
Posts: 274
Skill: Advanced Beginner



Date: 11/22/09 9:34 AM

I have now ruined at least three projects with my serger. I've had it about a year, and only use if for seam finishing. So far, it's been way more of a minus than a plus. I've sliced through the body of a garment (yesterday, a perfectly decent knit top.) I've messed up set- in sleeves; then, when I try to fix it, I have such a small or irregular SA I can't sew it back securely. I wobble and have serging that misses the fabric entirely. It's gotten so bad I don't want the serger near any project I make any more.

Clearly I don't have the hang of this thing. It's hard to control the speed, and it gets away from me. Then disaster ensues. I need to put in some concentrated practice time so I learn control. What should I do to practice? are there exercises I should do? I have particular trouble with 3-thread stitching on the right needle. I have trouble seeing where to line up. I also have trouble lining up consistently sighting on the knife.

It's not so much knowing what to do, it's being able to control the machine reliably.

poorpigling


Texas USA
Member since 12/28/07
Posts: 11074
Skill: Advanced



In reply to dr. liz

Date: 11/22/09 10:23 AM

I have literally been up all night sewing..about 24 hours straight now.. clicked into your thread Death by Serger and it read to me....I have now ruined at least three people with my serger..

Apparently my eyesight is wobbly too.. going to bed now...

-- Edited on

11/22/09 10:34 AM

--

nancy2001


Member since 12/3/05
Posts: 6522
Skill: Advanced



In reply to dr. liz

1 member likes this.



Date: 11/22/09 10:30 AM

You don't need to use your serger for anything other than seam finishing -- I don't. I prefer to construct clothes on my sewing machine because it gives me precise control and results in a more professional look.

If some people sew directly on their serger, that's fine. But I don't need to whip out two dozen burp cloths in an afternoon, and I don't believe you do either. Take your time and sew your garments the way that works best for you.

------
No sewing project is ever a complete success nor a total failure.

JDpenelope


Tennessee USA
Member since 9/9/03
Posts: 1397
Skill: Intermediate



Date: 11/22/09 10:45 AM

I agree with Nancy. I never serge an initial seam, and this is especially important if fitting might be an issue. Even for knits, I first stitch my seams on my sewing machine, sometimes in a long, narrow zigzag. Then, if the fit is good and I want a stretchy, serged seam, I employ the serger, carefully lining up the left-most needle with the stitching line, to preserve the original seam line. To avoid errors, I focus only on that stitching line and nothing else.

------
aka Joanne. (Penelope was our cat. RIP.)
"What mother nature gives, father time takes away."
Yahoo group: Sewing-with-Industrial-Machines


Mrs.Moos


USA
Member since 11/5/02
Posts: 2743
Skill: Advanced

3 members like this.




Date: 11/22/09 11:02 AM

Get out your scraps and "crud" fabric and old clothes. Mkae lines, curves etc on them with a marker or chalk --whatever works. Then practice practice practice cutting on those lines. Practice the control of the machine on various fabrics that you don't care if they get ruined or not. You will get the hang of it. It's like when you first learned to sew. But I could not live without my serger. And I ALWAYS use my serger for main construction of knits. That's what sold me on sergers was the stretch you can obtain with one. Just practice and you will get it and lose your serger fear and loathing

Just think of all the ugly fabric you may have or those yucky t-shirts that could become lovely "test subjects"! Then keep them for when you want an embroidery machine so you can do test sews on them! Mu-ah-ha-ha-ha! Come over to the dark side

------
Janome 6500P, Babylock Eclipse SX, Janome Coverpro 1000, Babylock BLCS, Juki 654 (2), Babylock Spirit, Juki TL2010q, Brother PE770

Debbie Cook


Member since 4/11/02
Posts: 9901

1 member likes this.




Date: 11/22/09 11:13 AM

Besides practicing per Mrs. Moos, buy the

Palmer/Pletsch Serger Basics DVD

. It's $19.95 and worth every cent.

Like Mrs. Moos, I use my serger for construction and not just seam finishing. No one says you have to, but the only way to gain proficiency with the machine is to use it. Yes, you'll have mistakes. But you'll learn what NOT to do too.

------
--
"I base my fashion sense on what doesn't itch." — Gilda Radner
http://stitchesandseams.blogspot.com

loti


Florida USA
Member since 5/27/04
Posts: 3634
Skill: Advanced



Date: 11/22/09 11:30 AM

Hmmm you have me rethinking my upcoming project to teach my niece how to sew. I was going to use two machines, a basic machine with straight and zig zag and my serger. I think I will keep her away from the serger.

I agree with pulling out your scrap fabric and practice away. It's all matter of getting accustomed to the speed and the foot pedal.

You may also want to pull out the manual and pretend it's the first time you've seen the machine and test all of the setting and features. Just remember to take a note of how everything is set now (ie tension, stitch length) before you change anything.

You might find hints on how to line the fabric up, you may also decide to try a shorter stitch length for awhile, as this will slow the machine down a bit (it will also gobble up more thread). Try different thicknesses of fabric, and pull out any attachments you may have and play away.

As for the serger taking bites out of pattern pieces, I had a recent issue with a bodysuit and a sneezing attack. Nearly sliced through the armhole... thank goodness it was a muslin.

Eventually you will be able to use the serger to put together t-shirts and the like if that's what you're aiming for, but I have to agree with the other posts, my best success has been with using it just to finish off edges not for construction.

------
"A girl should be two things: classy and fabulous."
Coco Chanel

Stash Sewn in 2011 148.5 Yds
Stash Sewn in 2012.... counting...

http://adonising.blogspot.com

Michelle T


British Columbia CANADA
Member since 8/24/02
Posts: 4968
Skill: Intermediate



In reply to dr. liz

Date: 11/22/09 11:30 AM

First off do you have a speed control. if may be on the machine or the pressure foot?

I am in the camp of those who use the serger for seaming and often an entire project except hems. I sew more knits than wovens, sew for the kids, dh and myself and am able to get more accomplished in my limited sewing time by using a serger.

I do not make dozens of burp cloths as indicated by another poster. I will make 3-4 pairs of pj's or long underwear at a time. The serger does a good job, the end product looks great and I can get it done in about 1/2 the time or less than on the SM.

I cannot think when I would use a serger on set in sleeves though. I sew the sleeves in knits flat, no matter what the instructions tell me to do.

Serging does use different techniques than sewing, watching the knife instead of the needles, using differential (or not), no pins, being very careful to have the body of the garment away from the machine and the knife.

I have caught the body of a garment in a seam more often when using the sewing machine, because I know I have to be so much more careful with the serger and get lazy on the SM.

------
Proud parent of a Dwight International School Honour Roll Student

EleanorSews


Board Moderator
Michigan USA
Member since 7/26/07
Posts: 6029
Skill: Advanced
Body Type:




Date: 11/22/09 11:48 AM

My embarrassing admission. I have had a BL Evolve Wave for several years and used it primarily to knock out elastic waist pants for my mom during her time in care. Now it is a seam finisher and hemmer for uber large church banners.

In an effort to discipline myself to learn how to maximize this machine, I am beginning with Shannon Gifford's "Serger Basics" class which starts on Jan 11 (NAYY). Have you considered a class where you will be able to practice certain techniques and have someone to ask questions? Shannon's class is geared to a 3/4 thread serger, but it seems like a good place of beginning.

------
"We don't see things as they are, we see them as we are." Anais Nin

"Attitude is the difference between an adventure and an ordeal." unknown

tourist


British Columbia CANADA
Member since 7/23/07
Posts: 6793
Skill: Intermediate



Date: 11/22/09 11:54 AM

I'm one of the people that made many, many burp cloths. Actually 11"x11" washable single use flannelet hand towels for the child care centre where I work. I cut the corners with the serger as I go and that taught me how to maneuver the curves. If I messed it up, I just serged over it again. In the beginning I did have a few that ended up too small to be remotely useful, but most were serviceable if not lovely.

Now I practice sewing off the end and turning the corner squarely and also practice scarf hems, rolled hems etc. Sitting down and doing 10, 20 or 30 of these in a sitting doesn't take long, but it does increase accuracy quickly. If you don't have a use for small hand towels or a ton of table napkins, you could hem all of your cleaning rags.

Since I work with toddlers, I also make simple bibs and they are helpful for learning to sew both inside and outside curves.

Pj's, jogging pants etc. are also great, as Michelle mentioned. Long straight seams and one long, open curve. I made everyone pj bottoms a couple of years ago and after serging 6 or 8 pairs, I got much more competent seaming on the serger.

So don't toss the serger! Spend a little time away from crucial projects and make friends with it.

------
http://bgballroom.wordpress.com to follow the progress on my next ballgown.
Printable Version
* Advertising and soliciting is strictly prohibited on PatternReview.com. If you find a post which is not in agreement with our Terms and Conditions, please click on the Report Post button to report it.
Online Class
Bust Adjustments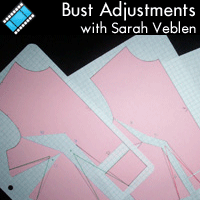 Online Class
Fun with Fitting - PANTS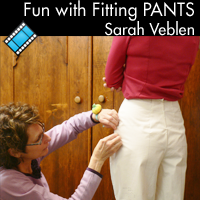 Ottobre Woman Magazine 05-2012-7

by: westmoon
Review
SewBaby Fleece-Easy Hats Pattern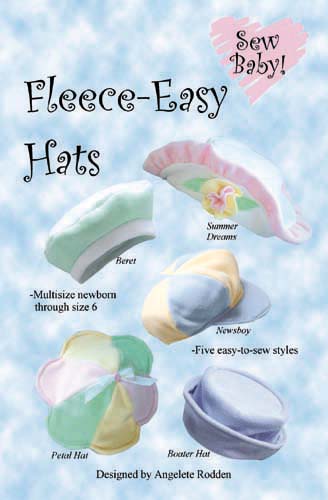 Pattern Details
DVD - Will this fabric work for you?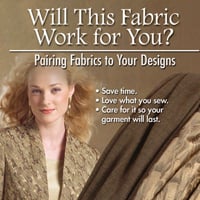 Pattern Details
McCall's 6996

by: embroiderj...
Review