Sew Jane


Kansas USA
Member since 8/24/02
Posts: 137
Skill: Intermediate

1 member likes this.




Date: 12/30/09 12:12 PM

I live in a very rich area for sewing machine mining

I have stumbled across machines I have never heard of and cannot find significant information on online. This is an open call. I want to be able to take advantage of my opportunities, but with knowledge going in. Recently, I've had the opportunity to buy a Stradivaro De Luxe Model #3611 for $50 including cabinet, a Finned Fleetwood for $40 and a Morse, not to mention an old Brother with Radio Dials. Help! What do you know about these machines and the likelihood of being able to repair them? Let's share.

------
"The real voyage of discovery consists not in seeking new landscapes, but in having new eyes."
- Marcel Proust


tourist


British Columbia CANADA
Member since 7/23/07
Posts: 6786
Skill: Intermediate



Date: 12/30/09 12:22 PM

Jane - I have no knowledge to help you out, but I do have an old Eaton Viking (Canadian dept store brand) that is currently my primary machine. LOVE it.

------
http://bgballroom.wordpress.com to follow the progress on my next ballgown.

ThePadre

Member since 1/27/09
Posts: 844
Skill: Advanced Beginner



In reply to Sew Jane

3 members like this.



Date: 12/30/09 12:43 PM

Most of the ones you mention are vintage Japanese un its. Nearly all of the Japanese machines work well (and some extraordinarily well). Value-wise, they don't seem to fetch much as collector's items, unless someone has a penchant for the interesting colors and configurations that are found. (I love the pale blue Brother Flairmatic 190, from the late 1950s, I found for my daughter. She loves it too.)

The cabinets will vary in value, depending on condition and what machines they can accept.

Most of these are very repairable and will do a fine job.

Having been burned once, I'll never pay more than about $25-$30 for these machines in good condition (paint is free of chips, no rust; poor wiring being the only must-do replacement item), and having a serviceable case or cabinet. All the parts need to be there (bobbin case, foot control, cams if it uses them). Replacing missing items destroys the cost-benefit equation.

Needlebar.org and the vintagejapanesesewingmachines group at Yahoo Groups are the best sources for more information. Pattern Review isn't really set up to keep track of the sorts of data these other two do.


-- Edited on 12/30/09 12:45 PM --

jannw


Washington USA
Member since 9/3/06
Posts: 8552
Skill: Intermediate



In reply to Sew Jane

Date: 12/30/09 12:48 PM

I have two Morse machines and am looking for more..very well made, all metal, weigh a ton! With my first, a thrift store find, I walked into my local dealer and asked for a belt to fit a Morse..I was prepared for being told they were not made, special order, etc. He just handed me a belt and it fit. As I learned, Morse were made by the company that became Toyota and were(are) well thought off because of the engineering used on them. Morse later became a distributor of machines. I have a Dressmaker, whose JA and JC numbers indicate Morse manufacture.

Repairs are not hard and you may want to recondition yours yourself. Morse manuals are available at SewUSA, also Brothers. You may want to join the VintageJapansewingmachine group at Yahoo. They have lots of info and will help. Also some manuals online.

Japanese Sewing Machine

I envy you your area. It seems on the online auctions, all the good machines are in the midwest.

------
2009-113.25 yds
2010-115.5
2011-80.25+30+donated
2012 86.3 yds..
2013 21.0
Everyone who sews seriously has a stockpile of fabrics, because it is natural to purchase more than can be sewn in any one season" Singer, Timesaving Sewing, 1987



Ripple Dandelion


North Carolina USA
Member since 9/23/06
Posts: 324
Skill: Intermediate



In reply to Sew Jane

1 member likes this.



Date: 12/30/09 12:58 PM

You've gotten some great suggestions here! I just wanted to chime in to say that I have a Capitol DeLuxe Japanese machine that is a treasure. You don't see many of that nameplate around, so I'm sure it was a badged cousin to a Toyota or Morse or White or something. I would imagine that it's necessary to try each individual machine--it's hard to generalize.

I paid $20 for the Capitol DeLuxe and I would say it's just as valuable to me in its own way as my new $1000 Juki F600. Not that I want to be without either one.

------
Virginia
http://asewinglife.blogspot.com

poplin


Member since 5/28/06
Posts: 1432
Skill: Advanced



In reply to Ripple Dandelion

Date: 12/30/09 1:38 PM

Quote:
I paid $20 for the Capitol DeLuxe and I would say it's just as valuable to me in its own way as my new $1000 Juki F600. Not that I want to be without either one.

Ha! I know what you mean...

------
Busy, busy sewing my fabric stash!

Jennifer Hill


Alberta CANADA
Member since 4/11/02
Posts: 1507
Skill: Advanced



Date: 12/30/09 3:47 PM

I agree that these Japanese machines are extremely under-rated and also under-priced regarding their utility and durability. But because they come with so many different names on them, many of which are distributor/retailer names unrelated to manufacturer, it is much easier to learn to recognize the machine type, rather than the names they may be sold under. The photo resources at needlebar.org and the Yahoo group for vintage japanese machines are the way to go.

I always think these are ideal machines for beginners-on-a-budget. There a soooooo many of them around that one shouldn't have to pay real money for one that requires much service or parts to get stitching. In fact, even if the machine were free, I would pass if it were missing more than a presser foot or bobbin case. For sure, zz machines that require cams had better have them included, because finding the correct ones after the fact is extremely challenging.

Jennifer Hill
--
'Winds of inspiration. . .'
Quilt Canada 2010
Telus Convention Centre, Calgary, AB
April 26 - May 1 2010


zanylady


Maryland USA
Member since 5/6/09
Posts: 255
Skill: Advanced

1 member likes this.




Date: 12/30/09 4:41 PM

Morse, Stradivario & the others mentioned are all excellent machines.They are real workhorses and do what they are designed to do and do it well. I also have a Lark, an Admiral, a Mercury, a Greyhound, and a Hamilton Beach, among others. Had a Compac, which I sold but it was a real workhorse too. Went through 7 layers of denim with no problem. Made a denim quilt with it. Also have an old Signature that I don;t have up and running yet.
I agree that the older machines are underpriced and under valued. Geneerally it doesn't take much to get them up and running. And universal belts will work, especially since, on most of them, you can move the motor up and down to get the belt right.
I love being able to take an older non-working machine and get it up and running and doing its job. Great sense of satisfaction, I spent 50 years as a psychiatric social worker, and looking at the finished product gives me a sense that I accomplished something and have a working machine to prove it.
I often sell the machines at a flea market near York, PA and many of my buyers are men, who want a good sturdy machine that will do what they want them to do with no fuss.

johnr55


Texas USA
Member since 3/22/08
Posts: 163
Skill: Intermediate



Date: 12/30/09 6:29 PM

My Dressmaker machines fit in this category. I don't know who made them in Japan. They, the Morse, Stradivaro, Fleetwood, Good Housekeeping, and a pile of other brands are so very similar once you get past the styling of the outer shell. They were, as I understand from dealer friends, sold by independent dealers who were not part of a major brand network. Then, much more than now, dealers would sell vacuum cleaners and a line of sewing machines. One long-time dealer I know has told me that one could purchase just about any name one wanted on these machines. The Chinese are doing that now with a generic machine they make. These machines are very underrated and parts are dirt cheap for them. I echo an earlier post; I bought one off of EBay and ended up giving it away because the internal cam stack had broken and it would only do a (very good) straight stitch. Gave it to a church and they have loved it. I just hate to think bunches of these are going into landfills because they don't do everything but wipe your nose. For real honest-to-goodness sewing, when they are properly serviced and adjusted the work they produce is of high quality. I agree, I belong to the vintage Japanese machine forum. Go there and join and enjoy all the different permutations of what is really a very few basic machines!

ThePadre

Member since 1/27/09
Posts: 844
Skill: Advanced Beginner



In reply to zanylady

Date: 12/31/09 0:38 AM

Quote: zanylady
I often sell the machines at a flea market near York, PA and many of my buyers are men, who want a good sturdy machine that will do what they want them to do with no fuss.

Have you been generally able to sell the machines to recover your cost of parts and time?

Like the last couple of posters, I like getting these classic machines back in top form. (I have a couple waiting for the "treatment" right now -- a Kenmore 158.15030 and a Wizard-branded zigzag/decorative stitcher.) However, if it's going to cost me money (in the end) after buying and refurbishing, I think it's a bad equation. That's why I limit the initial price to $25 or so.

(If I were a buyer, paying $75 or even $100 for a nicely refurbished old machine that requires no work seems like a decent deal to me.)
Printable Version
* Advertising and soliciting is strictly prohibited on PatternReview.com. If you find a post which is not in agreement with our Terms and Conditions, please click on the Report Post button to report it.
Online Class
Beginners Guide to Sewing Jackets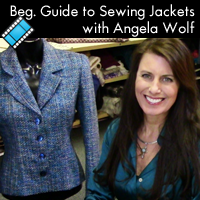 Online Class
Sewing with Slippery & Drapey Fabrics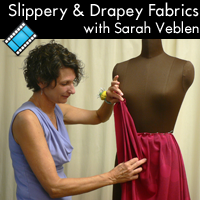 Self Drafted Pattern 20482-1003

by: kellyhogab...
Review
Islander Sewing Systems Men's Easy Shirt Pattern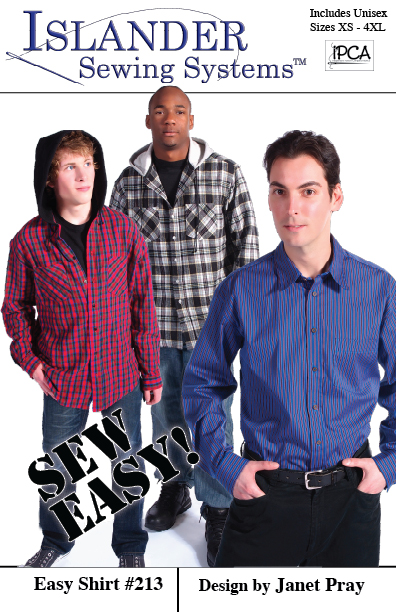 Pattern Details
Jamie Christina Mission Maxi Paper Pattern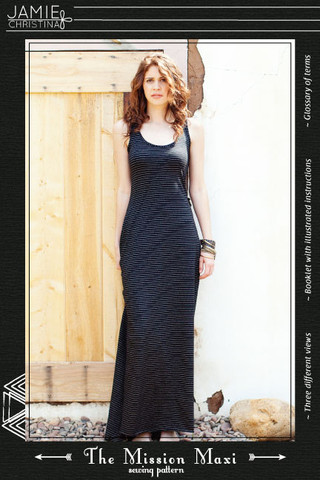 Pattern Details
Simplicity 7465

by: Alpine Que...
Review