Deepika

Intermediate
MA USA
Member since 11/28/01
Posts: 11372
Founder




Going to PR Weekend Austin!
Login to reply to this post

Date: 4/21/10 10:08 PM

PR Down Under Weekend Recap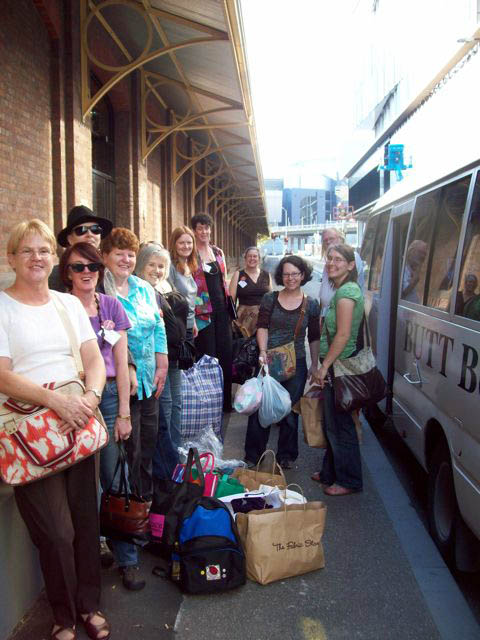 PR members in Australia and New Zealand got together on the weekend of March 12 through March 14, 2010 in Melbourne, Australia, for "PatternReview Down Under Weekend". Long-time PR member MelJ. got kudos from the other participants on this weekend for, in the words of one attendee, all the "heavy lifting" she did to make this weekend happen. PR members came from all over that neck of the woods, including Australia, New Zealand and Tasmania!

Of course, one of the primary activities was fabric shopping.
And the shopping was to die for. The group made a record 17 stops! Thank goodness for the rented bus! G_l_e_n_d_a noted that one of the stores has more fabric than the entire town of Alice Springs! Members bought so much fabric that a.) one member had to sit on the floor of the bus and b.) the fabric had to be shipped home. Fabri-holics all!

Saturday's events also included a handbag straps and rings workshop at the studio of talented Nicole Mallalieu. Her studio provided much inspiration to PR members who visited it!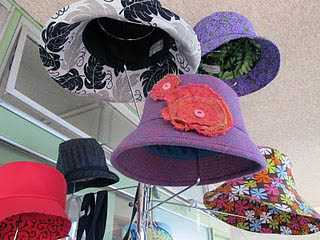 On Saturday afternoon, PR member /Anne ran a workshop on introductory pattern drafting for skirts with tips on changing the basic block into various designs including tulip, bias and pleated. /Anne studied pattern drafting as part of her Theatre Costume Design course and has been drafting her own skirts for years.

On Sunday, Maree Pigdon, a regular contributor to Australian Stitches and owner of Maree Pigdon Sewing Centre, led a Sunday T-shirt design challenge workshop on embellishing t-shirts, a.k.a. the Designer Top Workshop. PR members got lots of inspiration for designing their own tops. And there were reminders of other PR shopping trips. dorothyn modeled a skirt she had made from fabric purchased on the last trip, and Maree showed a jacket she had sewn from identical fabric purchased on the same trip.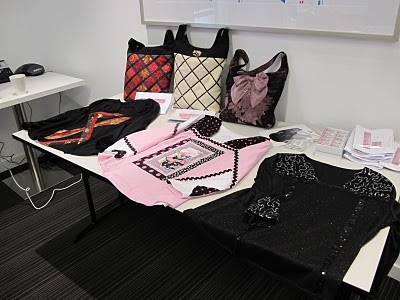 There was also time for general sewing. Members brought their projects to the PR weekend and got help on things like fitting and of course wore their newly-sewn outfits, including suits, dresses, a tiger-print coat and an embellished skirt, for all to admire!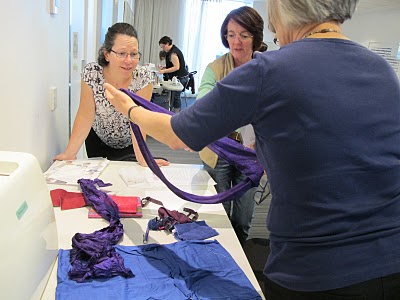 The fun continued when everyone went back home and worked on her embellished tee-shirt in a sew-along! Pintucks, slash-and-spread, applique, color...there was much discussion online about the direction that creativity was taking! Oh, and we can't forget about the fabric purchases!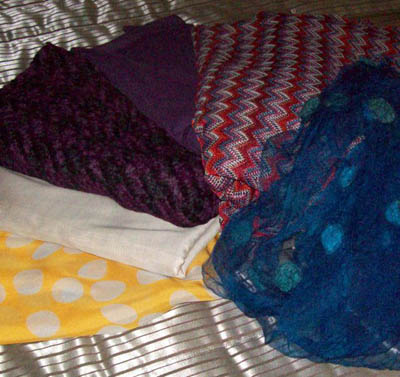 All these tangible reminders of a fabulous PR Down Under Weekend will continue to delight the PR Down Under Weekend attendees for some time to come!

Check out continuing discussion on the embellished tees and PR Down Under Weekend here.
------
- Deepika
Founder, PatternReview.com
Blog: http://www.deepikablogs.com
lacey2

Intermediate
AUSTRALIA
Member since 3/26/08
Posts: 24
Login to reply to this post

Date: 4/22/10 10:24 AM

Hi, as I live in country WA, Australia, can I have a list of the fabric shops in Victoria from your shopping trip? Many thanks,

------
Have a good Day
misschris


AUSTRALIA
Member since 2/3/06
Posts: 1501
Login to reply to this post

In reply to lacey2



Date: 4/22/10 5:37 PM

Lacey, if you ask over on the PR down under thread, it's more likely that Dorothy (or someone else who has the list handy) will see it. Dorothy organised our fabulous "shop till you drop" day. If you're heading over this way, let us know if you need help with public transport (or anything else).

------
chris

Melbourne

auschick

Intermediate
VA USA
Member since 1/19/09
Posts: 3
Login to reply to this post

Date: 4/26/10 1:10 PM

Tasmania's actually part of Australia, so to say "Australia, NZ, and Tasmania" is like saying "America, Canada, and Hawaii"! (except that Tassie has always been part of Australia, as opposed to Hawaii
)
I'd also love to know which stores they went to in Melbourne!
gleta


Advanced
AUSTRALIA
Member since 8/18/11
Posts: 10
Login to reply to this post

Date: 9/3/12 6:47 AM

So pleased you all had such a great time...can't beat fabric shopping to make smiles! I've been to some of the places mentioned on a similar trip several years ago & I'm still yet to use some of my purchases. Can't beat Melbourne for sewing related shops.
Gleta

------
GLT
Hunter Valley NSW