Ariadne


Intermediate
Texas USA
Member since 7/27/08
Posts: 129



Date: 7/13/10 4:53 PM

I just saw a Martha Pullen show, and her machine does stitches that mine doesn't. she has what looks like a cadillac on her desk.

I've read that mechanical machines sew straight, while embroidery machines wobble on straight stitches. And, well, since the point of french sewing on a machine is still exquisite stitching.....what sort of machine gets you there?

tif

PVA


Intermediate
Oregon USA
Member since 3/28/04
Posts: 1666





In reply to Ariadne



Date: 7/13/10 8:39 PM

I love Martha's show & her DVD's on heirloom sewing. It looks like you have done quite alot from what I read in your profile. The comments in your sm review encourage you to take your machine to the "sm doctor" & get it evaluated/diagnosed for some of the problems. Kenmores are great machines for lots of sewing jobs, their track-record can't be overlooked. (Or shouldn't be.)
A very basic machine like yours can "keep-on-going" almost indefinitetely, but if you want to step-up to the next level, specifically in heirloom sewing, using your present machine as a trade-in before putting more money into your old-timer is what I'd be inclined to do.

Try talking to some dealers and see what kind of trade-in allowance theyd be inclined to consider for one of the great machines out there.

The latest & greatest of the new machines are awesome & very spendy! Not really necessary for heirloom, it is amazing what you can accomplish with some decorative stitching, pintucks & lovely laces.

Just my $0.02 worth, Pat

(Edited to add, important to remember not all expensive sms are equal, and a truly straight straight stitch is essential if you want your heirloom sewing to look really professional.)

------
PVA (Pat) "A girl can't have too many scissors!"
If I don't have time to do it right, when will I have time to do it over?

craftinginmycave2


Intermediate
Illinois USA
Member since 11/23/09
Posts: 424
PR Weekend Chicago Organizer

1 member likes this.




Date: 7/13/10 10:55 PM

I've recently gotten into heirloom sewing...ok, so I took one class and made a camisole. However, the stitches that I used were straight and a narrow zigzag. The only unique things for heirloom sewing would be the presser feet and needles. You should be able to get additional feet without having to buy a whole new sewing machine. Don't throw the baby out with the bathwater. However, far be it from me from encouraging someone to upgrade to a new sewing machine.

If you'd like, you can read my recap of my group's heirloom sewing class on our blog.

------
http://asgchicago.wordpress.com

PVA


Intermediate
Oregon USA
Member since 3/28/04
Posts: 1666





In reply to Ariadne

1 member likes this.



Date: 7/14/10 11:57 AM

Quote "I've read that mechanical machines sew straight, while embroidery machines wobble on straight stitches."

I meant to add that although that would seem to be true in lots of cases, using a "Straight-stitch foot and needle plate" will eliminate the uneven stitch track of any machine that has a zig-zag stitch. I've done most (but not all) on my computerized Viking #1-plus and this really did result in a very straight stitch. An important warning when using this foot & plate combo is to always make sure you're not going to change to any other stitch before you change back to the foot & plate that will accomodate all the other stitches! Both the foot & the plate will absolutely not allow anything but a straight stitch!



(Ask me how I can be so sure of this!)

------
PVA (Pat) "A girl can't have too many scissors!"
If I don't have time to do it right, when will I have time to do it over?

Ariadne


Intermediate
Texas USA
Member since 7/27/08
Posts: 129

1 member likes this.




Date: 7/14/10 5:55 PM

OH, what a neat blog!

I was looking at the new sewing machines. And, I don't understand them. There are ones for "jeans" and for "quilting" and for "embroidery." I went to one of the machine shops, and I said, thinking ambitiously for months ahead " $1,000" and the sales guy showed me a $3,000 machine, and then a $2,000 machine, and the badmouthed the $1500 machine, and bad-mouthed the ones at Wal-Mart. And since I've read reviews, and seen really good work on things from Wal-Mart........sigh.

There are two other stores in town. One sells Singers, which are, well, plastic- and the other store sells Babylock, and I'm not sure what else- but I've never seen a basic machine...

My friend who works professionally as a seamstress doing appliques for kids clothes just bought a new Kenmore.

There's a book at the library, and it shows things like ?featherstitch? I'm not even sure what all it shows.

The store around the corner has Janome feet, finally, I'm thinking if I brought my machine in, we could fit some of the fancy feet. What do you think?

Honestly, so far, mostly what I've used is straight stitch, and zigzag. The fancy ones I've used are on the kids cloths, to give them a bit of pop.

And, well, fleece jackets,- I was able to make three jackets, but that's b/c I know how to work with my machine- I had to hand walk over some sections, pulling the needle up, as it got stuck in the fabric......

Also, I'm wondering if the needles maybe arent' quite what they used to be. My machine needs Singers- it won't even work with Schmetz Universals- there's about a millimeter difference- but that's enough- but the new singers- they aren't painted as thoroughly, so I'm thinking it's a new factory with lesser quality control....

( I'm talking out loud here. I don't know on any of this. Imagine nineteen years of happiness and reliability, and then one year of wonkiness.......) I don't actually know that much about what other machines are like, or do, or anything. I didn't need to pay attention.

I would not get rid of it, anyway. It wouldn't trade in for much, for one. And for two, I counted out every wedding outfit I've made on it--- including my dad's renaissance faire wedding outfit-- and my best friends' wedding dress- my dresses- the baby stuff, the kids stuff......that's alot...........

Ariadne


Intermediate
Texas USA
Member since 7/27/08
Posts: 129

1 member likes this.




Date: 7/14/10 6:17 PM

While I'm thinking about it- if you like heirloom sewing? Have you seen battenburg lace tablecloths? The ones that look like tape shaped into flowers, with usually coarse cotton thread holding the shapes? I haven't seen them for a few years, but I think it's just b/c I haven't been shopping in a few years- 3 small, loud, rambunctious kids---anyway, they were at nice-ish department stores, and for a while at discount department store-----anyway, you can cut the motifs off the tablecloth, and then fine zigzag them onto other fabric. They don't ravel. One of the wedding dresses I did used this for lace. The nice thing was, that you weren't necessarily obliged to stitch it all the way onto the fabric, so for this dress, bottom hem was sewn onto the bottom of the skirt, and then the flower motifs were lifted a little up, and then tacked in plac, and it gathered the fabric up in a scallop, like in a disney princess dress. Clear as mud?

It's cotton, so it takes some dyes really well, so if you wanted to do a colorful shirtdress with motifs- you could dye them one set of colors, and then applique them onto your shirtdress. they go on tee-shirts, too, if you use a lot of stabiliizer. i've never tried it- the lace is itchy, and I like soft shirts- but it can be really cute.

thank you for thinking about my questions, and answering.

tif

ukdame


Intermediate
Washington USA
Member since 8/1/08
Posts: 1821





In reply to Ariadne

1 member likes this.



Date: 7/14/10 6:33 PM

Kenmores are good, they are made by Janome. I have a computerized 19606. The newer Janomes would do heirloom sewing too. Don't let those dealers talk you into their most expensive machine.

------
It is common sense to take a method and try it. If it fails, admit it frankly and try another. But above all, try something. ~ Franklin D Roosevelt 1843
Janome 19606 ,Janome My Excel 4023, Brother 1034D, White 1750C, Kenmore 158.1803, White 764, Brother 780D.

Elona


Advanced
Member since 8/24/02
Posts: 8615





In reply to Ariadne

1 member likes this.



Date: 7/14/10 10:00 PM

For heirloom sewing, this old Bernina 830 (just one of the many available on ebay) is all you need. The stitch quality is superb--even in these old models (I know; I have one)--and the machinery is dead reliable.
-- Edited on 7/14/10 10:01 PM --

craftinginmycave2


Intermediate
Illinois USA
Member since 11/23/09
Posts: 424
PR Weekend Chicago Organizer





In reply to Ariadne

1 member likes this.



Date: 7/15/10 11:25 PM

A "jeans" machine will usually have the horsepower to muscle through the thick layers of denim. Not all machines can handle that.

Quilting machines usually have more space on the right, so that you can roll a large amount of a quilt to enable you to do the quilt top.

Embroidery machines usually have an embroidery attachment for the hoops. The attachment is removed for regular sewing, be it quilting, heirloom or plain, ol' patch-'em-up.

You can buy feet online, so I wouldn't restrict yourself to buying based on geography of feet.

Sounds like the salesperson you spoke to was trying to hit a quota. I can only give you my experience for your consideration: I bought a Viking at my nearby JoAnn's. They have the option to upgrade within 1 year of purchase for the difference in price, essentially getting a credit for the machine you purchase. I bought an E20 and practically killed it on my first project. The manager said that, yes, based on asking me what I intend to sew; the frequency I intended to use the machine and my sewing ability that she would have predicted that it was too lightweight of a machine for my needs. I upgraded to an Emerald 183 and it was perfect. Recently, I upgraded to a Topaz 30 because I wanted to add more embroidery capabilities. However, I was waffling between the Topaz 20 and the 30. I explained that I did not want to over-buy, so we went function-by-function the comparison and the salesperson gave me specific examples of "when you would appreciate this function." Then I test drove it -- this is so important. The Topaz hummed at me the moment I touched it. Don't get me wrong; I loved my Emerald and it never failed me, including with denim, but the Topaz took it to another level.

Good luck with your search!

------
http://asgchicago.wordpress.com

marymary86

Intermediate
Georgia USA
Member since 7/20/08
Posts: 3267





In reply to Ariadne

1 member likes this.



Date: 7/16/10 0:50 AM

I bought my Bernina 1130 years ago for heirloom sewing. I knew if It would work well for heirloom sewing, it would also do a good job for regular dressmaking and it has never disappointed me!

My machine has special presser feet and needle functions to do precise tiny pintucks. I could also regulate my zig-zag stitches so that the length and width would sew precisely in the little holes of entredeux - a trim I used to attach laces together and also to set in sleeves.

It also does beautiful hemstitching and can roll and whip around cord on an edge of batiste to make the little puffing strips.

I'm not up on current machines at all but I just had to brag a little on my machine!!

------
Mary



Printable Version
* Advertising and soliciting is strictly prohibited on PatternReview.com. If you find a post which is not in agreement with our Terms and Conditions, please click on the Report Post button to report it.
Break your Serger Out of the Box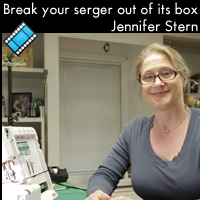 Understanding Interfacings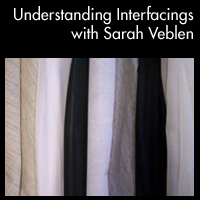 McCall's 5806

by: sew silly
Review
Other Rosy Ladyshorts

by: SusanStitc...
Review
Islander Sewing Systems Men's City Western Shirt Pattern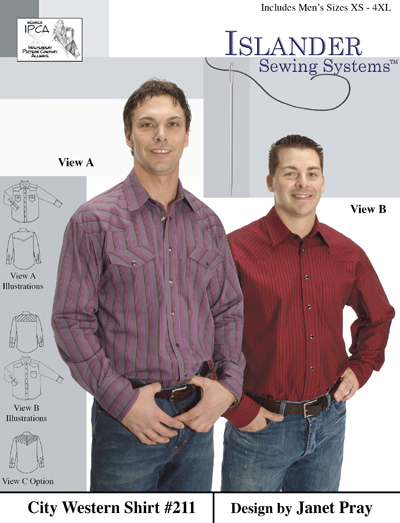 Buy Now
Christine Jonson Shirred Top & Princess Wrap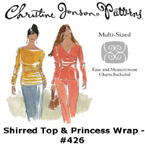 Buy Now