lakaribane


Haiti
Member since 7/23/07
Posts: 3119
Skill: Advanced Beginner
Body Type:




Date: 11/24/10 7:47 PM

I just got this newsletter and didn't notice a thread about this. 2011 is looking interesting indeed.

Material Mondays

Here's the text :

Quote:

Material MondaysFree Fabric Giveaway for the week of 11/22/10 through 11/28/10

-------------------------------------------------------------------------------

Pattern: 1 1/4" Buffalo Plaid

Color: Tan/Black

Fabric/Fiber: Chenille Blend

Weight: Mid-Weight

Stretch: No

Yardage: 3 3/8" yards

Suitable Garments: Suiting, Jackets, Lightweight Coats

Perfect for Butterick: B5535, B5570, B5574

McCall's: M5923, M5941, M5984

Vogue Patterns: V8695, V8701, V8693

Imagine owning a piece of fabric direct from our closet...for free! We have yards and yards (and yards!) of fabrics leftover from outfits and accessories made for our catalog and magazine photo shoots. Plus, cuts that were simply bought, stashed and never touched—yes we're guilty of that too! In our closet are luxurious cuts of wools, silks, linens and more—some designer—that we've been hoarding and now we want to share.

Here's how it works...

•Each Monday we will post a new fabric on this page.

•This offer is open to ClubBMV.com members. Just send an email* to

[email protected]

simply saying "Yes!" in the subject.

•The following Monday we will randomly select a winner** from the emails received from our fabric-obsessed group of ClubBMV.com members and post his or her name on our site.

•If you win, the right thing to do would be to actually MAKE something with it and put a photo on our Facebook page—but we'll leave that up to you!

Every year you have 52 chances to win fabric**...just another great reason to be a ClubBMV.com member. From OUR stash to YOURS...good luck and happy sewing!

*Limit one email per member per week.

**Limit one fabric per member per year.

I'm not a member but I wrote to them to suggest an option open to all clients, not just members, that would have a bidding format like on eBay.

I think it's an interesting idea but I reserve judment on the offerings. Still doesn't make me want to be a member but at least they're trying some things.

My first problem is that "Chenille blend" doesn't really say what the fabric content is. On the other hand, I do like the pattern suggestions.

Any thoughts?

------
Morphology: Petite at 1m53 (5'), Burda size altered 19 or altered 38, Big 4 size 10 or 12 depending on ease;
Alterations: Petite, Narrow Shoulders, Slim Arms, Narrow waist, Increase Back Crotch Depth. Considering: Forward Neck/Rounded Upper Back, Slight Swayback;
Style: Feminine, Colorful, Fitted, Clean lines;
Favorite Garment type: Dress;
Favorite Colors: Purple, Navy, Brown, Shocking Pink, Coral, Aqua;
Favorite Fibers, Weaves or Patterns: Cotton, Linen, Cotton Silk blend, Seersucker, Swiss Dot, Lawn, Denim, Stripes, Chevron, Window pane Plaid, Bias;
Blog : http://fashionmate.blogspot.com
Pinterest : http://pinterest.com/lakaribane/

cmarie12


New Jersey USA
Member since 4/8/03
Posts: 418
Skill: Intermediate



Date: 11/27/10 8:56 PM

I really think they are just trying to figure out some more benefits for the people who are members of Club BMV besides the additional 10% off patterns. It will be interesting to see what other pieces of fabric they offer...personally I'm a little intrigued. But then I'm probably biased since this is my primary outlet for purchasing patterns and the Club fills a void in my sewing life!

------
Carolyn
My blog: http://sewingfantaticdiary.blogspot.com/
"I've always maintained that freedom of speech does not mean freedom from responsibility. Choose your words carefully ~ Susan"

frame


USA
Member since 2/19/04
Posts: 6240
Skill: Advanced



Date: 11/27/10 9:13 PM

I'm not a member of Club BMV because I can purchase patterns locally for less money. I do think it's great that they are offering this to Club BMV members because I really don't think they give you enough of a benefit for your membership fee. Free shipping on patterns ALWAYS would be more incentive for me to join Club BMV than a fabric give-away. Actually, that's all it would take.

------
"I meant what I said, and I said what I meant." - Horton(Dr. Seuss)

***When all else fails, call Tiffany.***



Kim12469


Montana USA
Member since 3/27/08
Posts: 2698
Skill: Intermediate
Body Type:




Date: 11/27/10 9:16 PM

They had a join Club BMV special awhile back and I joined and in my one order I saved my membership fee. I've already broken even but I do think the fabric giveaway is a fun idea.

------
http://kimsewsilly.blogspot.com/

frame


USA
Member since 2/19/04
Posts: 6240
Skill: Advanced



In reply to Kim12469

Date: 11/27/10 9:24 PM

Quote:
in my one order I saved my membership fee.

But you still spent more than I would have spent if I purchased the patterns on sale locally. That's what I meant. There's no benefit to belonging to BMV if you can purchase the patterns on sale locally. I absolutely see how you can save money if you don't have access to local sales.

This is not a comment on whether or not YOU can save money, it's a comment on whether or not I can save money. It's not a criticism, please don't read it as such. I don't want to create another discussion on whether a person should sign up for Club BMV or not. Clearly a person should if it saves them money. In order to save ME money, they would have to offer free shipping.

------
"I meant what I said, and I said what I meant." - Horton(Dr. Seuss)

***When all else fails, call Tiffany.***



Kim12469


Montana USA
Member since 3/27/08
Posts: 2698
Skill: Intermediate
Body Type:




Date: 11/27/10 9:56 PM

Well, I can get them locally, in fact I have three Joann's within 30 minutes of my house. One of the reasons I hadn't joined Club BMV was because of this. However, during this particular sale, the specifics I can't remember, it was too good of a deal to pass up.

Yeah, sure free shipping would rock! But, if you calculate in how much time, energy, and gas you spend travelling to these stores in hopes that they have the pattern and size you want, well then, it's way worth it to me. I can't tell you how many times I've tried to get new patterns at one of the Joann's sales only to get there and find that I'd wasted and hour of my time and gas when they didn't have them out yet.

And the way I figure it with gas at $3 a gallon, my car get's 30 miles to the gallon, the trip to the store is 50 or 60 miles round trip, well right there is just about the shipping cost if they have a $3.99 Vogue sale for BMV members plus the % off. If you're a member you have access to more sales.

eta...and no I didn't spend more than I would have locally...that's what I was trying to say but it got long winded

-- Edited on

11/27/10 9:58 PM

--

------
http://kimsewsilly.blogspot.com/

frame


USA
Member since 2/19/04
Posts: 6240
Skill: Advanced



In reply to Kim12469

Date: 11/28/10 10:34 AM

Quote:
and no I didn't spend more than I would have locally

Well, I walked into the Joann's (about a mile from my house) and purchased 6 Butterick patterns out of the new catalog and walked out paying $6.47, less than 1/2 hour later. It would take awhile for me to make up the cost of the membership especially since they add $1 to every pattern for shipping.

But I was also referring to the fact that BMV members don't get ENOUGH benefits over non-BMV members when BMV runs its sales. I think the fabric give-away is a good thing for Club BMV members and non-members should not be included because Club BMV members do pay to belong.

And as I said, free shipping would have me signing up for Club BMV membership in a flash because only then would it save me money. I think I might send them that as a suggestion.

I think we are on the same page, just coming from different books.

------
"I meant what I said, and I said what I meant." - Horton(Dr. Seuss)

***When all else fails, call Tiffany.***



lakaribane


Haiti
Member since 7/23/07
Posts: 3119
Skill: Advanced Beginner
Body Type:




In reply to Kim12469

Date: 11/28/10 11:46 AM

Quote: Kim12469
I can't tell you how many times I've tried to get new patterns at one of the Joann's sales only to get there and find that I'd wasted and hour of my time and gas when they didn't have them out yet.


You know, I can totally relate to this. I live outside the US and started buying online in 2002. And the one thing that hasn't changed in my experience of online shopping is exactly this: I can get the SPECIFIC book/CD/DVD/whatever I want online vs going to a brick and mortar store during a trip abroad only to find out they don't have it or it's in HC instead of the cheaper paperback, it's blue and not black etc.

Just to clarify: books in English aren't easy to find here vs French literature & magazines so if I want to read in English, I have to buy online.

That's why I'm still waiting for SOMEONE to sell patterns online at chain store sale prices with reasonable or Free shipping. Why can't Amazon get on this? (Of course, they might have to buy a housefull of patterns but...I can dream, can't I?)

Edited for spelling and grammar...and clarity

-- Edited on

11/28/10 11:50 AM

--

------
Morphology: Petite at 1m53 (5'), Burda size altered 19 or altered 38, Big 4 size 10 or 12 depending on ease;
Alterations: Petite, Narrow Shoulders, Slim Arms, Narrow waist, Increase Back Crotch Depth. Considering: Forward Neck/Rounded Upper Back, Slight Swayback;
Style: Feminine, Colorful, Fitted, Clean lines;
Favorite Garment type: Dress;
Favorite Colors: Purple, Navy, Brown, Shocking Pink, Coral, Aqua;
Favorite Fibers, Weaves or Patterns: Cotton, Linen, Cotton Silk blend, Seersucker, Swiss Dot, Lawn, Denim, Stripes, Chevron, Window pane Plaid, Bias;
Blog : http://fashionmate.blogspot.com
Pinterest : http://pinterest.com/lakaribane/

cmarie12


New Jersey USA
Member since 4/8/03
Posts: 418
Skill: Intermediate



Date: 11/28/10 10:04 PM

Quote:
That's why I'm still waiting for SOMEONE to sell patterns online at chain store sale prices with reasonable or Free shipping. Why can't Amazon get on this? (Of course, they might have to buy a housefull of patterns but...I can dream, can't I?)

I think that's an awesome idea...Amazon could just contract out to someone else and ship overseas...like they do with books!!!

I think Club BMV works really well for people who don't have local access to patterns cheaply but IF you have local access then I can see why it wouldn't work for you. However, more and more of us are losing our access to local patterns and fabric so when something goes online it offers us choices that we just didn't have before! Personally, I wish Simplicity would up their game online and offer more pattern sales too!

------
Carolyn
My blog: http://sewingfantaticdiary.blogspot.com/
"I've always maintained that freedom of speech does not mean freedom from responsibility. Choose your words carefully ~ Susan"

lakaribane


Haiti
Member since 7/23/07
Posts: 3119
Skill: Advanced Beginner
Body Type:




In reply to cmarie12

Date: 11/29/10 11:06 AM

Quote: cmarie12
Personally, I wish Simplicity would up their game online and offer more pattern sales too!

You said it! You've probably read the two threads on the international shipping. So annoying!

And you know what is worse? More and more garment/shoe stores online allegedly offer international shipping...except, if I have an international credit card but want delivery to the US (like recently with a gift for a friend with a new baby), the computer gets confused and insists on the HIGHER int'l shipping!?!?!?!

Bottom line: I've given up and am sticking to the few websites that give me no hassles, no matter my payment/shipping combination.

------
Morphology: Petite at 1m53 (5'), Burda size altered 19 or altered 38, Big 4 size 10 or 12 depending on ease;
Alterations: Petite, Narrow Shoulders, Slim Arms, Narrow waist, Increase Back Crotch Depth. Considering: Forward Neck/Rounded Upper Back, Slight Swayback;
Style: Feminine, Colorful, Fitted, Clean lines;
Favorite Garment type: Dress;
Favorite Colors: Purple, Navy, Brown, Shocking Pink, Coral, Aqua;
Favorite Fibers, Weaves or Patterns: Cotton, Linen, Cotton Silk blend, Seersucker, Swiss Dot, Lawn, Denim, Stripes, Chevron, Window pane Plaid, Bias;
Blog : http://fashionmate.blogspot.com
Pinterest : http://pinterest.com/lakaribane/
Printable Version
* Advertising and soliciting is strictly prohibited on PatternReview.com. If you find a post which is not in agreement with our Terms and Conditions, please click on the Report Post button to report it.
Online Class
Understanding Knit Fabrics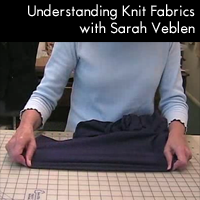 Online Class
Sewing Facings and Developing Facing Patterns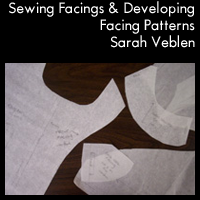 Sewaholic Patterns 1103

by: paolag
Review
PerfectFuseTailorUltra White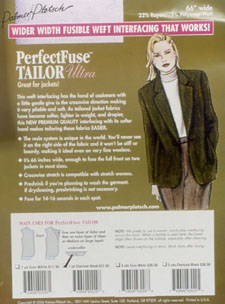 Pattern Details
THE COLLARS - A CD Book by Kenneth King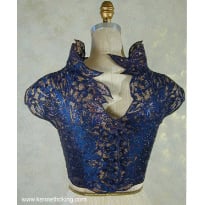 Pattern Details
Simplicity 5167

by: Pattycraft...
Review