JillyBe


Intermediate
California USA
Member since 1/20/10
Posts: 3195

2 members like this.




Date: 1/4/11 3:40 PM

There are a number of us who sew for folks with special needs in their clothing. My Mother's needs are constantly changing - earlier this year I was installing easy-to-use zips in her pants - now she can't really use those pants so I'm sewing open backed dresses that are really easy to put on & off. Next month...who knows?

I know that others are sewing for people with unique clothing needs - if we compile a list of questions & answers in one spot, it might be helpful for all of us :)



------
http://jillybejoyful.blogspot.com/
a blog about creativity, sewing, vintage sewing machines, and...... life :)

goodworks1


Advanced
Illinois USA
Member since 7/19/03
Posts: 3808



Date: 1/4/11 3:43 PM

Thanks for starting this. I think this need will only increase as time goes on.

------
blog: goodworks1.wordpress.com


birdmcfarland


Intermediate
Pennsylvania USA
Member since 8/1/08
Posts: 960



Date: 1/4/11 3:54 PM

This is great because my QC kit from Sew Much Comfort is on its way to me.

tgm and Kittys


Advanced Beginner
USA
Member since 3/8/10
Posts: 8219





In reply to JillyBe



Date: 1/4/11 4:25 PM

This is a great idea .....Mom has not be able to figure out buttons very well anymore. So we are doing our best to converting (mostly my sister as I am too far away) converting things to snaps or elastics.
Now Mom has joined a coloring art group at the home where she lives & wants something to carry her pictures & crayons in without snaps or buttons.... I have yet to figure this out. ....My Mom has very cripple hands from arthritis so needs things very easy to work & that can be washed ALLOT!!!
Thank you for starting this great thread!!

------
Home of the adorable Baby & Mittee girl >^,,^
It's all about The Baby , about the Baby, about The Babe ....Big Smile! (sung off key ..la la la )
Here comes the big 60! OH MY!
The sewing workers:
Hello Kitty Kate (green), Hello Kitty Valerie, Dottie Kenmore, Bubba Kenmore the traveler,has case does travel.

Be still & know that I Am God +
Dear God...please help us out..Thank you..+



JillyBe


Intermediate
California USA
Member since 1/20/10
Posts: 3195

1 member likes this.




Date: 1/4/11 4:40 PM

tgm my Mom is pretty crippled w/ arthritis as well - she's long past being able to use buttons...or any other kind of closure, for that matter. But she's still mobile, & figuring out ways for her to use her commode w/o help, but still be covered, is the current challenge.

There are patterns out there for folks in wheelchairs, but maintaining dignity and independence during that in between stage of not quite being able to dress yourself, but not confined to a wheelchair, is where my challenges are at the moment.

Currently, what is working best for her is a dress with an open back - sort of like a more elegant & presentable hospital gown. I'm about to make a second one - will take some pictures as soon as I can.

Maybe I should do an actual review. I'll plan on doing that with dress #2 & take photos along the way. It's not a completely workable system yet (mentally anything brand new is a challenge for her to learn) so I'm certainly open to suggestions!

------
http://jillybejoyful.blogspot.com/
a blog about creativity, sewing, vintage sewing machines, and...... life :)

tgm and Kittys


Advanced Beginner
USA
Member since 3/8/10
Posts: 8219





In reply to JillyBe



Date: 1/4/11 5:01 PM

That would be wonderful! .... Are you then improvising a pattern so to speak? ..... Any type of hospital looking garment makes my Mom very aggitated! .... she can use a walker fairly well at this time. She does go out occasionally on senior bus to McDonald's once a month so she says she MUST be presentable! .... hard to combine function & Mom's wanting to be "in style". .
Please keep us posted when the review is written. Thanks so much!!

------
Home of the adorable Baby & Mittee girl >^,,^
It's all about The Baby , about the Baby, about The Babe ....Big Smile! (sung off key ..la la la )
Here comes the big 60! OH MY!
The sewing workers:
Hello Kitty Kate (green), Hello Kitty Valerie, Dottie Kenmore, Bubba Kenmore the traveler,has case does travel.

Be still & know that I Am God +
Dear God...please help us out..Thank you..+



CM_Sews

Intermediate
California USA
Member since 9/18/04
Posts: 1843

2 members like this.




Date: 1/4/11 5:53 PM

Some resources that may be useful:

Independent Living Institute, FREE patterns
Downloadable PDF patterns. The instructions and sewing tips are aimed at the novice sewer.

Able Data web site, product listing
This website does not sell any clothing or patterns. Rather, it is a collection of links to resources and products for all types of disabilities. Scroll down to the Clothing links to find online specialty clothing vendors. I'm not suggesting you buy the clothing, but viewing the various products for sale can provide inspiration for your own modifications and pattern adaptations.

Simplicity's Design Without Limits: Designing and Sewing for Special Needs
By: M. Dolores Quinn, Renee Weiss Chase
ISBN: 0925323004
ISBN-13: 9780925323002

Originally published in 1990; revised in 2002. I'd check this out of the library before purchasing.
2002 revised edition Available at Amazon Hmmm. The one person who reviewed this on Amazon was not impressed, but that doesn't mean that you won't find it useful. For 112 pages, it is not inexpensive, so check your library first.

tgm kittys -- My suggestion for an art supply case/carrier would be to use Velcro for the closure. One-piece design Velcro has both hooks and loops on one piece, so there's less "scratchy-ness". Use a loop or handle in your case design to allow the user to pull open the Velcro without having to grab the edge of the case between the fingertips. That is, include one or two hand-sized loops so that the user can insert an entire hand into each loop and pull the Velcro "seam" apart. (Does that make sense?)

Crayon Carrier Sewing Pattern, Etsy This is not exactly what I was envisioning, but it's the nearest image I can find. However, it does have a Velcro closure and handles that can be used to open the case.

CMC

tgm and Kittys


Advanced Beginner
USA
Member since 3/8/10
Posts: 8219





In reply to CM_Sews



Date: 1/4/11 7:06 PM

Great information! Thank YOU!

------
Home of the adorable Baby & Mittee girl >^,,^
It's all about The Baby , about the Baby, about The Babe ....Big Smile! (sung off key ..la la la )
Here comes the big 60! OH MY!
The sewing workers:
Hello Kitty Kate (green), Hello Kitty Valerie, Dottie Kenmore, Bubba Kenmore the traveler,has case does travel.

Be still & know that I Am God +
Dear God...please help us out..Thank you..+



elizajo


Intermediate
Louisiana USA
Member since 4/15/05
Posts: 1260

1 member likes this.




Date: 1/4/11 7:43 PM

My 28 year old daughter has cerebral palsy which affects movement in her upper and lower body. She uses an electric wheelchair, but can hold on to a rail with one arm and transfer herself in the bathroom. Since she needs help with buttons, stockings, and zippers, she likes clothes that don't have them. We often have to think outside of the box to come up with solutions.

She teaches English at a community college and also has a very busy job in administration on campus. I can't sew for her as much as I did a few years ago since I have returned to work, but her favorite and most professional outfits are the ones I made for her two years ago.

She has developed a typical wheelchair posture--- long back, short front from sitting so much. So I used some hints from one of the links above to tailor a Burda pants pattern for her. It is a wonky pattern, but she loves the result. We were able to tailor the pants legs down to something like her peers wear, while keeping an elastic waistband for ease of dressing.

With her slim pants, she loves to wear one of her tunic tops made from poly jersey prints (Gorgeous Fabrics is our favorite source), which slide on so effortlessly and stay tidy all day. Cowl necks and faux wrap/twist styles with empire waists are the easiest for pulling over her head with no fuss.

She loves to wear dresses, but since her job has gotten so busy, she can use the restroom much faster in the pants/tunic combo. With a few of her longer tunics, she likes to wear leggings instead of pants.

Her office is very cold, so dresses have to be long enough to cover most of her legs when she sits down. The length seems to get in her way when she transfers to the toilet.

With the altered patterns, she has good coverage on her backside if she doesn't get things pulled back up exactly right. Even though she doesn't use a walker at work, she does sit forward in her chair enough for people to see all the way down her back to the seat. With her RTW clothes, she often has a peekaboo space between a the shirt hem and her pants.

DD loves to wear the new scarves worn wrapped around her neck, and seems mindful of keeping the length out her wheels. They are much easier to put on than necklaces and can dress up her outfit.

There's a bit of trial and error to finding what works best, balancing function with aesthetics can be a challenge, but careful observation can usually provide you with the info you need to customize RTW or patterns to suit your MIL's needs.

If your MIL has an occupational or physical therapist, you might ask them for advice, too. The good ones will do more than hand you a home medical supply catalog!


-- Edited on 1/5/11 10:03 AM --

------
Elizabeth

elizajo


Intermediate
Louisiana USA
Member since 4/15/05
Posts: 1260

1 member likes this.




Date: 1/4/11 8:09 PM

Something more-- the new waterfall type sweaters that have no fastenings are fabulous for a warm layer to wear indoors. We found two at Ann Taylor Loft last year that DD wears all the time. The resulting dangly bits from the "waterfall" could be dangerous in a walker or inconvenient in the bathroom, but I folded the drape back on the longest sweater with a cute pin so it wasn't flapping around. She is able to take this type of sweater off and put it on quickly by herself.

One magnetic snap with a large decorative button might be another idea for holding a sweater together. The large button is easy to grip while pulling the fronts together, then the magnet does its magic. I used the magnet snap/decorative button on a shrug type jacket several years ago.
-- Edited on 1/5/11 11:43 AM --

------
Elizabeth
Printable Version
* Advertising and soliciting is strictly prohibited on PatternReview.com. If you find a post which is not in agreement with our Terms and Conditions, please click on the Report Post button to report it.
Online Class
Understanding Knit Fabrics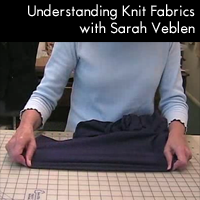 Online Class
More Knits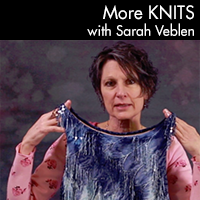 Merchant & Mills Top 64

by: Kate 88
Review
Jackets for Real People DVD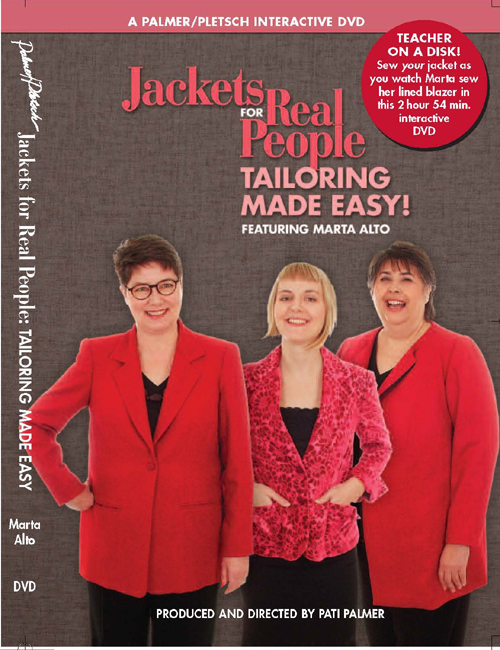 Pattern Details
Christine Jonson Travel Trio Two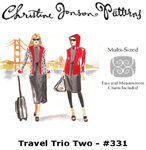 Pattern Details
Other Bronte Knit Top

by: RainyDayPe...
Review