5/23: A Flicker album has been created to post your PR Weekend pics.
http://www.flickr.com/groups/prweekend2011/
5/11 UPDATE
Tweet Tweet !
Follow PR Weekend here
http://tweetchat.com/room/prwknd
5/5 For those not familiar with the area, I've uploaded a guide of restaurant and shopping
here
. The file is downloadable.
4/25:
LAST CALL
for registration. There are three spots left. We will close registration at the end of this week or when the last three spots are filled, whichever comes first.
3/26: For rideshare information/pairing, please contact BonnieD with a PM or email thebonnied [at] gmail [dot] com to request access to the spreadsheet. Here is the link to the transportation thread:
http://sewing.patternreview.com/SewingDiscussions/topic/58417
3/26:
3/23: Added Friday night dinner information. See below.
3/23:
Create 'business cards'
to trade with other attendees. A great way to keep in touch afterward.
3/14: Updated Sunday itinerary.
Added 2/24: Join the
'Show Your PR Love' Nametag contest
.
---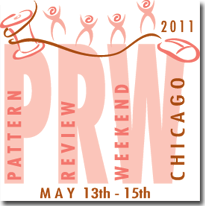 Registration Fee : $95 (non refundable)
(limited spots)

Chicago. The home of the NHL Champion Blackhawks. The city that President Obama calls home. The home of the fountain from Married With Children. And the home office of Vogue Fabrics!
In addition to the usual events we are celebrating a major milestone this year —
Pattern Review's 10th birthday!
On behalf of the Chicago volunteer team, we're going to do our best to make it a party PR Weekend!
PR Weekends are a great opportunity to build our sense of community with each other, support local sewing related businesses and share the love of our craft with like minded individuals. Chicago has been a suggested location for years, and we are looking forward to an exceptional turn out this year as we bring you some new ideas from our guest speaker; fun shopping at fabulous stores; a pattern swap; and the experience of riding the "El" en masse.
Location — University Center
Our headquarters for the weekend will be
University Center
(UC) in the South Loop neighborhood of Chicago, located close to public transportation, museums and the lake front. We have ordered beautiful sunny weather for the weekend so that everyone can enjoy the flowers along Michigan Ave., a short 2-block walk away.
University Center is a private dorm housing students from 4 local colleges. The UC offers short term housing during the summer and they assure us that there will be plenty of room available to accommodate our group. All rooms include linens, internet access (Ethernet cable required) and access to common rooms on each floor. Sleeping arrangements include:


Semi-suite — Two sleeping rooms sharing a common bathroom, each sleeping room has 2 extra-long twin beds, so 4 people will share the bathroom. There are no cooking facilities in these units, but the daily room rate includes one meal per day in the dining commons. The rate is $63.00 per bed per night, plus room tax of 15.4% for a total of $72.70 for a bed and a meal.


4-bedroom apartments — The apartments have a sitting area, small table with 4 chairs, kitchen facilities (but no utensils), and 2 bathrooms. Each of the bathrooms connects to 2 single rooms. The rate is $81.50 per bed per night, a total of $94.05 with room tax. These rooms do not include a meal.

The on-line reservation system at University Center will be available the end of March and
they have assured us that there will be plenty of rooms available.
As soon as the system is open a notice will be sent to all participants.
Breakfast and lunch for the PR Weekend are on your own; however, the UC has
several on-site businesses
incluing, Panera Bakery, Chutney Joe's, 7 Eleven, Lek and Yai Gourmet Thai, and Epic Burgers, so we won't have to go far for something to eat. The facility also has a dining commons available in either an ala carte or all-you-can-eat payment plan.
If you prefer a more traditional hotel, there are plenty of options within a few blocks you may want to consider. Rates are based on a search from Expedia; rates may vary depending on what you find. There is not a PR Weekend rate.
PR Weekend registration fee is
$95 (non-refundable)
and includes:


Shopping at two of Chicago's best fabric stores and a fabulous trim shop via chartered bus

Dinner at a local restaurant on Friday night The Berghoff, a Chicago historical institution

Saturday night pizza party

Conference Room Rental

Full-day seminar with contemporary designer and PR columnist, Angela Wolf

PR birthday celebration party

Prizes and Gift Bag

PR Weekend Program Guide Booklet

Sounds like fun?
REGISTER TODAY!
Registration Fee : $95 (non refundable)
(limited spots)

Schedule For The Weekend
(Still a Work in Progress)
Thursday, May 12 afternoon and Friday, May 13 morning
Registration and packet pick up in the lobby at University Center.
Friday, May 13 — Shopping Day
We will visit the flagship store for
Vogue Fabrics
in Evanston;
Fishman's Fabrics
, a 3rd-generation, family-owned store (known for its fabulous designer closeouts); and
Soutache Ribbons
, an inspiring ribbon and trim store that was featured in
Threads magazine
. Included in the PR Weekend fee is a charted bus to facilitate part of your shopping trip. This will allow us to visit Soutache Ribbons, which is not near public transportation, but is a shop we think you'll enjoy.
We will be split into two separate groups for shopping so that we don't overwhelm the stores with our arrival.


One group will start the day with an El train ride to Evanston; shopping at Vogue Fabrics' flagship store and time for lunch. The train route is easy, but PR Weekend volunteers will also help to make sure you get on and off the train. At an appointed time, the chartered bus will pick you up from Vogue Fabrics and take you to Soutache Ribbons for some unique ribbon finds. We can only spend a short time at Soutache Ribbons because we will then hop back on the bus to the fabulous Fishman's Fabrics. Nearby Fishman's Fabrics, you can also shop at Vogue Fabrics' South Loop store and Rainbow Fabrics, both a 1/2-block from Fishman's Fabrics. The bus will then take you and your packages back to the UC.


The second group will take the bus to Fishman's Fabrics to start your day running your hands through designer closeouts – all priced around only $15-$20/yd. Both Vogue Fabrics-South Loop and Rainbow Fabrics will be open, so you can split your time and dash over to these two stores. If you can tear yourself away from Fishman's Fabrics own Italian-blend shirtings. The bus will then take you to Soutache Ribbons for a short shop and on to Evanston to the Midwest cathedral of fabric — Vogue Fabrics. You will be able to leave your packages on the bus and pick them up at the UC at the end of the day. After lunch and shopping at Vogue Fabrics everyone in this group will take the El train back to UC.

Each participant will either pick or be assigned to a shopping group. Everyone will have the opportunity to take the chartered bus and store packages on the bus as well as to experience riding our Chicago El train. The chartered bus is included in your weekend registration fee; however, due to the complexity of trying to get each person a fare card, you will pay for the one ride on the train, $2.25.
Due to the distance between the two stores and our desire to give you as much time shopping as we can, we will be departing at 9:00AM. If you are arriving after 9:00AM on Friday, we will have someone to coordinate and direct you to one of the shopping locations.
We will have lunch locations pre-scouted and in your registration/welcome packs, so you can plan your time accordingly. (The UC is also convenient to grocery stores, so you can brown-bag a lunch, if you wish.) Lunch is on your own, but you must meet up with your group to return to the UC, unless you feel confident to travel on your own.
Friday night we will have a group dinner
in a local restaurant near the University Center
at
The Berghoff
where we will be able to share stories about our shopping finds. The Berghoff is known for great German fare and holds its place in history as the holder of liquor license #1 after Prohibition was lifted. You'll be able to see this in their upstairs dining room.
The dinner will be buffet with a choice that will accommodate vegetarians and some food allergies. (We regret that while we have tried to account for most food allergies, we cannot accommodate every special dietary need.) Dinner will include mixed green salad, herbed chicken, pasta with vegetables, mashed potatoes, Berghoff bread basket, dessert and non-alcoholic drinks, including the Berghoff's own-brewed root beer (and it comes in diet, too! It's really good.)
Beer and wine will be available at the cash bar, which you will need to get as you need -- it's not far from the dining area. Even if you don't drink beer, the bar is a wonderful place to see. It's a rich wood and lots of foot rails because there used to not be any stools to sit upon. And, yes, women, were once prohibited from entering the bar.
The Berghoff is an easy 10-minute walk from the UC, which will be nice after a long day of shopping. We will walk en masse from the UC on State Street, one of Chicago's major shopping streets. You'll also appreciate the short walk after our tummies are full as you stroll back to the UC for the night.
Saturday, May 14 — Speaker Day
Our speaker this year is contemporary designer and new PR monthly columnist,
Angela Wolf
.
Angela Wolf is the designer and founder behind ABO Apparel, Angela Wolf Ready-To-Wear and ABO Sport. An A-list clientele has given Angela more than fifteen years of experience dressing and fitting many diverse women and has enabled her to understand the different styles that compliment each individual woman.
Angela has already started her
monthly column for PatternReview
to help PR members track the latest styles and trends.
Angela will tell us about making custom couture; share some couture secrets; and some of her own experiences of making couture garments.
After lunch Angela will share her expansive knowledge of dyeing fabrics and choosing colors for your wardrobe. Spring/summer has some wonderful color predictions, so let's hear from Angela how we can break out of our comfort zones to embrace the vibrant colors!
Dinner will be a pizza party at the UC with a birthday celebration, including cake!
We will also have a pattern swap and a show-and tell.
We're also coming up with some other small contests that you'll be able to win prizes.
Sunday, May 15 — Illinois Lt. Gov. Sheila Simon Presents PatternReview.com With A Proclamation
Before saying good-bye for another year, join your PR friends for brunch at the UC. Brunch is available in the dining room for $10.25.
I can't reveal to you just yet, but we're working on a special surprise for Sunday morning.
After an early-ish breakfast/brunch, we will walk to Fishman's Fabrics where Lt. Gov. Sheila Simon will present a proclamation to PatternReview.com for its support of the art of sewing. Lt. Gov. Simon is long-time sewist, having grown very tall at an early age. She will bring her Vogue vintage-inspired inauguration suit and ballgown to show. We will then have the opportunity to meet and share sewing tips with Sheila...she will undoubtedly have a few of her own to share. This would be a great time to wear something you have made to share with Sheila.
The local media will also be invited to this event.
So, if you can stay a bit in the morning, we think you'll enjoy your last hours in Chicago. We should be finished by 10:45AM.
If you're not departing until the afternoon, you will be close enough to do some sightseeing or maybe make an additional trip of shopping.
Don't Miss Out On The Fun.
REGISTER TODAY for PR Weekend — Chicago!
One more thing: As in previous PR Weekends, we will be producing a program guide that includes the biographies and contact information for all participants, including your picture and your PR handle. Please be sure to update your information and upload a picture by March 1, so that we can include it into the program guide. Part of the fun is matching faces to names, so
PLEASE UPLOAD A PICTURE TO YOUR PROFILE!
---
Check out our
Facebook Event Page
for easy to track updates and to see who is coming.
-- Edited on
5/11/11 9:45 AM
--
-- Edited on
5/23/11 10:31 PM
--
------
http://asgchicago.wordpress.com