AdaH


Iowa USA
Member since 11/21/09
Posts: 2508
Skill: Intermediate



Date: 1/20/11 11:54 AM

I am determined to make my own bread. I have read a lot of books and gone on line to read about bread making.

This is the part that I am not sure about:

"place dough in warm place and let rise".

How warm? what if I don't have a warm place, how do you create a warm place.

Heat up the oven? Put the bowl under the covers in my bed?

Just how important is this warm place in making bread?

I live in an old drafty house.

------
Ada


quiltingwolf


Member since 12/15/02
Posts: 7433
Skill: Intermediate



In reply to AdaH

Date: 1/20/11 12:00 PM

First off I'd tell to buy a bread making machine, they are great and a lot less work on your part. That being said I used to make a lot of bread by hand back in the day before bread making machines. I lived in a drafty house as well. I use to put the oven on the lowest setting and place the rising bread near it. I always covered it with a clean kitchen towel. It worked pretty well.

------
quiltingwolf.blogspot.com

Cadienne


Louisiana USA
Member since 6/20/03
Posts: 34
Skill: Intermediate



Date: 1/20/11 12:03 PM

First, there is a great website with tutorials and recipes at King Arthur Flour.

We make our own bread and just let it sit on the counter. Our house is, in the winter, about 69 degrees. If you wanted to burn the electricty (or gas), you could turn your oven on and let the dough rise in its bowl on top of the oven. But I don't think that's necessary.

It's not that hard -- it just

seems

that way when you read directions.

Cadienne

------
Cadienne
http://tccfrenchie1.wordpress.com/
Singer 201-2; Babylock Ellegante; Elna 905 serger; Janome 900 coverhem

AdaH


Iowa USA
Member since 11/21/09
Posts: 2508
Skill: Intermediate



Date: 1/20/11 12:14 PM

I have a bread machine, but the crust is to crusty or thick even on the lightest setting. Also the texture is to coarse.

Maybe I should invest in a better bread machine?

------
Ada


tgm and Kittys


Wisconsin USA
Member since 3/8/10
Posts: 8616
Skill: Advanced Beginner



In reply to AdaH

Date: 1/20/11 12:20 PM

We have a Breadman & I love it! We got it last year on discount for $29.99! You might double check your recipe book too....the book I use varies the yeast you put in for Panasonic bread machines & it says if you do not add the extra yeast the bread will not rise accordingly. ...we used to have a Sunbeam machine it worked okay at first but quickly did not heat evenly.

For making bread by scratch...I put the oven on warm for about half hour ahead of time & then the crack the door & put the bread to rise on top of the stove with a white towel put on top of it.

------
Remembering my most loved BFF (Best Furry Family, a very close friend, family)...The Baby my kins, my Abigail ..11/2/03 - 3/7/16

She's my Baby & I'll love her if I want to, love her if I want to.... you would love her too she's the Baby ... the kins ...sung ..just one of her songs..
I miss you an awful lot my Baby ...Ab-i-gail she would come running when I would say her name like that...

Lord please take care of my much loved kitty. +
Thank you Lord for loaning me the much loved Babykins. +


bakertoo


Washington USA
Member since 12/26/08
Posts: 632
Skill: Intermediate
Body Type:




Date: 1/20/11 12:27 PM

The yeast in the bread dough is a living organism, and needs the warmth to produce the gas that makes the bread rise. There are recipes that have you put the bread dough into the refrigerator for an extended period of time, and this does not kill the yeasty beasts, but mainly a mechanism that helps to develop flavor over time. However, if you leave it too long, the yeast does die, and your bread won't rise. So the warmth you need is a temperature above, say, 65 degrees for a reasonable amount of time to rise the dough, but usually the time varies wildly, because of the type of bread and what kind of flours you used, and also how much yeast is in the dough. As for covering the dough in the bowl, a cloth or towel works well, but a piece of tightly wrapped plastic wrap can help contain the warmth within the bowl,and works a little like an incubator, collecting and storing the warmth within the bowl. A ceramic bowl is better than a stainless steel bowl because stainless steel is a terrible conductor and storer of heat. But if that is the only style of bowl you have, just put it closer to your source of heat. You might see some moisture on the inside of the wrap, but that is going to be alright, and is a good indication that your yeast is actually alive and doing its job! Bread dough is so much fun, so alive, and satisfying when it turns out. And I agree with Cadienne, the King Arthur Flour people are great. The books are full of really great advice, and recipes that always work. Have fun!

JTink


Member since 4/20/08
Posts: 6715
Skill: Intermediate
Body Type:




In reply to AdaH

Date: 1/20/11 12:30 PM

I don't have a bread machine and never wanted one. I love to work my own dough. You can usually just sit the bowl of dough on a quilted potholder or a towel on your kitchen counter, then cover the bowl full of dough with another towel. This should do the trick. If you want to make it rise a little faster and you are unsure if your kitchen is warm enough for a rising on the counter, fill a shallow bowl or pie plate with very warm/ hot water, place it on the bottom rack of your oven. On the rack above, place your bowl of dough, covered with a small kitchen towel. It will rise and your entire oven will look like a sauna when you open the door

I usually take that opportunity to wipe down the oven with a paper towel. I have never had good luck with actually turning the oven on and letting it rise. It's a dry heat and I've always had better luck with the moist heat.

Enjoy making your bread. It's so easy. Dinner rolls are always something fun to start with. If you haven't done so, you might want to chech out BreadWorld.com. It's the web site to Fleischmann's yeast. They have some wonderful recipes on there.

Elona


USA
Member since 8/24/02
Posts: 9853
Skill: Advanced
Body Type:




In reply to AdaH

Date: 1/20/11 12:36 PM

A little warmth encourages the yeasts to grow in an orderly way. If your oven has a pilot light, that's a nice level of warmth.

My mother grew up on a farm and made the family's bread from the time she was a young girl. Man, she was a dynamite baker; her bread would knock your socks off, and she did it as naturally as breathing!

As a grown woman, living in a house that was cold in the winter, she'd put the bread to rise on an ordinary heating pad set to the lowest setting. That and covering the bowl with a towel produced happy dough.

In the summer, she didn't use any heating device. The bread was fine rising on the counter, covered with a tea towel.

------
Elona

purplebouquet


Arkansas USA
Member since 11/16/05
Posts: 1403
Skill: Advanced



Date: 1/20/11 1:11 PM

I wish I'd make a good grain bread, one with lots of whole grains, seeds and nuts and a chewy, cut-your-teeth-on crust. If anybody has a good recipe, please share it.

I will post my baguette recipe in turns, which is so good a real Parisian asked for the recipe. :)

Claudia




ryan's mom


Member since 11/30/04
Posts: 5390
Skill: Advanced



Date: 1/20/11 2:02 PM

Put it in a bowl slightly greased with a little oil. Put a damp towel over the bowl. I start preheating the oven and put the bowl on the cooktop. This way the oven preheats and the dough rises in a warm area.

I don't always do this, sometimes it's just a rise with a damp towel on the kitchen counter. It will rise whether it's warm or not, but the time may vary.

You can slow rise too. That is best for pizza dough because it will improve the taste of the dough. Make the dough, throw it into a sealed freezer bag, then let it rise overnight. Use it the next day.

Truthfully, I don't pay that much attention to "warm area". Just make sure it is covered so it doesn't dry out. It will rise, maybe slower though.

------
Big 4 Pattern size 12, RTW bottom: 6, RTW jacket 8, RTW top (no size fits me well!)
Measurements: 34 HB/36 FB (34C bra)/27.5/36 (and working hard to keep it that way.)
Machines: Sewing: Elna 760, vintage Kenmore Model 33 (1967), Janome Gem Gold 3, Singer Model 99, Singer 221/Featherweight. Sergers: Babylock Imagine and Babylock Ovation. Embroidery Only: Janome 300E. Embroidery/Sewing Combo: Brother Dream machine. Coverstitch: Babylock BLCS. Straight Stitch: Janome 1600P.

If you think your sewing is better than everyone else's around here, get out of my way b****. I hate sewing snobs.

My blog: www.phatchickdesigns.blogspot.com
Printable Version
* Advertising and soliciting is strictly prohibited on PatternReview.com. If you find a post which is not in agreement with our Terms and Conditions, please click on the Report Post button to report it.
Online Class
Altering Pants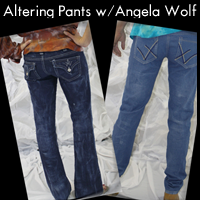 Online Class
Serging Ahead with your 5 Thread Serger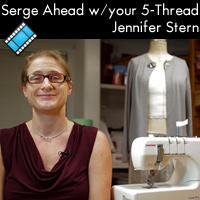 Simplicity 7465

by: Alpine Que...
Review
Capital Chic Martini

by: froggiegir...
Review
Lolita Patterns Olive Peplum Top Pattern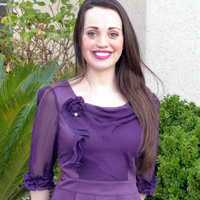 Pattern Details
Sew House Seven The Bridgetown Backless Dress & Tunic Digital Pattern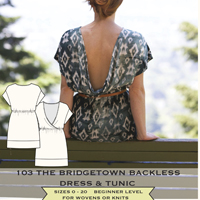 Pattern Details