SouthernStitch


USA
Member since 8/24/02
Posts: 11339
Skill: Intermediate
Body Type:


1 member likes this.




Date: 2/3/11 11:27 AM

This may have been brought up before, but I thought I'd remind everyone anyway.
I have a dedicated sewing room which I found out shares a 15 amp circuit with my DD's room. Think mulitiple girls in there, all using blow dryers, flat irons, TV, every light in use, laptops and phones charging......

I knew something wasn't right when even if she weren't in there using anything, my lights would dim when the iron would cycle, or I'd press the steam burst button.
So, I get the electrician in and he tells me that just the iron by itself at 1750 watts takes up all the juice on the 15 amp circuit. So, he's coming in after we get over all the ice this weekend to amend this problem.

My house was built in the 70's - and he did keep calling our breaker box *old*. It's true that when my home was built in 1974, there weren't even microwaves! They had to re-do some of the electrical when we re-did the kitchen. I told him I was sick of trying to use the toaster and the microwave and tripping the breaker every time!
Most of you who have newer homes probably have better electrical.

But, check the wattage on your iron-- you may have an overloaded circuit! My computerized Bernina machine is 100 watts - not a huge power draw. it's the iron that is the problem.
I have purchased a UPS to connect my computerized machines and undercabinet lights to. This provides battery back up to get to a stopping point in embroidery or finishing a seam when sewing, surge protection, and delivers cleaner electricity to the machine.
HTH someone!

------
Bernina 780, and 530
Viking Opal 690Q
Babylock Evolution
Singer 403a

When life gives you green velvet curtains, make a green velvet dress.

Heidi Cooper


California USA
Member since 8/24/02
Posts: 453



Date: 2/3/11 11:47 AM

The electrical issues in our house (built in the 80's) have been an ongoing nightmare since we bought it in 04

I have the same issues with my studio area. If all my lights are on, sewing machine and maybe serger or CS, and someone elsewhere starts vacuuming or running something else, the circuit breaks. I can't even use the professional steam generator/boiler iron I got on ebay a few months ago, the minute I plug it in and turn it on the circuit blows -- and that is with NOTHING else on.

We really need to get an electrician out, but I am afraid that it is going to be far more involved than just upgrading from 15 to 20 or 25 amps

Another good reminder: serge protectors are really only effective for 2-3 years, maybe even less if they have been exposed to large or multiple electrical serge's. I found this out recently when fixing my DH's computer from a crash. Old/ineffective SP's can gradually cause some pretty wonky computer issues. Even more important to replace them regularly when they are protecting our $$ computerized sewing machines!

heidi

------
"Live as if you were to die tomorrow. Learn as if you were to live forever." -Mahatma Gandhi
" Freedom is not worth having if it does not include the freedom to make mistakes." -Mahatma Gandhi

Now Blogging at http://sewexotic.blogspot.com/

PattiAnnJ


Ohio USA
Member since 12/3/06
Posts: 8155
Skill: Advanced

2 members like this.




Date: 2/3/11 12:13 PM

Upgrade the electic serviced before you have a fire.

------
"Improvise, adapt and overcome." - Clint Eastwood/Heartbreak Ridge

"Isn't it a shame in today's world you can't tell the truth. If you tell the truth you're abrasive. If you lie you're charming." - Bob Huggins/College Basketball Coach

SouthernStitch


USA
Member since 8/24/02
Posts: 11339
Skill: Intermediate
Body Type:






In reply to Heidi Cooper <<



Date: 2/3/11 3:36 PM

It will be worth it to just get someone out there to see. Even if you need a new breaker box, it would be so worthwhile for safety and convenience.
But, yes, you should be able to have the iron on it's own 15 or 20 amp circuit and it work fine. That's what this guy is going to do in my case. He's separating the rooms, and putting the iron on it's own circuit.

------
Bernina 780, and 530
Viking Opal 690Q
Babylock Evolution
Singer 403a

When life gives you green velvet curtains, make a green velvet dress.

dresscode


Florida USA
Member since 7/28/04
Posts: 2655
Skill: Advanced

1 member likes this.




Date: 2/3/11 6:04 PM

When we purchased our almost new home a few years ago, one of the first things I did before unpacking was to bring in an electrician for sewing room. He installed about 17 inset lights into ceiling and another 6 in two closets. It involved a carpenter as well.

I had him place a separate "box" for the sewing room in addition to the power wattage that was existing. So far, I haven't had any trouble with steam generator iron, press, lights, TV, and misc. sundry other drains of power.

My husband says it looks like Wrigley field when he drives home and looks up at my sewing room over the garage!

But, I think bringing in an electrician (certified) is an excellent idea considering how much money we invest in fabric, machines and irons.

Coconuts


Michigan USA
Member since 12/2/09
Posts: 1399
Skill: Intermediate



Date: 2/4/11 0:13 AM

One note from my dad, the electrician- if you have a circuit breaker that has tripped, it should be replaced. Sometimes when they trip, especially if it happens a lot, the 15A goes up to 16, then 17, then 18 and so on until it burns down your house.

My MIL's house still has a fuse box- he told us to leave it, if the fuses were the right size for the circuits, they're safer than breakers. The problem was that people just added bigger fuses or stuck a penny under the fuse instead of fixing the problem.

Miss Fairchild


USA
Member since 8/24/02
Posts: 7936
Skill: Advanced





In reply to SouthernStitch <<



Date: 2/4/11 8:33 AM

Good point and warning to bring up, Mary. I live in an 1850's farmhouse and the entire upstairs is on one circuit. Lucky for me, no one else is up there at the time I'm sewing. And I keep the wattage for my iron below 1200, no matter which brand I buy. With the iron, lighting, TV and machine, it's a heavy draw. If you want to figure amperage (the amount of electricity needed before it sets off a breaker), here's a formula:

Amps = watts divided by volts. So if I have a 1200 watt iron, a 400 watt machine, a 60 watt bulb, and a 100 watt TV, I add them up and divide by 120 (volts). That gives me 14 amps, and if I have all these items on and running, and have a 10 amp breaker, guess what? Of course, my machine isn't 400 watts and my TV I don't believe is that high either, and I have a 20 amp breaker, but you can get the picture.

------
"Play the cards you are dealt, but choose who is sitting at the table"..AARP magazine

SEE MY ETSY SHOP HERE: http://www.etsy.com/shop/AuntMaymesAttic
My blog: http://auntmaymesattic.wordpress.com/

Maripat


Member since 10/11/08
Posts: 798
Skill: Advanced



Date: 2/4/11 8:46 AM

Circuit breakers are not just an inconvenience, they are a warning. We once had a toddler put a key in the outlet and the breaker DID NOT trip. DH (an electrician) replace the service the next weekend. Our box was Federal Pacific, a company which lost it's UL listing years ago due to shady practices.
Thanks for the surge protector tip. I had no idea. All of our are ancient.

------
"You are in charge of your own ride!"

LearningAlterations.com

poorpigling


Texas USA
Member since 12/28/07
Posts: 11069
Skill: Advanced





Date: 2/4/11 9:34 AM


Maripat.. we had a FederaL Pacific box.. and our electrician even told us there had been a fire in the box.. but no one had replaced it..
So we did put in a complete new breaker box.. and had new electrical wiring ran throughout the house.. as our home was built in l954 it was completely out of date.

I would strongly urge anyone with out of date electric to make it a home maintenance priority to update their systems..

Don't think that because your home is newer you have escaped the need for an update.. As my DS who installs systems and such.. has told me the newer homes not only have too little electrical power for todays needs.. but also have Heat and Air systems that are really too small for the square footage of the home.

And if your home is over fifty years old.. your gas line is probably due for replacement.. as well as your water lines..

But outdated or overused electric poses a real risk to your safety.. so much so that I would get a bank loan if I had to to update the electrical system..

sharkycharming


Maryland USA
Member since 11/10/10
Posts: 345
Skill: Beginner



Date: 2/4/11 9:58 AM

Thank you so much for mentioning this. My house was built in 1952, and my sewing room is the top story of a cape cod. This room has sloped ceilings so it's never been particularly lived-in, I guess, and the electrical up there is sort of a nightmare. Most of the outlets don't work, and sometimes they spark when something gets plugged in. Not to mention that I have a desktop computer up there, too. I will be sure to turn off the computer when I am ironing up there (although I usually do iron downstairs in the living room -- more space for the ironing board). In the meantime, going to strongly suggest to DH that we get an electrician in to assess the situation and pretty please get some more robust wiring.

------
Heather in Baltimore
Printable Version
* Advertising and soliciting is strictly prohibited on PatternReview.com. If you find a post which is not in agreement with our Terms and Conditions, please click on the Report Post button to report it.
Online Class
Sewing Facings and Developing Facing Patterns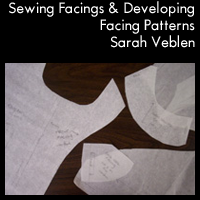 Online Class
Fit the Tee to a T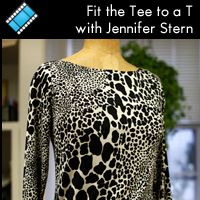 Made By Rae Buttercup Bag

by: myraminx
Review
Making Patterns from Existing Garments - A CD book by Kenneth King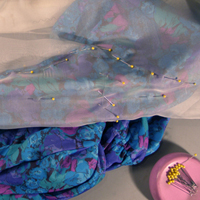 Pattern Details
Sew Liberated Bohemian Carpet Bag Pattern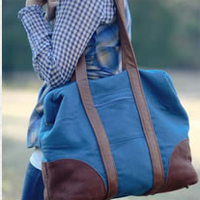 Pattern Details
Vogue Patterns 1250

by: carrie1858...
Review