elizajo


Louisiana USA
Member since 4/15/05
Posts: 1264
Skill: Intermediate



Date: 2/6/11 12:57 PM

I used to enjoy making more complicated patterns, but there is something very satisfying about completing a bunch of something that is basic. I like getting in the rhythm of sewing something over and over. Does anyone else?

Yesterday I made 3 cowl neck tops for DD and myself, then in a couple of hours this morning I made 4 pairs of leggings for DD from the pattern I perfected last weekend. We've discovered that close fitting leggings are a good substitute for tights, which she can't put on by herself. For a complete wardrobe of legging/tights, she needs to go fabric shopping online once more, so I can churn out another batch.

I'm pulling out my Jalie 2005 basic t shirt pattern today and tracing off a larger size since I last made it. Then I'm going to cut out four or five 3/4 sleeved, v-necks from my stash of knits during the week and make them next weekend. It's my favorite style of knit shirt. They'll be great base layers for some Sewing Workshop patterns I bought, which I will also make multiples from.

------
Elizabeth

skae


Member since 4/23/07
Posts: 3586
Skill: Advanced





Date: 2/6/11 1:13 PM

yes i like to do the samething. I use two or more patterns to get the look of what i want. When i sew for young women that are going to the prom they come to me with an idea and i take it from there. I have a basic and then add from other patterns. It's exciting to see the end resalts.

------
Ecclesiastes 11:7,8 Nothing on earth is more beautiful than the morning sun. Even if you live to a ripe old age, you should try to enjoy each day, because darkness will come and will last a long time. (CEV)


Mom to 5


Maryland USA
Member since 2/5/09
Posts: 1029
Skill: Beginner



Date: 2/6/11 1:19 PM

it used to be a pain until I was advised to use fusible interfacing to save my TnT patterns... now I do like to make multiples as wel

------
http://mamazsewingescapadez.blogspot.com/

Miss Fairchild


USA
Member since 8/24/02
Posts: 7936
Skill: Advanced





Date: 2/6/11 1:36 PM

Yes, I too like sewing multiples. Mostly because when I'm starting out, it takes a while, but as time goes on, it gets shorter. I get so used to making multiples that I have to force myself to try something completely new--just to stimulate my thinking.

I just finished two pairs of corduroy pants from a pattern I used about 4 years ago, and made three pairs of pants at first from that one, including a wearable muslin. Even though I reviewed the pattern, I added to the review with the updates--no sense in writing a new review as the pattern is not new. Review is here

You sound like you sew alot. Three cowl neck tops in one day is quite progressive! And cutting out your four or five v-necks from your stash of knits, is what keeps that stash going (and coming, too, I might add! )

------
"Play the cards you are dealt, but choose who is sitting at the table"..AARP magazine

SEE MY ETSY SHOP HERE: http://www.etsy.com/shop/AuntMaymesAttic
My blog: http://auntmaymesattic.wordpress.com/

idahodogs


Idaho USA
Member since 4/22/08
Posts: 432
Skill: Advanced Beginner



Date: 2/6/11 2:10 PM

I only have a couple patterns that I have done more than once, but WOW! It was so much more satisfying the second time!! I had already worked out the kinks and could just make something without trying to figure it out at the same time. My goal in garment sewing is to get to a point where I am sewing only/mostly TnT patterns.

Sherril Miller


Member since 8/24/02
Posts: 7501
Skill: Advanced
Body Type:




Date: 2/6/11 2:13 PM

I LOVE using the same pattern over and over again. If you learn some basic drafting, you can make each garment look different, but get the same fit. Once you get the fit down, seam line changes are a no-brainer. No one has to know it's the same pattern.

------
Visit my blog at http://sewingsaga.blogspot.com

If it's worth sewing, it's worth sewing well;
and if it's worth sewing well, it's worth FITTING FIRST! - TSL

dfr2010


Florida USA
Member since 3/27/10
Posts: 1780
Skill: Advanced Beginner



Date: 2/6/11 2:16 PM

I have quite a few patterns, and I want to try them ALL! The few I've done more than once have enough variations in the views (or are wardrobe type patterns) that I feel I am making something new. Then again, I haven't been sewing that long so I am still wanting to try out all kinds of things and see just how far I can push myself for a challenge.

------
I don't really make mistakes ... I create "learning opportunities"! Murphy says: The better you match the thread to the fabric, the more likely you will need to rip some stitches out! I spend more quality time with my seamripper than I like ...
Yes, I DO love fabric!!
Happy owner of a band of Brothers: LX-3125, CS-770, CE5500 PRW, a PE-770 emb ... and now Kenmore 158.18032 and 148.12190
Blogging my "learning opportunites" at http://sewingmissadventure.blogspot.com/

ryan's mom


Member since 11/30/04
Posts: 5177
Skill: Advanced





Date: 2/6/11 2:30 PM

Quote: elizajo
I used to enjoy making more complicated patterns, but there is something very satisfying about completing a bunch of something that is basic. I like getting in the rhythm of sewing something over and over. Does anyone else?






You betcha !

I can't tell you how many times I've used my Textile Studio Santa Monica Tee in its basic form and redesigned/morphed it into a slew of different styles because the fit is right on.

I've done the same Simplicity 4076. Will probably do so with my current Jalie Jeans pattern.

It's what I called quick and gratifying sewing interspersed with more complex projects that can take weeks due to my time schedule.

------
Big 4 Pattern size 12, RTW bottom: 6, RTW jacket 8, RTW top (no size fits me well!)
Measurements: 34 HB/36 FB (34C bra)/27.5/36 (and working hard to keep it that way.)
Machines: Sewing: Elna 760, vintage Kenmore Model 33 (1967), Janome Gem Gold 3, Singer Model 99, Singer 221/Featherweight. Sergers: Babylock Imagine and Babylock Enlighten. Embroidery Only: Janome 300E. Embroidery/Sewing Combo: Brother Dream machine. Coverstitch: Babylock BLCS. Straight Stitch: Janome 1600P.

If you think your sewing is better than everyone else's around here, get out of my way b****. I hate sewing snobs.

My blog: www.phatchickdesigns.blogspot.com

tgm and Kittys


Wisconsin USA
Member since 3/8/10
Posts: 8300
Skill: Advanced Beginner





Date: 2/6/11 2:42 PM

I like making the same thing too ...sometimes many times, I find it less frustrating once I am familiar with the pattern & really like it.

------
The Girls... Baby & Mittee girl >^,,^
It's all about The Baby , about the Baby, about The Babe ....Big Smile! (sung off key ..la la la )

Here comes the big 60! OH MY!

The sewing workers:
Hello Kitty Kate (green), Hello Kitty Valerie, Dottie Kenmore, Bubba Kenmore the traveler,has case does travel.
Be still and Know that I AM God +



Maggiedoll


Maryland USA
Member since 1/8/10
Posts: 1475
Skill: Advanced Beginner



Date: 2/6/11 5:01 PM

Most certainly! I do both, they're really very different processes. I'll make a corset or a coat and spend hours and days trying to perfect the fit, slipstitching the edge of the lining, etc.. but to just churn out something to be able to wear quickly is a wonderful near-instant gratification! Jalie 2005 is a TNT for me too, it's so versatile and predictable in outcome, I've made it in everything from a gorgeous wool knit that I wanted to be "perfect" to several thermal knit versions for the stash contest, where I was just like "I gotta find SOMETHING to do with this crazy-bright thermal stuff!" .. and right before I saw this thread, I was throwing together a pair of McCall's leggings using some of the "high-performance" knit that I got at that fabric.com sale last year, also for the stash contest. (just gotta hem 'em and take a pic.. I so hate trying to take pictures of pants, though.. can't use my dress form, and Kris may just be the worst photographer on the face of the planet..)
I find the instant-gratification type sewing to be especially appealing for doing something with an older fabric that's been sitting in my stash for awhile taking up space. The ones that I'm "saving for the perfect pattern" usually want to be something more complicated, but the cheap ones from sales want to be something nice and quick that I can wear in an hour!

------
My (overly complicated) blog: http://maggiedoll.com/
Printable Version
* Advertising and soliciting is strictly prohibited on PatternReview.com. If you find a post which is not in agreement with our Terms and Conditions, please click on the Report Post button to report it.
Online Class
Serging Ahead with your 5 Thread Serger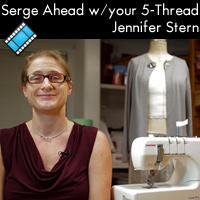 Online Class
Restyling with Exposed Zippers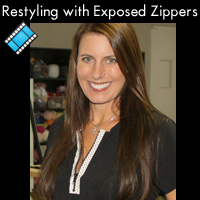 McCall's 6598

by: Lizz
Review
Christine Jonson Slit Skirt & Pencil Skirt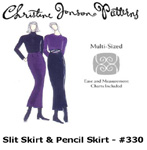 Pattern Details
Mini Miranda Bag Paper Pattern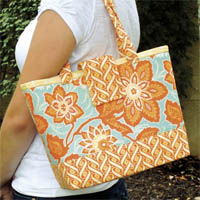 Pattern Details
Ottobre Design Magazine 05-2011-01

by: sunnysewin...
Review