Rosie who use to be Rose


Intermediate
OH USA
Member since 10/10/02
Posts: 692



Date: 2/25/11 11:00 AM

I've been hearing people say over the years and read here about how sewing isn't for the frugal. I disagree, I've been sewing frugally for years and that doesn't mean I use cheap quality materials. Mostly I shop at thrift stores, garage sales, craigs list (they have a free section), free cycle and if its on sale or I have a coupon I might go to a fabric store, sometimes someone cleans out their sewing stuff and gives me a choice. Sometimes on birthdays and Christmas my family and friends give me fabric or gift certificates or money for my sewing. Last year I won the runner up prize in the Stash Contest - $100 at G Street Fabrics! I waited for a sale and made the most of that, it was so much fun, I ordered over the phone and they matched things for me!

This year I'd like to track just how much I spend on sewing supplies and what I sew. Does anyone else have any interest in this?


fourkid


Intermediate
Member since 8/30/08
Posts: 1620



Date: 2/25/11 11:09 AM

Another frugal sewer here ...
I just posted over in the sewing machine thread about this. I will track this topic and contribute when I can - I am interested in tips and encouragement - but I am terrible at tracking anything for any length of time - so I can't promise I will keep up - but I think I will set up a section on my notebook next to my computer and see if I can do it! I make no promises. I will start from today - I really can't go backwards - I would have no clue.

While my goal this year is to use mostly stash fabrics - I did just place a fairly large order to Gorgeous Fabrics (nayy) for some super sale fabrics for specific projects. I used a bonus check I received.

So I am off and sewing and saving.

------
Blessings,
Patti
http://poured-out.blogspot.com/
http://homeschooling-imperfectly.blogspot.com/



Rosie who use to be Rose


Intermediate
OH USA
Member since 10/10/02
Posts: 692





In reply to fourkid



Date: 2/25/11 11:40 AM

Hi fourkid,
I saw your post over there, nice to know I'm not alone and considered "odd." Well, I guess some people thing I'm odd, but that's not really my problem

I think one thing to be careful on is thread. Cheap thread can ruin everything, from snarling and breaking in the machine to the whole garment coming apart. That said, I've found good quality thread at all the places I mentioned before, a lot of it never used. I buy when I find it, usually for 5 cents and under, even if its a color I can't imagine using and I stockpile the stuff.

Rosie

idahodogs


Advanced Beginner
ID USA
Member since 4/22/08
Posts: 432



Date: 2/25/11 11:52 AM

My goal this year is to be a frugal crafter in general! It seems like my projects always start with 'I have this blue fabric' but end with 'now I just need to buy XXX to go with it'. So this year I am trying to really, really, use what I have, because I have an awful lot.

I started with making Christmas presents for nieces and nephews using scrapbooking paper, ribbon, and beads from my stash. OK, I bought a few more sheets of paper But I used only stash accessories!

I also finished piecing a quilt top that was started some 6 years ago. I made an extra 10 blocks using leftovers from the original purchase + stash, and made the sashings out of stash. I'm keeping my eye out for a sheet to use a the backing. I've also been thinking about using a fleece blanket as batting instead of buying it - if anyone has opinions about that idea, I'd love to hear them.

Right now I am making tank tops/tunics out of stash hawaiian rayon, as posted on a couple other threads. I really had to force myself to use these small pieces and not go buy more, but I'm doing it!

jannw


Intermediate
WA USA
Member since 9/3/06
Posts: 8541





In reply to Rosie who use to be Rose



Date: 2/25/11 12:01 PM

I'll also try to track what I spend. I did just order quite a bit of fabric, but I used a bonus check from work..so I consider that practically found money. I also use coupons at JoAnn's and have bought cpoies of their magazine to get more of the 40 & 50% off coupons.
My local thrift shop usually has a good selection of fabrics...and I do check the plus size clothes and linens for fabrics to use.
As for machines, I spent quite a bit last year, but still not the cost of a mid price modern machine. The two I sew on the most were $25 and about $35 and I refubished them myself. If I need a free arm or a fnacy stitch, I drag out my 10 year old Brother. I've found my vintage machines make a nice stitch and without all the problems I've read about on the boards.

I think part of frugal sewing is in knowing what not to sew. I don't usually do fleece vests and jeans as I can buy well fitting ones for cheaper than I can make. I use sales, employee discounts, and refunds on the store's shopper card for those.

------
2009-113.25 yds
2010-115.5
2011-80.25+30+donated
2012 86.3 yds..
2013 21.0
Everyone who sews seriously has a stockpile of fabrics, because it is natural to purchase more than can be sewn in any one season" Singer, Timesaving Sewing, 1987



fourkid


Intermediate
Member since 8/30/08
Posts: 1620



Date: 2/25/11 12:37 PM

Going thrifting next Wed. I will be looking at things with an even more careful eye. I never really thought about thread - I do have a stash for the less "important" projects. I usually use Gutterman's for the good stuff. I mostly use black, white, off white, and gray for any project I can. That way I can use sales and coupons and keep a good stash of it around. But I do buy almost all my zippers at thrift stores. Only rarely do I have to buy a new one.

I did just have a bad experience with some piping. A lady at my church gave me a box of her old piping, lace, seam binding, and such. I went to use some of the black piping and am so glad I tested it. The color ran and it pulled apart from dry rot. I have no idea how it was stored - but I am going to have to go through that box carefully and toss a lot of it now. I think the seam laces will be ok - but the seam bindings and pipings will need to go.

------
Blessings,
Patti
http://poured-out.blogspot.com/
http://homeschooling-imperfectly.blogspot.com/



fourkid


Intermediate
Member since 8/30/08
Posts: 1620





In reply to Rosie who use to be Rose



Date: 2/25/11 12:41 PM

Quote: Rosie who use to be Rose

Hi fourkid,

I saw your post over there, nice to know I'm not alone and considered "odd." Well, I guess some people thing I'm odd, but that's not really my problem

I think one thing to be careful on is thread. Cheap thread can ruin everything, from snarling and breaking in the machine to the whole garment coming apart. That said, I've found good quality thread at all the places I mentioned before, a lot of it never used. I buy when I find it, usually for 5 cents and under, even if its a color I can't imagine using and I stockpile the stuff.

Rosie


Hmmm, I never thought of this as odd.

One other thing we probably should track is how much rtw we buy. I know some ladies that spend a couple hundred dollars (or more) on clothing and accessories each month. I buy hardly anything rtw - underwear, socks and shoes is about it. My purses are either made by me, a gift, or thrift store. My last bras were a thrift store find a friend made and gave to me. I now have a pattern and supplies to make my own - but it has sat for a year now - must do that soon!

------
Blessings,
Patti
http://poured-out.blogspot.com/
http://homeschooling-imperfectly.blogspot.com/



MelissaB in WA


Intermediate
WA USA
Member since 3/18/04
Posts: 1698
PR Weekend Volunteer



Date: 2/25/11 1:06 PM

I would say I'm a frugal sewer too. I rarely buy fabrics, patterns, or notions if they aren't on sale or I don't have a coupon. I also really trying not to impluse buy. I've gotten over the "always having to buy something when I step into a fabric store" mentality I used to have. I guess fabric doesn't have that appeal to me that it used to. I now have a larger stash than I'd like (I know this varies from person to person), so working on stash busting is very frugal.

Also, I am not a big RTW buyer. I will sometimes look and try things on, but everything is always so expensive to me for the quality it often is. I do buy things still - jeans, bras, and panties to name a few (tho I really need to start sewing my own panties).
-- Edited on 2/25/11 1:07 PM --

------
"The way I see it, if you want the rainbow, you gotta put up with the rain." ~Dolly Parton

Fabric sewn in 2013 ~ 73.5 yds
Fabric sewn in 2012 ~ 20.5 yds
Fabric sewn in 2012 ~ 50 yds
Fabric sewn in 2011 ~ 65 1/8 yds
Fabric sewn in 2010 ~ 112 1/2 yds
Fabric sewn in 2009 ~ 137 3/4 yds
Fabric sewn in 2008 ~ 218 3/8 yds
Fabric Sewn in 2007 ~ 209 1/4 yds

TrixieSews

Advanced Beginner
AZ USA
Member since 12/26/10
Posts: 46



Date: 2/25/11 1:53 PM

I am just getting back into sewing, and I'm *trying* to be frugal! I bought two new-to-me machines off Craigslist. An Elna serger for $45 and a Brother 270D for $150, and am having a great time playing with them. I am making a lot of accessory type items, and have been shopping at SAS fabrics and thrift stores My current project is a matching hat and bag for my mom made from 4 men's XXL Hawaiian style shirts in the same colorways, different prints I got from Goodwill. I don't know how much actual tracking of costs I will do, but I will follow and share for tips & ideas!

------
Kit
Beating a dead horse does not make it a pinata!

Sewing with a Singer 5822 for 30+ years, just not often! Also home to a Bernina 830 Electronic Record, and my newest additions, an Elnita T-Lock and a Brother SE-270D, affectionately named "Tigger".

Jacqui315


Intermediate
WA USA
Member since 3/1/06
Posts: 898

1 member likes this.




Date: 2/25/11 2:50 PM

Most of all my sewing purchases are frugal buys. I shop the patterns sales, the fabric.com super sales, 50%off notions sales and used books. My problem is that the amount I end up buying no longer makes it frugal. It honestly would be cheaper for me to buy RTW (on clearance, of course.) If I can make myself just shop my stash - both fabric and patterns, then it can go back to being frugal sewing.

------
http://sweetnotions.blogspot.com/
Printable Version
* Advertising and soliciting is strictly prohibited on PatternReview.com. If you find a post which is not in agreement with our Terms and Conditions, please click on the Report Post button to report it.
Sewing with Slippery & Drapey Fabrics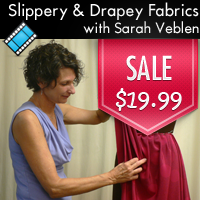 Fit the Tee to a T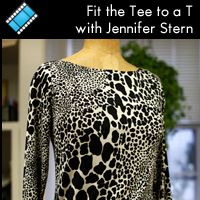 Simplicity 2443

by: SewingDo0f
Review
No Pattern Used Quick Pencil Case

by: MariannaSe...
Review
SewBaby Travel High Chair Pattern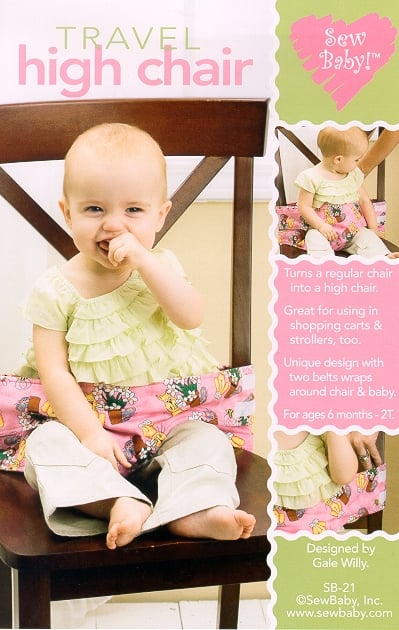 Buy Now
Sew Liberated Woodlands Shirt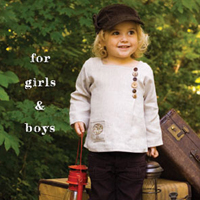 Buy Now