ETA:
Unfortunately we have to
cancel
the PR day on Saturday November 19.
We are going to celebrate in
January
instead.
Lets set up a new date!
January 7th, 14th or 21st
Which would you prefer?
Lets get lots of people to attend!!!
~ Maria
-----------------------------------------------------------------------------
So. It's Saturday November 19 2011. It's in, or close to, Copenhagen. It's
PR DAY, Denmark.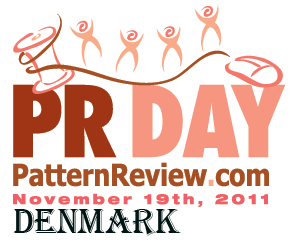 ETA:
We'll be in Central Copenhagen. We'll probabky meet around 11AM - then do some shopping. We'll find somewhere to hang out in the afternoon (after lunch) to sew or do a fitting session or something (let me know what you'd like) and have fun. ALso, there will be an ugly fabric swap (you bring a fabric or two you don't know why you bougth in the first place, and we play a game) and maybe we'll have dinner together as well??
E-mail me at
[email protected]
to let me know if you would like to join us.
That's all I know right now.
Any Ideas for what we should do (sewing, shopping, show-n-tell, contest, maybe even extend the day into Sunday as well??
Anybody want to come?
~ Maria
-- Edited on
10/27/11 11:48 AM
--
-- Edited on
11/18/11 12:52 PM
--
------
Blogging at http://blog.mariadenmark.com

Sewing patterns at MariaDenmark | ShopONION.com: http://www.mariadenmark.com