lrstanfill

Kentucky USA
Member since 10/18/09
Posts: 42
Skill: Intermediate



Date: 11/16/11 12:46 PM

I am so frustrated. I had a goal this year to conquer fit (at least conquer to the point that I can sew a garment for myself). And I feel like I've made no progress in 11 months.
I have a very non-average body that needs a lot of adjustments. I am an 18 through the shoulders, need a FBA for a DD chest, a size 20 waist and at least size 22 hips. I have no problem with having to alter every single piece of a pattern...as long as I know what to do.
After several attempts at FBA and other alterations with darts, my sewing instructor suggested that a princess seam design would offer us more flexability.
I have had 3 1-on-1 sessions with my instructor, who teaches fitting classes for the sewing shop where she works. The first session we made adjustments, I sewed a muslin and came back for the second fitting. The second fitting we made adjustments, I sew a muslin and came back. At the third session, the hips was still not wide enough and we had to do an alteration for large upper arms.
I just sewed up the muslin with the changes from the 3rd session, with full facing, perfect pressing, etc. IT STILL DOES NOT FIT.
I'm so tired of wasting 8 hours of sewing on a muslin that does not even fit. I just want to sew clothes.
I really feel like throwing in the towel here. I have put hours and hours and hours and lots of good money for private sewing lessons and I still can't produce a single garment. I just want to cry....


GoSewGirl

New York USA
Member since 4/14/04
Posts: 606
Skill: Advanced
Body Type:




Date: 11/16/11 1:06 PM

Hang in there!

I'm not sure that a princess seam design is the easiest to do - you list yourself as a beginner. They are curvy seams and the lengths have to be right everywhere to fit everywhere. I know that some might not agree with that, but I also don't know what other sorts of things you've made. Have you done the basic sorts of projects? A basic tee or simple blouse? A basic skirt? Separates might be good to start with because you get to deal with just the top or bottom half of your fitting issues.

But it's hard to tell without more information, like what pattern are you using? What sort of fabric? And your instructor may be *over-fitting* you or just not very good at fitting you.

Can you elaborate on how the dress still doesn't fit? Can you post some photos?

Fitting is one of the most challenging aspects of sewing (at least to me) but you can do it! It's often not easy to fit yourself, at least without helping hands and it can be hard to fit others (as you can't feel how the garment feels on them!) I've been sewing for a long time and the 2 things that have brought me to tears most often are incomprehensible pattern instructions and fitting frustrations.

You are not alone and yes, you can do it!

------
Liz

lrstanfill

Kentucky USA
Member since 10/18/09
Posts: 42
Skill: Intermediate



Date: 11/16/11 1:14 PM

@GoSewGirl Thanks for your reply.
I'm working on McCall's 2818 which is a separates top for wovens.
I am comfortable with my construction skills. I able to sew very well constructed garments for my son and my friends. But I can't sew anything for me because of the fit challenges.
I have sewn skirts with no problem, but I cannot get a pattern fit for the top. Everything looks horrible.
Anyway...just frustrated. I'll have to see what my instructor says the next time we meet.


JTink


Member since 4/20/08
Posts: 6740
Skill: Intermediate
Body Type:




In reply to lrstanfill

Date: 11/16/11 1:53 PM

Honey, all I can say is...throw that pattern out!!!!! Quite a few of us, me included, have tried to make that pattern work and it's just too much trouble. When working on my muslin for that, I would have to wait for husband to get home, before I could fit the thing on me. He would have to pin the back for me. I never got this blouse to fit. I do an FBA for a D cup and am a 10 in the neck/ shoulders and 12/14ish from bust down. I had to shape in so much between the bust and hem, that when I raised my arms, the entire garment would pop up over the girls, not a good look!

I also agree that princess seams are not the easiest thing to work with. Might I suggest a few patterns, that I know from experience, work really well? Butterick 5534, the Vest is a delight and you can wear it over Butterick 5526(I've made views D and B, D has princess, but is very easy to work with)also Butterick 5678. This has a shoulder princess. Debbie Cook did a review on view B I believe, with tabs and belt. I made the same view without the tabs and belt. It runs a bit long on me(even after taking up my usual), but I love the fit and a shoulder princess is much less severe, doesn't call as much attention to the girls.

Right now you need a pattern that will give you some gratification. The one you are using is not going to do that. Toss it and do something fun

AdaH


Iowa USA
Member since 11/21/09
Posts: 2508
Skill: Intermediate



In reply to lrstanfill

Date: 11/16/11 1:57 PM

You didn't say what the problems are, but it does sound like you are working your way thru them. Three sessions with an instructor isn't all that much in the scheme of things.

The more challenges you have the longer it takes to get something to fit.

Until you get the fit you are after do not sew the facing or collar on. Waste of time.

I can not tell you the munber of times I have gotten the bodice to fit then sewn the sleeves in only to find that the whole fit has changed and not for the better. I think this is particularly true when you get into D cup sizes.

Something I have noticed when helping other with fit issues is the problems most have with the way a woven blouse fits vs the knit tops they are use to wearing. The blouse, woven, makes them look bigger and they don't like that look. Go shopping and try on some cotton type woven blouses and see how they fit. What issues do you have with RTW blouses?

-- Edited on

11/16/11 2:03 PM

--

------
Ada


GoSewGirl

New York USA
Member since 4/14/04
Posts: 606
Skill: Advanced
Body Type:




Date: 11/16/11 2:01 PM

That seems to be a good basic princess line pattern. The only thing I would add is that a shoulder-princess style might be a bit easier to alter and would be less likely to have issues at the armsyce from making alterations. Plus they are easier to sew. But I don't know if you're having those sorts of problems.

If you get a chance and want more feedback, try to post some photos - maybe after you see your instructor if you still feel frustrated and need more help.

This is just a quick example of a shoulder princess style; it was the first one I came across.

Vogue 8598

Keep going as eventually you will get it to fit you.

------
Liz

stirwatersblue


Kansas USA
Member since 12/13/08
Posts: 5372
Skill: Intermediate
Body Type:




In reply to JTink

Date: 11/16/11 3:25 PM

Quote: JTink
Honey, all I can say is...throw that pattern out!!!!! Quite a few of us, me included, have tried to make that pattern work and it's just too much trouble.

I agree! And, in addition, it's not terribly attractive, either (it doesn't even flatter the models!), which won't help (hard to judge whether an unattractive garment fits well or not!). Take JTink's advice and work with a better pattern altogether.

You might even try a different pattern company; Butterick/McCall/Simplicity aren't really known for having great fit without a lot of alterations. You might have better luck with Kwik Sew, Burda, or one of the other independent companies; read reviews and the forums to see which ones work with a body block/draft that comes closer to your needs. I know those patterns are more expensive, but sometimes you really do get what you pay for. There is a lot to be said for a well-drafted pattern that goes together beautifully with a minimum of fuss.

I totally sympathize; I can't tell you how many garments have been abandoned because of what I like to call Mockup Fatigue! I get so worn out trying to fit the muslin that I just give up on the project. And I bet I'm not alone.

------
~Gem in the prairie

lca


Member since 6/4/07
Posts: 731
Skill: Intermediate



Date: 11/16/11 3:58 PM

There was a sew along using that pattern number, and not many had success with that pattern. I "ditto", throw it out and start with a different pattern.

Bamma

Washington USA
Member since 3/25/10
Posts: 47
Skill: Advanced



Date: 11/16/11 4:00 PM

You might want to try a Petite Plus pattern. I have many of the same issues you do and I found this pattern line really addressed a lot of the problems. If you aren't short, it is easy enough to add length. You can get Kathleen's book, Singer Perfect Plus, at Edward Hamilton Booksellers (http://www.edwardrhamilton.com/titles/2/5/9/2598515.html) for $7.95 + $3.50 shipping and that includes patterns for blouse, skirt, pants, and jacket.

Don't be misled by the photos--the patterns make up very nicely and Kathleen would be more than happy to answer your questions. (Not affiliated in any way--I am just pleased to have found a pattern line that fits with only minor alterations).

Don't feel bad about your current pattern not working out. It happens to all of us. I just made a maternity nightgown from a Simplicity pattern for my daughter and you could house an army in it (she lives in another state so I just cut the large because the pattern was described as "very loose fitting").

------
Land of the free because of the brave.
There's no time like "sew" time.

Marilly

Oregon USA
Member since 7/9/06
Posts: 970
Skill: Advanced Beginner
Body Type:




Date: 11/16/11 4:30 PM

Everything worthwhile takes some time to learn, be it driving, drawing, sewing..etc. Don't be too hard on yourself, the thing I always have to remember is that a lot of the folks with fitting challenges who keep banging out awesome garments have been at it for YEARS.

I've only been trying to sew for myself seriously for almost 3 years and while I know a few things down pat I muslin anything new every time. If I get fed up I usually revisit a TNT I have or just walk away from it all for awhile..after making sure I've put down whatever notes I want to remember on the muslin itself or a spec sheet to go with it. I think taking notes is a boring, but part important, especially since I may not remember what it was that was a key problem upon my return.

Personally, I like princess seams for bust and upper shoulder fit although it's harder to deal with from the underbust down for me due to a big tummy.

I think at some point if you post a photo of a project it would help because while numbers are a good starting point, other things like posture or weight distribution issues can't be derived from them. I always find that people here are happy to offer advice.

So keep cool.
Printable Version
* Advertising and soliciting is strictly prohibited on PatternReview.com. If you find a post which is not in agreement with our Terms and Conditions, please click on the Report Post button to report it.
Online Class
The Contemporary Couture Jacket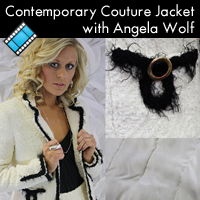 Online Class
Pattern Work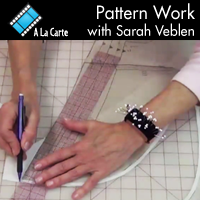 Daisy Kingdom 2431

by: kathieh9
Review
No Pattern Used 10001-2014

by: BlueSkysAh...
Review
Pamela's Patterns Softly Pleated Dress Pattern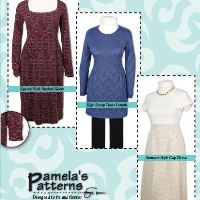 Pattern Details
Sew Chic Fantasia Dress Pattern (ln9005)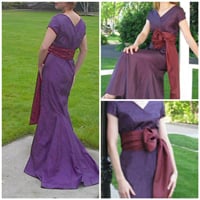 Pattern Details