doodlebug1

Member since 11/20/11
Posts: 2
Skill: Intermediate



Date: 11/20/11 11:20 AM

Does anyone know if you can use a 2G memory stick for the Husqvarna Designer Diamond Deluxe machines as you can no longer purchase a 1G Stick? Is this why the machines are on sale....are they coming out with capacity for larger memory sticks?

Thanks!!

Mrs.Moos


USA
Member since 11/5/02
Posts: 2687
Skill: Advanced



In reply to doodlebug1

Date: 11/20/11 11:34 AM

I have used a 2GB on a Bernette Deco 340. I have seen people use a 4GB on the Brother Quattro. I hope you would be able to use more than 1GB!

------
Janome 6500P, Babylock Eclipse SX, Janome Coverpro 1000, Babylock BLCS, Juki 654, Janome 1600PDB, Brother ULT 2002D, Babylock Spirit, Juki DDL8700, Juki TL2010q

AminaHijabi


Member since 10/22/10
Posts: 1192
Skill: Advanced Beginner



Date: 11/20/11 12:30 PM

Is it just a simple USB flash drive type memory stick? If it is then there should be no difference between 1G, 2G, 5G, 1T, though depending on the speed of the sewing machine computer it may take some time to transfer designs from such a large storage medium.

ukdame


Washington USA
Member since 8/1/08
Posts: 1821
Skill: Intermediate



In reply to doodlebug1

Date: 11/20/11 8:20 PM

I have a Brother 780D which use USB sticks.I was told 1 GB best but only d/t the amount of memory the machine can store. ( Upto 200 designs ) I use mostly 2Gb and 4 Gb now as the 1 GB are harder to find and just as expensive. The 4GB seem to upload designs just as fast.

------
It is common sense to take a method and try it. If it fails, admit it frankly and try another. But above all, try something. ~ Franklin D Roosevelt 1843
Janome 19606 ,Janome My Excel 4023, Brother 1034D, White 1750C, Kenmore 158.1803, White 764, Brother 780D.

kathyann

Maine USA
Member since 9/24/05
Posts: 78
Skill: Intermediate



Date: 11/21/11 6:31 AM

No expert here, but my understanding and experience is that you can use any size stick, just don't put too many designs on it at once. That's what overwhelms the machine. I use a 4G stick, but only put a couple designs on it at a time for my little Janome 200e and have never had a problem.

doodlebug1

Member since 11/20/11
Posts: 2
Skill: Intermediate



Date: 11/21/11 9:54 PM

Thanks! I hope to hear from some husky owners as well as I am deciding if this machine will do what I need it to do be fore I purchase as I want ot start a small business!

sew2006


Ontario CANADA
Member since 6/24/06
Posts: 2355
Skill: Advanced



In reply to doodlebug1

Date: 11/22/11 0:02 AM

It depends on who you ask and how.

1. I called a Husqvarna Viking dealer and asked this same question 6 months ago. I was told to only us a Huqvarna USB stick in their machines.

2. I called the same store again and told them I was a customer of theirs at an embroidery class out of town and forgot my stick. Is their a work around? Yes!! I would be able to use a 2Gb stick, but it had to be formatted in the software first. I have the full 5D embroidery suite and hidden in it is a program for the Husqvarna machines called "5D Disk manager USB." Under the USB Embroidery stick it breaks it down into Disk01-Disk12, under each disk is a Menu01, Menu02, Menue03, Menu04. Under Edit, Preferences, Menu the user can specify the Thumnail pane (more designs per menu results in smaller icons on the machine screen). Maximum designs per menu is 36. This is the only way to save multiple embroideries to the USB stick and have the machine read them.

Instruction Book says" Using Your Own USB Memory Sticks
If you wish to use a USB memory stick as a USB
Embroidery Stick, it must have at least 25Mb of
free space. Use Format USB Embroidery Stick on
the Disk menu to make a USB memory stick into
a USB Embroidery Stick."

To send a single design to the USB stick a user can use the 5D organizer and the Send 1 or Send 2 function, the design is marked #send. When the next design is sent it will over write the first design.

It is possible that there are other embroidery programs that allow a design to be wrtiten to a USB stick to work with the Husqvarna machines. I can only comment on the program I have worked with.

PS. If Husqvarna didn't sell it they don't support it. I looked in the instruction book (44pages) to see what brands/sizes of sticks would work and there's 0 information on this.
-- Edited on 11/22/11 0:35 AM --

------
Janome10001, Babylock ESG3, Brother ULT 2001, White 634D serger, Pfaff 1472, Singer featherweight, Singer 14T957Dc, Bernina FunLock 009DCC coverlock, Brother PQ1500S, Janome CP900.

sew2006


Ontario CANADA
Member since 6/24/06
Posts: 2355
Skill: Advanced



Date: 11/22/11 0:31 AM

Brother/ Babylock embroidery machines do not require the USB stick to be formatted any special way for the embroidery machine to recognize it.

The Janome, Elna, Bernina deco embroidery machines require that the USB stick be formatted and a special folder used to store embroidery designs. When a new USB stick is attached to the embroidery machine it automaticaly formats it. The user can than just copy/paste the files into the folder.

Pfaff & Husqvarna machines also need the embroidery sticks formatted. The stick the company sells you is already formatted, USB sticks purchased elsewhere require embroidery software to format.

------
Janome10001, Babylock ESG3, Brother ULT 2001, White 634D serger, Pfaff 1472, Singer featherweight, Singer 14T957Dc, Bernina FunLock 009DCC coverlock, Brother PQ1500S, Janome CP900.

skippercharli


Member since 6/11/09
Posts: 28
Skill: Intermediate



Date: 11/22/11 10:11 AM

If you want to get information from owners of the Diamond, Diamond Deluxe, etc., you should join the Viking Designer Gems Yahoo group. The people there know everything!! about these machines and can answer any questions.

BTW, is the sale price for the Deluxe very good? I got an email about that from the dealer. They supposedly have a price too low to tell you, plus they will match the $500 rebate offered by Viking.

andye

Virginia USA
Member since 5/9/09
Posts: 2041
Skill: Beginner

2 members like this.




Date: 11/22/11 12:35 PM

A couple of thoughts from a computer nerd. I don't own an embroidery machine, but I see this topic come up a lot.

1. First, people have come to expect that something as simple as a USB stick will work in their computers without a lot of effort. But computer Operating Systems tend to be regularly updated to ensure compatibility with the latest devices.
A vintage sewing computer, however, might be several years old, and designed when 2GB sticks were but a pipe dream. And since most sewing computers were designed with custom operating systems, what works on a Brother might not work on a Viking.

2. How are these USB sticks formatted? Do they use NTFS? FAT32? FAT? HFS+? Some of the more primitive formats (FAT) can't support the higher capacities. But your embroidery machine might well expect to be able to use FAT.

3. If your new 8GB stick doesn't work, you might try partitioning it. Try a 1.0 GB FAT partition, and a 7.0GB NTFS partition. Put your embroidery designs in the smaller partition and use the other partition for non-embroidery work.


-- Edited on 11/22/11 12:36 PM --

------
Bernina B330
Feet: 1,2,3,3A,4,5,7,8,10,13,16,18,20, 29,32,35,37,50,64,70,71,82,85,86, 92


Printable Version
* Advertising and soliciting is strictly prohibited on PatternReview.com. If you find a post which is not in agreement with our Terms and Conditions, please click on the Report Post button to report it.
Online Class
Blueprints to Blue Jeans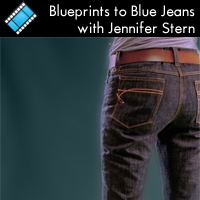 Online Class
The Contemporary Couture Jacket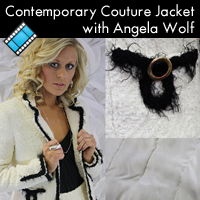 Style 1646

by: FreyaStark
Review
Needle Nook Fabrics Bravo 2

by: sewing for...
Review
Christine Jonson BaseWear Two - Straight Skirt, Taper Skirt, & Top with Options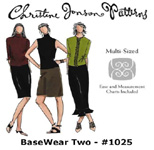 Pattern Details
Christine Jonson Travel Trio Three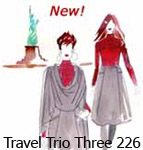 Pattern Details