Skittl1321


Iowa USA
Member since 9/9/07
Posts: 1112
Skill: Advanced Beginner



Subject: Want to spend my money? Help me select fabrics? Date: 11/23/11 8:00 PM

As I said in the other thread, Fabric Mart intimidates me. I get very stressed looking at their website because I don't know what I am looking at... but others love it so I want to try to place an order there to give them a try.

Next up on my sewing list are:

Simplicity 2451 McCalls 5523 McCalls 5391 McCalls 5535 - blazer for work (maybe, i'm a bit scared of this)

I also LOVE sewing knit shirts, and want to make Jalie jeans.

So, if you had a budget of about $50-$75, wanted to get fabric that was inexpensive enough you wouldn't cry if you ruined it (so under $6 a yard...), what would you get?

In the next post, I'll post what I'm thinking of, and maybe people can give opinions, but honestly, free reign here. If the fabric is good for the project, I'll try it. I am so unfashionable, I don't know what colors look good on me anyway. I prefer to machine wash when possible, I wear black pants most everyday at work...

-- Edited on

11/23/11 8:10 PM

--

Skittl1321


Iowa USA
Member since 9/9/07
Posts: 1112
Skill: Advanced Beginner



Date: 11/23/11 8:09 PM

Skittl1321


Iowa USA
Member since 9/9/07
Posts: 1112
Skill: Advanced Beginner



Date: 11/23/11 9:11 PM

sewbehind


Canada
Member since 6/30/05
Posts: 872
Skill: Beginner
Body Type:




Date: 11/24/11 7:50 PM

Gee, this is supposed to be fun! My advice to you is to look at the back of the pattern for fabric suggestions. Then go to FabricMart, which you have already done and look at their descriptions and see how they match. FM is really good and will let you know if the fabric has a crisp hand or drapey or which uses it is best suited for. Since you want washable, make sure that fits the bill. Hey, there is a 25% off sale on today, so I hope you get that deal.
Good luck, and have some fun. You will make some mistakes along the way but next time you will know better.
I like that pink brocade too. It's pretty.
Helen

Skittl1321


Iowa USA
Member since 9/9/07
Posts: 1112
Skill: Advanced Beginner



Date: 11/24/11 7:58 PM

Well, this was all done with the back of the patterns, but there is just so much variance in what those things mean! I've never thought picking fabric is fun... it is too much like shopping for clothes, which I am so bad at. On the other hand- picking PATTERNS, that's fun!

I wish there was a service where someone could send me all the fabrics I need, and I can just sew.

This is why I have no clothes. I can't pick RTW either- I have no sense of what works for me, and what looks good.

Bummer- the brown poplin sold out :(
-- Edited on 11/24/11 8:01 PM --

sewbehind


Canada
Member since 6/30/05
Posts: 872
Skill: Beginner
Body Type:




In reply to Skittl1321

Date: 11/24/11 10:40 PM

There are a few style books out there that might help refine what you would like. Are there fashions that appeal to you? Does it suit your lifestyle?

On PR, look for people that are close to your size and body type and try to define a style that will work with you.

It's hard. I really think that if you took some time and tried on ready-to-wear, it might help you weed out what doesn't work. Why waste your time on things that you know will not work. Do you have a stylish friend?

I'm not all that stylish myself, having a outdoorsy type of lifestyle.

I do clean up okay, though

If this is hard for you, I really would suggest going 'snoop shopping' and try to define a style for you and then go from there. Take a notebook with you and a camera and get some ideas. Then, go shopping for fabrics.

Helen

PS. Sorry about the brown poplin..

rmusic1


Member since 7/3/10
Posts: 1173
Skill: Advanced Beginner
Body Type:




Date: 11/25/11 2:43 AM

I used to hate clothes shopping. My mother would drag me round shops and get fed up with how unenthusiastic I was. Looking back if didnt help I was a pale, tall skinny child and there are some things that will just never work on me.

I am a LOT happier now I have worked out what to avoid. This is going to take some time, but I would sit down and think, what colours have looked good on you in the past. My english rose skin as I call it looks horrid with pastels, I look washed out. Much to my surprise I can actually get away with some fairly bold solid colours, like deep red.

Dont rule out the possibilities, I thought I couldnt wear bold colours as a teenager but now I wear lots of red. I now stick to a fairly select range of colours and it makes shopping for clothes and fabric a lot easier. Best of luck.

Skittl1321


Iowa USA
Member since 9/9/07
Posts: 1112
Skill: Advanced Beginner



Date: 11/26/11 3:31 PM

Well, after a few days of putting things in the cart, taking them out, putting them back in and I FINALLY placed my order...

In the end I got 2 yards each of (yeah- I check patterns, they all need about this much, weird...)
-Animal Print knit with 4-way stretch (mostly for muslins, but I would wear it)
-Purple poplin for short muslin (I'd wear it too, but it was less expensive)
-Chocolate poplin for shorts once I figure them out
-Paisle print cotton for a skirt
-Flocked purple cotton for a skirt <-- my favorite
-Navy Polyester Charmeuse for a Top
-Red Crinkle Chiffon for a top
-blue lining (I think this was for the brocade skirt, which I'm not getting... oops, oh well, lining is good to have on hand)
-purple lining for a planned jacket
and 3 yards of quilting cotton for a backing

Not bad for $40ish with shipping!


I did not get the gorgeous Ralph Lauren Brocade because it was expensive... There was a different brocade on sale, and I almost went with it but then I decided that it a little fancier than I am, so no brocade for me yet.

I also did not get a grab bag box because pretty much everything I got is a new to me fabric, so it's essentially the same thing.

I now realize that somehow the black jersey knit I planned to get 3 yards of disappeared from my cart in all the indecision. Durn it! I really wanted that!
Printable Version
* Advertising and soliciting is strictly prohibited on PatternReview.com. If you find a post which is not in agreement with our Terms and Conditions, please click on the Report Post button to report it.
Online Class
10 Clever Techniques To Help You Sew Like a Pro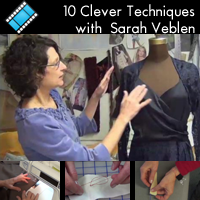 Online Class
Pattern Work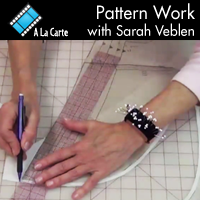 Vogue Patterns 9949 OOP

by: FreyaStark
Review
Islander Sewing Systems Three Pattern Collection Pattern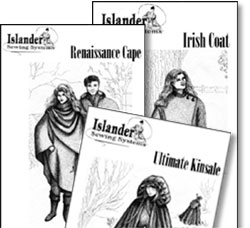 Pattern Details
Fit For Art Tabula Rasa Tee and Tunic
Pattern Details
Butterick 5750

by: kristincar...
Review