a7yrstitch


Intermediate
Texas USA
Member since 4/1/08
Posts: 6005



Date: 11/30/11 11:11 PM

I started to post a little mini rant, but decided to start with a mini rave instead.

So, how long, exactly should you have to wait when the person on the next piece of equipment appears to meditate and then fall asleep between each and every short little set. Much akin to the guys in the pool that swim a half lap and then hannnnggggg on to the end of the pool and then go on to the next half lap and.............

Honestly, though, he was at the gym and was working out. (This is the mini rave part.)

I was trying to work on some schedule adjustments to accommodate the shortened pool hours. I can tell that 3:00 Wednesdays at the gym are definitely not going to work for me.

So by way of introduction, I've had a longer than anticipated recovery from knee surgery and am working my way back to what I consider normal. 2 or 3 tai chi sessions a week, 2 or 3 sessions in the gym each week and 2 or 3 pool workouts each week. Yippee, I can handle the whole pool and gym workout now and about 40% of the tai chi.

It may look like a lot, but we have a one story home, a flat neighborhood, have to drive just about everywhere and have no grand kids to chase after. I've got to work hard to stay even with you folks that have stairs at home or are chasing after your children or grandchildren, or 5 dogs.

So what are the rest of you doing? Any good tips for those who don't have access to a pool, gym or community center?

Any moans, groans, funny stories or inspirational tales?

(............................uhhh, pigling, I did say tales, not tails)
-- Edited on 11/30/11 11:14 PM --

------
I have no idea what Apple thought I was saying so be a Peach and credit anything bizarre to auto correct.

jannw


Intermediate
Washington USA
Member since 9/3/06
Posts: 8552





In reply to a7yrstitch



Date: 11/30/11 11:34 PM

First of all..Congrats to you for following through on the exercises! I know several people with knee replacements and while most did the physical therapy, they have done nothing after completing it. One person never did her therapy and is now retired on disability.

I have a ground floor apt and live in a valley. I do have a steep hill next to me, but it is very steep! I walk through the downtown area of my town..fortunatly, lots of parks and they are going to reopen the bike/walk trail along the river..I can walk to JoAnn's about 8 miles round trip. I do wear a pedometer every day and walk a lot at work also. I post my steps on the Canadian Trail map and am in Saskatchwan..walking the rest of the way across Canada That makes it fun and I have a goal to work towards, other than health.

------
2009-113.25 yds
2010-115.5
2011-80.25+30+donated
2012 86.3 yds..
2013 21.0
Everyone who sews seriously has a stockpile of fabrics, because it is natural to purchase more than can be sewn in any one season" Singer, Timesaving Sewing, 1987



Kristen


Advanced
Member since 4/27/02
Posts: 466

1 member likes this.




Date: 11/30/11 11:44 PM

I feel your pain. My gym has a member with a severe case of OCD. It can take her up to 30 minutes to do 3 sets of 12 reps on any given machine. She needs to arrange things just so, rearrange them just so, etc etc, etc before she can get anything done. It takes her 5 hours to do what most can do in 30 minutes. While no one wants to have OCD, it can be infuriating if you are waiting to use particular piece of equipment. I have never said anything to her (nor have I ever witnessed any acts of exasperation toward her), regardless of how long I have waited, as it is something that she cannot (or at least, cannot easily) control. I just make sure that I: 1) have a good book on my iPod; and 2) have a treadmill where I can oversee the weight floor and 3) a plan B :)..... I try to follow the view that while I cannot control what others do, I can (most of the times, at least) control my response to them..If the person does not appear to have a personlity disorder (other than lack of social awareness), I would just start swimming the lane. An alternative is to make a comment to someone who works at the club. Given these economic times, gyms don't want to tick off their members, least they quit.....I am guessing your problem has no self-awareness and if pointed out, they would be more in tune with the real world...

a7yrstitch


Intermediate
Texas USA
Member since 4/1/08
Posts: 6005





In reply to jannw



Date: 11/30/11 11:49 PM

Thanks jannw,

It's not as bad as it sounds, the knee was just badly ripped up, not replaced (maybe later, though).

I love that you have great places to walk. When we lived in Pennsylvania, we were just 4 blocks up, really up, from the river and could get great walks just leaving from our front door. And we often drove to an access point for the Appalachian Trail for a weekend meander.

Great idea for marking your steps on the trail map. I'll join you and start 'walking' to Havasu Falls on January 1.

--------------------------------------------------
Thanks Kristen, the fellow this afternoon couldn't help himself.

The guys in the pool are another story. Oh well, when push comes to shove, I just find a corner and water jog. Works well in the summer, too, when the pool is really crowded.
-- Edited on 12/1/11 0:08 AM --

------
I have no idea what Apple thought I was saying so be a Peach and credit anything bizarre to auto correct.

AminaHijabi


Advanced Beginner
Member since 10/22/10
Posts: 1173



Date: 12/1/11 0:02 AM

There's a very large man who insists on wearing a speedo to swim in the pool. He usually doesn't do much. He tries to talk whenever swimmers take breaks. I had the unfortunate luck one day of needing to share a lane, and he was the only person without 2 people in the lane, and he decides he's going to share it differently. Indeed he decides that he must to breast-stroke. It's pretty impossible to share a lane with a man of that size doing breast stroke unless you circle swim, but he wouldn't do that either. Uggh. I did my best. When I go swim I only have that 40 minutes to change, swim and shower. I can't wait for you to finish hogging a lane to start, or wait for that 60 year old guy who swims daily to finish his 10,000 laps that he seems to do.

What I do when I'm not swimming or I have my period or something: I play wii. LIke REALLY play it. I dance with all the "Just Dance" songs until I'm dripping with sweat. Still don't think it's as effective as swimming, but it's better than nothing.
-- Edited on 12/1/11 0:03 AM --

a7yrstitch


Intermediate
Texas USA
Member since 4/1/08
Posts: 6005





In reply to AminaHijabi

1 member likes this.



Date: 12/1/11 0:19 AM

AminaHijabi,

I know exactly what you are talking about, all of it, but I started laughing anyway. Just last night, at the Y, I was thinking that their should be a minimum coverage formula for swimsuits. X square inches of body times 5% minimum coverage..............something, anything.



------
I have no idea what Apple thought I was saying so be a Peach and credit anything bizarre to auto correct.

kittykate


Intermediate
Ontario CANADA
Member since 12/18/02
Posts: 1189



Date: 12/1/11 1:45 AM

In the winter I ice skate, uh, mm, thinking, ten hours a week? Maybe twelve. I got into it as rehab for knee problems. I dislike people who think they should stand around in the middle of the rink and have a chitchat. It's the equivalent of hanging onto the end of the pool or resting on the machine. Edit: I am definitely not skinny, I like food too much.
-- Edited on 12/1/11 1:46 AM --

ryan's mom


Advanced
Member since 11/30/04
Posts: 4954



Date: 12/1/11 7:37 AM

Ohhh....I call them "squatters". My husband and I complain about them all the time. Why don't they just go home and sit in their LazyBoy? What's worse is they text while squatting.

Don't know which I loathe more, the squatters or the burpers. Oh wait. I forgot about the singers, cussers, laugh tracks, pukers, etc. I once wrote a blog post on the different types of "gym people" that workout that drive me insane lol.

Last month I almost yelled at my "son" because I thought he burped real loud behind me. Almost told him to say "Excuse me" because of his rude behavior. Turns out it was "The Burper" who is also a known "Squatter". Blech. Wish I would have yelled at him and then found he wasn't the offender. Don't even get me started on the guy who grunts with what sounds like the word "shit" every rep. Puhleeze! My youngest is working out and he's only 12. Set a good example for the youth in the gym.

ETA, to answer your question, if they're in between sets, it is perfectly okay to ask if you can work in a set between theirs. In fact, it might just clue them in to the fact that people are waiting for the machine. The worst that could happen is the offender is a clod that will simply say no. Then I'd ask, "Well when are you going to be done???"

In our sister gym, there is actually a sign that says to let people work in sets--it's the courteous thing to do.
-- Edited on 12/1/11 7:41 AM --

------
Big 4 Pattern size 12, RTW bottom: 6, RTW jacket 8, RTW top (no size fits me well!)
Measurements: 34 HB/36 FB (34C bra)/27.5/36 (and working hard to keep it that way.)
Machines: Sewing: Elna 760, vintage Kenmore Model 33 (1967), Janome Gem Gold 3. Sergers: Babylock Imagine and Babylock Enlighten. Embroidery Only: Janome 300E. Coverstitch: Janome CP1000. Straight Stitch: Janome 1600P.

If you think your sewing is better than everyone else's around here, get out of my way b****. I hate sewing snobs.

My blog: www.phatchickdesigns.blogspot.com

poorpigling


Advanced
Texas USA
Member since 12/28/07
Posts: 11069





In reply to a7yrstitch

1 member likes this.



Date: 12/1/11 7:48 AM


Hmphhh.. seems to me it would be less frustrating to get five dogs.. throw in a cat, rabbit and a couple of birds and you can get all the exercise you need at home..

I also have the hill from .. purgatory in my back yard.. Along with my gardens.. plenty of exercise.. so don't sweat it.. pun intended.. get your exercise the old fashion way.. in the privacy of your own abode..

OR.. Of course you can come to my house and help me ''work out ''

When can I expect you ?

Miss Fairchild


Advanced
USA
Member since 8/24/02
Posts: 7936





In reply to a7yrstitch



Date: 12/1/11 7:59 AM

Quote:
When we lived in Pennsylvania, we were just 4 blocks up, really up, from the river and could get great walks just leaving from our front door. And we often drove to an access point for the Appalachian Trail for a weekend meander.

Wanna move back here and we can walk together? I live above town; about 500 feet and about 4 miles one way. Although I can't walk to town, because of the terrain and distance, I do get a chance to get out to walk in my "neighborhood" once in a while. That is, if the neighbors keep their aggressive dogs chained up properly, and I'm carrying a big baseball bat.

Gyms...what can I say? I used to belong to one, eons ago, and I too was frustrated over the people who felt like they were the only ones there. You know what it's like to come out of a sweaty workout (when you can get one) only to find the showers are all taken up by women who are sitting on the floor and meditating while the water is running, or washing their hair 15 times because they are OCD. Then when you try to get stuff out of your locker, you can't move because their stuff is all over the floor in front of you. I realized then that outdoors was the best for me and invested in a bike. Rode it on my days off, 8 miles to the health food store, and 8 miles back. Where I live now is too hilly, and cars (as well as gas trucks) fly by like I'm not there. So I try to get out to supplement my three story house.

But the other day I got a workout. I was upstairs, and DH called, wanting some info from the basement. Down two flights I went, then up the two flights back to the phone and what was I doing. But did I give him all the info? Apparently not, because I had to go back down two flights, then back up again. Who needs a stair stepper?

------
"Play the cards you are dealt, but choose who is sitting at the table"..AARP magazine

SEE MY ETSY SHOP HERE: http://www.etsy.com/shop/AuntMaymesAttic
My blog: http://auntmaymesattic.wordpress.com/
Printable Version
* Advertising and soliciting is strictly prohibited on PatternReview.com. If you find a post which is not in agreement with our Terms and Conditions, please click on the Report Post button to report it.
Online Class
Serging Ahead with your 5 Thread Serger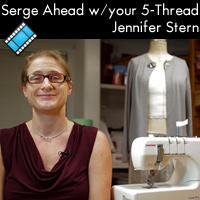 Online Class
Blueprints to Blue Jeans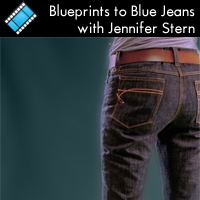 Butterick 5814

by: froggiegir...
Review
Sew Chic Clara Bow Apron Pattern (ln102)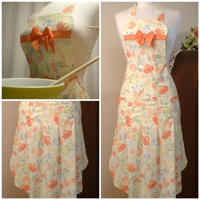 More Info
Petite Plus 104 Pattern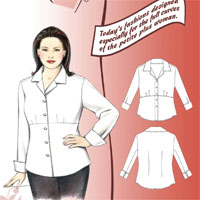 More Info
Simplicity 3935

by: lilyloulad...
Review