shanntarra


Texas USA
Member since 3/19/09
Posts: 743
Skill: Expert/Couture



Date: 12/1/11 2:29 PM

The other day I was in the fabric store buying fabric for a dress for my daughter when I witnessed an argument between a mother and a daughter that got me thinking.

Mom wasn't a couture seamstress, but a good advance beginner/ intermediate. In other words she knew how to sew well, just wasn't amazing at it yet.
The daughter was in high school, maybe sophmore or junior. Her school was having a talent presentation and she wanted to do a 1950's style dress as her entry.
As the daughter had only made a simple retangle cape 3 years ago, she felt she could easily tackle a vintage pattern in expensive taffata. Mom disagreed and informed her it would be best she do the dress in a vintage style cotton print that was less expensive and much more forgiving. The exchange that followed could be heard through out the store at loud volumes. (Which is how i know the details.) The long and short of it, after the daughters embarassing angsty expolsion, Mom ended up buying 5 yards of the expensive taffta.

The mother's point of argument got me to thinking. The point was, "You have not had much expereince. Take a slightly more forgiving path, but you will still be challanged by the pattern construction it's self."
The daughter's comeback, "If I always take the safe route I will never get better."
Mom's retort, "You need to build up your skills as you go toward the harder stuff. If you take on something too difficult too early you will burn out." The daughter's responce was not so nicely phrased and expressed the daughter's opinion of where mom's opinion could be placed in mom's anotomy.

So what is YOUR opinion? Did mom have the right of it? When you are begining to sew, do you start with things a little safer to build confidence, or do you jump in feet first/ sink or swim on a project in order to learn by trial by fire ?

My opinion is building on the skills that you have, yet picking something that will stretch them. I am a very advanced sewer, but there are some techniques I need to work on to make them look better. If there is a fabric I have never worked with, I might strech my skills by trying something with it, but do an easiler pattern until I get the hang of it.

Then again, there is something about "shooting for the moon and even if you don't get there you still land amoung the stars." I wouldn't have done some really cool things if I hadn't been made to take that leap.

What are your thoughts?

------
"Costume Tech's are overworked, underpaid, and underappreciated except to those designers, actors, directors, playwrights, and other theater artists who depend on them." - The Costume Technicians Handbook

AliceM


Illinois USA
Member since 4/30/05
Posts: 1565
Skill: Advanced



Date: 12/1/11 2:50 PM

My daughters would have left the store with nothing if they treated me like that. I am sad for both the mother and daughter that mom caved in to the tantrum

Mom has every right to set the budget for the project if it is coming out of her pocketbook. Teen girls are very fickle and it is very possible that fabric will sit for years because she will get another great idea before they even get home.

purplebouquet


Arkansas USA
Member since 11/16/05
Posts: 1290
Skill: Advanced



Date: 12/1/11 3:17 PM

I am with Alice. I would have left the store empty-handed. In fact, my son at age 12 or so once got so enraged with me that I wouldn't buy him the oversized gangsta jeans that I told him very calmy I wouldn't pay for anything if he spoke in that tone of voice and walked away from the dressing area. He calmed down very quickly and apologized. We ended up buying the smaller size. No way would I buy a nonessential item for my children if they get so out of control.

The daughter had a point about wanting to stretch her experience and skill, but shouting and cursing are not the way to get there.

Here is another approach that a minister's wife shared some time ago. She and her adolescent daughter were shopping for a special occasion dress and the girl wanted something the mother thought inappropriate, too sexy or something. She said: I don't love this dress and since I am paying for it, we have to find something we both love.

Claudia
-- Edited on 12/1/11 3:20 PM --

Michelle T


British Columbia CANADA
Member since 8/24/02
Posts: 4586
Skill: Intermediate



Date: 12/1/11 3:22 PM

I would not cave to that sort of behaviour from my DD or anyone else.

My kids know that when I am footing the bill I have the final say. They also know that that sort of unacceptable behaviour is just that unacceptable.

As far a challenging myself or my DDt hat is another issue.

My DD is challenging herself to complete two years of math in one this year. It is a tough challenge, but she has set it for herself. I help her out when she asks, but it is not costing me anything in either cash or attitude.

------
Proud parent of a Dwight International School Honour Roll Student

shanntarra


Texas USA
Member since 3/19/09
Posts: 743
Skill: Expert/Couture



Date: 12/1/11 3:39 PM

My grandfather taught me when I was little, "The bigger the tantrum you make the less likely you will get something. The better you behave the more likely you are going to get something you ask for." Told that to my 7 year old niece as she started to make a fuss in a store to get a toy. She had the most confused look on her face as she worked out the logic. Funny, since then if she knows there is something she wants she tends to act alot better in order to get it. :)

Purple: I agree the daughter's approach was very bad, but she did have a point at the root of it. Is it better to jump in feet first on a project that is way above your skill level in order to make yourself feel challanged, and risk having crying fits over why you can't get the pieces to go to gether the way they are suppose to, or fight a difficult to work with fabric. OR still take on a challanging pattern, got use a material that isn't such a pain to work with in order for you to not be as stressed?

------
"Costume Tech's are overworked, underpaid, and underappreciated except to those designers, actors, directors, playwrights, and other theater artists who depend on them." - The Costume Technicians Handbook

kkkkaty


Utah USA
Member since 12/7/05
Posts: 2726
Skill: Intermediate





In reply to shanntarra



Date: 12/1/11 3:53 PM

Given that this was for a talent show, presumably with a deadline, if buying the young lady the taffeta I think I would have offered the caveat that they would not be coming back later to buy more and different fabric if it didn't turn out to her satisfaction.... i.e., she could go with the more challenging fabric, but at her own risk.

------
Viking Lily 545
Viking Ruby
Bernina Activa 210
Brother 1034d


Marilly

Oregon USA
Member since 7/9/06
Posts: 853
Skill: Advanced Beginner
Body Type:






In reply to shanntarra



Date: 12/1/11 4:04 PM

UGH. I would never have such a scene in public with my daughter, we would have walked out at that point. I am a little surprised most of this wasn't worked out prior to going to the store anyway to get the actual fabric.

As to jumping into challenges..been there myself when my daughter wanted a mascot costume. I had an epic fail at it the first time, but she was forgiving and had witnessed my process of trial and errors, so that really helped. The second year we had it down and she wore it to a convention..still not as perfect as a professional would have done it, but she's enjoyed marching around in it a few times since.

As to the daughter in the story, I just hope she will at least make a full test garment before ruining the good stuff. Sure, you need challenges, but ideally you'll have time to work it out and also to fail, try again and sometimes find better methods that make more sense to you. I swear if I had a nickel for every wadder/tester I could buy a new computer.
If that costume has a deadline, you all know that mom will probably end up making over half of it/and or fixing the mistakes made. The good thing is mom can probably do it. When I started to sew I did it solo since my mom was totally clueless so there was noone to ask at home and the net didn't exist yet.

If my daughter ever decides sewing has appeal beyond an occasional plushie, I totally agree with Shanterra's notion of building confidence with less challenging projects, especially ones that she can use over and over again..like a good TNT basic pant or knit top pattern.


Mufffet


Vermont USA
Member since 8/14/05
Posts: 11930
Skill: Intermediate





In reply to kkkkaty



Date: 12/1/11 4:15 PM

I would have not caved into that - it is so manipulative, and I always felt that as the Mom, I should have major input.

That said I need to respond to this gently:



Quote:
Given that this was for a talent show, presumably with a deadline, if buying the young lady the taffeta I think I would have offered the caveat that they would not be coming back later to buy more and different fabric if it didn't turn out to her satisfaction.... i.e., she could go with the more challenging fabric, but at her own risk.



My Mom used to say to me quite often: "Well, you do what you want, but don't come crying to me afterwards!" And this, delivered in a voice which CLEARLY stated that she knew I was bound to failure. No. It made me afraid to really say O.K., I will do it my way many a time (not permanent damage though because I am stubborn, which some kids are not). Luckily my Dad always just felt I must be able to do whatever I wanted.I appreciated that. And, for the most part, Mama didn't realize what she was saying, as she was brought up hearing that all the time, and she rebelled and did her own thing many times.
-- Edited on 12/1/11 4:19 PM --

------
"Be kind whenever possible. It is always possible."
--Dalai Lama

I have sewing machines

Amy-may


Member since 6/7/05
Posts: 1246
Skill: Intermediate
Body Type:




Date: 12/1/11 4:22 PM

I'm all for going the challenging route. Nothing risked, nothing gained. BUT, in my house, that means all the risk is daughter's. She buys the yardage she wants and sews every stitch. If it is a failure, she doesn't participate in the event and I refuse to lose sleep over the situation.

Failure teaches a lot too!

kkkkaty


Utah USA
Member since 12/7/05
Posts: 2726
Skill: Intermediate





In reply to Mufffet



Date: 12/1/11 4:39 PM

Quote: Mufffet
I would have not caved into that - it is so manipulative, and I always felt that as the Mom, I should have major input.

That said I need to respond to this gently:
My Mom used to say to me quite often: "Well, you do what you want, but don't come crying to me afterwards!" And this, delivered in a voice which CLEARLY stated that she knew I was bound to failure. No. It made me afraid to really say O.K., I will do it my way many a time (not permanent damage though because I am stubborn, which some kids are not).


Mufffet, I see your point, and I don't mean to suggest that caving is the way to go... but clearly this mom did, so my comment is only about her circumstance and what has already happened. I can see why that approach bothered you in your own life, but know that I don't mean to suggest a general approach to parenting, just something that in this particular situation seems apt to me; this specific child seems to be quite a bully, and seems to have bullied her mom into buying the taffeta..... if I were the one letting her have her way, I would want her to know that that bullying wouldn't rescue her if it didn't turn out well.

If it had been me, like the others who have posted, I'd have closed my wallet and walked out....

------
Viking Lily 545
Viking Ruby
Bernina Activa 210
Brother 1034d

Printable Version
* Advertising and soliciting is strictly prohibited on PatternReview.com. If you find a post which is not in agreement with our Terms and Conditions, please click on the Report Post button to report it.
Online Class
Sewing with Slippery & Drapey Fabrics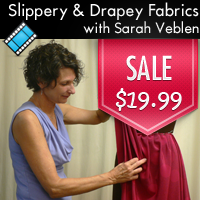 Online Class
Blueprints to Blue Jeans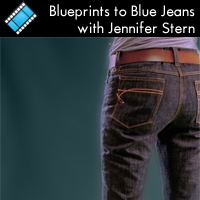 Self Drafted Pattern 100492-1046

by: petro
Review
Victoria Jones Collection Happi Coat & Hanten (230)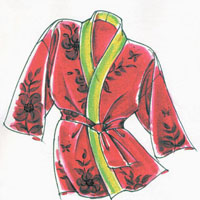 Pattern Details
Favorite Things Nightie Night Pattern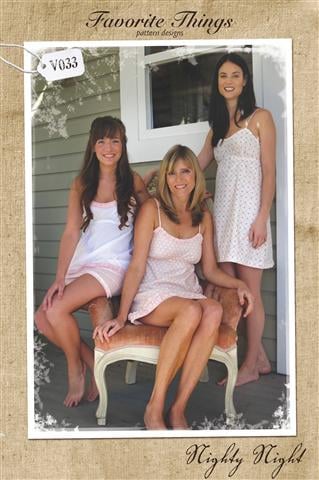 Pattern Details
McCall's 6996

by: JustineSew...
Review