Learn To Sew


Member since 4/12/05
Posts: 13952
Skill: Advanced Beginner



Date: 12/5/11 8:47 PM

This is the first year I bought Christmas stockings. I hope to make some much better for next year. I should start early in the year looking for patterns. I started much too late this year looking for a pattern. I suppose, now that I think of it, I could trace around the small ones for the dogs and simply make them longer. Well, duh...

Anyway, what do I put in the stockings we now have? They are 6 inches wide and 15 inches long. I expected to find some normal sized ones. I found ones that are small for the dogs treats, but I wanted something a little larger for us. All I could find is big and huge.

As a kid, we got an orange and a few nuts in the small sockings. I can figure out the dogs stockings, but what about my husband and myself?

What do you put in your Christmas stockings?

Learn

------
Bernina 630, Bernina embroidery module, Pfaff 2036, Bernina 1200DA serger, Unique Sewing Cabinet 450L

mmc3673

Member since 10/16/10
Posts: 86
Skill: Intermediate



In reply to Learn To Sew

Date: 12/5/11 9:26 PM

I am curious as to what replies you get. I am experiencing the same problem. I have no clue what to put in my husbands and mine. Thought about candy, but that is a lot of candy since our stockings are a bit large as well.

Miss Fairchild


USA
Member since 8/24/02
Posts: 7936
Skill: Advanced



In reply to Learn To Sew

Date: 12/5/11 9:39 PM

Quote:
What do you put in your Christmas stockings?

Gift certificates, any little chach-kee that reminds me of something about that person, post cards of a place they want to visit. One time my older sister knew I wanted to have a yellow Porsche. Of course, I couldn't afford one, so she bought me a miniature and put it in my stocking. Great fun!

------
"Play the cards you are dealt, but choose who is sitting at the table"..AARP magazine

SEE MY ETSY SHOP HERE: http://www.etsy.com/shop/AuntMaymesAttic
My blog: http://auntmaymesattic.wordpress.com/

Sharon1952


Board Moderator
Member since 7/1/08
Posts: 3642
Skill: Advanced
Body Type:




Date: 12/5/11 9:43 PM

I fill ours with some candy, but also small items we can use like:
chapstick
gift cards to coffee shop
pens
notecards
stamps
cute little toys - chattering dentures! wind up toys, etc
magazines
mittens/scarf
computer thumb drive
small sewing notions
yarn
Harley dealership pins/patches

Just think of anything you'd like that is small. You can even give each other IOUs for the jobs you hate. My DH gives me car cleaning "tickets" and believe me- they are the best gift.

------
Sewing: A creative mess is better than tidy idleness. ~Author Unknown


Learn To Sew


Member since 4/12/05
Posts: 13952
Skill: Advanced Beginner



In reply to Miss Fairchild

Date: 12/5/11 9:45 PM

I plan to go to Best Buy, Peets, and of course, Red Lobster.

I give him the same thing year after year. All he asked for is socks and tee shirts. I think I can do better. I usually give him sweats. I want to give him something different this year and I thought stockings would be fun to do.

Keep the ideas coming. He is a computer engineer, and he loves computers.

------
Bernina 630, Bernina embroidery module, Pfaff 2036, Bernina 1200DA serger, Unique Sewing Cabinet 450L

Mel.J


Victoria Australia
Member since 7/30/02
Posts: 2959
Skill: Intermediate
Body Type:




Date: 12/5/11 10:50 PM

T-shirts - try thinkgeek.com, they have some wonderful things for the computer nerd in your life :)

A puzzle book.

Keyring.

A planned day out (in the stocking will be a folder with the details and brochures for when & what you'll do, eat, see etc).

Home-made vouchers - where you offer to do his chores, give a massage, special meal, stuff he likes you to do for him etc etc. You can make them a size appropriate for your stockings.

Books/magazines.

And, could you roll down the top of the stockings to shrink them a little??

Package things up to make them fill the space.

Have fun!

------
Mel (Melbourne, Australia)

a7yrstitch


Texas USA
Member since 4/1/08
Posts: 7332
Skill: Intermediate



In reply to Learn To Sew

Date: 12/5/11 10:59 PM

You've got to put in a beautiful orange and apple for tradition's sake.

Check out this site

Joby

Everyone in the family (all adults now) will be getting a MagNeat this year. You'd knock your hubbies socks off if you got him a Logitech all in one remote. The newest Roku is small enough to fit in a stocking. I've found some nifty accessories made from recycled computer chip boards.

If you don't have a Keurig, you might as well get one and put his favorite coffee/tea/hot chocolate/cider cups in his stocking.

Google top tech gadgets, top tech stocking stuffers, etc.

Try to find one small thing that you can include every year as a tradition. Our adult sons still anticipate their Matchbox cars and everyone always gets a Pez dispenser. You might make him a whacko pair and a super nice pair of boxers or sleep pants each year for his stocking.

Hope you've explained that he'll have to help Santa with filling your stocking.

-- Edited on

12/5/11 11:00 PM

--

------
I have no idea what Apple thought I was saying so be a Peach and credit anything bizarre to auto correct.

tourist


British Columbia CANADA
Member since 7/23/07
Posts: 6751
Skill: Intermediate



Date: 12/5/11 11:14 PM

Thank goodness you brought this up! We don't do stockings for each other, but the kids get two each. Long story and I am sure it is somewhere else on PR as I tell it often. But the tradition I really enjoy (and had forgotten about until now) is on DSIL's stocking. Any significant other of our kids who actually sleeps here on Christmas Eve has been given a hand made stocking. Each year thereafter, they get an embellishment to their stocking. I so wish i had thought of this when our kids were small, but their stockings are unique and too full of design to have them anyway.

So DSIL has a denim stocking with some pompoms, a strip of burgundy jacquard fabric, buttons, rhinestones and a few other goodies. He has been around for awhile and is a keeper.

But I don't think I have his embellishment planned for this year! Better get busy....

Anyway, yes, just trace the size of stocking you like and make it out of something sturdy. It can be lined or not, as you prefer. I also try to make it suit the owner. One organic farmer BF had one made of recycled muslin, which he loved, especially as he was Jewish and had never done Christmas before. I made a few for GF's but darling son kept breaking up with them in November, so they went to the Sally Ann!

------
http://bgballroom.wordpress.com to follow the progress on my next ballgown.

khurtdvm


Member since 8/6/04
Posts: 541
Skill: Intermediate



Date: 12/5/11 11:36 PM

For adults, you can put CDs or DVDs in the stockings, depending on the size of the stocking. If money is tight, you can always raid their own music collection to make mix CDs of their favorite songs. ;)

As far as making stockings, I am finishing mine so haven't posted a review yet, but I would heartily recommend the

Studio Cherie Burlap Christmas Stockings

pattern. I'll be posting a review and pics later this week, but trust me, it's a winner.

------
khurtdvm
http://drclements.blogspot.com

Learn To Sew


Member since 4/12/05
Posts: 13952
Skill: Advanced Beginner



Date: 12/5/11 11:38 PM

How about I trace around the dogs stockings (from the dollar store) and then lengthen the top of them. When I have the correct length (width is fine already), I could cut out the traced pattern, then put that pattern onto cardboard to make my pattern. Or just use cardboard for the pattern. Either way.

Now for fabric. Is quilting cotton heavy enough for the stockings? There will not be a lot of weight in them.I was thinking that if I bought 1/2 yard of one fabric, 1/2 yard of another, I could make one with one fabric on the outside and the other with the other fabric. I could alternate the 2 fabrics and use them to line the socks, so they would be 2 layers and stronger. Not sure about the trims, though. I could add a loop to be able to hang them.

So far, this idea sounds like the most fun project in my sewing room in a year. I'm not crafty, but I wish I was. This could be why I am thinking of quilting and embrodiery now and never before. I need to reclaim my creativity.

Learn

------
Bernina 630, Bernina embroidery module, Pfaff 2036, Bernina 1200DA serger, Unique Sewing Cabinet 450L
Printable Version
* Advertising and soliciting is strictly prohibited on PatternReview.com. If you find a post which is not in agreement with our Terms and Conditions, please click on the Report Post button to report it.
Online Class
Beyond the BoatNeck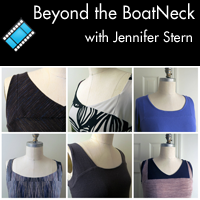 Online Class
Perfectly Fitted Shirt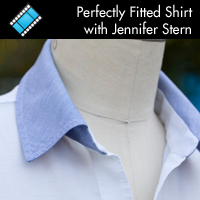 Simplicity 8677

by: maria 6705
Review
Serendipity Studio Sew Serendipity

by: willywonde...
Review
Sewn Square One Swing Shift Pattern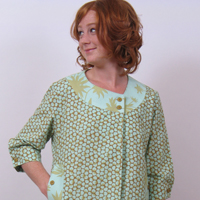 Pattern Details
Sewing Workshop Now & Zen Shirts Pattern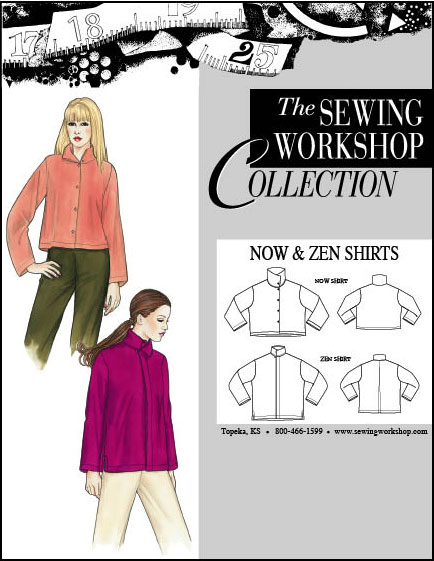 Pattern Details