Member since 12/31/69



Date: 12/11/11 9:57 AM

I need a new table lamp for my cutting/layout area and I was wondering if there are alternatives to the Ott lights. Replacement bulbs are expensive - most of the lamps are high priced even when on sale.
Thanks,
Debbie

gramma b


USA
Member since 7/25/08
Posts: 4100



Date: 12/11/11 10:25 AM

I use an old desk lamp with the bendy arm, easy to change the focus on cloudy days. I got a GE Helical 13 spiral bulb for it, equivalent to 60W. This has less glare.
Hubby stole my Ott floor lamp for his bedside Kindle reading, but that's OK, because I didn't have a lot of floor space to shift it around with its wide base.
Also used to have one of those affordable pole floor lamps with 3 adjustable shades, so you could focus them on different areas, but some urchin broke the pole....

stirwatersblue


Kansas USA
Member since 12/13/08
Posts: 5499
Skill: Intermediate
Body Type:




Date: 12/11/11 12:58 PM

Well, the good thing about the Otts is the bulbs last *for years.* I think I had mine for about 6 years before passing it along to a new home.

I've told this story before, but several months ago I realized that I needed more light than my Ott was giving off, so I replaced it with a tall torchiere-style floor lamp with a 25-watt compact fluorescent bulb (equivalent to 100 watt incandescent). The lamp was $25 at Bed/Bath/Beyond, and the bulb was probably an additional $7-10. It's a huge improvement in the space, but what it provides is overall lighting (which I needed), not directed task lighting, which may be what you're looking for. My space was pretty dim to begin with (the eat-in section of my kitchen, lit only by the ambient chandelier), so the Ott just wasn't cutting it anymore.

You can get really bright, energy-efficient lighting if you select a table lamp of the right height/adjustability that you need... and then use a compact fluorescent bulb instead. Since most table lamps say not to use more than a 40-60 watt bulb, you can swap out a fluorescent and just about quadruple the amount of light it puts out, without exceeding the energy used.

------
~Gem in the prairie

PattiAnnJ


Ohio USA
Member since 12/3/06
Posts: 9220
Skill: Advanced



Date: 12/11/11 1:08 PM

The bulbs last for years. When you buy the lamp, get an extra bulb or use the store coupons for a discount at JoAnn or Hobby Lobby.

------
OLD CHINESE PROVERB: I HEAR & I FORGET; I SEE & I REMEMBER; I DO & I UNDERSTAND.


ElsaD


Alberta CANADA
Member since 1/7/06
Posts: 179
Skill: Intermediate



Date: 12/12/11 10:12 AM

I have an old, old study lamp that stands on the floor and I also put in one of the fluorescent, day light bulbs that gives out about 100 watts worth but uses less power. I love that at night I can use it to check thread colour, etc. Plus, the whole thing only cost me a few dollars compared to an Ott lite. Recently, I was given an ott lite, a small one, which I move around for various projects. It's very nice looking. But the old study lamp is much more versatile.

There are some old posts on Pattern Review that talk about lighting and that's how I learned how to set up my less expensive system.

------
ElsaD

KathyWalsh05

Massachusetts USA
Member since 7/21/09
Posts: 85
Skill: Beginner



Date: 12/12/11 11:27 AM

I have no ceiling lights in the bedroms/ sewing room so we rely a lot on task lamps. I also love the new compact fluorescent bulbs for reading and sewing- and pairing sox out of the laundry basket.

. My machines are all vintage, so the built in lights are neglibly useful which is too bad, as they are well placed on the machine, IMHO.

Has anyone out there ever found a CF bulb that would fit in an old Singer?

a7yrstitch


Texas USA
Member since 4/1/08
Posts: 7517
Skill: Intermediate



In reply to KathyWalsh05

Date: 12/12/11 1:16 PM

I've been looking for a way to upgrade the lighting on my old Pfaff also. There are a lot of nice LED lights for computers. The ones I'm most intrigued about are the long skinny ones with a a single or double row of LED lights. Going to speak to the techie son when he visits at Christmas (he knows all the good cheap resources for computer gear). I was close to getting something with batteries but decided it would be more practical to have a plug in usb hub so I could plug in the computer lights and afix them to the inside top of the machine harp.

Purchased an Ott pretender from Sam's for the hubbies' desk at the office about 5 or 6 years ago and it is still working just fine.

Purchased a clamp on Ott Light during the Black Friday sales but haven't tried it yet.

Thanks for the reminder, stirwatersblue. I need to try your style of floor lamp for overall room light. The ceiling fan fixture throws off lots of light but it also throws off lots of shadows. Two of the torchiere style lamps in my sewing room will give off lots more light with a lot less heat. Bed, Bath & Beyond is just the greatest for that sort of thing. We have a gooseneck set from them that ia over ten years old and they get called into action for the strangest tasks.

------
I have no idea what Apple thought I was saying so be a Peach and credit anything bizarre to auto correct.

stirwatersblue


Kansas USA
Member since 12/13/08
Posts: 5499
Skill: Intermediate
Body Type:




Date: 12/12/11 5:01 PM

Lighting needs are certainly an interesting and variable beast!

In my living room, where I do almost all of my handwork, the primary light is from a traditional floor lamp that takes four bulbs--a single 3-way and then three smaller additional bulbs. We just have four 25-watt (100-watt equiv.) CFBs in there. The light is *fabulous* for reading, embroidery, etc. We usually just use the one center bulb, but can turn on the other three as necessary.

A few weeks ago, the stand broke on it (came unscrewed and we lacked the dexterity and tools to put it back together), so it went to the lamp shop for a couple of weeks. I moved my beloved BBB torchiere from the sewing station to the living room...

...Where it was almost entirely useless. What works brilliantly to fill half my kitchen with light did nothing for my living room, and even less for my ability to do handwork or even read comfortably.

The kitchen has 9-foot ceilings, painted white, with cream/white sponged walls. In that space, the light from the torchiere floods the area and bounces off all the bright surfaces, lightening the entire room.

But in the living room, where there are vaulted ceilings in a deep gold color, the light just went upward and... disappeared. None of it came back downward where we needed it. Even swapping the 100-watt for a 150 (and gosh, those are pricey in a fluorescent version!) didn't help.

It was certainly an interesting and valuable lesson in lighting design! There's no way I'd have been able to just *know* this in advance of doing the hands-on experimentation, but it was all very clear what was happening when you actually saw how the setup affected the lighting.

Anyway, my point here is that YMMV, and whether you need more ambient light or more task light--and what, precisely, will work best to provide that light in your unique space--is going to be very individual.

------
~Gem in the prairie

NM gal

Member since 5/27/09
Posts: 1175
Skill: Beginner



Date: 12/12/11 7:21 PM

You can always get a full spectrum bulb for your regular lamps.

My husband just dropped our Ott Lite on the floor, they're brick & we both went Ohhhhh Noooo. But amazingly nothing broke, not even the bulb.

hpthecat

Washington USA
Member since 8/17/10
Posts: 163
Skill: Intermediate



Date: 12/24/11 2:34 PM

I know this answer is about 9 years too late for the original poster--

BUT YES there is a great alternative to Ott-- of better quality and equal or lesser cost. It is called Blue Max.

And no, I do not work for or represent the company. I do have one of their goose neck lamps clamped to the back left side of the 6ft folding table I sew at. I chose Blue Max because there bulbs are 'color corrective' for true daylight, this is really handy for the watercolor painting I also enjoy doing. Here is a link:

http://www.bluemaxlighting.com/

I do use a decorative Ott higer wattage by my easy chair, but I chose that in order to have the ease on my eyes without sacrificing style in home decor.

For the overall room lighting in the sewing room-- I had a local big box retailer come out to the house and replace the former bedroom ceiling light with a multiple four foot bulb Florescent fixture. And honestly-- that was not terribly expensive, and most worth it.

------
Bernina 820, Babylock Audrey, BL Embellisher, BL Evolution Serger
Printable Version
* Advertising and soliciting is strictly prohibited on PatternReview.com. If you find a post which is not in agreement with our Terms and Conditions, please click on the Report Post button to report it.
Online Class
Fun with Fitting - BODICE w Darts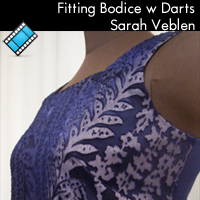 Online Class
Sewing with Slippery & Drapey Fabrics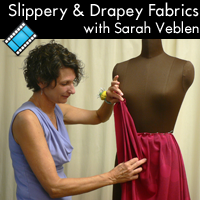 Simplicity 1694

by: Debbie Lan...
Review
Simplicity 2580

by: Fitdiva
Review
Sewn Square One Skirt Smarts Pattern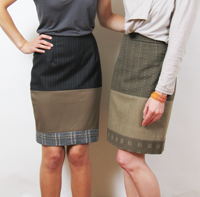 Pattern Details
Christine Jonson BaseWear Two - Straight Skirt, Taper Skirt, & Top with Options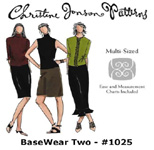 Pattern Details