rmusic1


UNITED KINGDOM
Member since 7/3/10
Posts: 1093
Skill: Advanced Beginner



Date: 12/14/11 2:49 AM

this may seem like a slightly random question, but on average how much do you download per month? I was having a conversation with my housemate last night where she thought "everyone" had unlimited download for their internet package (we don't) and I haven't met anyone so far who uses so much.

She can easily download over 15 GB in a month. I have nothing to compare this against, so any observations would be helpful.

seaside sewer

UNITED KINGDOM
Member since 6/23/09
Posts: 327
Skill: Advanced





Date: 12/14/11 4:35 AM

We have unlimited broadband. We used to have a 10Gb limit, but kept going over. We watch a lot of TV programs on the computer, plus use it every day from around 7am to midnight, for surfing, forums, shopping, emails, Skype, information etc. When watching the tennis in June/July it was about 50Gb for the month, but it's usually about 20-25Gb

------
Bernina sewing machines 750, 440, 215, 1008. Bernina overlocker/serger 1150MDA
Pfaff Creative Performance
Janome embellisher
Singer featherweight 221K white
Frister and Rossmann Cub 7

goosegreen


New South Wales Australia
Member since 1/9/05
Posts: 2869
Skill: Advanced





Date: 12/14/11 4:35 AM

Three of us in the household. I'm home all day but don't use that much. DH hardly uses any. 16yo DD is the big user. 25GB per month is our limit. And we usually go over that.

------
Alison in suburbia - Sydney Australia
My sewing blog: http://nosilasews.blogspot.com/
I blog for me, myself and I

Keeper of the flock - Janome MC8000, Janome MC4900QC, Elna Elina 40, Husqvarna Rose, Singer 201K, Elna Contessa, Janome My Excel 18W, Janome 634D & 534D overlockers, Janome Coverpro 1000CPX.

Franksdottir


Member since 4/25/08
Posts: 3292
Skill: Advanced Beginner





Date: 12/14/11 11:22 PM

How can you tell how much you use? I am sure that DH and I don't use very much, but probably DS does. I don't know how to find out, though.

------
Barb

Mufffet


Vermont USA
Member since 8/14/05
Posts: 12263
Skill: Intermediate



Date: 12/15/11 0:08 AM

I assume by "download" you mean bandwidth. Most accounts these days in the US do not limit bandwidth. However, I do have one email that limits bandwidth separately from mail storage space - and this impacts hits on the website associated with that particular host. Other than that I haven't tracked such usage I have a couple of family members who stream a lot of music and television. This uses bandwidth. Downloading of graphics and movies to the computer to store there also of course will be counted as bandwidth. And this is outgoing and incoming, so it counts when you send email as well.

I don't think that you need worry unless you know you have a charge incurred for going over a certain limit of bandwidth. I would never pay for more than allowed, ever. And if I were limited by my provider in the US, I very much think I would change providers, BUT what is really true is that everyone is limited to SOME extent - I mean if all you did 24-7 was watch television or download movies and music you might very well hear from almost any provider.It isn't usually a figure that is given out though.
-- Edited on 12/15/11 0:10 AM --

------
"Be kind whenever possible. It is always possible."
--Dalai Lama

I have sewing machines

seaside sewer

UNITED KINGDOM
Member since 6/23/09
Posts: 327
Skill: Advanced





In reply to Franksdottir <<



Date: 12/15/11 2:56 AM

Download is how much information you have actually downloaded from the internet onto your computer. Every time you visit a webpage, that information is downloaded to your computer, and will use part of your paid for download limit. On your service provider's website, [well, ours anyway] there is a link to where it shows how much you have used each month. But, our ISP will email you if you are getting close to your limit. For us there are different charges for different download limits, and if you exceed that set limit, they forgive you the first time, then start charging.

Muffet
Bandwidth is how much space your ISP provides for each user on their system. If you exceed that space, or many users are all using at the same time, your download speed will probably be slower, or you may not even be able to access the internet at that time. There is a fair usage policy, so that you are not able to use the system excessively. That's for here in the UK.
Hope that sound clear. That's how I understand it, anyway
-- Edited on 12/15/11 3:32 AM --
-- Edited on 12/15/11 3:34 AM --

------
Bernina sewing machines 750, 440, 215, 1008. Bernina overlocker/serger 1150MDA
Pfaff Creative Performance
Janome embellisher
Singer featherweight 221K white
Frister and Rossmann Cub 7

CJ Tinkle


Arkansas USA
Member since 2/5/06
Posts: 1075
Skill: Intermediate
Body Type:




Date: 12/15/11 4:47 AM

A whole lot. Not only do we play internet radio a lot, we stream all of our TV from the net as well, and do not pay for cable or satellite.

------
Bernina B740 ✂ Bernina Artista 630 ✂ Bernina Aurora 430 ✂ Bernina 830e Record ✂ Bernina 1300MDC ✂ Babylock BLCS ✂ APQS Millennium ✂ Singer 201-2 ✂ Singer 301 ✂ Singer 401A ✂ Singer 15-91 ✂ Custom Painted Singer Featherweight 222K ✂ Singer Featherweight 222K ✂ Original Singer Featherweight 222K (Featherweights are for sale)

rmusic1


UNITED KINGDOM
Member since 7/3/10
Posts: 1093
Skill: Advanced Beginner



Date: 12/15/11 6:10 PM

thanks for all the feedback. In response to some of the other posters questions, when my housemate moved in, she hadn't asked about the broadband set up, and I hadn't realised she'd be using it so much.

She's been here for 3 months. The broadband bill is in my name. There is a cap, as I dudnt need loads of data allowance, so didn't choose to pay the extra. Every month I have had to pay extra because it has gone over. I said I would monitor it to see how it went.

I then upped the broadband package last month but offset the increase with a cheaper phone package. I still (with the increased package) had to pay an extra £10 on top.

I politely told her I could not keep paying this amount extra. She point blank refused to pay anything extra. I felt this was unfair, as the contract she signed said she agrees to pay the bills 50/50 (I am also a tenant).

I've researched the other packages with my provider and the next one up should more than cover her needs, but it will cost £7 extra a month. I've asked if she would pay half of this as we both didn't consider it when she moved in. I feel this is fair. It isn't a huge amount at the end of the day, but it's the principle that someone else just expects me to deal with their oversight with out contributing to the solution that annoys me.

kkkkaty


Utah USA
Member since 12/7/05
Posts: 2770
Skill: Intermediate





Date: 12/15/11 7:15 PM

I agree, she should pay up, seems quite unfair otherwise.... Our download monthly ceiling is 15 gigabytes, and we haven't gone over that yet, although we're using netflix more, so wouldn't be surprised if we do....

------
Viking Lily 545
Viking Ruby
Bernina Activa 210
Brother 1034d


kkkkaty


Utah USA
Member since 12/7/05
Posts: 2770
Skill: Intermediate



Date: 12/15/11 7:22 PM

oh, and bandwidth is the speed at which you are able to transfer data, often measured in megabytes per second. Our bandwidth for our home account is about 5 mbps. The 15 gigabyte download limit I mentioned is how much total data you are allowed to move over a set period of time, in my case a month.

Think of your data connection as a freeway. The cars represent data. The bandwidth is how fast the cars are able to go most of the time, and it will vary a little. The amount of "data" transfer/download allowed by a provider could be measured as how many cars go past a certain point in a month.

here's a link where you can measure the bandwidth on your system:

bandwidth meter

-- Edited on 12/15/11 7:28 PM --

------
Viking Lily 545
Viking Ruby
Bernina Activa 210
Brother 1034d

Printable Version
* Advertising and soliciting is strictly prohibited on PatternReview.com. If you find a post which is not in agreement with our Terms and Conditions, please click on the Report Post button to report it.
Online Class
Sewing Basics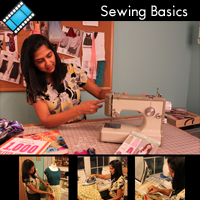 Online Class
Sewing with Slippery & Drapey Fabrics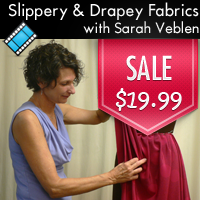 New Look 6735

by: Sheila457
Review
Sewn Square One Swing Shift Pattern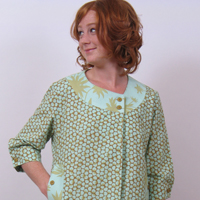 Pattern Details
Sew Liberated Flora Tunic and Twirly Skirt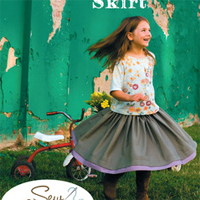 Pattern Details
Peek-a-Boo Pattern Shop Annabelle Jacket

by: MrsCharism...
Review