maeve100


California USA
Member since 2/19/10
Posts: 83



Date: 1/17/12 0:07 AM

Hi there,

I'm hoping I might find some stories of inspiration out thete. After two years of trying to fit various patterns I am about ready to throw in the towel and pack up my sewing supplies. I have learned a lot, can sew just about anything I want if I have a pattern that fits, but absolutly every pattern I try to fit fails! I know how to do an FBA, but then something else about the pattern won't work - mainly the armholes and sleeves. Even patterns with cup sizes just turn into potato sack shapless garments. I tried having someone come to my home to teach me about fitting, but she really didn't understand much more than I. I just don't know what to do - I've tried all sorts of shirts and dresses but they all come out like bags or they just won't fit at all :-(.

Is there any hope for me? What can I do to get over this hurtle? All I want is a blouse I can button up, lol.

marec


Arizona USA
Member since 5/11/08
Posts: 5314
Skill: Intermediate
Body Type:




Date: 1/17/12 0:57 AM

I know you say you want a blouse that buttons up...but maybe it would be easier to start your fitting journey with a shell or casual top.
JMHO, marec

------
my blog: http://kf-biblioblog.blogspot.com/
Stylish 60- http://www.pinterest.com/maresea/style-evolution/

Skye


Member since 8/24/02
Posts: 2081
Skill: Intermediate



In reply to maeve100

Date: 1/17/12 1:01 AM

I feel your frustration. Can you join a sewing guild near you to get fitting help?
I found using SureFit design pattern (NAVY) a great start to getting a good fit.

------
Wellington, NZ

ChickenFreak

Oregon USA
Member since 12/10/11
Posts: 145
Skill: Advanced Beginner



Date: 1/17/12 2:27 AM

I'm similarly puzzled, so the below is just babbling, not really advice:

Your mention of sleeves makes me think of the Kathleen Fasanella page titled "sleeve cap ease is bogus". My understanding - which is limited - is that many or most patterns with set-in sleeves have fundamentally mis-drafted sleeves. They're too symmetrical, and they have too much ease.

After arguing with a few sleeves in my recent sewing restart, I've largely (though temporarily) abandoned garments with set-in sleeves. I've made two of a shirt with a dropped sleeve (the Sewing Workshop Cowl Top) and I'm about to start working on Burda 7429, a button-front blouse with a dropped or dolmanish sleeve that appears to have a fairly close bodice in spite of that.

I was also quite happy with the bodice and sleeves of the HotPatterns Dolman Blouse, but was so frustrated with the collar that I'm leaving it for a while.

And the HotPatterns Plain & Simple Princess shirt, which has set-in sleeves, came out pretty nicely for me a few years ago before I took my long sewing break - I remember a lot of arguing with the sleeves, but the wearable muslin that I completed in linen has adequate sleeves and a pretty nice bodice fit. This makes me think of something else: What fabric are you fitting with? If you're doing your muslins with actual muslin, that would make sleeves extra hard - muslin does not ease nicely. I'm thinking of making the Princess Shirt up again in wool crepe, which I'd guess would mold and ease like a dream.

I also just bought Petite Plus 108, and was delighted that it seems to have a full-fledged two-part set-in sleeve. On the other hand, it also has the traditional instructions for easing the sleeve cap, so I don't know if I'm going to like this sleeve any better or not.

I also recently made up the Sewing Workshop Liberty Shirt, which has set-in sleeves that were less frustrating than usual. After making up a wearable muslin, I decided that the sleeves were too far off my shoulder. When I pinned some length out of the shoulder seam, as a test, the sleeves allowed more freedom of movement.

So I altered the pattern with the Narrow Shoulders alteration in Sandra Betzina's Fast Fit, and I'll know in a few days if that helped. (The test garment is cut but not made up.) The method has the advantage of not changing the armhole _or_ the sleeve, it just moves the armhole. However, the Liberty Shirt stands away from the body, so it may or may not solve your "sack" problem. (I'm not clear on whether you're looking for a close fit, or just a fit that looks like a plan instead of a mass of fabric.)

The Amy Butler Sandlewood coat also has an interesting sleeve that I'm eager to try sometime in not too long. I don't have the pattern at hand so I can't remember if it's two-part or just odd-lookiing enough to make me optimistic.It's not a blouse, but it could be a learning experience for sleeves.

OK, that's about it for my babbling.
-- Edited on 1/17/12 2:30 AM --

------
ChickenFreak
Blogness: http://chickenfreaksobsessions.blogspot.com/

Elona


USA
Member since 8/24/02
Posts: 9272
Skill: Advanced
Body Type:




In reply to maeve100

Date: 1/17/12 2:40 AM

Maeve, it would be great to have a human fitting assistant, but few of us have friends who sew, not to mention having friends who are skilled at fitting patterns or reading wrinkles.

Fitting classes can sometimes be found at colleges and adult ed programs that offer sewing classes, but there is another option, and that is a customized dressform. That really did the trick for me! Take a look at the options shown in this Threads magazine article. Or this one.

After reading the instructions, an amateur (or two) can 'wrap' you and give you a perfectly useful replica of your body--and a cheap one, too. Often, these forms are little bigger than your own person, especially in the midsection because people fear a claustrophobic reaction in the wrappee, but if you can stand a snug wrap in the middle, the form will be remarkably close to you in diameter.

However, the biggest advantage of personalized dressforms is that they reproduce the non-compressable shoulders, back, and armholes quite faithfully. These are regions that are extremely hard to fit by yourself, yet the garment 'hangs' from this area. Everything depends on getting it right here.

Please consider this option. It will help you tremendously in understanding your very own fitting problems.





------
Elona

CathrynR


New Hampshire USA
Member since 6/26/08
Posts: 806
Skill: Intermediate



Date: 1/17/12 8:23 AM

IMO, a good place to start would be an honest evaluation of what does and what does not suit your particular physique. And, instead of trying to fit a pattern, do a basic fitting shell to help you get to know your measurements/shape. I wish you all the best and hope you do not give up. A good fit has been known to take years to accomplish and I think is by far the most difficult aspect of sewing for oneself.

Norbs


Texas USA
Member since 12/7/07
Posts: 11
Skill: Advanced Beginner



In reply to maeve100

Date: 1/17/12 10:36 AM

Yes, after 7 years of trial and error I think I have finally solved the fit problems for my over 60 body. First step is to analyze all the pictures and descriptions in the Palmer Pletsch books. They are the only ones who have dozens of photos of actual people in both pattern tissue and fabric. In this case, a picture is worth a thousand words. Tissue is a great help, but you need to test in fabric as well. Second step, if you need more help, is to get FABUOLOUS FIT by Rasband and Liechty. This has more detailed information on specific fitting problems how to go about measuring and doing the actual alterations. For instance, I found that I have a high neck base at the sides. Until I did this alteration, I was never able to get the shoulder area correct. The alteration in the book shows how to add some length and a little width in one step. Also, I have some trouble with an outward rotation of the elbow. As you can see, these are not typical problems. Width adjustments are relatively easy to measure and to detect. The lenghth measurements are the most difficult as they are hard to measure accurately and it is difficult to know exactly where to put the length. I used to ignore the length, but it turns out they are my most severe problems. First I added the length to the waist, that helped but did not completely solve the problem. Eventually I found that I needed to add the length under the bust so that I raised the entire bust and arm whole part up. to be continued.

JTink


Member since 4/20/08
Posts: 6599
Skill: Intermediate
Body Type:




In reply to maeve100

Date: 1/17/12 10:37 AM

Even those of us who have been sewing for decades, have these problems What patterns have you been using? What styles? Can you post some pics of you wearing your creations? I don't trust my mirror anymore, it shows me what I want to see, not what is actually there Pictures tell the truth(unfortunately) If you take a fitting class, please make sure it's with someone who knows how to teach. I've known people who can sew like experts but can't teach worth a hoot! I signed up for a pants class and found out I knew more about fitting than the instructor. Maybe you are not far from the success you want.

Norbs


Texas USA
Member since 12/7/07
Posts: 11
Skill: Advanced Beginner



In reply to maeve100

Date: 1/17/12 10:47 AM

In your case, with the bust adjustments not working, you could also have length issues. When the length is not correct, the fullness does not hit in the right place and it will not fit correctly.
Armholes and sleeves are the most difficult. Begin with tissue, medical paper is $6.00 a roll and will last a long time. You can ruin as much tissue as you like. Check the placement of the armhole, too high or too low. Check the shoulder slope and fit of the neck. Sleeves can not be fit until the bodice is correct. You may need more length in the front or in the back of the arm hole. You may need a round back alteration. If you need this, it will pull the front out of line and nothing will fit properly. It takes a lot of trial and error and analyzing. The PP pictures show how to do this. Experiment with the tissue and when this looks fairly good, test it out in fabric. You have to keep and open mind and look for the problem and not what you think is the problem. I hope this helps. It is not easy, but worth it in the end. Norbs

Sew Shy


California USA
Member since 5/22/07
Posts: 88
Skill: Advanced Beginner



Date: 1/17/12 12:03 PM

I haven't sewn in over six months because I have similar issues as you. At this point I'm thinking the only thing that may work is to go to a tailor and have him/her create a fitted top pattern for me that I can then use as a launching point for altering my patterns.
Printable Version
* Advertising and soliciting is strictly prohibited on PatternReview.com. If you find a post which is not in agreement with our Terms and Conditions, please click on the Report Post button to report it.
Online Class
Perfectly Fitted Shirt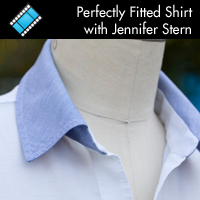 Online Class
Restyling with Exposed Zippers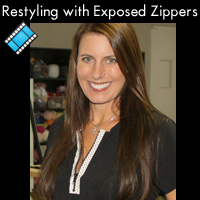 Vogue Patterns 1342

by: Sew Good
Review
Simplicity 1607

by: saranoemi
Review
Beginner Sewing Lab 102 - A downloadable Book by Shannon Gifford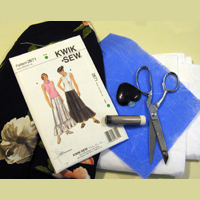 Pattern Details
Sew Liberated Flora Tunic and Twirly Skirt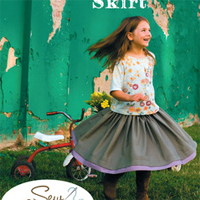 Pattern Details