Hi!
This is a lot of firsts for me! My first darts, first proper muslin, first top, first sleeve!
Well I thank you in advance for your advice! I have a general idea of what to do, I just need some guidance.
Behold the monstrosity I have created: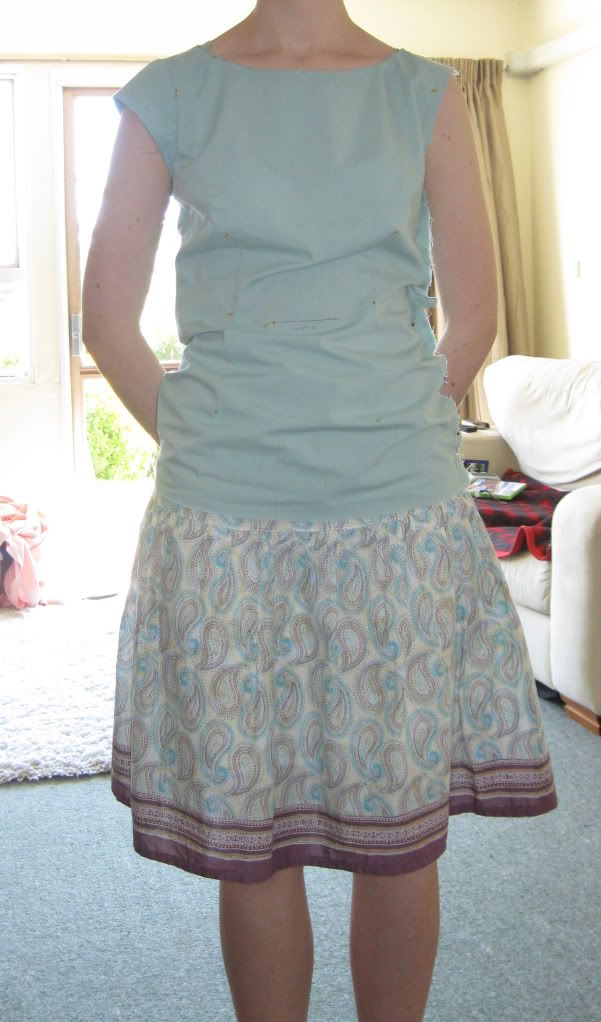 Okay so obviously I need to take out length. I measured about 9 cm.
According to the pattern envelope the back-waist length is 40. Mine is 36. So I figure I take 4cm out at the lengthen/shorten line just above the waist. And then take the rest (5cm) out of the bottom of the hem?
Then of course, I have to adjust the bust, I am an A cup. I've seen a lot of tutorials about doing SBAs, but weirdly, all of them just say "pinch out fullness" and then take that amount out. But none of them tell me WHERE to pinch out fulless. I tried pinching it vertically at the bust apex. (Came to about 1.5cm each boob) So... where am I supposed to do it?
I also tried doing it with maths. My bust was 2 cm less than the pattern measurement. Also their ease was 8.9 cm. I wanted to reduce it to 5.1cm (going by minimum ease stated in Colette Sewing Handbook) So that gave me 5.8cm to take out altogether, about double what I pinched out at the apex.
So.. not sure what I'm doing or if I'm on the right track!
Okay, last questions: Once I figure this out, shall I try to alter the length on the muslin and see any more changes that need to be made, or just jump straight into making a second muslin?
Thanks soooo much for your help!
------
I have a new blog: makingitwell.blogspot.com
I'd love for you to visit :)