Hi everyone! I'm Elaina and I will be the manager for this contest! I am so excited to be able to do help with a contest for one of my favorite projects every year, and to bring awareness to a major issue that concerns women everywhere! I can't think of a better way to bring awareness AND look fantastic.
If you have any questions or problems, I am always somewhere and will be looking over the thread as much as I can.
As more information becomes available, I will be updating this thread, so you will get all the current information that I have. Hope you are looking forward to this as much as I am!
Sign up
here!
See the dresses
here!
Get a Badge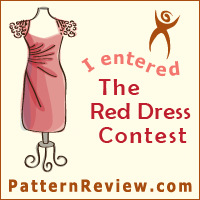 The details:
Red Dress Contest
February 1st to 29th 2012
Go Red For Women is an undertaking by the American Heart Association to empower women to take charge of their heart health. National Wear Red Day is February 3rd 2011. In that spirit, Pattern Review is introducing The Red Dress Contest, to encourage our members to become more knowledgeable about cardiovascular disease and the importance of a healthy heart.
The rules for this contest:
1) Make a dress that fits the spirit of the description above.
2) The color should be similar to Red. There are many shades and tones to the color Red. If you are wondering about the shade of red that you are thinking of making, please ask in the Contest Discussion Thread. While other colors may be used in the dress, the predominant colour must be red (While Minnie Mouse's dress would be acceptable, a black dress with a red bodice would not be.)
3) Write a review of the dress, including at least two photos. The photos can be front and back, on a hanger and worn, on a dress form and worn, or any other combinations. More photos are welcome, but the review must include at least two.
Prizes
Each participant who submits an entry to this contest will receive a pattern of their choice from our sponsor, Studio Cherie

There will also be a winner by reader votes. The entry with most reader votes will get a signed copy of the PatternReview book - 1,000 clever sewing shortcuts and tips, sponsored by Patternreview.com
To see the book,
click here
Standard Contest Rules
1. Unless otherwise stated in the rules, patterns may be drafted, tweaked, and muslined before the contest date, but fabric for the pieces entered may not be laid out or cut till the start date of the contest. Fabric may be pretreated before the contest date.
2. Items intended for sale, or for which you were or will be paid to make, do not qualify for any contest, but items made for charity are welcome!
3. Unless otherwise stated in the rules, all reviews written for a contest entry must include a picture of the entry.
Contest Eligibility
1. Any member of Pattern Review, either paying (FoPR) or non-paying, who's been a registered member on the site for 90 days prior to the start of a contest is eligible to enter.
2. Any member of Pattern Review, either paying (FoPR) or non-paying, who's been a registered member on the site for 90 days prior to the end of a contest is eligible to vote in a contest.
3. Any member who's won 1st place in a contest on Pattern Review ended in the previous 4 months is ineligible to win another contest (for that 4 month period).
Guidelines for Voting on Contests:
Because of the high quality of the garments we're seeing entered in PR Contests, we're setting forth some guidelines that may help you choose when voting.
You may choose to assign a point value to each of the following criteria in order to narrow down your choices.
1. How well does the garment/collection/ensemble/item fit the criteria stated in the contest rules? How well does it fit the spirit of the rules?
2. Are the construction methods, including but not limited to seam finishes, lining techniques, etc, well suited to the design? To the fabric?
3. Is the fabric choice well suited to the design? Are the lining and interfacing choices appropriate?
4. Is the review complete and well written?
5. Taking into account the stated ability level of the entrant, how well does the garment fit?
6. Creative points. You may choose to give credit here for extras including embellishment, creative interpretation of patterns, creativity in creating a pattern, or even for having the restraint to leave something strikingly simple.
7. Complexity of the project. Relate this to the skill level of the participant. If a participant is a beginner then a princess seam may get the same complexity level as an underarm gusset gets for an advanced sewer. This is purely subjective, but a complex garment might garner more points than a simple one if a tie-breaker is needed.
-- Edited on
2/6/12 6:39 PM
--