Learn To Sew


Advanced Beginner
Member since 4/12/05
Posts: 11530



Date: 2/4/12 11:08 PM

The day started off so-so for me. I did not check the class time and thought it started at 10am and not 10:30. I arrived at 9:55, ready to go. The store was open, so I took a chair in the classroom and put my notebook on the table and my coat in the chair. Then I had plenty of time to look around. I had no idea what I would need for the class supply list. We would not get it until class started. I looked at fabrics, supplies and books. I watched them get the long arm machines ready for quilting. After a bit, a couple more people came into the store. I met another PR person too! She said she is just lurking and reads the threads and is taking the class too. I do not know her name, but I will soon. She knew me, though. I was flattered. There are too many names to remember them to the correct people for me. Then the teacher came in. The class size is 7 this time. It will take many weeks to do this 67x85 quilt. It will be completely done or very close by the end of the last week.

Everyone was told which quilt we were doing and they had the same reaction I did when I first saw the quilt. HOW BIG? Our teacher is Linda and she has made many quilts over the years. She said we would learn different from her than from others, as each teacher has their own way of doing things. This seems reasonable to me.

She then gave us the class schedule for each week (or the weeks we had class).
Week 1 is discussion of supplies, fabrics, personal quilting style, books, etc.
Week 2 is cutting and sewing practice. Sewing machines are required. We learn the Rail Fence row this week.
Week 3 is cutting fabric for the rest of the blocks (I can remember a 9 patch, flying geese, triangles nose to nose. Those are the only ones I can identify from memory and the picture of the finished quilt she gave us.
Weeks 4,5,6, are piecing blocks.
Week 7 is sewing the blocks together into rows and sewing rows together
Week 8 is cutting and adding borders
We then have a 2 week break for getting the quilt quilted on the long arm. We will need to buy the soft and natural, the backing fabric (either sewn together in the middle or buy the extra wide fabric), the thread and the price of 2-3 bobbins for the long arm. I am guessing about $100 for it.

For supplies, we will need a mat 18x24 as it is ideal for taking to class. We also need 6x24 rulers, flying geese rulers, scissors, seam ripper, thread, needles (Klasse' Top Stitching 90/14), rotary cutters of our choice in sizes (28mm, 45mm or 60mm. I like the 45 and the 28 myself, as I can't control the 60mm very well). She mentioned a retractable tape and thimble for hand stitching later on. Linda likes this sticky tape in those really bright colors. I think we all bought some. Bring band-aids, too. Chalk markers are good, especially the kind that rolls, pins, smaller diameter makes smaller holes. Nextcare makes a flexible semi clear tape that can go on the back of the rulers to help them hold in place when cutting fabric. She also talked about sandpaper dots for the back of rulers. All these things help. (I bought a mini gripper to hold the ruler and not let it move on me). She then talked about books, magazines and so forth. There are lots of resources to learn from.

Lastly she told us all the fun stuff quilters get to do together. Quilt Till You Wilt, and Bunko. She talked about how much fellowship can be had at a quilting group. Then she mentioned **The Most Important** thing of all… Bring snacks to eat! Quilting and food seems to go together. Not in our class, but for other events.

We talked about prewashing and not washing fabrics before quilting. It will be our choice. I choose not to wash at this point. I might change my mind for my next quilt.
Lastly, she gave us our supply list. I had no idea how much fabric would be needed and was surprised it was so much. This is for the quilt top only at this point.

3.5 yards for the Focus Fabric (I ended up with a black print with small flowers) (Linda likes a medium bold print; I like small and subdued, and not so sure of the black print)
1 3/4 yards for the "yellow" fabric (gold, tans, yellows)
2 yards for the "red" fabric (I chose a pink floral print I love)
1.5 yards for the "blue" fabric (I chose a deep green floral)
¾ yard for the binding (I'll use some of the black focus fabric)

The fabric alone cost me $74.50. I had no idea how much it would end up costing. The store gives a 15% discount on fabrics for classes. Linda helped several people choose fabrics, as the class was now over for the day. One of the students knew right off what she wanted and had it all picked out in 10 minutes. It took me 45 minutes to pick out fabric. I have brown walls in my house and that makes it much harder for fabric choices for me. I wish I could pick fabric out in 15 minutes! I really do.

For next week we need to take our sewing machines, thread, 3 wound bobbins and supplies to class. I will take my Babylock Molly. I need to go to JoAnn's and buy more foam to cut to size to pad out my trolley more. I checked one of the new trolleys in the store and it seems like it is foam padded very well. I can do the same thing and spend about $16.
There will be a lot of homework to do in between classes. I have the time to do it, so I do not see any problems.
I love working with color and fabric, so I should enjoy making my first quilt.



------
I really enjoy quilting. I love to play with fabrics, colors and pictures. I recently discovered how much fun applique can be. As I love making pictures, landscape quilting can be challenging, but seeing the picture come to life is so rewarding.
Bernina 630, my main machine
Pfaff 2036, my class machine
Babylock Molly
Bernina 1200DA serger
Unique Sewing Cabinet 450L

SouthernStitch


Intermediate
Member since 8/24/02
Posts: 10141





In reply to Learn To Sew



Date: 2/4/12 11:58 PM

Sounds great! I'd love to see the picture of what it will be once it's done.
It IS expensive isn't it? Especially since they do make you purchase your fabric from the store. At least they are giving you a discount.

We only have 2 quilt stores around here. The one close to me isn't having any beginner classes anytime soon, and the other just started a Saturday class. Saturday mornings for 6 to 8 weeks will mean I'll have to miss an ASG meeting, which I really shouldn't do as I just started with being president of our chapter.
There is a night class I could make it to since work ends at 3:30 for me, but it's like an hour and a half away!! I'd do it if I had someone to go with.
Can't wait to hear more about your class, and what you learn! Maybe you can teach me something!


------
Bernina 780, and 530
Juki TL2010
Babylock Evolution
Singer 403a

When life gives you green velvet curtains, make a green velvet dress.

Learn To Sew


Advanced Beginner
Member since 4/12/05
Posts: 11530



Date: 2/5/12 5:10 AM

Too much fabric, too many colors, and I can't sleep as my brain is still in class. It is 2am, and I need sleep. I know I have been dreaming of fabrics and templates and so forth.

I saw the Acucutter thing today and now I can see wanting one of those in the future. The large one and not the mini size.

Time to go back to bed and try to sleep. Maybe a game of Majong before I go to rest my brain.

------
I really enjoy quilting. I love to play with fabrics, colors and pictures. I recently discovered how much fun applique can be. As I love making pictures, landscape quilting can be challenging, but seeing the picture come to life is so rewarding.
Bernina 630, my main machine
Pfaff 2036, my class machine
Babylock Molly
Bernina 1200DA serger
Unique Sewing Cabinet 450L

PhaVic

Advanced Beginner
Member since 9/16/11
Posts: 136



Date: 2/5/12 9:37 AM

Thanks you for your class report ! I will follow impatiently your posts the following weeks, there's no quilting class where I live, so it's nice to read the progress of new learner weeks after weeks

------
Always a novice

Learn To Sew


Advanced Beginner
Member since 4/12/05
Posts: 11530



Date: 2/5/12 5:45 PM

I did not sleep well last night, and was awake for well over 3 hours. Why? That black fabric is driving me nuts. The quilt would have so much of it that I think I would see a lot of black, some yellow, some pink and some green. I decided to take the fabrics to another quilt store and see if I can find something else that is not black that would be my main focus fabric and keep the black for the border. I do not have enough of it for the backing, otherwise I would do that. I am thinking of a medium sized floral with a gray, or maybe brown color to it. I will know it when I see it.
Learn

------
I really enjoy quilting. I love to play with fabrics, colors and pictures. I recently discovered how much fun applique can be. As I love making pictures, landscape quilting can be challenging, but seeing the picture come to life is so rewarding.
Bernina 630, my main machine
Pfaff 2036, my class machine
Babylock Molly
Bernina 1200DA serger
Unique Sewing Cabinet 450L

SewBusy63


Intermediate
Member since 12/10/07
Posts: 4644



Date: 2/5/12 5:47 PM

Thanks for your class report! I'll be following along to see how you like it. Will you post photos of your quilt blocks in your updates?

------
~Diana~

♥ Bernina 830E ♥ Bernina 1150MDA serger

✝The Lord is my Light and my Salvation: whom shall I fear? The Lord is the strength of my life; of whom shall I be afraid? Psalm 27:1✝


Sonoma33


Intermediate
California USA
Member since 5/10/09
Posts: 1851



Date: 2/5/12 7:00 PM

I can't wait to hear about your class as you go along.

Fabric stores totally used to stress me out. I'm a knitter/crocheter/spinner and could happily go into a yarn/fiber store and pick out tons of things--the only stress being the payment part.

BUT, fabric was different. It felt so overwhelming--especially when I had to put multiple fabrics together. However, after a couple of quilts (that turned out in my opinion) I'm much more relaxed in the fabric stores. Too much so--the owners in at least three different quilt stores know me by name now. :D

Try a little bit of melatonin if you can't fall asleep. I have delayed sleep phase syndrome--so I can rarely sleep before about 2 or 3 or often later in the am. AND I also wake up too after falling asleep. I have to avoid any light--including my laptop and ipad screen if I want to fall asleep--taking a very small of melatonin and reading from a book sometimes helps.

------
Berninas 830LE ♥ Artista 630PQE ♥ 930 Record ♥ Juki TL2010Q ♥ Pfaffs Creative Performance ♥ Passport 2.0 ♥ Singers 221 ♥ 301 ♥ 500a ♥ Kenmore 1040 ♥ Elna 'Grasshopper' ♥ Tacsew T500 ♥ Babylock Evolution

Franksdottir


Advanced Beginner
Member since 4/25/08
Posts: 3253





In reply to Learn To Sew



Date: 2/5/12 8:21 PM

This sounds like it will be a really good class and you will learn a lot.

I was struck by the idea of the bandaids and thought I would give you a little tip. If you bleed on fabric, your own saliva will get it out the best. It won't help with anyone else's, but it will be great for yours. Don't let the blood set if you can help it.

I hope you have lots of fun and get addicted to it like the rest of us.

------
Barb

Learn To Sew


Advanced Beginner
Member since 4/12/05
Posts: 11530



Date: 2/5/12 10:32 PM

I took pictures of the various fabrics and the photo of the quilt we are making. It will be a huge 67x85 size.
The pictures are still in the camera and I hope to download, resize and get them online tomorrow. The black fabric that drove me so nuts last night will most likely end up part of the backing fabric. I'll need another 1 1/4 yard of it for the backing, as it requires 51/4 yards and I have 4.

Now, the colors I had planned for yesterday changed Dramatically today. I went for the focal fabric a big, bright tropical print. It is soooo me. I bought 4 yards of it. The pink color Ii bought yesterday does not go with the large print colors, so I bought 2 yards of a batik print. It will be a loud quilt, and it will really brighten up any room. My husband will kill me if he discovers I spent another $65 for fabric. So far it has cost me $170. Yep, it will cost $300 for this quilt by the time it is done.

My next project I already have the fabric for and probably some scraps as well. It will be a small wall sized one for one of the rooms in the house or the hallway.

I really hope quilting is addictive for me. I love fabric, and color and playing around with color, so this could be what lights a fire in me for sewing.

I still hope to buy my Bernina 630 by next weekend. We shall see.

I have to buy a template for the flying geese. All the stores I have been to are out of them. I have another store to go to tomorrow. I hope I am done buying stuff. I do not have much in my stash, and I can see that changing soon.

------
I really enjoy quilting. I love to play with fabrics, colors and pictures. I recently discovered how much fun applique can be. As I love making pictures, landscape quilting can be challenging, but seeing the picture come to life is so rewarding.
Bernina 630, my main machine
Pfaff 2036, my class machine
Babylock Molly
Bernina 1200DA serger
Unique Sewing Cabinet 450L

Maia B


Advanced Beginner
Illinois USA
Member since 10/27/10
Posts: 4636



Date: 2/6/12 10:16 AM

Well, LTS, quilters need a "stash", but you could always resell fabric on SewItsForSale to recoup some of what you paid, if you don't want it for your stash. If it's 2+ yards, you can always ask politely if the shop will take it back, minus 10% maybe. Explaining that you are a new quilter, and certainly won't make a habit of it. I recently bought backing fabric-three different fabrics time 5 yards, for one quilt. A "quickie" quilt made to use up some jelly rolls I bought in 2007. Took on a life of it's own. I actually started with a pieced back-fun and frugal, right? But the top and pieced back were unharmonious, so I now have two tops, finished since September. Procrastinated ALL THIS time on washing, ironing, and seaming the backing fabrics. Because I'm just SO OVER that project. So they'll go to a longarmer, increasing the expense for a project to use up some ol' jelly rolls. Welcome to quilting, bwhahahaha!

------
🌸 Plenty of machines, mostly Berninas 🌸
Printable Version
* Advertising and soliciting is strictly prohibited on PatternReview.com. If you find a post which is not in agreement with our Terms and Conditions, please click on the Report Post button to report it.
10 Clever Techniques To Help You Sew Like a Pro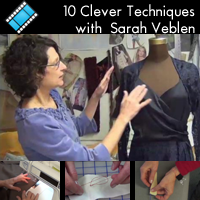 The Contemporary Couture Jacket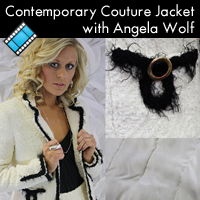 Other E3137

by: The Dreams...
Review
Sewing Workshop Siena & Cortona Shirts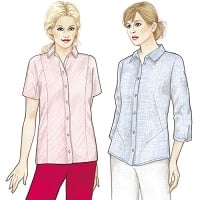 Buy Now
Sew Liberated Mei Tai Baby Carrier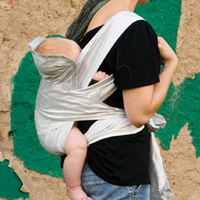 Buy Now
McCall's 6360

by: Legal.Deal...
Review