jynclr

Texas USA
Member since 12/20/11
Posts: 868
Skill: Advanced Beginner



Date: 2/13/12 12:04 PM

So I make Simplicity 2852 - Misses Knit Tunic top. I made view D (but not on purpose. Long story short: I wasn't paying attention to the width of my fabric and so I did not have enough fabric for sleeves. I wanted View E.)

ANYWAY!

I get brave today and wear it in to work. (oh em gee, it feels like a SMOCK on me!) I am wearing a black turtle neck underneath and the knit is a rather medium to heavy weight red. I'm wearing black jeans. I'm at my cubicle and I take off my long trench coat when behind me my coworker (and I really do like this guy, we've got a great report and we both respect each other professionally) immediately asks, right after saying "Hello, good morning," He asks, "Did you make that?"



I turned around and said, "Oh. Is it that bad? Yes, I did. Ugh. Now I feel like taking it off." I sat down and slouched in my chair.

He said, "No! No! It's a good thing! It's just I don't normally see you in clothing like that."

He's right. I'm usually in jeans and a tee shirt.

The thing is, I REALLY wanted View E - with the sleeves. I drilled my beau last night (because I know he's brutally, but lovingly, honest about things I might want to wear) and he said this top looked fine. But then again, he doesn't have a "tailor's eye." Well, I don't either but I did tell him that I can see different things on this top. He said, "Well of course, you made it, you know what you're looking at."

So, after the confidence booster from the beau last night I wear it in to work today and the coworker immediately asks me if I've made it.

*sigh*

Well! It turns out that my coworker's father is a tailor and would make all of the children's clothing - even my coworker's. The coworker's wife is a tailor and his MIL is one too. So he's around that and he grew up with a professional tailor for a father. I told him that makes complete sense that he could immediately see my top was handmade.

But still.. amateurish as it is, I too can see it is handmade. *sigh*



I'm thinking I should not have worn it to work.



This is the third piece of clothing I've made that was NOT a costume and first piece I am wearing out of the house. I haven't even worn the other items into the yard.

I have since sent the link to the top I was trying to make to the coworker and he said it was a very nice looking top, I told him that I wanted View E with the sleeves and the next time I make it (because I will make it again!) I'll make sure to have enough fabric to make the sleeves. We were discussing this top, how it looks and how it looks on me, how it could be improved and all about fitting, which is something I have not done ever.

But hey, at least the top kept me warm this morning (it was near freezing) and it's ironed.

I do feel self conscious now. And, of course, I'm slated to be in meetings today when I have not to worry about any in the last couple of weeks and I didn't think I would be in any today. (Just got handed a new project this morning so I'll be in with the business getting requirements.)

My coworker told me to wear it proudly and confidently because I made it my self, that handmade clothing is NOT an insult but a compliment because a person has taken the time to actually make it - which is a lot right there.

I still feel like taking it off.


PS: Yes, a review will be forthcoming.

PPS: I have sent the coworker the link to PR for his wife.


------
Evelyn: Pfaff Creative Performance
Helen V: Babylock Companion BL1550


JTink


Member since 4/20/08
Posts: 6347
Skill: Intermediate
Body Type:








In reply to jynclr



Date: 2/13/12 12:25 PM

I can't wait to see your review. My first impression is you are being much to hard on yourself.

AminaHijabi


Member since 10/22/10
Posts: 1181
Skill: Advanced Beginner



Subject: Bugger! Ive been OUTED! Date: 2/13/12 12:36 PM

I know how this feels. I make a skirt dress whatever, I've spent time, I'm so proud of it because I've executed it so well for my abilities and then whoever sees it goes... wow uhhh... and it's obvious that they know you made it and in fact far from looking awesome you look like you're in a home-made Halloween costume.

For me it's very hit or miss. I've had a couple of dresses that looked like I was in some pilgrim pageant, or whatever (even though the fit was great! they really fit me well) but I have made a few things that actually did look really good. I wish I could be more consistent. I wish I was consistently awesome. Oh well!
-- Edited on 2/13/12 12:38 PM --

a7yrstitch


Texas USA
Member since 4/1/08
Posts: 6338
Skill: Intermediate





In reply to jynclr



Date: 2/13/12 12:41 PM

Why all the and the???

Since your coworker's father is a tailor and his wife and his mother-in-law, he would have been able to see your handmade details that would have made your garment better (yes, even if you don't think it is perfection) than store bought. And, being a guy, he was also probably pretty happy to have a nice and sort of neutral and appropriate 'warm up a miserable Monday morning' comment. Think about it. The drive in must have been really rotten (I've commuted in February Dallas traffic, yuck.), it is Monday, there was no Super Bowl to yack up. He was probably really proud of himself for noticing your garment and commenting on it instead of grunting out some Monday morning greeting about a sports event. And, too, since he has an appreciation for the craft, he was most likely joining you in a little touchdown celebration over your garment. You don't really want to have him run up to you and do that jump in the air belly bump guy thing by way of appreciating your accomplishment.

Leave your top on. Take the comments and the implied compliment graciously. And, don't make the guy feel like a smuck for encouraging you; otherwise, next Monday it will be back to him grunting out 'Uh, great game yesterday, huh' by way of a Monday morning greeting.

Stay warm and go to your meeting displaying your confidence in your abilities. Don't be uncomfortable just because your talented side continues to exist when you clock out at the end of the work day.

------
I have no idea what Apple thought I was saying so be a Peach and credit anything bizarre to auto correct.

goodworks1


Illinois USA
Member since 7/19/03
Posts: 3813
Skill: Advanced



Subject: Bugger! Ive been OUTED! Date: 2/13/12 12:46 PM

You know what?

I'm SURE you are just being too hard on yourself.

Your coworker was trying to give you a compliment!

---

On the other hand, I'm terribly self-conscious when I wear newly made clothing, so I sympathize.

Sometimes I wear them around the house or to the grocery store a few times before I venture out to a place I'll be in the spotlight.

I've also learned over the years to start with wearing more subdued colors when I'm making big changes to my 'standard' wardrobe. It's not required, of course, and I do love red, but we're talking about my comfort level here...

Wear it with pride! And while you are at work today, don't apologize to anyone else or talk about which view you made. Just smile, do Tim Gunn's 'bistro tuck' and glide around knowing you are looking fabulous! Seriously, that red will really perk up the energy level for everyone in your office! Especially if your weather is as grey as Illinois is today!


------
blog: goodworks1.wordpress.com


AdaH


Iowa USA
Member since 11/21/09
Posts: 2492
Skill: Intermediate



Date: 2/13/12 12:54 PM

When I first started sewing my own clothing I felt the same way. It just takes time and lerning what you feel comfortable in. One thing I did figure out is to keep my clothing current, pick styles and color that are similar to RTW. You don't stick out in a crowd but your clothes fit better and are better made.


------
Ada


EleanorSews


Board Moderator
Member since 7/26/07
Posts: 4875
Skill: Advanced
Body Type:


1 member likes this.




Subject: Bugger! Ive been OUTED! Date: 2/13/12 1:20 PM

As many others have said, you are probably being too hard on yourself. People who know I sew will ask if I have made something when it is not something typically found in a store, either by color or style. I say "yes" and move on. Eventually you need to accept that your skill level is probably better than most affordable RTW and the fit is probably better to. Wear and enjoy what you make.

------
"We don't see things as they are, we see them as we are." Anais Nin

"Attitude is the difference between an adventure and an ordeal." unknown



Member since 12/31/69

1 member likes this.




Subject: Bugger! Ive been OUTED! Date: 2/13/12 1:40 PM

I can see clothing people have made because I sew, and have been around it my whole life.

My DH's Aunt gave me a footie pajama for my DD recently, because her friend's DIL hated it for her DGD (it didn't come from the store, so it sucked). I could tell you it was homemade (not because it looked like it, far from it in fact) but because the terry cloth that was used isn't found in kids wear. Aunt J didn't even know it was handmade, but she doesn't sew.

I've found that people who sew or are used to sewing notice it. People that don't sew just think you got it someplace else. Sounds like your co-worker enjoys sewing and felt like it would be a good conversation starter.

nancy2001


Member since 12/3/05
Posts: 6441
Skill: Advanced





In reply to jynclr



Date: 2/13/12 1:54 PM

I wouldn't stress out about an outfit that your wore to work one day. Most likely, no one other than your coworker even noticed it. And the odds are good, your coworker thought it was a pretty good attempt, even if it wasn't perfect.

In the future, if you feel self conscious about a particular project you made, simply don't wear it to work. In time your sewing skills will improve and you will feel much more confident about the garments you made.

------
No sewing project is ever a complete success nor a total failure.

jynclr

Texas USA
Member since 12/20/11
Posts: 868
Skill: Advanced Beginner

1 member likes this.




Date: 2/13/12 3:27 PM

Man, you guys are so encouraging! I get very self conscious very easily. All I can do is continue to sew, make clothes, and work to get better.

I think a few folks *have* noticed by the way they have looked at me.

I also realize I need to get a well lit full length mirror. I generally hate those. This piece is too big on top, that, or it needs the sleeves, or ........ SOMETHING. I got a good look at this piece while in the restroom (with the nice BIG mirror and slightly better lighting than my craft room.)

I have a tendency to like things different and be a little "out there" and quirky with my clothes except for this job. The last year (and I've only been here for that long) things had been pretty rough because I had JUST bought a house and since the work environment is "casual" I've been pretty lax in my clothing. Plus also I haven't really shopped much for clothes because I really hate what's out there. So I just think that some folks aren't used to me being my usual quirky.

The coworker actually encouraged my desire to make my own clothing. At lunch (we ended up going to lunch together) he asked if I did my own curtains and home dec. I said not yet! He talked about how his wife did their curtains and even recommended the SAME SHOPS I GO TO for fabric!

Now you guys know why I like him so much? LOL

Just so you know, I've kept this piece on. The size I made it does feel like a sack, and I plan on custom fitting it the next time I make it.

As self conscious as I feel, and the meeting due in about 5 minutes, I'm still gonna wear it. I have not taken it off. Hey, I work in an advertising agency. The "creatives" can be "creative" with their funky, urban, and quirky clothing, why can't us programmers?

And for some reason, I can't just give up on making my own clothes. RTW that's out there, especially the fabric, is just so ........ well, let's just say it looks like I need to start "rolling my own" clothes.

Oh! BTW! I plan on opening a dog coat & accessories online shop making dog coats with my dog's initials "fashions." My beau said this top is the first piece for "JEL Fashions." I just laughed and said yeah!

------
Evelyn: Pfaff Creative Performance
Helen V: Babylock Companion BL1550

Printable Version
* Advertising and soliciting is strictly prohibited on PatternReview.com. If you find a post which is not in agreement with our Terms and Conditions, please click on the Report Post button to report it.
Online Class
Break your Serger Out of the Box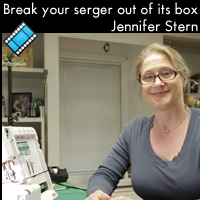 Online Class
Restyling with Exposed Zippers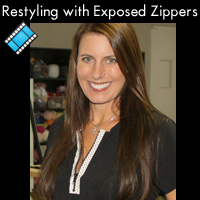 Butterick 5954

by: catintheha...
Review
J Stern Designs Women's Tee Pattern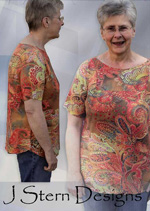 Pattern Details
Islander Sewing Systems Motor City Express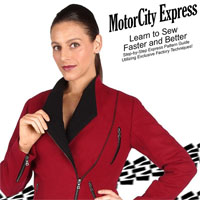 Pattern Details
Simplicity 1774

by: RainyDayPe...
Review