sport

Member since 8/29/05
Posts: 221



Date: 2/19/12 8:13 AM

I recently took a course on how to make a body block and now have one to work with.

The trouble is, I don't really know how to alter it (remove darts if I want to make a knitted top, etc.) or add details. I'm tempted to forget about it and go back to commercial patterns, focusing on how to do alterations.

I'm an intermediate sewist at best and never really learned how to do alterations so would have to start from scratch. I have all the resources - books, videos, etc., but I'm not sure this route is the best considering I already have my own basic block.

I've sewn with numerous commercial patterns over the years - sometimes they work out, sometimes they don't.

What would you recommend? How did you learn to make a garment that fits?

Thanks so much for helping me.

nancy2001


Member since 12/3/05
Posts: 6522
Skill: Advanced



In reply to sport

Date: 2/19/12 9:27 AM

I have a small number of mostly self drafted TNT patterns that I have fitted on myself. I modify these patterns to get the style variations that I want, and rarely use commercial patterns unless they're required for a contest I'm entering or I want to borrow a design element.

Over time, I have learned and am still learning both fitting and flat pattern drafting/draping. I believe that both skills are necessary and that they complement each other.

I don't know what books and videos you have -- some are better than others. Recently I bought Sarah Veblen's excellent, brand new book

Perfect Fitting

, and I'm now taking her

bodice/sleeve fitting class

here on PR (the next class starts in May). I highly recommend both the book and the class for anyone who's serious about learning fit.

You can get an excellent, nontechnical introduction to pattern drafting in

Make Your Own Dress Patterns

by Adele Margolis.

I think the most important thing to keep in mind is that these skills develop over time and that the most important thing is to practice them.

-- Edited on

2/19/12 9:34 AM

--

------
No sewing project is ever a complete success nor a total failure.

sport

Member since 8/29/05
Posts: 221



In reply to nancy2001

Date: 2/19/12 12:24 PM

Thanks so much for responding Nancy. I have "The Dressmaking Book" by Adele P. Margolis. I wonder if it's similar to the one you mentioned? I'll check to see if my local library has Sarah Veblen's book. If not, I'll buy it (I love collecting sewing resources).

I haven't taken any classes on line; in fact, I'm not a full fledged, fee-paying PR member.

Will look into the classes offered and perhaps join. I absolutely love sewing but would like it even more if I thought the project was going to be successful from the start. I appreciate your words about skills developing over time and to keep practicing. It makes me feel better.

LauraTS


California USA
Member since 7/10/06
Posts: 2258
Skill: Advanced Beginner



Date: 2/19/12 2:48 PM

I'm no expert but to a certain extent I've tried it both ways - start with a commercial pattern and alter, or start with a basic sloper to your measurements and add details and ease. Both have their advantages and disadvantages. With the commercial pattern the details and design ease are built in, but you have to adjust to your measurements. Vice versa for a block. If you want to try starting from your block I echo the recommendation of the Make Your Own Dress Patterns book - she shows going from a basic block to basically any kind of sleeve, neckline, seaming variation you can think of. Plus it's been reissued by Dover so you can find it inexpensively.

(She doesn't really talk about drafting for knits, though, since the book was originally written a few decades ago - you might need another source for that. Or just adjust a basic knit top to fit and then use that as your starting point for knits.)

The bodice class that Shannon Gifford used to teach here at PR covered the same kinds of topics as the Margolis book - how to move darts, make seams, etc. I took it once and it was really informative. I don't know if any of Sarah Veblen's classes now cover the same area.

------
I've moved! Visit my new sewing blog at http://chiralcraft.wordpress.com

Do you sew from KnipMode? Join us at http://groups.yahoo.com/group/knipmode_english/


nancy2001


Member since 12/3/05
Posts: 6522
Skill: Advanced



In reply to sport

Date: 2/19/12 3:47 PM

Sport, Adele's Dressmaking Book is a different book. Your local library most likely does not have Sarah's Perfect Fitting book because it it brand new and was published just a few weeks ago.

I think you should seriously consider taking Sarah's online bodice fitting class. You don't need to be a paying member of PR to enroll -- everyone is welcome. If you need more infomation to make up your mind, I recommend you buy Sarah's book and then decide. I was so impressed with the book, I signed up for the class, and I had never taken an online class before. I also wrote this

review

.

Sarah teaches the process of fitting a garment, not just a bunch of isolated techniques as you find in some books. Plus, in the online class you can post photos of your test garments, and Sarah will critique them and provide suggestions. I wish I'd had that kind of personalized, expert advice when was struggling (and I do mean struggling) with fit a couple of years ago. It would have saved me a lot of grief.

As I said before, sewing is not an easy skill to master --it takes study and practice. But if you keep at it, sooner or later things really do fall into place.

------
No sewing project is ever a complete success nor a total failure.

michelle_01


Georgia USA
Member since 3/23/04
Posts: 280
Skill: Intermediate



In reply to sport

Date: 2/19/12 4:09 PM

I think also depends on your body type. If you have a difficult to fit body type, or if your patterns require a lot of alterations, I think it's better to work from a block. Then, you know it's going to fit. If you don't require a lot of fit alterations, then- IMO- it's just easier to alter commercial patterns.

I do it both ways, too. I have a pant block, that I've altered to match details from other patterns that I like. For my self drafted patterns, I use Patten Making for Fashion Design by Armstrong. For most things, though, I just use commercial patterns and make minor alterations. Overall, it's just a lot quicker for me.

I also want to add that the quality of the pattern matters as well. I primarily sew w/ Burda patterns because I've found that I have few issues w/ them, if any. Whenever I sew w/ Big 4 patterns, I'm always cautious because the results seem to be a toss up. I really take a lot of time w/ the pattern before I cut any fabric. I measure, trace, and true up. I can usually spot if something is not right at this stage and I don't continue.




NhiHuynh


Member since 1/4/11
Posts: 826
Skill: Intermediate
Body Type:




Date: 2/20/12 2:32 AM

If you're an advanced beginner the construction instructions of a pattern would be helpful. You can use your block to help make the alternations. Put your block up to the pattern and compare the two. Is the shoulder slope different? Is the armhole too low? Is the back length too long? Is the bust on the pattern higher or lower than the one on the block? You can adjust the pattern to look closer to your block for a better fit.

------
I finally have a blog. www.detectivehoundstooth.com :)

sport

Member since 8/29/05
Posts: 221



Date: 2/20/12 7:25 AM

Thank you everyone.

You've given me some very good tips. I went ahead and purchased Sarah Veblen's new book "...Perfect Fitting". I received a kindle book for Xmas so was able to download it immediately. From the few pages I've read, I'm impressed. I can't wait to finish the book and try out the techniques.

I'm anxious to try Sarah's class. How do the online classes work? Can I tune it when I'm available or are there set times (I work full time so am not always available).

Good idea about comparing my block to the commercial pattern. I also read somewhere that you can compare your favorite clothes to your patterns. I've never actually tried this, but it would be worth a shot.

I don't think I need a lot of alterations. My biggest dilemma is that I'm small framed but large bust

. I tried fba but was never happy with the results. I also seem to get fabric bulk in the lower back area of my sewn garments. I don't know if this is because I have a small waist and hips or if it's sway back. I read the symptoms for sway back and don't think that's the problem. There were no horizontal wrinkles, just a big bulk of fabric. I tried a sway back adjustment, but it didn't really help.

You're right about the quality of the pattern. I've had most success with Kwik Sew. Never tried Burda patterns but have heard good things. Will have to check them out.

-- Edited on

2/20/12 7:49 AM

--

Miss Fairchild


USA
Member since 8/24/02
Posts: 7936
Skill: Advanced



In reply to sport

Date: 2/20/12 8:27 AM

I much prefer a block. Why? Because I like to rotate darts, like to develop my own ease, and I have so many body nuances I would have to "reinvent the wheel" if I bought a pattern. That's not to say I haven't worked with patterns, as I like the independent pattern companies over the Big 4, any day. I sometimes use my block against the few patterns I've bought to see how things are going to fit. That has been most helpful.

How I learned to make a garment that fits is I drafted a fitting sloper from a kit from Sure Fit Designs. Then I took a fitting class here on PR and used the sloper to make my block, as well as a dress form; I removed all the ease for the form.

The reason why I don't like the Big 4 pattern companies is simple--they're cheap. Very thin tissue that either floats out the window when I'm working or tears if I look at it. And sometimes the pieces are non-existent, when they should be existent, or the directions are strange. There is also little support with these companies, and I much prefer supporting an independent company such as CNT, Sure Fit, and Silhouette. I can contact them with problems and there is an answer within the next day. Yes, the patterns are more expensive, but these three are made here in the US and I want to support my country. (I didn't mention Lutterloh because it's made in Germany, but I like their patterns too) And some of these companies have online training via webcasts, etc.

Over time, you'll get your own ideas as to what to do. I started sewing many years ago, when dinosaurs roamed the earth, and only the Big 4 and Lutterloh were available.

------
"Play the cards you are dealt, but choose who is sitting at the table"..AARP magazine

SEE MY ETSY SHOP HERE: http://www.etsy.com/shop/AuntMaymesAttic
My blog: http://auntmaymesattic.wordpress.com/

nancy2001


Member since 12/3/05
Posts: 6522
Skill: Advanced



In reply to sport

Date: 2/20/12 1:17 PM

I'm so glad you bought and are reading Sarah's book. It's great, isn't it?

The online classes contain a written tutorial, optional videos, a message board, and online chats in the evening. So even if you work full time, you can work a class into your schedule.

Since you have a large bustline, you should consider taking Sarah's

FBA class

before you take the bodice fitting class. The next class starts on 3/28.

Hope this helps.

------
No sewing project is ever a complete success nor a total failure.
Printable Version
* Advertising and soliciting is strictly prohibited on PatternReview.com. If you find a post which is not in agreement with our Terms and Conditions, please click on the Report Post button to report it.
Online Class
Clone Your Favorite Garment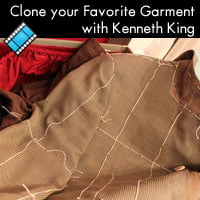 Online Class
Break your Serger Out of the Box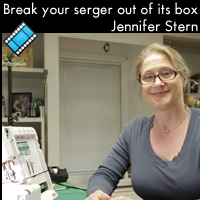 McCall's 6884

by: Sewlful
Review
Butterick 5954

by: nluvwittee
Review
Sew Chic Ginseng Paper Pattern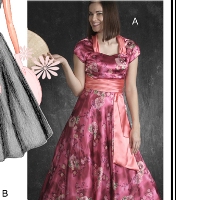 Pattern Details
Beginner Sewing Lab 103 - A downloadable Book by Shannon Gifford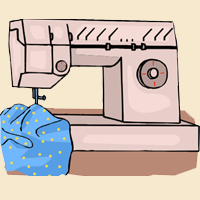 Pattern Details