Learn To Sew


Member since 4/12/05
Posts: 13119
Skill: Advanced Beginner



Date: 2/25/12 10:04 PM

Today we will refresh our memories of cutting. The teacher told us several times today it did not have to be as exact as 2 weeks ago. I guess several of us wrote to her to say being so exact was taking the fun out of it. Close was good enough. What a relief to hear her say that. We did no sewing today. I wished her outline said to leave our machines at home. I lugged the 23 pound Pfaff in, and took her home again. We only learned to cut today.

We started the class with an outline of the quilt. It has 4 boxes on the page. In each box is a square of fabric. The focus fabric is the tropical one. Fabric A is the pink. Fabric B is the green and Fabric C is the yellow.

Not all of us have every ruler we could possibly own. I have the 6x24 and the 6x12. I can now see needing a 6.5 square ruler and an 8x24 ruler to add to my collection! And this is only week 3...

As I did not have an 8x24 ruler, I had to "make do" you might say. I had my 6x24 and 6x12 rulers. We squared up the fabric. Then turned either the fabric or the mat around for those of us right handed. I had marked my smaller ruler at the 6.5 mark, so my eyes would go where I wanted them to go. Since I did not have a wider ruler, we lined up the smaller ruler at 6.5 at the trued up edge,. The ruler will be sideways at this point. Then we took the longer ruler and put it at the end of the smaller ruler. This ruler will go the full width of the fabric from fold to salvage. (got that?) When we were sure of our rulers staying in the right place, we cut our strips.

From the focus fabric we were to cut out 4 strips @ 6.5 inches. Then cross cut those into 21 squares at 6.5 inches. I did this and they are fine.

From fabric A (pink) we cut 3 strips at 7.5 inches. Cross cut into 15 squares at 7.5 inches---if we had the fabric leftovers large enough to do this. I did not, so I had to cut a strip of 7.25 inches and then 2 squares at 7.25 inches.
After we finished the squares, we cut 4 strips at 2.5 inches.

The pink fabric is pretty and a royal pain in the rear. I have to true it up after every cut. No idea why, but I do. It took me a long time to get done on the pink fabric.

This was all I got done today. Most everyone else was either done with the green and the yellow or close to it. I will have to finish them this week. We all work at our own pace...

Fabric B (green) will we cut 1 strip at 7.5 inches. Cross cut 2 squares at 7.5 inches. Then cut 4 strips at 2.5 inches, and 2 strips at 3.5 inches.

Fabric C (yellow) we cut 3 strips at 7.5 inches. Cross cut into 15 squares at 7.5 inches. If we have leftovers, we cut 2 squares at 7.25 inches. If not, we cut 1 strip at 7.25 and then cut 2 squares at 7.25 inches. Lastly we will cut 2 strips at 3.5 inches.

The flying geese, sashing, borders and binding will be cut later. I already have the flying geese ruler. I will be buying a 6 1/2 x 6 1/2 ruler too. We will true the squares next week, so I do not have a lot of time to buy everything.

One thing I want to ask. How does a person transport all these squares and so forth and keep them nice and neat?

Learn





------
Bernina 630, Bernina embroidery module, Pfaff 2036, Bernina 1200DA serger, Unique Sewing Cabinet 450L

PattiAnnJ


Ohio USA
Member since 12/3/06
Posts: 8202
Skill: Advanced



Date: 2/25/12 11:12 PM

Ask your local Pizzeria for an empty, new box for your blocks.

And DO BE ACCURATE with the measurements and seams or your flying geese will end up looking like dead ducks!

------
"Improvise, adapt and overcome." - Clint Eastwood/Heartbreak Ridge

"Isnít it a shame in todayís world you canít tell the truth. If you tell the truth youíre abrasive. If you lie youíre charming." - Bob Huggins/College Basketball Coach

Warbler


Member since 4/15/07
Posts: 4045
Skill: Advanced



Date: 2/26/12 10:48 AM

I have to head to work so I will be back to comment later. Good job! Keep it up...

About rulers... don't feel that you have to have every ruler for specialty cuts or blocks... the basic ones that you have should work fine. It may mean a few more cuts but that is OK. I only had 3 rulers for many many years. eventually I had to replace them as they do wear out. It was then I started to slowly add more rulers to my collection. I'll be back.

------
Janome MC6600 Bernina 240 Juki MO735 Singer 201-2 Singer 221-1

Learn To Sew


Member since 4/12/05
Posts: 13119
Skill: Advanced Beginner



Date: 2/26/12 11:38 AM

I suppose it was not surprising I dreamed of being chased by rulers last night... Those things were huge and they moved fast. No legs, just giant rulers chasing me.

I should get the rest of the fabric squares/strips cut out tomorrow or Tuesday. I want to play with my Bernina this week, so I am going to leave the Pfaff in the trolley and play with my new machine.

------
Bernina 630, Bernina embroidery module, Pfaff 2036, Bernina 1200DA serger, Unique Sewing Cabinet 450L

Maia B


Illinois USA
Member since 10/27/10
Posts: 5107
Skill: Advanced Beginner



Date: 2/26/12 12:08 PM

I now have many rulers, since I got a set at 50% off at JoAnn's, but I went years with just a 6x24, 6x12, 6x6, and 12x12, maybe add 1/2" to all those measurements.

------
🌸 Plenty of machines, mostly Berninas 🌸

Warbler


Member since 4/15/07
Posts: 4045
Skill: Advanced



Date: 2/26/12 8:36 PM

Last year I had to replace my 6x24 (3rd one)... I tend to nick the corners when starting a cut... I purchased that OmniGrip 8.5 x 24. Sweet! I also have the 8.5 x 12. They are large to be sure so I do not use them all the time but when I have those odd wide cuts. Great for borders. The 8.5x12 is nice for fat quarters. I went on a fabric fast last year and picked up some rulers I'd been coveting. I have a few sets of Marti Mitchell templates.



Quote:
One thing I want to ask. How does a person transport all these squares and so forth and keep them nice and neat?



You can make a sleeve lined with a fusible fleece or fused with decor bond to give it body. It can be quilted if you use the fleece... (I like Pellon Fusible Thermolam) Make it slightly larger than the largest ruler closed with a flap or loop and button. I strap it to the outside of my trolley. I rarely have the need to bring large rulers to class. If I can prep as in cut fabric before I go then I do but it is not always possible.


-- Edited on 2/26/12 8:56 PM --
-- Edited on 2/26/12 8:58 PM --

------
Janome MC6600 Bernina 240 Juki MO735 Singer 201-2 Singer 221-1

Melinda In Tulsa


Oklahoma USA
Member since 9/15/03
Posts: 577
Skill: Intermediate



Date: 2/27/12 9:21 AM

I'm a big fan of the creative grid rulers. They have the little sticky spots on them to stabilize the fabric and they are easy to read. They aren't the cheapest, but hey, I'm worth it! (so are you!)

------
Melinda

We had to get rid of the kids, the dogs are allergic

Babylock Destiny, Unity, Symphony, Serenade, Sofia2, BL9, Imagine Wave, BL Coverstitch, BL Emore, BL Embellisher,
Juki TL2010Q, Pfaff 7570, Kenmore 385.1915, Kenmore 158.1914, Kenmore 158.1430, Brother PE 150, 1938 Singer Featherweight, 1896 Singer 27 Treadle...Member of SMAD


PhaVic

Member since 9/16/11
Posts: 138
Skill: Advanced Beginner



Date: 2/27/12 11:23 AM

Thank you for your review ! It is very nice of you to take time to write it after each class.
I have a question for you : how do do to cut properly with a cutting wheel ? I tried and tried again and could never manage to cut the fabric straight. I put my ruler flat on the fabric, use an Olfa cutting wheel with new blades, apply pressure, cut away from me, and still, it doesn't work for more than 4'', soon the cut will swerve to the right. It's incredibly frustrating! What am I doing wrong ?

------
Always a novice

Warbler


Member since 4/15/07
Posts: 4045
Skill: Advanced





Date: 2/27/12 12:10 PM

When I cut fabric with a long ruler, I inch my hand up the ruler as I cut. I stop midway, change my hand position with out removing my fingers from the ruler and continue cutting. This is the method I was taught when I started quilting many years ago and it works for me. There are many method that can achieve the same accuracy. I know quilters who never more their hand as they cut so it depends then on the pressure one maintains on the ruler it self. Also when cutting slightly apply inward pressure on the cutter so that it stays in-line with the edge of the ruler. I pay close attention to the postion of the ruler as I cut to assure it does not move. When I hold the cutter, I have my arm in a straight line position with the cutting edge of the ruler and not crossed over my body at an angle. This assures both the ruler and cutter will not move because there is no pressure coming from an sideways angle. My arm and hand apply downward pressure that is maintained through out the entire cut.
-- Edited on 2/27/12 12:20 PM --

------
Janome MC6600 Bernina 240 Juki MO735 Singer 201-2 Singer 221-1

Warbler


Member since 4/15/07
Posts: 4045
Skill: Advanced





In reply to Melinda In Tulsa <<



Date: 2/27/12 12:26 PM

I love Creative Grid rulers and fully agree they do not budge and hold fabric extremely well. For all my older Omnigrid rulers I use Invisigrip that works very well to hold ruler in place.

------
Janome MC6600 Bernina 240 Juki MO735 Singer 201-2 Singer 221-1
Printable Version
* Advertising and soliciting is strictly prohibited on PatternReview.com. If you find a post which is not in agreement with our Terms and Conditions, please click on the Report Post button to report it.
Online Class
Break your Serger Out of the Box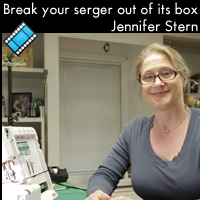 Online Class
Sew a Designer Unlined Jacket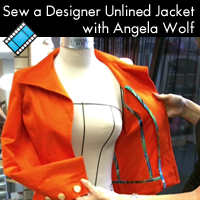 Alabama Chanin Alabama Chanin Tee

by: beanchor
Review
SewBaby More Blankie Buddies pattern Pattern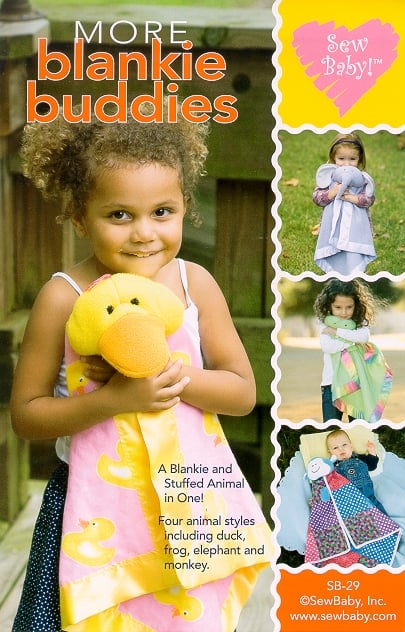 Pattern Details
Pamela's Patterns Unmentionables Worth Mention Pattern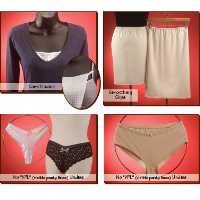 Pattern Details
Butterick 5950

by: stonecutte...
Review