hazelnut


USA
Member since 1/7/09
Posts: 2310
Skill: Beginner



Date: 2/27/12 9:04 PM

This seems to be a perpetual problem for me with crewnecks. I've permanently ruined another men's top after 2 attempts. My problem is with the upper/inner folded half of the neckband being floppy-ish, instead of nice and tight and laying flat on the skin. Looks a bit like a mock turtleneck.

After my first try with using the patterns' correctly matched neckband piece and size, I ripped the ill-fitted neckband out, opened it up and marched it around the neckline as in Sarah V's video, cut an extra inch off and tried attaching again. Better, but still not tight at the top edges, so ripped it out again and this time cut the neckband seam ends on an angle, with it narrower (shorter) towards the folded half, hoping to make the "inner circle" smaller. It didn't look too bad after machine basting it in, so I finished with the serger and unfortunately pinched it miserably in 3 places. Tried to open it up to fix, but it's been serged twice now and a lost cause.

So, before I cut new front, back and neckband pieces, I'd like to run these ideas past some of you. Do you think that either cutting the neckband out on more of a curve would help, or that trimming the seam ends on an angle (like I described above), might be a good idea to solve this floppier inner-edge problem? Or should I try using the pattern piece they have for ribbing (it looks smaller than the fabric neckband piece), even though I'm using the same fabric. This fabric isn't my usual cotton interlock that stretches out either, it's a 4-way stretch wicking poly. I didn't expect to have quite this much trouble with the neckband, esp. since it has good recovery. Thanks

skae


Member since 4/23/07
Posts: 3716
Skill: Advanced



In reply to hazelnut

Date: 2/27/12 10:32 PM

what pattern are you using?

here are a pieces of info

on neckbands

here's another one.

neckband

here's another one

neckband

hope this helps.

------
Ecclesiastes 11:7,8 Nothing on earth is more beautiful than the morning sun. Even if you live to a ripe old age, you should try to enjoy each day, because darkness will come and will last a long time. (CEV)


Elona


USA
Member since 8/24/02
Posts: 9849
Skill: Advanced
Body Type:




In reply to hazelnut

Date: 2/27/12 10:52 PM

My experience has been that some synthetics, alas, will

not

form a pretty curve when you use them to make a neck binding. This is true even if you have the correct length à la Sarah Veblen. I think the reason is that they are impervious to 'molding' or shaping in the way cotton, rayon, and wool are. You can see this effect even on commercial althletic shirts made by the likes of Nike: Some of the necklines simply gape along the folded edge.

In Threads magazine, some lady got around this to some extent by sewing the center back seam of the binding in a V-shape (thus making it narrower at the folded edge) rather than straight up and down. This might be a worthy approach.

Personally, I have always wondered if, on these difficult knit fabrics, cutting the band on the bias might be worth a shot, since they behave in some ways more like wovens.

As a last resort, one could cut a true facing, or just change to a V-neckline, which would get around the impossibility of shaping these fabrics with steam.

------
Elona

diane s


Oregon USA
Member since 8/24/02
Posts: 5171
Skill: Intermediate



Subject: Mens crew neckband not laying flat using usual methods Date: 2/27/12 11:07 PM

Does your fabric have the same stretch as ribbing. Most ribbing has 100% stretch. (6" of fabric stretched will go to 12")

I never use the pattern piece. I measure the neck opening and use 3/4 of that measurement for the neck ribbing. Sew it up with a 1/4" seam, divide it into 4ths, divide the shirt neckline into 4ths and stitch it on with a 1/4 seam. I usually use my sewing machine,

normal straight stitch 3 length. On my older machine I loosened the presser foot pressure to prevent waviness. Then if everything looks good, I serge.

That's the way I was taught in the good old days using Stretch&Sew. Except no serger back then.

------
My grandmother taught me to sew when I was 10, and I've been sewing ever since.

hazelnut


USA
Member since 1/7/09
Posts: 2310
Skill: Beginner



In reply to skae

Date: 2/27/12 11:24 PM

I'm using KS 3299, but I had the same problem with KS 3028 when I made a sweatshirt for my son.

Thanks, skae, for the links.

I had seen the first link you posted while searching the net this weekend, (plus a few others) before I started sewing the pieces together. I looked at the other links 2 now. I quarter the neckline and the neckbands and then sew them in as shown in those illustrations, so I don't know why it's not working.

My problem still is that the very top edge of the neckband doesn't want to lay down flat, like it needs a tiny dart at the tip after being sewn. When you look at a t-shirt, the inner circle of the neckband is smaller than the outer seam circle and neckline. I can't seem to make that happen in mine, the inner circle is loose and wants to stand away, even though I kept cutting it down from the pattern piece, eventually to 2 inches shorter then the neckline measurement. Since the pattern piece for the neckband is a long, flat rectangle and not curved, I keep feeling that should be part of the problem, but I know deep down it can only be operator error. I just can't recognize what that error is yet.

hazelnut


USA
Member since 1/7/09
Posts: 2310
Skill: Beginner



In reply to Elona

Date: 2/27/12 11:36 PM

Quote:
My experience has been that some synthetics, alas, will not form a pretty curve when you use them to make a neck binding.

That could certainly be part of the problem. It won't mold when pressing with the iron, it refuses to really even crease well.

V-neck will not work for the men in my family, and unfortunately for me, they won't want to wear a floppy neckband either.

I'm going to try cutting the ends on an angle again, so when I fold the neckband in half, the inner edge is narrower, something similar to what you mention from the Threads article. That *may* have worked until I screwed everything up with the serger. I had DH try it on to get an idea of how it looked, but besides his neck being smaller than DS's, the neckband was also pinched and puckered from the bad serging.

Thanks

hazelnut


USA
Member since 1/7/09
Posts: 2310
Skill: Beginner



In reply to diane s

Date: 2/28/12 0:01 AM

Quote:
Does your fabric have the same stretch as ribbing. Most ribbing has 100% stretch. (6" of fabric stretched will go to 12")

I just got a ruler and it goes from 6 to 12 when pulled really tight, then recovers only back to the 7" mark.

Quote:
I never use the pattern piece

I can definitely understand this. I have yet to have a neckband pattern piece be the right size for the neckline!...not that I've made that many, but of the few I have, none have fit. I have been making v-necks in KS2900 for myself and it's been a sharp learning curve with the v-necks too! :)

I do always baste the seams at 1/4" before I serge over them (I'm still not that exact using a serger) - and that's an understatement! Even with basting today I still somehow managed to catch and pinch the fabric neckline in 3 places

. The 2nd time I made the neckband smaller (as per Sarah V or the 3/4's measurement) it looked better. But after having DH try it on to get some idea of how it looked and might fit, the edge still stuck up in front. I might try another fabric - could be this one just isn't a good choice. There's enough to try one more front, back and neckband, as I have the long sleeves already cut out, so maybe I'll give the ribbing pattern piece a look at before I call it quits and try another fabric. Thanks a lot!

ETA

I've measured the pattern's self-fabric neckband piece against the ribbing neckband piece using the same size and the ribbing piece is 1/2" narrower in width, and 2 inches shorter in length! Wow, having never used ribbing I hadn't realized would be that much of a difference. Must be all about the stretch factor.

No wonder sewing's so tough for the unsuspecting! lol

-- Edited on

2/28/12 1:19 AM

--

skae


Member since 4/23/07
Posts: 3716
Skill: Advanced



In reply to hazelnut

Date: 2/28/12 10:27 AM

are you using the v-neck or the crew?

With the v-neck you have to put a little dart in it to lay flat.

Crew neck you shouldn't. But if thats the only way for it to lay down put that little dart in it. It will look nice too.

-- Edited on

2/28/12 10:28 AM

--

------
Ecclesiastes 11:7,8 Nothing on earth is more beautiful than the morning sun. Even if you live to a ripe old age, you should try to enjoy each day, because darkness will come and will last a long time. (CEV)


hazelnut


USA
Member since 1/7/09
Posts: 2310
Skill: Beginner



In reply to skae

Date: 2/28/12 12:08 PM

I'm making the crewneck. Sorry if I get a little confusing in my posts. I seem to have a much harder time keeping the repetitious or rant part out of my posts when I get "overly stimulated" by my sewing frustrations/failures.

I wanted to have something to take my son when we visit tomorrow, so now I'm down to the wire with choices - I could try again with this one, try the KS3028 that I made a wearable muslin for DH a year ago (which is harder and has a zipper so many more chances for screw-ups) or take the pressure off at this late stage of the game and do nothing. I keep telling myself these are meant to be a muslins because I'm guessing at the final fit - but I'm also secretly hoping it will be a wearable muslin and trying to sew my best. I've been attempting to make this kid something that looks and fits decent on and off for 2 yrs. now. The best I've made so far is one wonky sweatshirt that's only suitable for home wear. I keep promising him and can't seem to deliver. (I'm catching myself entering the big babbling-rant phase now, so I'll stop right here and spare you

) Thanks for your help skae, I do appreciate it!

stirwatersblue


Kansas USA
Member since 12/13/08
Posts: 5314
Skill: Intermediate
Body Type:




In reply to hazelnut

Date: 2/28/12 12:47 PM

Quote: hazelnut
Sorry if I get a little confusing in my posts. I seem to have a much harder time keeping the repetitious or rant part out of my posts when I get "overly stimulated" by my sewing frustrations/failures.


Oh, my! I had to laugh when I read this. I'm sure we're all like that! (At least I am.

)

Quote: hazelnut



I wanted to have something to take my son when we visit tomorrow, so now I'm down to the wire with choices. I keep promising him and can't seem to deliver.

Speaking as another chronic gift-giver, I want to assure you that the gifts we make and bring are *always* far more important TO US than they are to the recipient... however happy the recipient is to get them. I personally would keep trying, and if it doesn't work out, it doesn't work out! Give yourself a point at which it's OK to stop and let it go.

Have a great visit with your DS!!

------
~Gem in the prairie
Printable Version
* Advertising and soliciting is strictly prohibited on PatternReview.com. If you find a post which is not in agreement with our Terms and Conditions, please click on the Report Post button to report it.
Online Class
Expert Sewing Techniques for Jackets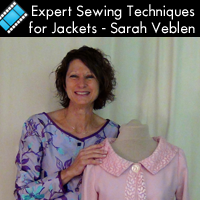 Online Class
Create a Jacket Muslin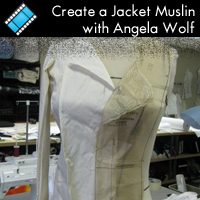 BurdaStyle Magazine 02-2013-115

by: Gecko
Review
PerfectFuse Sheer Black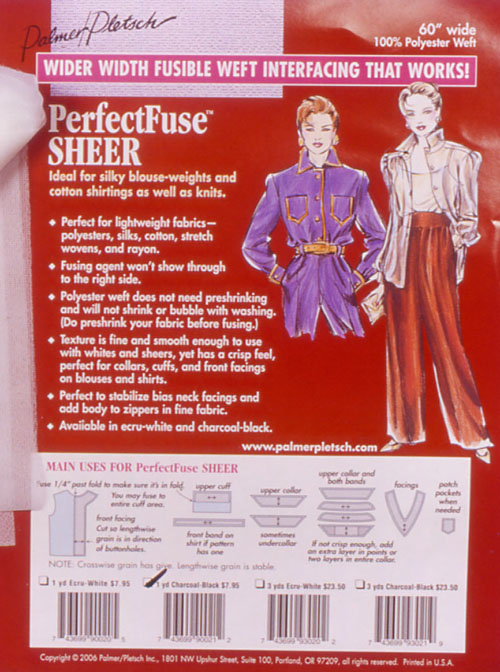 Pattern Details
Islander Sewing Systems Every Bodies Shirt (1X-4X)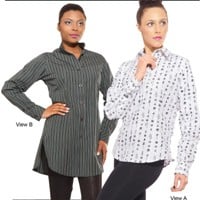 Pattern Details
McCall's 6113

by: thequirkyp...
Review