This contest is a chance to try out vintage patterns, learn the differences between those and current patterns, and possibly try some traditional but new-to-you techniques.
The rules for this contest:
Make a garment using a vintage pattern. For the purposes of this contest a pattern is considered Vintage if it was issued
BEFORE 1978 and printed in 1978
. If the pattern declares that it Vintage instruction books from the same date range, to 1978 , may also be used if it provides instructions for creating your garment and you follow their guidelines. So patterns from 1978 are in. Lutterlohs from that time are also included.
Be aware that most patterns from this time frame run smaller than modern patterns, so if you are purchasing a pattern check the sizing carefully. You can make your adjustments before you start working on your actual entry.
Patterns must be
original vintage prints
, or exact re-prints of the vintage pattern (for example, reprints such as those that are available at Vintage Fashion Library and Vintage Pattern Lending Library). Re-issues, vintage inspired, retro, and self-drafted patterns using modern books are not included in this contest.
Minor design changes are allowed. If major changes are required to make a wearable item, please pick a different pattern for this contest.
Fabrics and techniques do not need to be vintage. However, both are encouraged, if available.
The contest is restricted to
clothing
. Crafts and home dec items are not included. Accessories as part of a clothing item can be included.
Prizes
Studio Cherie- one pattern to every participant!!
Thank you Studio Cherie.
There will also be a winner by Pattern Review member votes. The entry with most reader votes will get a signed copy of the PatternReview book - 1,000 Clever Sewing Shortcuts and Tips, sponsored by Patternreview.com
Voting guideline suggestions:
- How well does the garment meet the rules? Did they make a garment wearable today, and not a costume?
- Are the construction methods and fabric choices well suited to the design and to each other?
- Is the review complete and well written?
- Taking into account the stated ability level of the entrant, how well does the garment fit?
*Rules that apply to all contests:
1. All reviews must be entered for submission by 11:59 PM Eastern Time US on the last day of the contest.
2. Unless otherwise stated in the rules, patterns may be drafted, tweaked, and muslined before the contest date, but fabric for the pieces entered may not be laid out or cut till the start date of the contest. Fabric may be pretreated before the contest date.
3. Items intended for sale, or for which you were or will be paid to make, do not qualify for any contest, but items made for charity are welcome!
4. Unless otherwise stated in the rules, all reviews written for a contest entry must include a picture of the entry.
* Contest Eligibility
1. Any member of Pattern Review, either paying (FoPR) or non-paying, who's been a registered member on the site for 90 days prior to the start of a contest is eligible to enter. Contest managers can only sew along.
2. Any member of Pattern Review, either paying (FoPR) or non-paying, who's been a registered member on the site for 90 days prior to the end of a contest is eligible to vote in a contest.
3. Any member who's won 1st place in a contest on Pattern Review ended in the previous 4 months is ineligible to win another contest (for that 4 month period).
Here's how
to particpate in contests.
Prizes!
Sponsored by StudioCherie and PatternReview.com
All participants will get a pattern of their choice from StudioCherie

There will be one winner by reader votes. Winner will get a personally signed copy of the
1,000 Clever Sewing Shortcuts and Tips Book
Get a Badge for your Blog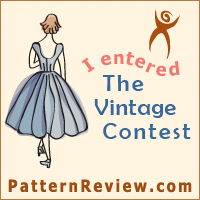 -- Edited on 3/15/12 2:59 PM --
------
http://cleverthinking99.com/ Will sew most things. I'm a Minerva Crafts, BurdaStyle, Whitetree Fabrics and Pitt Trading blogger.