Rosews13

California USA
Member since 1/17/10
Posts: 1251
Skill: Advanced



Date: 3/10/12 8:09 PM

I just came back from a Fashion Show planning meeting and we were discussing the continual dwindling membership of our ASG chapter. We are all older ladies now and no new, young people seem to be interested in joining us. Even our own older members are petering out. We used to have a huge and amazing fashion show, filling up a ballroom and now we can't get people to be in it, to work on it, to come to it. Our neighborhood groups are down, no one wants to come to functions. It's always the same ones that do the work in most organizations, but this is ridiculous. I was thinking that many more people are quilting and the quilt groups are prolific and maybe there are not as many people sewing clothing. What do you think? Please, I would like ideas, suggestions, whatever. PULEEZE!



Member since 12/31/69



Date: 3/10/12 8:17 PM

I had a problem getting my local chapters to even respond to me in several states. Those that did respond were vague, I was told meeting might or might not happen but they wouldn't let me know either way...etc. The one locally that did contact me after several months and getting in the top people also focus on quilting, not clothing and my age was brought up with most of the chapters I did speak to eventually as not being a good fit for them.

I had a lot of problems with it, so much so I no longer have an interest in joining. Now, had it been a different experience, I would have been a 7 year + member.

sideseams

Pennsylvania USA
Member since 6/19/04
Posts: 160
Skill: Intermediate



Date: 3/10/12 8:43 PM

We have the same problem with the sewing group that I belong to.
It seems that there are many more quilters then garment sewers.
We have not been able to recruit many younger women either. At one time we had a huge group and everyone made garments. It was so much fun seeing what everyone else was making. Wish I had the solution to attract more clothing sewers too.

beauturbo

California USA
Member since 5/2/09
Posts: 4972
Skill: Advanced



In reply to Rosews13

Date: 3/10/12 9:18 PM

I don't know how young you might mean, but comes to mind maybe contact your local Girl Scout Council/Chapters and see if you can get some kind of combined events going on even together maybe. Their Mother's then might even join in for something like that too. Unless the Girl Scouts are there (at just any and all events) to get away from their mothers and only do something on their own maybe. I do think though, that there are even way less older, even in High School kind of Girl Scouts now, than a very long time ago. Check out the 4 H'ers also possibly. Also even maybe Boy Scouts too.

Put up some flier's at the Library or maybe the fabric stores, and the sewing machine stores. As sewer's need fabric, and machines and might see it there. Other places might be at a local Jr. College campus maybe, especially where they might have any kind of Drama Department, at all, as most times they do have a least one course in at least combination set design and making some costumes or such.

If you rent a ballroom or such for a fashion show, the only people that even see it, are probably people whom went there on purpose, intending to go just to that event. If instead you had some like that more held at a fabric store, or maybe in the open area of a open mall shopping center, or even just in a busy park someplace on a really nice day, then all sorts of other people would also just be around, and maybe see it, and maybe even get interested. Not sure any of those would work, but maybe.

Also guys are the other half of the population. If you got none participating, you might be missing out on half of the people whom might be interested even. Might take a pretty brave guy to infiltrate/join in that whole group of women if you got no guys at all right there, right now, but get a few, and then they might even bring in some more. Good Luck!

a7yrstitch


Texas USA
Member since 4/1/08
Posts: 7173
Skill: Intermediate



In reply to Rosews13

Date: 3/10/12 10:54 PM

I have no solutions. I checked into it when we moved here over ten years ago. I was told then I would have to drive into Houston on a weeknight evening, participate with service projects and commit to helping with the quilt festival.

Since you posed the question, I looked online and saw that there are more options now that are closer to home, but still a list of rules a mile long. On paper, it looks like a lot of obligations; and, only two meetings to decide if you want to commit.

Okay, I'm 58 now. What worked in my 20's and 30's? Our group of 35 - 40 that simply met. A home volunteered for a turn, dessert and beverage provided by the hostess. Women sitting everywhere, including the floor. The only requirement? Bring handwork. No roll call, no minutes, no duties beyond being thrilled to spend an evening together and share our lives and our work. No issues regarding modesty or elegance of home. And, an understanding that some members were not going to volunteer their homes and that it didn't matter.

You would have wanted every one of us as members. And every one of us, whether we were getting a paycheck or not, was already in over our heads with community, school and faith based obligations.

I might still make a decent member, but am now determined to make my own choices regarding volunteerism and community projects. I'd be interested in the comraderie, but I'm happy for a break from being a board member, head of volunteers, secretary, treasurer, etc. Well, sort of a break.

Maybe it just looks stifling on paper, or, maybe it is time to loosen up just a bit as an organization.

I have a friend that lives in town who loves it. She loves the retreats, the booth at the quilt show, everything. Maybe an ASG and an ASG Lite?

I'd work my rear off to help youngsters with a fashion show to encourage them in any way. I'd be happy enough to ooh and aah over fellow members creations at meetings or when I socialized with them. Maybe ASG Lite would mean weekends with the family and an annual chapter album of member creations. And maybe more traditional ASG members could meet for lunch or dinner while wearing their creations.

------
I have no idea what Apple thought I was saying so be a Peach and credit anything bizarre to auto correct.

mastdenman


California USA
Member since 1/12/04
Posts: 6257
Skill: Intermediate



Date: 3/10/12 11:19 PM

Fashion Technology is a popular course in high schools and community colleges. Has anyone tried to support or contact the students in these classes?

------
Marilyn

January 2009 to January 2010 81 yards out and 71yards in January 2010 to the present 106.7 yards out and 146.5 yards in. January 2011 to the present: 47 yards out and 69 yards in.


velosewer


New South Wales Australia
Member since 11/11/06
Posts: 1153
Skill: Advanced



Date: 3/10/12 11:29 PM

From what I've experienced Down under, ASG is similar and they've yet to plug into the younger sewers who seem to be online and not attending sewing groups. Asg promotional materials also seem to use images members rather than focus on images of younger people who are creative and are into recycling and being environmental with their lives.

------
http://cleverthinking99.com/ Will sew most things. I'm a Minerva Crafts, BurdaStyle, Whitetree Fabrics and Pitt Trading blogger.

Tall Mary


Nevada USA
Member since 12/7/04
Posts: 604
Skill: Advanced Beginner
Body Type:




Date: 3/10/12 11:50 PM

Our ASG struggles with some of the same problems previously mentioned. The same people take on responsibilities for programs while many others sit back. I have been a member for about 9 years at varying levels of commitment. Some of our members want to make 1 session projects such as a thread catcher while others are interested in complicated garments. It is difficult with so many varying levels of abilities to please everyone.

We now have 3 gentlemen in our local group who have been members for about 2 years. They have added another positive dimension to the group.

We struggle to attract younger members, too. We are planning to support a local fashion institute fashion show composed of students showing off their clothing. Perhaps we can interest some of these students in our group.

Kathy

Kathy

------
Sewing and reading about sewing are daily pleasures.
I hope to use up lots of stash in 2015.
2011-Sewing from Stash-SABLE


AtiyaAfi

Member since 5/23/10
Posts: 381
Skill: Expert/Couture



Date: 3/11/12 3:06 AM

Let me preface by saying I've been sewing since I was little - seems I just always knew how to do it (for real!). I even started on my own in my teen years to drape on a dress form without prior instruction before deciding to go learn how to do it better at FIT. (I'm above 55 yrs old but not 65). I got out of sewing regularly when seeking higher education and raising a child sewing only when necessary as I wore uniforms as a health professional. Recently I came back to my sewing that I longed for years to do more regularly. What I was disappointed in, before coming across PR, was that most of what I saw on the web and at sewing/machine dealers was mainly related to quilting. I'm basically a garment sewer (plus some gift type and bag creations also) not a quilter. Sewing dealers seem to gear their stores to the quilter and are not more global to include the garment sewer. I'm only recently learning about sewing organizations that cater to the sewist or non-quilter.

I'm surprised to hear that sewing groups across the country are declining as I was under the impression from some of the sewing sites I've viewed that sewing (not quilting) is on the upswing. As someone who lives the NE, I also feel somewhat left out as the expos are mostly out west/middle America. The PR special event - PR Chicago, PR NY, etc. - cost way more than a 3 day admission to a quilting expo for sure. Maybe the sewing groups could look to the community young adult or religious organizations to recruit younger sewing enthusiasts since local communities are closing their training facilities. This would give the younger person a place to develop or gain a skill and thereby pay it forward.

Michelle T


British Columbia CANADA
Member since 8/24/02
Posts: 4749
Skill: Intermediate



Date: 3/11/12 3:41 AM

Not in the USA, so take my comments with a grain of salt.

I belonged to a group of ladies with embroidery machines for about 18 months. I had to stop going due to my work schedule. I was often the youngest (early 40's), but thoroughly enjoyed myself. The problem is the meetings are on a weekday, and I have to work, many of the older ladies in the group do not drive or cannot get a ride at night.

I used to belong to a Mother's Morning Out group, it was held in the morning too, but did not have a huge number of rules and regulations.

If I had time I would set up a sewing group along the same lines. Pay $2.00 for coffee/tea, and a small contribution to the person doing the demo. Show and tell as well as problem solving. If people want to do a more involved project arrange for a time, location etc and charge accordingly.

------
Proud parent of a Dwight International School Honour Roll Student
Printable Version
* Advertising and soliciting is strictly prohibited on PatternReview.com. If you find a post which is not in agreement with our Terms and Conditions, please click on the Report Post button to report it.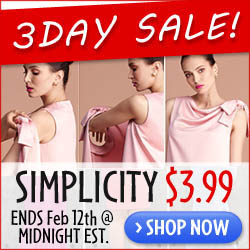 Online Class
Serging Ahead with your 5 Thread Serger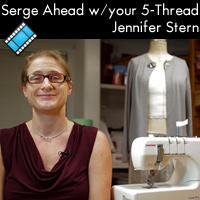 Online Class
Altering Jackets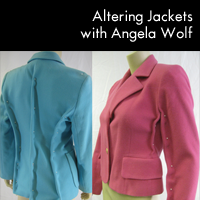 ModKid Patterns Melanie Knit Dress

by: ajhewing
Review
Papercut Patterns Coppelia

by: thecurious...
Review
TROUSER DRAFT - A CD book by Kenneth King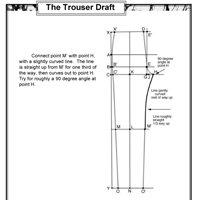 Pattern Details
Sewn Square One Triple Play Top Pattern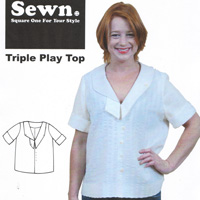 Pattern Details