Susan C

California USA
Member since 8/24/02
Posts: 666
Skill: Intermediate



Date: 3/11/12 2:51 PM

I wish this was new but it's not. Whenever someone asks me if my sewing or knitting relaxes me, my husband laughs like a loon as if he's just heard the funniest joke ever!

Anyway, here's the problem. I'm having trouble deciding what to work on. I sew and I knit (both machine and hand knit). About 4 years ago, I stopped doing anything for about three years. My son was ill and it was just too hard to concentrate. Last year, I woke up on Jan 1 determined to learn how to use my knitting machine. So for the past year, it's pretty much been all about knitting- both hand and machine knitting.

Now, I'm looking in my closet and realize I have no clothes. Obviously, I should sew some of the tons of fabric in my closet on my brand-new-barely-used-very-expensive sewing machine my MIL bought me 1 1/2 years ago. But wait, I really am losing weight right now. Is it really worth my time? Maybe I should just keep knitting until I get to where I want to be. I should also mention that my sewing skills have deteriorated A LOT and things that used to be easy for me to sew are difficult so maybe I'm just frustrated.

Anyway, I find myself unable to make a decision and stressed out about my hobbies (you know, the things I do for fun) and I'm just begging someone to tell me that I'm not the only one.

How do those of you with multiple hobbies handle it? How do you allocate the time so that you're doing some of each? I see people post all the time that will have five sewing projects and then post a cardigan they've knitted too. How does this happen?

Thanks for any advice.

Susan

rmusic1


UNITED KINGDOM
Member since 7/3/10
Posts: 1105
Skill: Advanced Beginner



Date: 3/11/12 3:00 PM

I like to both bake and make clothes. I don't allocate a certain amount of time to either. Some days I'll be in the mood for a cake making session, other days I'm on a roll with sewing. It also depends what the occasion is or if I have a deadline to wear something by (like the wedding I went to last year).

Dont worry too much about it. The main thing is that any hobby should mainly give you enjoyment. I say mainly, as there will always days where it doesnt quite work out as you planned.

Michelle L


Missouri USA
Member since 1/20/08
Posts: 1301
Skill: Intermediate





Date: 3/11/12 3:09 PM

Wrap dresses.

Sew some wrap dresses, they can shrink with you while you lose weight ;)

Plus, they are simple to make, and a good way to get back into the swing of sewing if that is what you want to do.

As for multiple hobbies, I am the same way. I sew, I bike, I do roller derby (which is a HUGE time sink), I set aside certain times to work on each. Like this saturday was all about sewing. Today is all about roller derby. And once I schedule those times, I treat them like they are an appointment, I don't let anything interfere. For me, sewing relaxes me. So I am very protective of the time I spend doing it.

And finally, if you don't have time...don't worry. They are hobbies, not a job. Pick what you like BEST and focus on that if your time is limited.

------
Michelle

http://cheapandpicky.blogspot.com/

poorpigling


Texas USA
Member since 12/28/07
Posts: 11069
Skill: Advanced





Date: 3/11/12 3:10 PM


I go with my mojo. I usually will get on a roll with sewing for instance.. then do so much I start to burn out.. so I switch to painting. or papercrafting. whatever I feel like doing. After a while I will miss sewing and return to it.
It helps if the projects are ones you really want to see done.
Sometimes I just do handwork in front of the TV.. Sometimes I just read for a couple of weeks without any projects at all.

I truly don't worry about doing a bit of each all in the same time span.. as I prefer to put up the equipment and all for the one hobby before moving on to another one.. Keeps my working areas cleaner and more organized.

Do I ever have more than one project going. What a laugh that was upon reflection. I am sewing drapes, and reupholstering a chair.. and have a cross stitch project I am doing in the evenings in front of the TV. I just get tired of being on the floor for the upholstery.. and will move to the sewing machines for a while. Also the lighting can tell me what I can or cannot do at any given time. I have to match up fabrics during the day to get a true feel for the coloring. So if its night out.. no upholstery will get started.

But I haven't thought of it as having a lot of projects to do all at once.. but rather having something to do whether my back is hurting or so on. By having more than one project going at once. I have something I feel like working on.

a7yrstitch


Texas USA
Member since 4/1/08
Posts: 6838
Skill: Intermediate





Date: 3/11/12 3:43 PM

Relax, breathe. It's hard to step back in after you have stepped out. When I was ready, my solution was to schedule myself with a trainer twice a week in the early morning. A huge extravagance but it did the trick.

You might set a once a week start time for knitting, or, take advantage of a knitting lounge at your local knit shop. You seem more relaxed about your knitting. Let it be the interest that helps you reset yourself. Other things will follow.

In the meantime, be sure that your sewing machine stays clean and maintained. If you feel you must absolutely press yourself on the sewing, try this. Set aside a rainy day to practice straight seam stitches. Get acquainted with your sewing machine needle stash and wind up a bunch of neutral bobbins. On your next rainy day you will be ready to take in some skirts and pants.

Sewing may, for a while, be about simple alterations or complimenting your knitting. A simple gathered skirt that can be easily taken in and that is made to coordinate with a knit shell might be future inspiration to bring your interests together. But first, breathe.

I'm going to bump the Where in the World is thread in Misc. Most everyone has to step out, stepping back in and reestablishing a rhythm is difficult.

Best wishes and big hugs.

------
I have no idea what Apple thought I was saying so be a Peach and credit anything bizarre to auto correct.

Doctor Sister


Minnesota USA
Member since 11/5/06
Posts: 427
Skill: Advanced Beginner
Body Type:




Date: 3/11/12 4:03 PM

I so get it. I'm still a year away from retirement. and I have one of those 60hr/week jobs. So there is really no time. It sounds like you have the same problem that I've decided I have - my expectations. I think I should sew. I know how to sew. I enjoy sewing. I'm not expert but I used to make most of my clothes. So I'm not an actual beginner. But the stress of expecting so much from myself immobilized me. I hear in in your post also (or I may be projecting) Anyway, you have that expensive machine going to waste, you need clothes, etc., etc..
I'll share how I got out of it. I figured out that after work, family, friends, house, exercise etc gets taken care of I have about an hour a day plus two weekend afternoons for anything else.
Right now I'm devoting four hours a week to sewing. And I log it.
I also let myself off the hook because sewing clothes was making me panic. The projects seemed big and all that fitting and worrying about finishings. So I'm doing silly things, bags, placements.
I just finished a beautiful table runner that I designed. I love it, it was fast and I finished it!
So I'd advise to let yourself off the hook. Just enjoy the process and let go of expectations. It's working for me. And next year, when I retire, I'll have lot more time.
Sis.

diane s


Oregon USA
Member since 8/24/02
Posts: 5098
Skill: Intermediate



Date: 3/11/12 6:00 PM

I sew alot, have 2 knitting machines, one I can use reasonably well, and the other, not so well. I also have 2 embroidery machines. I go between them, depending on what I feel like making, or need to make. I also work outside my home and have 7 grandchildren.
Sewing is the most relaxing for me, probably because I'm better at it, than the other things. That's probably the same for your knitting.
Find easy sewing projects that don't take forever to finish and your skills will come back.
One of things I look forward to is knitting fabric on my knitting machine and sewing it into a garment with my sewing machine.

------
My grandmother taught me to sew when I was 10, and I've been sewing ever since.

stirwatersblue


Member since 12/13/08
Posts: 4203
Skill: Intermediate
Body Type:




Date: 3/11/12 8:51 PM

I have a hobby that relaxes me (stitching/needlework), and a hobby I find challenging (sewing). I think there's a need for both things--the pure relaxation, AND the sense of challenge and accomplishment.

My day job is already very creatively challenging (I'm an author), so when I'm really busy at work, I find I lean toward doing more handwork--stitching, hand sewing, beading, etc, because I don't have to THINK when I do it. It's nice to just sit down and let the rhythm of the needle take over.

But writing doesn't result in a tangible product you can work with with your hands, and I have more things I want to sew than stitch (for my stitching, I'm very process-oriented; in sewing, I'm all about the finished product). So when I'm getting to the end of a writing project, I usually find myself needing to sew, to fulfill that part of my brain.

------
~Gem in the prairie

Franksdottir


Member since 4/25/08
Posts: 3292
Skill: Advanced Beginner





Date: 3/11/12 10:47 PM

I go in spurts. Right now I am cross-stitching like a loon, and quilting a little. Sometimes I will sew every day, and then not for six weeks. A couple of years ago I went through a knitting and crocheting phase. It all comes and goes. I have learned to do what I seem to want to do, because if I have to force it it is no fun AND I don't do a very good job.

Don't worry about what other people do, or say they do. You get to do what is best for you. I do know the bit about "I'm losing weight so I should wait until..." In my opinion, you still need clothes now, so if you want to get back to garment construction, why not make something easy out of inexpensive fabric so that if you screw up you can throw it away and not cry?

If you don't want to sew clothes, why not try quilting, or make something for your house such as a pillow? If you are really unsure, you could make a simple quilt for Project Linus.

If none of these seem just right, why not try something else? I took up beading a few years ago and I really enjoy it. Do you like to crochet? Even my DD likes to crochet. Or you could try needlepoint, cross-stitch, crewelwork or hardanger. None of these are difficult and would be something different just to get you over the hump.



------
Barb

Franksdottir


Member since 4/25/08
Posts: 3292
Skill: Advanced Beginner





In reply to poorpigling <<



Date: 3/11/12 10:49 PM

I want mojo like Piggie!!!!!

------
Barb
Printable Version
* Advertising and soliciting is strictly prohibited on PatternReview.com. If you find a post which is not in agreement with our Terms and Conditions, please click on the Report Post button to report it.
Online Class
Clone Your Favorite Garment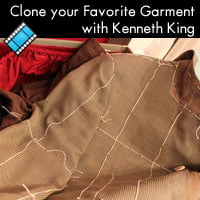 Online Class
Beginners Guide to Sewing Jackets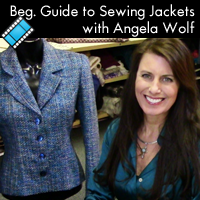 McCall's 6785

by: MinaLMcGra...
Review
Sewing Workshop Haiku Two Pattern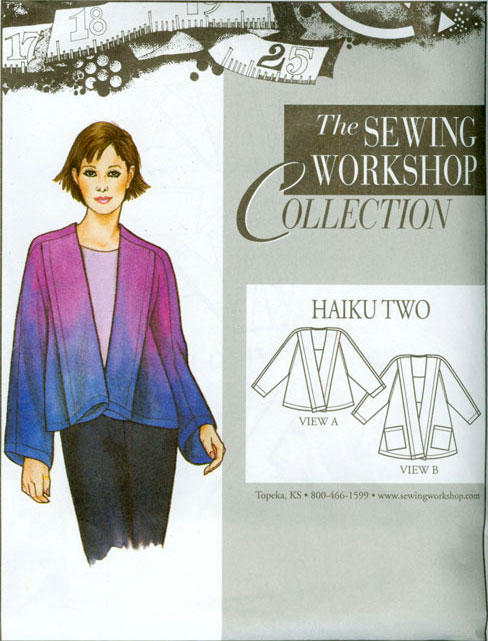 Pattern Details
Christine Jonson Fitted Jacket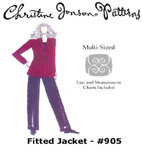 Pattern Details
Vogue Patterns 8305

by: WinterQuee...
Review