Learn To Sew


Member since 4/12/05
Posts: 13134
Skill: Advanced Beginner



Date: 3/12/12 1:42 PM

Yesterday we had class 5. We are learning so much and so fast. I find it hard to keep it in my head anymore. It must ooze out my ears or something... (LOL)

We started out learning the Half-Square Triangle. I used my cut 7 1/4 squares in yellow and pink. These squares were not too hard to do. On the back of the yellow block, I drew a line from one corner to another. Matching right sides together of Fabric A (pink) and Fabric C (yellow), I stitched along the drawn line, down one side and then the other. Easy to do after a bit. The only problem I had was I should have made the line a litle darker. I was concerned it would show on the right side, so I made it too light. Then I used my ruler and cut it on the line I drew. I now had 2 traingles. I pressed to meld the seam, then pressed to the darker (pink) fabric A.

Trim to 6 1/2 inches. I need 4 blocks and did them in class, so those are done. They are pretty good and close enough to the 6.5 square I am not too worried.

Then we learned something harder. These are the Quarter Square Triangles. I will used fabrics A (pink) B (green) and C (yellow). I only made just the one block with yellow and green. This one was much harder for me to understand and at times, I was really confused. We took our 14 squares of fabric C (yellow) and drew a diagonal line from one corner to the opposite corner. We also stitched along this line, down one side and then the other. I cut them apart on the drawn line. Pressed to meld the seam and then opened and pressed, so the seam would go to the darker fabric. So far so good. (we have a half square triangle right now)

On the back of the one of these cut triangles, we drew another diagonal line from corner to corner. Then matching opposite colors, I stitched the 2 sections together. The info was coming too fast for me today. I was having a hard time by now absorbing it all. We then cut them apart on the new drawn line. Pressed as normal and to one side. We were to trim to a 6.5 inch square. I think mine might be short.

As I said, by the time I got this far, I was having a hard time absorbing the info. I was getting confused with too much info and not enough time to sort it out in my mind. I learn like a Turtle and not a Rabbit... I will need 4 blocks of the green/yellow combo and 24 blocks of the pink/yellow combo. I only got 2 of the yellow/green ones done in class. The rest I need to do this week at home.

Next she had us do an even more complicated block. The Half-Quarter Triangle. My head was spinning. She wanted us to find our Fabric C (yellow) and use it. I could not find it--and it was right in front of me. I was thinking I had to use it for something else and where was all that fabric I cut for these blocks? I was getting frantic by now. She lead the class over to the table to show how to do the next block. Mine you, my mind was else where. She had me bring a pink and a yellow square with me to the other table. She cut them up for the new block. I was still wondering where I had lost that fabric... I decided to watch her do the funny triangle block and see what she wanted to do and then find the fabric I knew I had cut up. (it ended up being the same yellow fabric I had drawn all those diagonial lines on earlier, but I did not know this yet)

She stacked one 7 1/2 square of Fabric A (pink) and a Fabric C (yellow). She carefully cut the yellow square across the diagonal with a ruler and rotary cutter. Then cut again on the opposite diagonal. I had a quarter triangle now on this one. She then took one of the pink square and drew a line corner to corner and cut along that line. Now she is really going to make us think. She layed them out "this way and that way and then another way" to make a square. You have to imagine this as a square to figure it out. I will have to lay each one out to do this square. I will get it, though. Then she said we could join the smaller ones together at the sides.

It would have helped me a great deal if she had just said "this is a small triangle. Put the point facing up and then you can choose which side to join to the other small triangle". (Ok, this is a triangle. Put the point facing up. Now I can join those 2 quarter triangles on the left sides or the right sides of the point. This made sense to me, as I can see it in my head.) Sew them together, and press as normal to the darker fabric. Lay them right sides together to the half triangle and sew. I will have a square that is 3/4 one
color (pink) and 1/4 the other color (yellow). It took me all night to work this out in my head. Now I understand, I think.

The class was winding down. I had to leave a little early. I have a lot of homework to do this week. Lots of pressing and stretching and trimming.

Next week we start to sew it together. We will do the center area, of tropical fabric, 4 and 9 patch, those 3/4 triangles and half triangles. It will be lovely.

In 2 weeks, we learn flying geese. I do not see us learning it in our 6th class, but you never know if the teacher will change her mind and thow us a curve ball or not.

Learn



-- Edited on 3/12/12 1:45 PM --

------
Bernina 630, Bernina embroidery module, Pfaff 2036, Bernina 1200DA serger, Unique Sewing Cabinet 450L

SewBusy63


Member since 12/10/07
Posts: 5287
Skill: Intermediate





Date: 3/12/12 2:26 PM

I, too, would have a hard time absorbing all this at the rate this teacher is going. We all learn differently, at different paces. I think learning one block a week would be ideal for a beginner. Absorb what you can and I am sure your quilt is going to be quite lovely. I enjoy your updates and look forward to seeing your finished quilt.
-- Edited on 3/12/12 3:40 PM --

------
💐Diana💐

Bernina 830E 💝 1150MDA

✝The Lord is my Light and my Salvation: whom shall I fear? The Lord is the strength of my life; of whom shall I be afraid? Psalm 27:1✝


Warbler


Member since 4/15/07
Posts: 4051
Skill: Advanced





Date: 3/12/12 3:10 PM

Wow, what an action packed class you had. Learn, I recommend that you get some books on quilt making. There should be no reason for you to have to memorize all this information. No wonder you have trouble keeping up. It is not you but the pace the instructor has set. You need some good reference books so that you can refer to the instructions as you go at your pace. I did this for a couple years in my early years of quilting. It made a huge difference. Before you go and buy more fabric, get these good references. (nayy)

I recommend the Quilter's Academy Series, Vols. 1 & 2 by Harriet Hargrave

------
Janome MC6600 Bernina 240 Juki MO735 Singer 201-2 Singer 221-1

Learn To Sew


Member since 4/12/05
Posts: 13134
Skill: Advanced Beginner



Date: 3/12/12 3:43 PM

Thank you both for the feedback. It is a busy class with a lot of info to it. I'll check out the book more and see when I can afford it. I need more books to look at. Just watching quilters on tv does not always help. I need a reference.

Leslie has laid hers out and has looked at it to see how it is going to go together. I should do the same thing and get an idea of how it will look.

Learn



------
Bernina 630, Bernina embroidery module, Pfaff 2036, Bernina 1200DA serger, Unique Sewing Cabinet 450L

Learn To Sew


Member since 4/12/05
Posts: 13134
Skill: Advanced Beginner



Date: 3/13/12 11:24 AM

Today I plan to press and stretch the squares and see what happens. The teacher says to cut them all to 6 1/4 inch. However, I am not willing at this time to do any cutting. I need to press and stretch first to see if I can gain anything. Somehow I do not think I'll gain much.

I do have some squares that are cut nicely at 6.5 inches. It is only the sewn ones that are off. I measured and measured and often just as I was nearly done cutting, the ruler would just barely move. Yes, I need some of those sandpaper circles for my rulers, but no one has them in stock when I go looking for them. I have tried several times now. Those would help a lot.



------
Bernina 630, Bernina embroidery module, Pfaff 2036, Bernina 1200DA serger, Unique Sewing Cabinet 450L

diane s


Oregon USA
Member since 8/24/02
Posts: 5098
Skill: Intermediate





Date: 3/13/12 12:29 PM

In the meantime you might try the library. There's a whole shelf of quilting books at mine.


------
My grandmother taught me to sew when I was 10, and I've been sewing ever since.

StitchinMom

Rhode Island USA
Member since 9/15/08
Posts: 153
Skill: Advanced Beginner



Date: 3/13/12 1:10 PM

These are the same books that we use in the beginning quilting classes that I'm taking. They are excellent. And Harriet does a wonderful job explaining things.



Quote:
I recommend the Quilter's Academy Series, Vols. 1 & 2 by Harriet Hargrave

------
StitchinMom
Janome MC6600P; Janome 3160QDC; Janome Jem 760; BabyLock Imagine Wave Serger;
For teaching:
Janome Sew Mini; Janome Jem 661; Kenmore 19233; Kenmore 18221; knitting needles & crochet hooks :)

Franksdottir


Member since 4/25/08
Posts: 3292
Skill: Advanced Beginner



Date: 3/14/12 0:09 AM

Another vote for Harriet, she will never steer you wrong. But remember, she is not in charge, either. Take what she has to say seriously, but if you have a better way to do something, or just another way which appeals to you more, do what you want.

That said, when I decided to learn to free motion quilt, hers were the first books I took out of the library.

------
Barb

PattyGee

Member since 11/12/03
Posts: 812
Skill: Intermediate



Date: 3/14/12 0:47 AM

Learn, ruler - I just picked up sandpaper that has adhesive on the back and cut strips. In the hardware section of Wal-Mart or HD. That was before they actually sold dots for quilting rulers.

I fourth what Warbler said, Harriet is the best. As Barb said your in charge, Harriet's books are a great resource. Our library has a number of her books.

------
Patty


SouthernStitch


USA
Member since 8/24/02
Posts: 11473
Skill: Intermediate
Body Type:




Date: 3/14/12 9:43 AM

Learn, I feel for you. My theory is that some folks just have more neurons firing than me! I too have to take it slow and steady when learning anything. My brain has to have time to process, unlike when I was younger. You'll make it through and learn a lot.

But, I would take a rest from classes after this. Practice more of these blocks you learned in this class, making some small quilts to relax.

------
Bernina 780, and 530
Viking Opal 690Q
Babylock Evolution
Singer 403a

When life gives you green velvet curtains, make a green velvet dress.
Printable Version
* Advertising and soliciting is strictly prohibited on PatternReview.com. If you find a post which is not in agreement with our Terms and Conditions, please click on the Report Post button to report it.
Online Class
Restyling with Exposed Zippers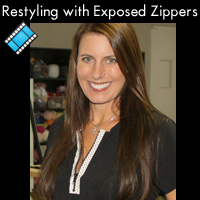 Online Class
Altering Pants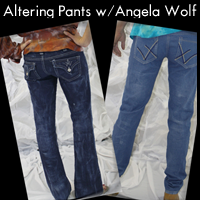 Vogue Patterns 2899

by: Cosso
Review
Islander Sewing Systems Motor City Express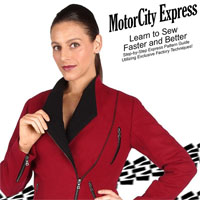 Pattern Details
Victory Simone Paper Pattern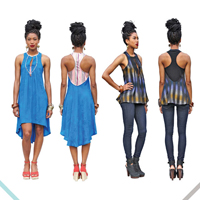 Pattern Details