tourist


Intermediate
BC CANADA
Member since 7/23/07
Posts: 6279



Date: 3/14/12 8:00 PM

I decided this goes in sewing spaces, but if someone decides to move it, that is fine with me.

I tried to get some quick photos yesterday by taking pictures of myself in the big mirror. OMG - that is hard! Luckily I have a tripod and a camera with a timer. That is the only way aside from an actual helper that I have managed to get anything decent to post.

I know there is an article about how to take better photos, but I wanted a) to congratulate those of you who take really good photos using a mirror, b) to ask how you do it without flash glare everywhere and c) solicit other ideas for good solo photo taking.

------
http://bgballroom.wordpress.com to follow the progress on my next ballgown.

allycovey


Intermediate
AR USA
Member since 11/16/07
Posts: 1594



Date: 3/15/12 10:35 AM

I second that some of you out there take wonderful photos and you pose so nicely just like a model in a mag. I am also trying to get better at it. DH took our tripod and used it for something strange at school; I don't know how to set the timer anyway. So my goal for the year is to take better photos and learn how to edit and post them better. Congrats to you all

nicegirl


Intermediate
DC USA
Member since 5/10/06
Posts: 1721



Date: 3/15/12 1:28 PM

If you have a tripod and a timer, instead of aiming the camera at the mirror, aim it at you!

I have a length of fabric draped over my bed (canopy-type frame but no canopy) that I use as a backdrop, but a plain wall is good too.

It is helpful to have a mirror somewhere in your setup. I have a mirror I can see myself in, but it's in the opposite direction of the camera so it's more for pose ideas than during the photos.

When I do closeups for tops, I set up the camera and a small table mirror so I can see the camera's viewer to make sure I'm in the frame.

It takes practice to set up the camera the right distance and angle and to know where to position yourself in the frame but it is so much better than a mirror photo.

------
http://theslapdashsewist.blogspot.com
=================
2007: purchased 115+, sewed 105+
So close to parity, yet so far

Trying again in 2008
Yards purchased: 133
Yards sewn: Somewhere around 95

2009? I give up

HawkeMorningStar7


Intermediate
CA USA
Member since 6/21/05
Posts: 1391



Date: 3/15/12 2:00 PM

I stopped taking pictures against a wall or backdrop cos of awful shadows around whole body making me look quite larger LOL If I dont use flash better obviously but colours are so dark and details hidden. So I take outdoors, not very well.
Yes I would LOVE tips, photo tech tips on how to take great shots without flash. Still learning my camera modes, Sooooo many ways to shoot.
I feel your frustration, pic of garment looks great on us in say bathroom mirror but once shot taken GRRRR its all blurry (camera has 18 pixels, surely enough), and details lost
Thanks

------
.....Behold, a wonder did appear;
Amazement was my bliss.......

nicegirl


Intermediate
DC USA
Member since 5/10/06
Posts: 1721





In reply to HawkeMorningStar7



Date: 3/15/12 2:05 PM

Outdoors is a thousand times better. Alas, I live in a condo with no outdoor space, and I would feel like way too much of a freakshow if I set up my camera/tripod on the public sidewalk....

------
http://theslapdashsewist.blogspot.com
=================
2007: purchased 115+, sewed 105+
So close to parity, yet so far

Trying again in 2008
Yards purchased: 133
Yards sewn: Somewhere around 95

2009? I give up

andye

Beginner
VA USA
Member since 5/9/09
Posts: 1879



Date: 3/15/12 2:24 PM

While It's nice to see your dress on your body, if you have a dress dummy, you might be able to take a large number of shots, at different ISO settings, apertures, and exposure lengths. This way, you'll have some idea of how to compose your shots for best effect-- so when you do pose, it'll be close to perfect.

ISO80 is highly detailed, but not very sensitive to light; ISO6400 is not so detailed, but only requires a small amount of time to record an image. Longer exposure times allow you to use low ISO settings, but unless you have a tripod (and an inanimate subject), the shots are prone to blurriness. Aperture controls your depth of focus-- high numbers (like 8) mean that everything in a scene is sharp and in focus, but doesn't allow much as much light in-- so you'll need a longer exposure time,or a higher ISO. Low apertures (3.2) can be used in low light, but the focal depth is very shallow. Things that aren't in focus, are pretty blurry. This may be a useful effect-- we're interested in your dress, not in the electrical outlet behind you.

-- Edited on 3/15/12 2:26 PM --

------
Bernina B330
Feet: 1,2,3,3A,4,5,7,8,10,13,16,18,20, 29,32,35,37,50,64,70,71,82,85,86, 92



allycovey


Intermediate
AR USA
Member since 11/16/07
Posts: 1594



Date: 3/15/12 2:26 PM

Yeah I would feel the same way, I live in a little house on a hill back in the woods of the ozarks in Arkansas. Great for background shots but lots of rocks and so far I have not been able to get the tripod thing working out there. DH used the back of his truck for a tripod and he got me his own pictures for the menswear challenge last month. He always takes great pictures of himself. I just guess I am not photogenic I don't know how to pose.

marec


Intermediate
Member since 5/11/08
Posts: 4148





Date: 3/15/12 8:37 PM

ally,
Carolyn, who won the Red dress contest, has some great info on her site for photographing self. She even compares the same dress years apart to show what experience in photography can give a photo.

------
my blog: http://kf-biblioblog.blogspot.com/
Sewing through my pattern stash-145
completed.

a7yrstitch


Intermediate
TX USA
Member since 4/1/08
Posts: 5835





Date: 3/15/12 9:46 PM

Back in the day, when I took yearbook photos, I had everyone meet me for shots in their formals (prom queen, etc.) outside just a little bit before the sun started to go down. There was lots of natural light at that time, but no shadows. Everyone looked great, they were glowing, no red eye and the details on the dresses stood out. The effect was similar to the way colors pop after a nice crispy (not dreary) rain.

Also, I shot against natural backgrounds, trellises, trees, other plant life. There was never any white, cream, concrete or stone in the background to bounce the flash around.

Using a canopy bed to hold a backdrop is brilliant.



------
I have no idea what Apple thought I was saying so be a Peach and credit anything bizarre to auto correct.

NhiHuynh


Intermediate
CA USA
Member since 1/4/11
Posts: 762



Date: 3/15/12 10:36 PM

For mirror photos I turn off the flash. If you have enough room lighting you won't need the flash or just do it when the room is sunny. Make sure you clean the mirror of finger prints, doggy nose smudgies and other unslightly stuff.

For the timer picture I have my camera on a gorzillapod tripod. These can wrap around lamps, chair backs or whatever is around. I like my pics taken at eye level, higher makes me look shorter, lower makes me look fatter. My camera does the autofocus when the button is pressed so I have to aim it at the distance that I'll be standing at. Good lighting is important also.

I use Paint.net which is a free/open source version of Photoshop to do any color adjustments and cropping.

I would like to get better with my styling (shoes and jewelry that match, doing my hair and make up) for my pics but some days just getting a pics is all I can do.

------
I finally have a blog. www.detectivehoundstooth.com :)
Printable Version
* Advertising and soliciting is strictly prohibited on PatternReview.com. If you find a post which is not in agreement with our Terms and Conditions, please click on the Report Post button to report it.
Clone Your Favorite Garment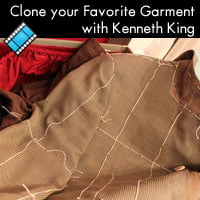 Fun with Fitting - PANTS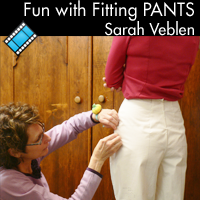 Burda 9509

by: jetsmommy
Review
8 1/2 inch LEFTY Dressmaking Shears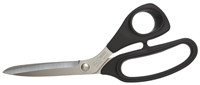 Buy Now
Sewing Workshop Icon Shirt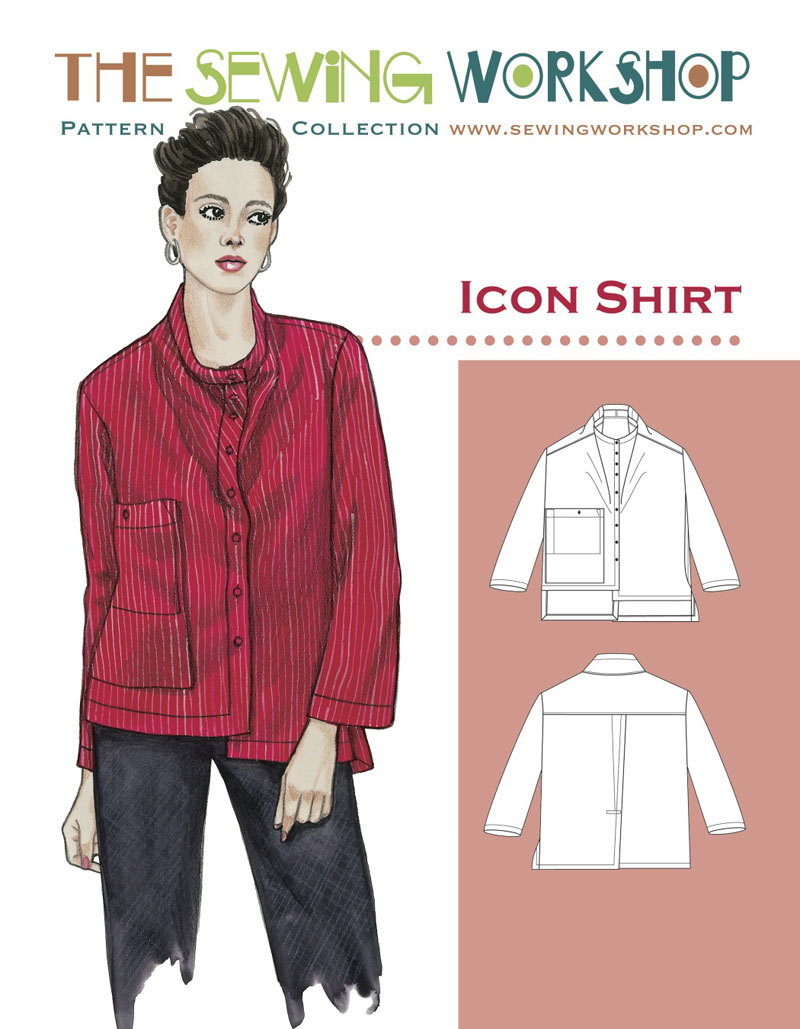 Buy Now
StyleArc Felicity

by: A Beginner...
Review