I so know what you're talking about!!! My favorite handbag of all time!!! Lost while riding on a motorcycle. It was leather, with a zippered compartment in the middle, and had leather straps, with wooden dowels. Just a few years ago, I managed to find a similar bag at my Goodwill. But here's the thing about the dowels: They are flat on one side, almost like cove molding. It's the flat side that goes toward the inside of the purse, to close it.
The pattern I don't have, but it's pretty easy to make. You make a regular rectangular handbag, with a gusset, and add a casing at the top, on both top edges (two casings) , about 2-3" shorter than the top edge, to allow for the hole of the dowel. Use one strap, so you can use this also as a crossbody bag.
I've looked on the Internet and can't find handles. I don't know why they stopped making these; the concept is excellent--pull on the straps, and the bag closes. Pull on one strap and you have a shoulder bag. Easy peasy.
Wish I could help more.
EDITED TO ADD: Here's a photo of the bag with a casing, to help you (of course, the handles aren't what you're looking for) The casing should come within two inches of the left and right edges of the bag; this photo shows it farther away.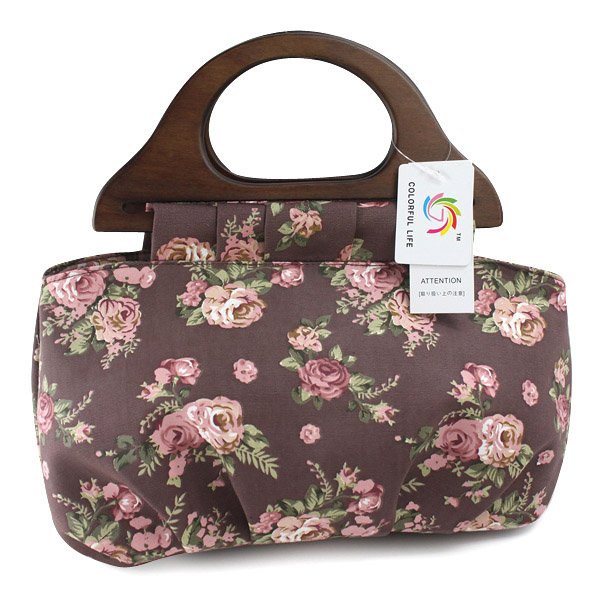 -- Edited on
3/22/12 10:11 AM
--
------
"Play the cards you are dealt, but choose who is sitting at the table"..AARP magazine

SEE MY ETSY SHOP HERE: http://www.etsy.com/shop/AuntMaymesAttic
My blog: http://auntmaymesattic.wordpress.com/