Learn To Sew


Member since 4/12/05
Posts: 12772
Skill: Advanced Beginner

1 member likes this.




Date: 3/24/12 11:12 PM

We started out the class by showing off our quilt tops. I liked most of the ones that were done. Some not as much as other ones. I guess it is the way the colors play off each other. I can see I have a lot to learn in this area.

We learned to make flying geese in class today. I like them and want to use them in my next project. Or the one following that one. Or possibly the one following that one. You know what I mean.

We are using the Eleanor Burns method for cutting and constructing our geese. Our rulers are the 3x6 size. I know she has a larger one too.

From our focus (print) fabric, we will cut 2 strips at 9 inches. Then we are to cross cut into a 9 inch square. We will need 6 of these squares.

I trued up before making any cuts. Then I made my 9 inch "squares". Sort of, that is. I must have misread the sheet, so I made my "square" 9x6. I looked on the instruction sheet and got it mixed up. That fabric is in my "mistakes" bag for another project. I am sure I will be using it for another quilt. Started over and did fine. I cut 6 correct squares.

Next I took some of the remnants from my green, yellow and pink fabrics. After truing them up, I cut 1 strip at 7 ½ inches wide. Then cross cut into 2 squares (each) at 7 ½ inches. I need 2 yellow, 2 green and 2 pink from this group.

We will draw a line from corner to corner on the diagonal as we did for our triangles a couple of weeks ago. I remember this well. We take 1 of the large squares and put it face up on the table. Then we take one of the smaller squares, putting it face down. This is right sides together. It is centered in the larger block. We sew our seams by running the quarter inch foot down the line and back up the other side. Cut apart on the drawn line, and press to the printed fabric.

Next we lined up the two resulting squares, (opposite colors) matching edges as best we can, right sides together. The seams in the middle will NOT meet, so do not try to make them meet. I pinned them together at this point, and drew a diagonal line going from opposite corners—in the opposite direction of the seams. Stitch ¼ inch from the drawn line from corner to corner. At this time, the teacher told me I had done it wrong. Wrong? I followed the directions on the sheet. The problem was the sheet did not tell me to match opposite colors. So, I took it apart and did it again. This time it was fine. It is really easy to write something up and forget a word or two. However, those one or two missing words I really needed! Cut apart on the drawn line, press to the printed fabric.

Next I got to learn to use the flying geese ruler. I bought it 7 weeks ago and did not open it or know what to do with the thing. Another "foreign item" in my collection, you might say. Not any more. The teacher showed me how to use the ruler. We lined up the point with the pink in my square. The legs of the triangle meet somewhat. Not perfect, but good enough. The point was more important. Once I had it the best I could, I would trim around the template. I ended up standing at the corner of the table, and moving around as much as I could to trim. I can see I need a small mat to turn things on. Say a 9x9 size or something like that. It would be easier than trying to move around the table to simply move the mat and not disturb the geese.

We will need 18 of these geese for the project. I can make them mostly in the pinks, the greens, or the yellows. It will be my choice. I can make the geese go one way, following the leader, so to speak. Or, I could make them face each other and they would look like diamonds if I want. I am thinking I'd like to do that. Or we can have some going one way and some going the opposite way. We should have plenty of geese to choose from for our design. I think we will have 24 and only need 18. This way we have a choice in how the finished design will look. I finished 8, I think, in class.

For homework, I need to finish all my geese, and sew them in a long horizontal row. Then I need to sew my rail fence blocks in a vertical row. The teacher told us not to redo any of the rail fence ones, if we have ones not perfect. Leave them as is and see what we can do with them. Gee, last night I redid 5 of the 9 and they are not any better than before I cut new ones. I just do not get those to come out right…

-- Edited on 3/25/12 8:31 PM --

------
Bernina 630, Bernina embroidery module, Pfaff 2036, Bernina 1200DA serger, Unique Sewing Cabinet 450L

Learn To Sew


Member since 4/12/05
Posts: 12772
Skill: Advanced Beginner



Date: 3/25/12 11:18 AM

I told my teacher I had figured out the problem with the fabric always wanting to go down the throat plate. She wanted to know what I did to fix this. Changed the needle to a 12 sharp. I had no more problems. It was happening on every thick seam and I was having real problems. Now it is smooth and it just glides through several layers of fabric.

I know I should be sewing today. I am thinking of taking today off and just resting. I am so tired. My feet hurt and the inflamation is back, due to so many hours of walking and standing at the cutting table this week. I am still fighting planter fascitis from last spring. All it takes for a flare up, it seems, is a lot of standing and walking.

So, I am thinking of spending the day sitting in the living room, with my feet up, watching tv or reading a book. Something to restore my energy. It is very low. I will take some vitamins too. I must be low on B complex again. All this mental work is hard on a 56 year old brain that has been in "idle" for a few years.

------
Bernina 630, Bernina embroidery module, Pfaff 2036, Bernina 1200DA serger, Unique Sewing Cabinet 450L

PhaVic

Member since 9/16/11
Posts: 138
Skill: Advanced Beginner



Date: 3/25/12 12:14 PM

Thank you for your recap', I wait for it every week-end ! you did a great job and I'm eager to see your quilt after it will be quilted. Please do keep on posting !

------
Always a novice

Doris W. in TN


Tennessee USA
Member since 2/9/04
Posts: 8708
Skill: Intermediate





Date: 3/25/12 2:21 PM

Learn - When I feel tired and need a rest, I do it. This is a hobby,,, not a job. You've been working very hard on this quilt and I think you have earned a day off from sewing. Enjoy!

My plantar fasciitis is acting up, too, so I can commiserate. It happens whenever I try to walk barefoot in the house. If I keep my arches supported, I don't have the problem. What a pain. (pun intended)

Was the teacher impressed with how you solved your problem by switching needles? LOL I hope she had a "duh!" moment and is able to learn something from a student. I'm glad you tried the smaller needle and found it to work for you.

------
iPad's auto-correct is my enema.

Learn To Sew


Member since 4/12/05
Posts: 12772
Skill: Advanced Beginner





In reply to Doris W. in TN <<



Date: 3/25/12 3:21 PM

Quote: Doris W. in TN
My plantar fasciitis is acting up, too, so I can commiserate. It happens whenever I try to walk barefoot in the house. If I keep my arches supported, I don't have the problem. What a pain. (pun intended)

Was the teacher impressed with how you solved your problem by switching needles? LOL I hope she had a "duh!" moment and is able to learn something from a student. I'm glad you tried the smaller needle and found it to work for you.


I am sorry to hear your PF is acting up, too. Great pun.

No, the teacher was not impressed. She did not show much interest in what I was telling her. I guess she was thinking of the class and how to begin.

I hope some day she has the problem and then she will be as bewildered as I was. She has never had that problem before, so does not understand how frustrating it can be to solve it. If you do not know why your machine is all of a sudden sucking down fabric over every seam into the thoat plate, it can drive you crazy. Once I changed the needle, the problem was done. It only happened twice after that and not every 3 inches or so.

Learn

------
Bernina 630, Bernina embroidery module, Pfaff 2036, Bernina 1200DA serger, Unique Sewing Cabinet 450L

Learn To Sew


Member since 4/12/05
Posts: 12772
Skill: Advanced Beginner



Date: 3/25/12 3:31 PM

I am taking today off from sewing the quilt. What am I doing? Cleaning closets, moving tubs of garment fabric out of the room into another closet. Who knows if I will ever want to sew any of that fabric again. I am putting all my quilting fabrics into 2 med sized tubs. The Good stuff in one and the So-so in another. I need to make room in my closet for another sewing machine to sit next to the serger. No, it will be the BL Molly in there and not the Bernina or the Pfaff.

Once the class is done and the quilt finished, I need to hang the quilt and then decide what to do with the smaller second cabinet. Most likely move it to this room. We seldom use the hide-a-bed in the guest room (where I am now), so it should be ok in this room. It is on wheels, and can be moved easily if need be. For now, I just do not know. All I know is it will have to leave the sewing room next door.

I realized only the other day I will need to open the back flap of my cabinet for sewing this large quilt soon. This means re-arranging the room, again. Diana, you know what that means, don't you? SewBusy has re-arranged her room so many times she does not know what to do next. I feel just like that at times.

If I open the cabinet up, the smaller cabinet has to go to another room... So, back to cleaning closets for me.

Learn
-- Edited on 3/25/12 8:29 PM --

------
Bernina 630, Bernina embroidery module, Pfaff 2036, Bernina 1200DA serger, Unique Sewing Cabinet 450L

Warbler


Member since 4/15/07
Posts: 3946
Skill: Advanced





Date: 3/25/12 7:36 PM

Sewing machines can be fickle and certainly what is good for one machine may not work in another. It doesn't really matter that she cares less about how you resolved the problems with fabric in the needle plate. But unfortunately that means she will continue to teach her methods. They work for her and so she thinks it's universal, but we know the truth. It would be interesting to know if your fellow classmates have had problems too.

------
Janome MC6600 Bernina 240 Juki MO735 Singer 201-2 Singer 221-1

SewBusy63


Member since 12/10/07
Posts: 5130
Skill: Intermediate





Date: 3/25/12 7:38 PM

Quote:
I realized only the other day I will need to open the back flap of my cabinet for sewing this large quilt soon. This means re-arranging the room, again. Diana, you know what that means, don't you? SewBusy has re-arranged her room so many times she does not know what to do next. I feel just like that at times.


Carol you are so right! Just the other day I had help from two of my adult children, trying to re-arrange my sewing room. I just am not quite happy with the set up. Try as they might, I always had a reason why this or that could not go here or there. They finally gave up and left me to do it myself. HaHa. I ended up putting it back the way it was....almost. My problem is I have two 6' solid wood credenza's for my sewing desks (plus my other furniture is large). They are about 20" deep and I love them. However, you can only fit so much into a room and I need everything I have in there. I also have 2 heat vents I have to work around. So, they are once again back to back to save room, just a little farther under a double window than they were. Who knows, maybe this week I'll find a configuration I like more and feels just right. I have come to the conclusion that the next house we buy will have to have a room much larger than 13' x 15 1/2'.

------
💐Diana💐

Bernina 830E 💝 1150MDA

✝The Lord is my Light and my Salvation: whom shall I fear? The Lord is the strength of my life; of whom shall I be afraid? Psalm 27:1✝


Learn To Sew


Member since 4/12/05
Posts: 12772
Skill: Advanced Beginner





Date: 3/25/12 8:24 PM

You have a 13x15 room? Wow. Nice size. Mine is 10x12. My DH's office is 12x15---and no, he will not trade rooms with me. I already tried--several times. I guess since he is the one who earns the money, I'll give in--just this once.

------
Bernina 630, Bernina embroidery module, Pfaff 2036, Bernina 1200DA serger, Unique Sewing Cabinet 450L

Learn To Sew


Member since 4/12/05
Posts: 12772
Skill: Advanced Beginner



Date: 3/25/12 8:37 PM

What color do you all suggest I buy for the backing fabric?

The teacher suggested more of the tropical. However, at $11 a yard and I need 5 1/4 yards, expensive.

Should I find another green, yellow or print? More pink is just too much pink for me, so I do not think I want more pink. It could be a solid or a printed fabric. What do you all think is a good choice?

I know the color on the back will not show through to the front. I will have Warm and Natural as the sandwich layer. I have 4 yards of a black print. You can see it below. It is the one on the right in the back. The left one is green. So, look to the right side of the pile. The picture does not show the difference in colors very well.

black print

Should I buy the other 1 1/4 yard I need of it or look for something else? I will need it next weekend.

Learn

------
Bernina 630, Bernina embroidery module, Pfaff 2036, Bernina 1200DA serger, Unique Sewing Cabinet 450L
Printable Version
* Advertising and soliciting is strictly prohibited on PatternReview.com. If you find a post which is not in agreement with our Terms and Conditions, please click on the Report Post button to report it.
Online Class
Restyling with Exposed Zippers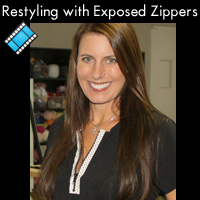 Online Class
Serging Ahead with your 5 Thread Serger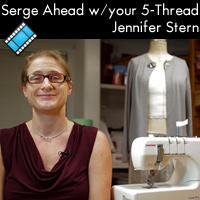 Burda 8379

by: knitsewmuc...
Review
J Stern Designs Khaki Pants Pattern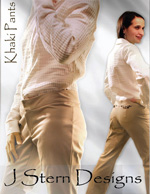 Pattern Details
Favorite Things Little Smartie Pants Pattern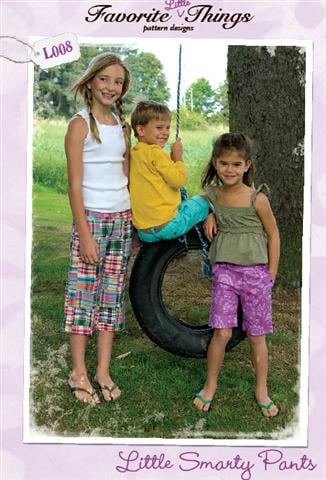 Pattern Details
McCall's 6752

by: Sue Parrot...
Review